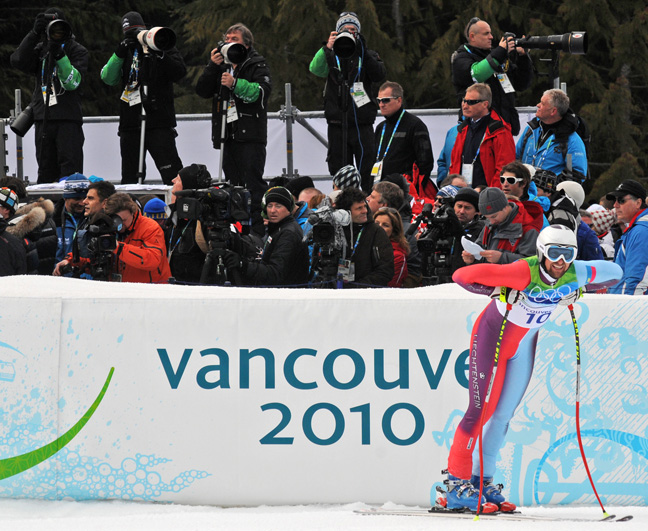 Photographers and skier at Whistler.
I was having trouble last night double checking my schedule which is too bad as I could have gotten in another hour of sleep or so.
We're heading up to Cypress a little later today and we ae going to get wet again today. It is pouring rain out and it's certainly not going to be dryer up on the mountain.
We've divided into two teams (reporter/photographer for these games) and it's funny the way things go. So far the other team has got all the good (or at least dry weather) and the events where Canadians have won medals. Grant and I keep getting the rain and our athlete crashing (well out of photo range) and end up out of medal contention.
A few observations. The Olympics seem to have everyone in a good mood, at least in the core area. There's a noticeable difference on transit from last week. People are smiling and talking to each other far more and it's all Olympics (well, and weather, but then it's always weather here).
Sometimes it's the little details that stand out. Everyone wants to make an good impression on the visitors here for the Olys and then you see something like the bus stop on the West/North Vancouver entrance to the Lions Gate bridge. The media bus was full on a return trip from Whistler and we were slowly merging into traffic so we had a good long look at the bus stop/shelter which was decrepit and had litter scattered all around it and not just a few fresh pieces of paper but old garbage. You think the municipalities would have cleaned up and kept clean all areas along heavily travelled routes. It  just looked bad.