May 24, 2016 | Filed Under BC Photography Archive, British Columbia, British Columbia Photographic Archive, Canada, Canadian, Cascadia, Documentary Photography, Don Denton, Landscape, Nanaimo, Pacific Northwest, Photography, Street photography, Urban, Vancouver Island, Victoria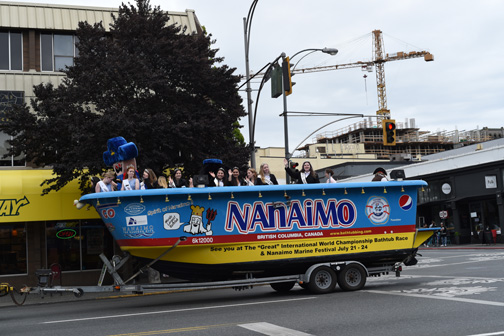 The annual Victoria Day Parade is a big deal in Victoria. It's three hours long and  starts from from Mayfair Mall and moves all the way down Douglas Street through the downtown. It's not  entirely unexpected, since parades are full of odd sights, to see a giant bathtub representing Nanaimo (famed for its annual bathtub race) coming down the street. It is however much stranger to later see that giant tub, still full of people, making its way down a street filled with regular traffic, and it must have been very strange to those who hadn't been at the parade or possibly didn't know there was a parade going on.
The annual bathtub race in Nanaimo isn't what it used to be. At one time the race was from Nanaimo to Vancouver and the tubs weren't the modern, streamlined, one piece constructions they are now. It was often a wonder the tubs survived  the crossing.
Comments