February 22, 2010 | Filed Under 2010 Winter Olympics | Leave a Comment
Best overheard conversation of the day.
Visitor: How do I get to the Canadan Mint display?
Olympic Volunteer: Walk two blocks until you come to the end of a lineup and stand there.
As a fan the Canada vs USA match was a disapointment but next game, for sure. We can beat Germany, can't we?
Today I have aerials at Cypress at 6pm. That means catching a 3pm bus to the mountain (55minutes), an hour window to set up and make sure everything is on time, out to the course to get a spot an hour ahead and even then all the best spots will be taken. Wait and hour, shoot for an hour and a half, rush back to file, Hike back to the media bus stop (a long trek at Cypress, especially with all your gear at the end of the day). 55 minutes ride back to the media centre and then still have an hour back to my bed.
I'm envious of the guys at the bigger organizations who have hotels close by.
Knock wood, no serious camera, computer or disc problems, seeing other photographers trying to recover images from damaged discs and dealing with malfunctioning cameras and computers. I've lost a skylight filer and the protection screen from the back of one camera. Screen rubbed off while was sprinting through Whistler village trying to catch the bus back to Vancouver (or have to wait another hour). Made it with the door literally closing behind me. Then spent 15 minutes trying to breathe again. Sprinting with a camera back, computer backpack and long lens while trying not t run over small children not recommended especially for the out of shape, yes me.
February 20, 2010 | Filed Under 2010 Winter Olympics | Leave a Comment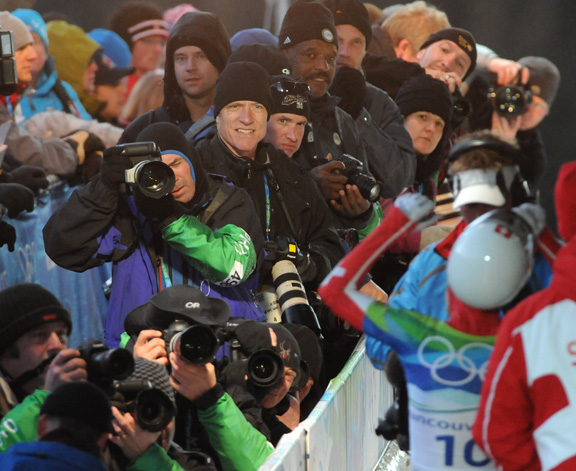 Photographers at the Skeleton track finish line.
It's been busy, riding buses, getting to venues early to hold your place, waiting for the event to start, shooting like crazy, rushing to file, back to the bus. Trying to maintain a somewhat normal eatinng and sleeping schedule and pretty much failing.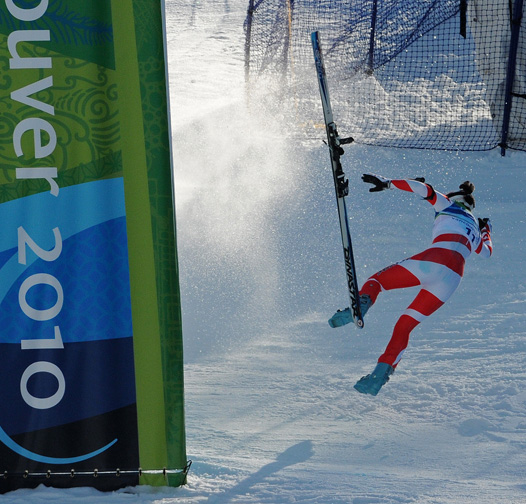 One of the biggest challenges is shooting a different sport almost everyday, sometimes for the first time. Yesterday I shot Skeleton, amazingly fast. I was shooting at 2000 of a sec and got two frames of the athlete I needed zooming by.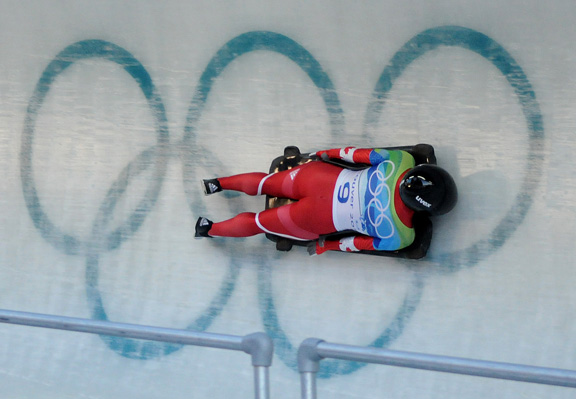 By and large I'm happy with the images I'm getting and it's all an experience.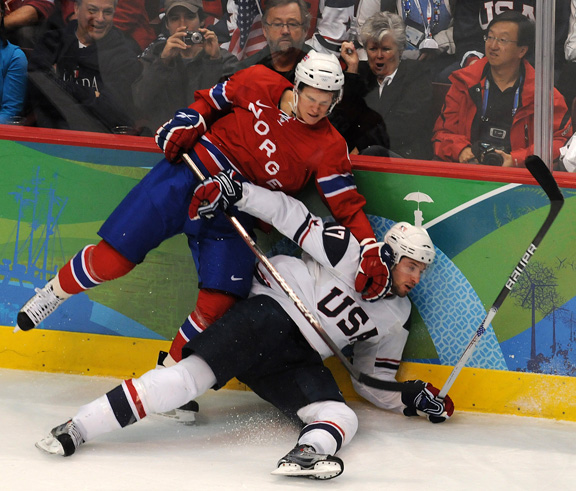 Downtown the public crowds are crazy big and getting bigger everyday. Everyone seems in a great mood, it would be nice if downtown Vancouver was like this all the time.
February 15, 2010 | Filed Under 2010 Winter Olympics | Leave a Comment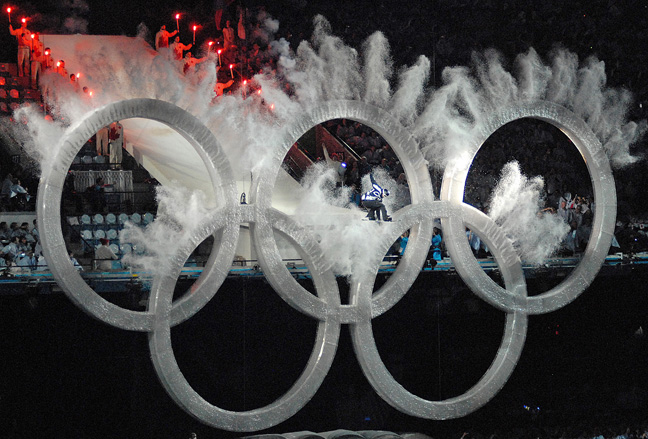 Yeah, it's been a little hectic even though Sunday was a day off.
But I'll back up a little.
Saturday we were supposed to go to Whistler for the Men's Downhill. Got up very early and was at the main press centre by 6AM in plenty of time for the 7AM bus to Whistler. My phone rang and I was informed the event had been postponed.  So, finished up some left over photos and sent them and then went back for a couple of hours sleep. Heading downtown again just after ten and another phone call informs me a protest had gone bad and windows were damaged. Shoot those and then some features and then rush back to file before heading up to Cypress Mountain for Women's Moguls. About a fifty minute ride to Cypress and then a 10 minute slog in the rain to the media centre. We had to be on the course an hour before the event so standing waiting in the rain on a slope, trying to keep your gear dry. Then shoot the qualifier and head back to the media centre to file. Our skiers qualified so back to the course and hour before the final start and then the rain really started to come down. Finally finish feeling fairly damp and rush back to file. Then, head out t catch the media bus back downtown. It's at least a fifteen minute walk to the pickup point. Not bad when it's dry but it was pouring, it was the end of the day and I was carrying all my camera and computer gear. Then the bus was late and no shelter so just hug the gear under the umbrella and wait. Home just before midnight.
Sunday sleep in until 9am and then downtown to have a look around, bring cameras just in case. Nice day at least a much better showcase for Vancouver. Then to folks for dinner and  a visit although not before a stop to beef up my rain and winter gear.
Today up before 4AM and Spencer drove me to SFU to catch 4:52 night bus to downtown. On 6AM bus to Whistler for Downhill event (postponed from Saturday). It's tough shooting different events every day as every venue is different so you have to figure everything out all over again. On course just after 9:30 for 10:30 start. All goes well until our main guy Robbie Dixon crashed high up the hill so no images except for presser later. On a more positive note, it was dry!!!!!!!!!
Now it's almost 8PM and I'm still at the main press centre and have to be up at 5AM to catch all my transit to be up at Cypress tomorrow for snow cross.
A couple favourite pix so far posted. Remember more images being posted at:
http://www.bclocalnews.com/olympics
February 12, 2010 | Filed Under 2010 Winter Olympics | Leave a Comment
Day 3 for me is the actual first day of the Oylmpics and the first day the Black Press crew were out and filing all day. You can follow what we are shooting and writing at http://www.bclocalnews.com/olympics/.
Got a later start today, headed out from the main press centre before noon looking for people from the communities our papers represent who were out celebrating the Olys. Found lots of people around the art gallery taking photographs of the countdown clock and of former torch bearers who'd come downtown with their torches  to watch the final day of the run.
We had thought the run ended late in the day but it finished up a the First Nations Pavilion at about 1:30. A phone call alerted me to that and  hustled down there.  The crew around te Pavilion wouldn't let e in saying the event wasn't an Olympic event but a BC Tourism event. Didn't really make sense but I just went out back in the street and shot the final runner coming down Georgia and then just followed him and the police escort into the Pavilion area and got a couple pix of the torch bearer lighting the cauldron with Buffy St. Marie, the singer.
Just as I finished that I got a call saying I had been given a late pass to the opening ceremonies, for some reason a couple of spots had opened up. That meant a hustle back through downtown to the press centre to pick up the pass for the evening ceremonies and then edit ad file the torch pix. Then ran out to catch the bus to the stadium.  All the photographers had to go through a complete search of their bags, removing everything from our pockets and taking off belts etc before we were allowed on the buses. They're taking security seriously but it's relatively fast and staff is friendly about it all.
My bus arrived around  3:30 PM for the 6PM ceremonies and everyone was staking out seats in their assigned areas of the stadium,. It's a long time to sit and stand around your seat waiting for the actual event. Luckily I had the Globe's Fred Lum next to me and the Star's Steve Russell behind so  had people to chat with. The big Russian guy next t me didn't speak any English, well not to me anyhow. As I was the second shooter for the event I just shot the first hour and then bolted back to file the images.
Then a rush to catch the Skytrain before the ceremonies finished and that way avoid the crush.
Now, to file a few more photos and then to bed until 4AM and off to Whistler tomorrow.
February 12, 2010 | Filed Under 2010 Winter Olympics | Leave a Comment
My pick for the item lost the most during these Olympics? It will be those red mittens with the white maple leaf on them. You're starting to see people wearing them everywhere, men and women, even though it's not cold in Vancouver. I passed a transit worker holding up a pair and saying to a co-worker"Look I found another pair" and last night spotted a lone mitten left on a Skytrain seat.
My Skytrain story of the day was getting on a fairly crowded car and having a young guy jump up from from the disabled persons/seniors seat he was in and offer it to me. Apparently grey hair makes me a senior .
We had our planing meeting for our schedules and it's going to be a busy few weeks bouncing back and forth between the Vancouver and Whistler sites.  Friday is the first actual day of events and we'll have the opening day ceremonies to cover, Jenna got a pass while I didn't (it was a draw) so I'll be outside shooting the torch arriving etc. The real fun starts Saturday my first trip to Whistler (for skiing). I'll have to be up by 4am to catch the Skytrain downtown by 5 and then on the 6am media bus to Whistler.
I will be covering most sports everything from hockey to short track speed skating.
Last night Nikon and Canon hosted a spectacular party for the accredited photographers at the Aquarium. You could wander through the whole complex looking at the exhibits while enjoying food from a whole series of tables not to mention quenching your thirst from an equal number of bars. It was  great chance to catch up with other photogs. Most  photogs showed up for the event, some even driving down from Whistler just for the evening.
February 10, 2010 | Filed Under 2010 Winter Olympics | Leave a Comment
Odd things observed on the Skytrain today. A man getting on with a two headed buskers torch. No one stops him. A man getting on with a four foot by three foot unfinished painting on a stretched canvas almost blocking the width of the car. A  man carrying a gas powered weed eater tries to get on at the Waterfront Station in downtown, miles from the nearest lawn. Security thankfully stops him.
Also on the Skytrain a typical polarized British Columbia interaction. A man is yelling Go Canada every time the train stops and the doors open and he is trying to get everyone in the car to join. We all react as normal Canadians and avoid any eye contact with him and look sheepishly at each other. After about three stops a youngish woman yells at the guy, "If you yell again I'm going to hit you". The guy doesn't react just says he's trying to drum up spirit for this once in a lifetime event. The woman starts yelling at him that the money spent on the Olympics could have been spent on the arts instead. He ignores her and goes on yelling "Go Canada" at every stop.
Lots more people wearing Olympic gear now and not just workers and volunteers. lots of Oly mittens, hats and shirts/jackets, at least downtown, not so much in the suburbs.
February 10, 2010 | Filed Under 2010 Winter Olympics | Leave a Comment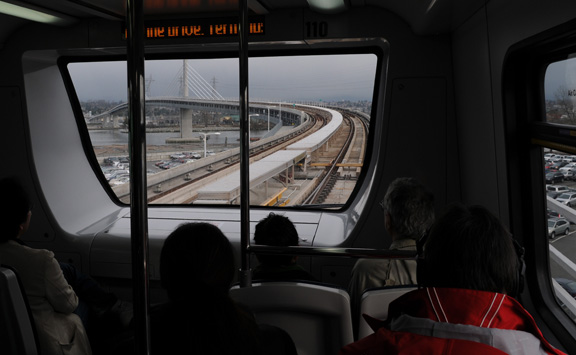 A travel day, my son Nick dropped me off for the 9am ferry, then bus to the Bridgeport Station and Skytrain downtown. A walk to the main media centre for what I thought was a 1pm photog's press conference that turned out to have been moved to 10am. A wander through the press centre to get oriented and  an opportunity to say hello to a number of photographers I hadn't seen in ages. These big events are always a chance to catch up with people you haven't seen in a long time, some a very long time. Then I had to Skytrain out to Burnaby carrying all my gear so I could drop off my clothes at my son Spencer's . It's a short walk from the station to his house, a short walk provided you aren't carrying a ton of gear and clothing and it doesn't start to rain which it did. Now I'm almost dry again so I'll hop back on the Skytrain ( we get free transit rides with our media passes, thank God) and head downtown and see what else I can find out is going on and/or to shoot.
Calgary's The Camera Store's Peter Jeune, a volunteer in the photographer's corrall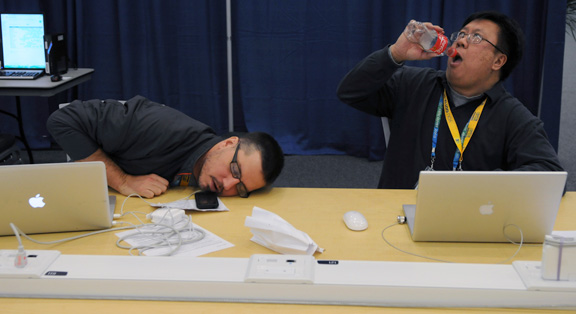 In from Toronto, the Star's Steve Russell and the Globe's Fred Lum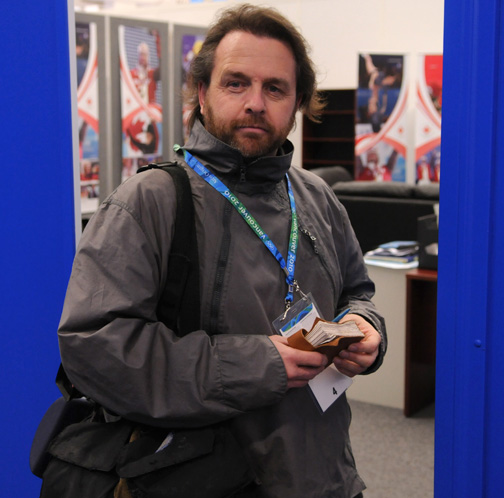 Vancouver's Wendell Phillips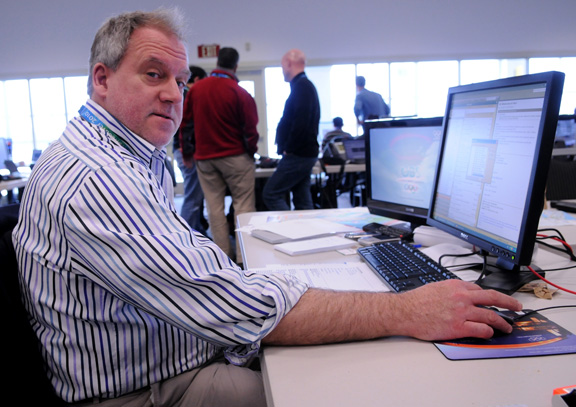 Victoria, BC native Greg Bos is a Reuter sports photo boss based in London, England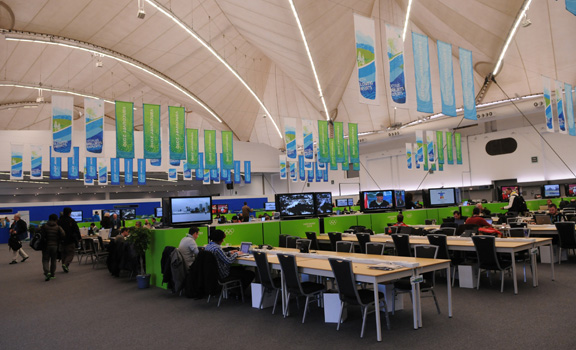 Reporters at work in the main press centre at Canada Place in Vancouver
February 10, 2010 | Filed Under 2010 Winter Olympics | Leave a Comment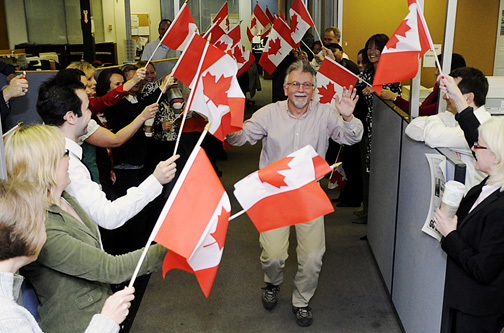 Sharon Tiffin Photo
The paper threw a little send off party for me yesterday morning, which, while a little embarrassing, was really thoughtful. Now the fun/hard part starts.
February 8, 2010 | Filed Under 2010 Winter Olympics, Art, BC Photography Archive, British Columbia, British Columbia Photographic Archive, Canada, Canadian, Documentary Photography, Don Denton, Pacific Northwest, Photography, Street photography, Urban, Vancouver, Vancouver Street Photography | Leave a Comment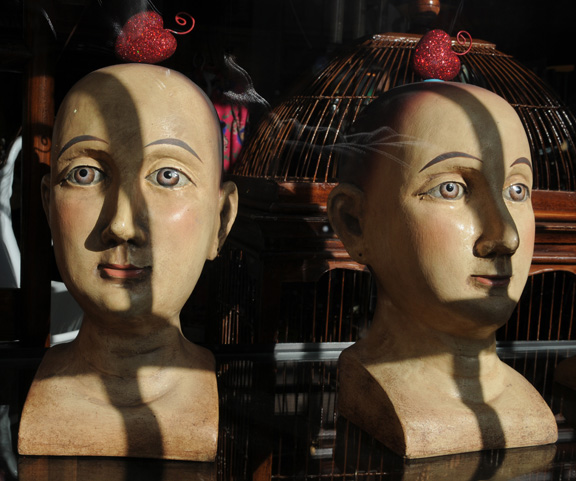 Saw these heads for sale just down the street from the Main Olympic Press Centre and thought they'd make a way more memorable reminder of Vancouver for someone instead of a t-shirt! Forgot to write down the name of the shop though but it's on Cordova just east of Richards.
February 7, 2010 | Filed Under 2010 Winter Olympics, BC Photography Archive, British Columbia, British Columbia Photographic Archive, Canada, Canadian, Cascadia, Documentary Photography, Don Denton, Historical, History, Pacific Northwest, Photographers, Photography, Photojournalism, Photos, Street photography, Travel, Urban, Vancouver, Vancouver Street Photography | Leave a Comment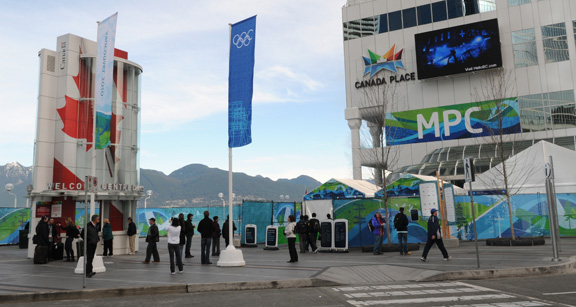 Main press centre in Vancouver.
I picked up the last of my Olympic credentials on Saturday and so am officially official. Lots of Olympic workers and media, with special clothes and accreditation tags around their necks,  and police in the downtown core but hard to see 'Olympic fever' among regular folks. Most of the Olympic signage you're seeing is commercial but there are a few small signs of locals stepping up and adding to the real (as opposed to paid) spirit by decorating windows or hanging Canadian flags. Hopefully we'll see more of that as the events progress.
Royal Bank building on West Georgia Street.
Home made decorations in the windows of a downtown office building.
The Bay Store Olympic decor.