June 19, 2012 | Filed Under Art, BC Photography Archive, Blog, British Columbia, British Columbia Photographic Archive, Canada, Canadian, Careers, Daily Work, Documentary Photography, Don Denton, Fine Art, Historical, History, Pacific Northwest, Photo Coach, Photographers, Photography, Road Trip, Street photography, Vancouver Island, Victoria, Workshop | Leave a Comment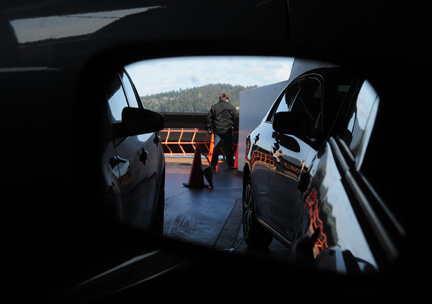 BC Ferries, Swartz Bay, BC 2012
I've spoken to a number of photo groups lately, showing some of my images and talking about the projects.
The audiences have been great, very appreciative and always lots of questions and discussion afterwards.
It's a two way street though. I get lots of feedback on my images which is so helpful and it's often a surprise which photographs resonate with an audience and why.
The other thing I find is that talking about my projects, both during the presentation and during the discussions after allows me to fine tune my own thinking about what I'm photographing and different directions I might take it.
In my main Pacific Northwest related project Salt Water & Rain I've been discussing as a way to find that within the local (landscapes, natural, manmade and cultural) that defines us, as opposed to the generic (chain stores and products) that makes us the same.However due to the presentations I've been thinking about more complex issues within that and trying to figure out how to present those. Issues like why certain cultural influences such as writing seem to be stopped by the United States/Canada border, especially since it is regional writing. Yes, the US and Canada are separate regions but the commonalities of the Pacific Northwest really do transcend the imaginary line that is the border.
So, thanks again to all those groups that have had me as a speaker.
December 13, 2010 | Filed Under Careers | Leave a Comment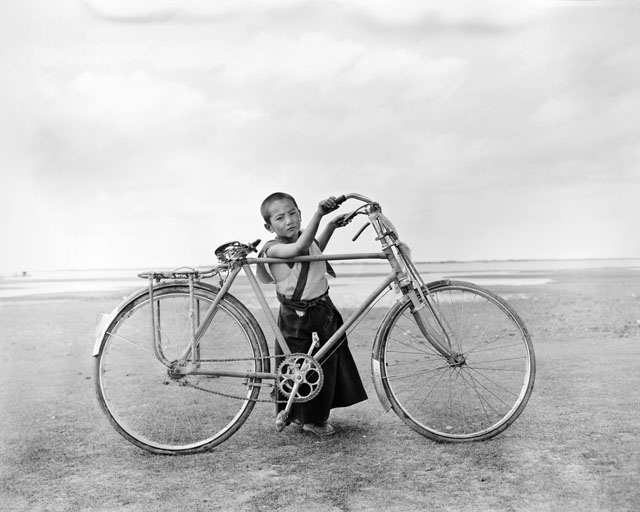 1) How did you become a photojournalist?
The short answer is dumb luck. The longer answer is that I grew up always having a visual aptitude. Before I discovered cameras in high school it was drawing or sketching but that always seemed too slow. I'm only half-joking when I say I took up photography because I was too impatient to create a picture by drawing.
I was very lucky to have ended up going to a high school that offered a solid vocational program in photography; around that time, I became really fascinated by the idea of a photojournalist or a newspaper photographer — nothing else could possibly be as interesting as portraying real life, and things that were actually happening.
Those early days gave me the technical ability to understand how to take a picture and it pretty much was a process of learn-by-doing (ie. a million mistakes) over many years that I learned how to make a picture.
One other big stroke of luck was being in Winnipeg at a time when both newspapers had a lot of great photographers on staff. Every day I got to read the paper and see what these familiar names were doing, and that just made me want to do it more. I eventually got to know most of those names and I'm very grateful for what they taught me, mostly by quiet example.
2) You've worked quite a while in Brandon, Manitoba. It's a smaller city and somewhat isolated, so what's kept you there?
I love being a photographer at a daily newspaper. That fascination with portraying everyday life is still as valid and strong now as it was long ago. I also appreciate stability and security; I think that once basic needs are met and secured, I can then branch out and explore other interests and projects sustainably over a longer term.
There's been plenty of angst and worry, wondering if I'm missing out on the wider world this way. But in going to conferences and talking to other photographers over the years, it occurred to me that the things they complained and worried about were remarkably similar. I'm not sure there's any peace in this world, but I do think you can choose to be happy and fulfilled wherever you are. In recent years, I've honed my thoughts about the meaning of community and that's from familiarity — those are two words that inform a lot of what I photograph and why.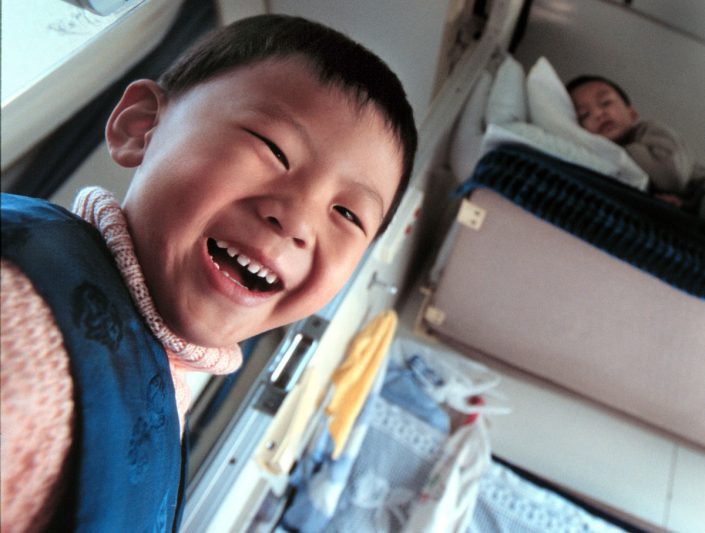 3) Like many photographers you have personal projects on the go. One project you've been working on for a while is China. What's the attraction there for you?
It didn't start out as a project but I guess like the best ones, it evolved into that. I'd probably use the word "exploration" myself. I simply was curious about something and set out to learn about it. I talked to people, read as many books as I could find, devoured all the articles I could about China and Chinese culture. It was a pretty easy subject to be captivated by — an ancient culture undergoing unprecedented change, with unheard-of speed. The recent history alone of China is astounding — epic and tragic on a scale we can't imagine here.
Just like my education in photography, I found a few happy coincidences soon into my journey. One was an exchange at the university here in my city, where a professor from Nanjing came to teach Mandarin language classes. I signed up, but ironically was interrupted by my first trip to China in late 2002. I had friends there, which helped a lot.
Step by step, over the years, one thing led to another. Since I interpret the world through photography, it was only fitting I'd apply that to experiencing China. I found a subject that I was constantly interested in, and the images I made there are very special to me, even if there was never any particular plan in making them!
I think most photographers are curious about the world. I'm curious about China and so it's been very rewarding to combine two big passions.
4) You shoot film for the China project. Why?
When I first visited China, we only had film cameras. I've shot a little bit of digital over there since, but mostly it's been film-based. When I go to China, it's for me…I've never been hired or commissioned to go there (but would love that), and I've relied on my personal holiday time from my work to do so. I'm not complaining about that — on the contrary I'm grateful to be so lucky to have a job that allows me to pursue this interest.
Film feels tangible to me, it feels substantive. Maybe it's just psychological but I approach things differently when I use film — perhaps more slowly or methodically. Maybe it's just nice to have a little extra reminder that I don't need to rush to meet a deadline. The tools themselves are different (lenses, cameras) and so the image, naturally, looks unique. That's a big part of it.When I use film, I'm doing something for me, on my time and on my terms. It seems to set things apart, in my mind. I also like crafting an image in black-and-white, with all the rewards that come from manual labour. And, interestingly, it's not that much extra labour, when you factor in the whole process of digital imaging from start to finish.
I'm no Luddite, I just think the world is a big enough place for both mediums.



5) Sometimes you work with a panoramic camera. What appeals to you about the format?
I've worked with a Widelux F7, for a series of images that eventually became an exhiibition of China photographs. I now have an XPan camera — both shoot regular 35mm film. Not every situation 'feels' right for this format, but it's one that seems to suit much of my impressions of China. On a basic level, I feel like there's so much going on in China that I can't fit it all into a normal format.
I also really like the idea of breaking out of boundaries normally imposed on photography, even if only in format size. So much is made of new lenses, sensors, and other details of cameras that few people ever realize they're locked into what manufacturers determine for them. I suppose a person could stitch together separate images digitally, or crop a commonly-proportioned image dramatically, but that's a pale imitation, I think. A panoramic camera sets out from the start to make a specific kind of image — that's what I'm interested in, because I think at certain times that's what's in front of me.
6) Do you print your own images? What process(es) do you use?
I do 'wet print' my own images in the darkroom, although I don't want to limit myself to that. As I said, I love the craft of making a photograph by hand. I have a lot to learn about that process, but when it's done right there's nothing like it. They're true individuals, each print — especially when you tone the images, as I like to do with selenium and mild sepia. Most of my photographs shot on film are printed this way.
There's no crime in involving digital processes, to make a hybrid workflow. It depends on each image — there's no point in retreating to stubborn dogma…whatever works, is what I'm interested in. For those times I scan in images (or for images made on a digital camera) I enlist the help of a few terrific commercial photographers I know here in Brandon, and their printers. I just can't afford those things right now.
7)    Do you have more trips to China planned?
I know I'll go back sometime, but for now it's probably best to pay off the bills from the last few times I went there!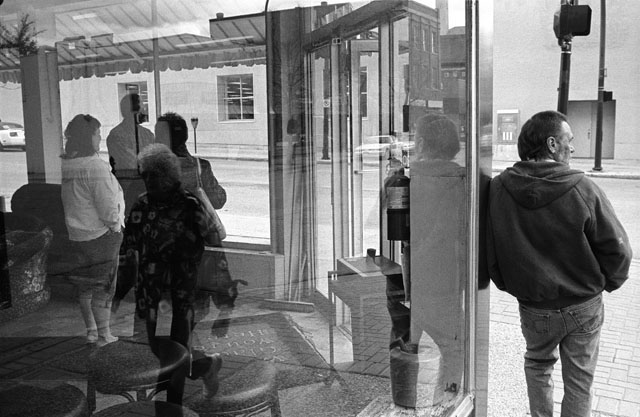 8)    You're also shooting images in Brandon that are separate from your newspaper work. Can you tell us about those images?
This is my latest project, and it's been going on for a little over 2 years now. I live in my city's downtown, and walk to and from work each day. I got to know the community (there's that word again) from walking daily and thought I should carry a camera to capture some of the odd things I'd see occasionally.
My favorite focal length is a 35mm lens (in 35mm format) and as cliché as it sounds for street photography I thought black-and-white film felt right. Partly, this was because I could work on it myself on my own time, and partly because of what I mentioned about my China photography — the notion of making it separate and distinct from my day-to-day work.
There was no plan or idea with this project at the outset. I simply did it for the joy and fun of making pictures…I guess it was the photographic equivalent of doodling absentmindedly on a sheet of paper.
Over time, I noticed more and more 'moments' and thought I may as well do something with it all. I'm still not totally sure what, exactly, that would be but for now I'm putting them on my blog (www.reservedatalltimes.com) and I think it would be fun and useful to do an exhibition at some future point.
I've been inspired a lot by the street photography of Fred Herzog, in Vancouver and especially John Paskievich of Winnipeg with his terrific book "The North End". I don't kid myself about coming close to that level of work, but I do like the idea of preserving a community and a time. It seems a lot of photography is, at one level or another, about fighting back against the relentless tide of time erasing everything. Well-crafted and passionate photography can let us hold a moment and examine it later on, and things we'd otherwise forget or even belittle can have a second chance.
On that point, I also remember a scene from Canadian graphic novelist/cartoonist Seth's book "It's a Good Life If You Don't Weaken". He had a "walk in the snow" moment where he realized his love of abandoned, decaying old buildings was tied to his lamenting the passing of time. I'm not sure if I'm quite that nostalgic, but I think that urge is behind a lot of this type of photography.
9)    Are there any other projects you're working on?
I'm on the Visual Arts committee of our local Folk Music and Arts Society, and each year we do a portrait project. It ties in nicely with my feelings about the importance of community and how the arts can help foster that. So, there's something new each year with that.
I'd like to pursue arts grants in the future, although I've learned enough in my initial research to see that it's almost a full time job applying and following up on various grants. It's definitely not "free money" as some uninformed people might think!
Down the road, I'd like to renew an interest in wetplate collodion photography. I love the idea of an extinct process existing in the 21st century, but I'm really fascinated by its uses for portraiture as photography is a way I reach out to others.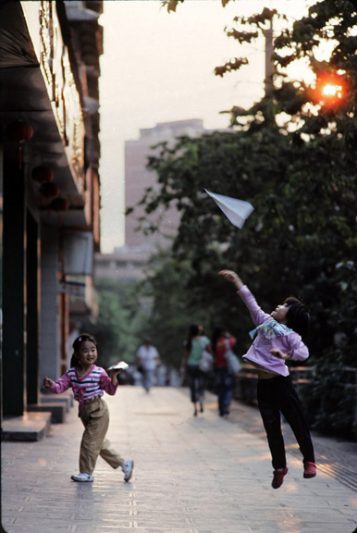 10)    Your website is currently just a cover page, will we be able to see a full website soon?
Yes, but I'm run a bit off my feet with work and other photography now. And mostly, I'm running short of funds too! I'm working with a colleague at my paper to get a site up, but my desire is that it's visually well crafted and stand out to a graphic designer. I'd like any site I have to really be strong from a design perspective, as well as being a clear representation of my photography.
My goal is to have my site up and running early in the New Year.
BLOG – www.reservedatalltimes.com
SITE – www.colincorneau.com
November 19, 2010 | Filed Under Careers, Interview, Photography | Leave a Comment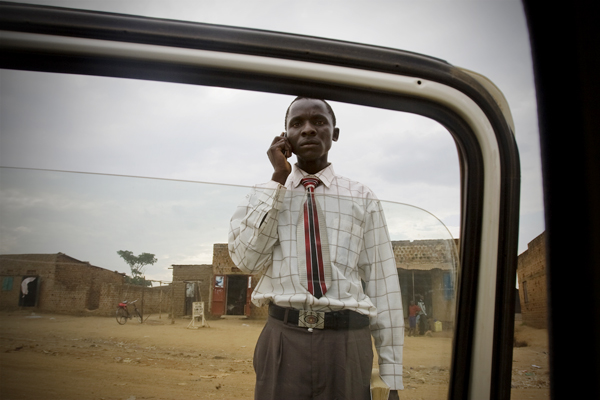 1) Photography is a second career for you. What advantage and/or disadvantage did that create for you?
I've actually found it quite to my advantage that I had a previous career in public relations.
My PR background gave me some solid skills that I have found to be quite useful, namely:
-    Networking:
I hate this term since it sounds so phony, but it really is important. In my previous career it became evident that there were people who were quite good at what they did. I would make every effort to get to know them and learn what I could from them.
In photography I was able to quickly size up the industry – who was who, who makes decisions, who is good at their job and is well respected – and then seek them out to meet them. That alone has helped a ton.
I've found that if you're eager and willing to listen, people are more than happy to help.
-    Expectations:
I think I was pretty realistic about what to expect when starting a business. I knew it would take time, that I'd have to work hard and put in my time at the bottom and that the work ethic I had applied to my previous career would carry me through in this new job.
-    Marketing:
The basics of getting myself up-and-running were easier. I was familiar with invoicing (as I managed clients I knew what I liked/disliked in invoices I received). I know what clients expect from suppliers. I was not nervous about creating a business plan, how to find clients and how to keep clients happy. I knew how to sell myself.
-    Writing:
Some projects I picked up this year involved writing. I'm able to market myself as a writer and photographer, a skill that a lot of my clients appreciate.
-    Service:
Having worked on the client side of the business, managing suppliers (in PR) I knew how I wanted people to manage my account. I instinctively knew what newspapers and other clients were looking for in a photographer beyond just technical skills.
I took editors to lunch and for drinks, I dropped off thank you cards to anyone who spent any iota of time with me, I brought Christmas gifts for the editors who gave me work, I did pro-bono work on small projects for corporate clients who gave me large chunks of business. All these small things really make a big difference. People want to work with people that they like.
-    Clients:
I had a base of clients immediately upon arriving in Toronto. I did a quick tour of all the major PR shops in town and picked up work from them. I also checked in with some of my PR colleagues working at companies (e.g., pharmaceutical companies). Building up a network like that would have been challenging otherwise.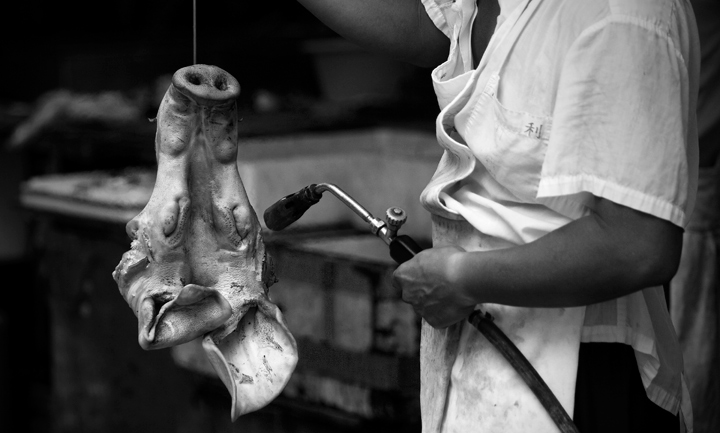 2) You are now a few years into your career as a photographer so what are your thoughts on the photo education you received before embarking on this career? What mattered and what didn't? What do you wish you were taught that you weren't?
I did a commercial photography course but ended up going into photojournalism. Looking back, I wish I had done strictly a photojournalism program. Some of the skills I learned in the commercial program were great, but took up a lot of time that I could have used to hone my photojournalism skills (e.g., all the printing courses and some of the high end photoshop courses).
Also, it was that much more of an uphill battle to find a job since the program at Loyalist seems to provide students with more contact with the newspaper industry than other schools.
I wish I had been taught more on-site lighting skills. We mostly did studio lighting and while the principles are the same, the actual technical details of using your speedlight got skimmed over. To this day I'm still not 100% comfortable with my speedlight.
I wish we had done some multimedia. The commercial program didn't do this at all but it would have been nice to have at least a basis in it.
As much as I enjoyed the film component of the course at WAP, I felt that it took away time from learning the ins and outs of digital photography.
I wish we'd learned more about managing your workflow and backing up your work. I had/still kind of have an ad hoc process. It's getting better but a firm foundation to work from would have been helpful.
I also wish there had been more emphasis on finding out your style. I found that on the photojournalism front (and Loyalist is guilty of this as well – I was a judge of this year's NPAC student of the year portfolios) there is too much emphasis on producing the portfolio of a well-rounded wire-shooter or at a daily.
Everyone produces a portfolio that has three features, three sports shots, three portraits and three news images. It created a generic look and everyone's stuff starts to look the same. People need to learn to shoot these things, but I'd really emphasize the importance of shooting work to stand out.  Shoot what you love. I'd really like to see more documentary work from students – from a project they are working on – than the crappy university rugby shot that they needed to round out the sports section of their portfolio.
To be honest, the best education I got was actually working on the job and meeting with working photographers. My internships at papers were invaluable.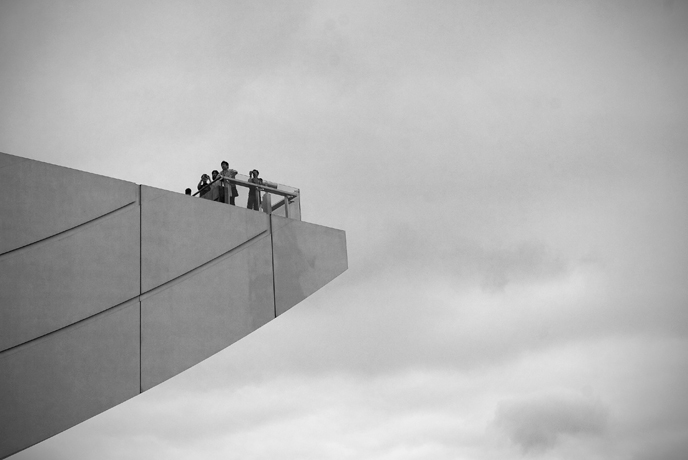 3) What lessons have you learned from actually working as a photographer that you wished you knew when you began shooting as a pro?
I wish I had known just how stressful assignments would be. I spent my first eight months freelancing for the Globe and Mail thinking I was going to throw up every time my phone rang.
I would sometimes go to assignments and think to myself, "How am I going to turn THIS into a photo?" (I did a lot of R.O.B assignments early on – generic, boring offices). Now I'm calm and know that I'm always going to produce a publishable shot (and more than one).
There's so much technical know-how to absorb in school that I didn't know how to deal with people when I first showed up at assignments. Now I have a little bit of a routine. I ask them if they've had their photo taken for the paper before. I explain that it's not like having their photo taken by their friends for facebook, that I have to provide at least six different shots for the paper, that it's not going to take five minutes. Giving them some context for this really helps.
People don't like ambiguity. They want direction. They want to feel like they know what's going on all the time when they're having their photos taken. They need to be told to relax when you're taking a few seconds to adjust something with your light or with the camera. They want to know when you're going to start shooting.
This is obviously different for a documentary style shoot. In those cases people need to be told to "just ignore the camera – just do whatever it was you were doing before I showed up."
4) How important has your website and blog been to your career?
I think having a web presence is essential. However, I'm finding that having a blog is more important than a website.
The blog has an ongoing evolution that I enjoy. You can post pics from assignments, from your day-to-day living, from trips or anything you find interesting.
The web site is more fixed and I keep meaning to update it but never seem to find the time. I'm thinking of possibly transitioning to a hybrid site/blog where I have a portfolio posted but the bulk of the content is constantly new on the blog portion of the site.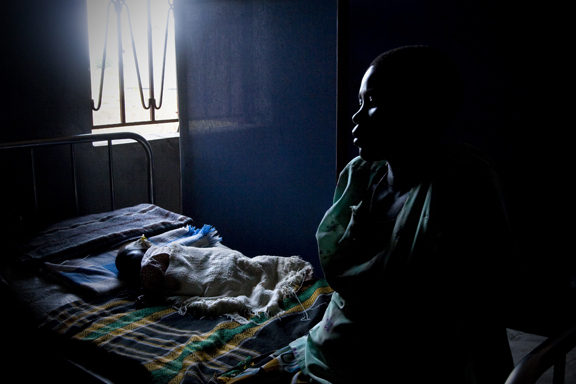 5) Do you use social media for work at all? If so how?
I find my facebook to be an important photography networking tool. It's become a virtual community for me. It's how I find out about photography events going on in Toronto and how I keep in touch with other photojournalists.
I don't have a "fan" page up on facebook yet, but I'm considering doing that next. I think it's just one more resource for people to find you and the work that you do. It's just another way to share what you're doing with friends, clients and other photographers.
I used Twitter for a while, but found eventually that I was just using it to pick up information from others. I haven't used it in over a year but I'm considering picking it up again.
6) Is video a part of the photo services you offer. Why or why not?
Right now video is not one of the services I offer. When I met with John Lehmann from the Globe he told me to focus on being a better photographer first.
I recently took a course with Brent Foster at Pikto on multimedia. However, it seems super expensive to get into and if I'm going to go that route I want to be sure I'll make money off of it. Recently a number of freelancers have sold off their audio and video gear. No one is asking them for it.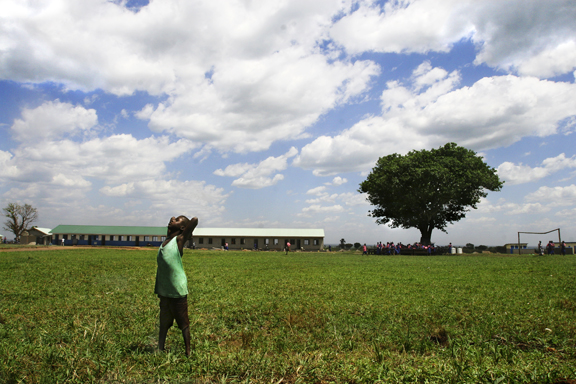 7) What types of photo assignments are you doing these days?
I'm shooting mostly for the Globe and Mail and very occasionally for the Post.
I shoot a lot of portraits, but not traditional portraits. The Globe wants to see more of a documentary approach – people doing their thing as opposed to a posed environmental portrait. I much prefer this type of assignment.
I also shoot a lot of concerts. Lots of late nights, lots of weekends and lots of last minute requests.
Finally, I've been shooting a ton of "Society Page" events for the Globe. These are parties where I literally hunt out famous or attractive people at exclusive events (where the Globe is usually the only photographer allowed inside) and ask people to stand together, like for a facebook picture. It's not super challenging but it's great for contacts and I'm starting to make the most of it by shooting interesting things that I see on my own since this type of access is usually pretty limited.
I shoot very little "news" (that tends to go to the staffers but I'm occasionally at press conferences or outside courthouses) and have not shot any sports since the fall of 2008 when I shot the Senators pre-season exhibition games for the Ottawa Sun.
8) What has been your most memorable assignment so far?
Easily the work I did for an NGO – Canadian Physicians for Aid and Relief (CPAR) in Uganda and Tanzania. I spent the month in refugee camps in Uganda and on rural farms in Tanzania. It was absolutely incredible.
Editorially, the assignments I remember most were spending the day with Canada's youngest breast cancer survivor (four-years-old). I also spent an evening with a family in Regent Park (a social housing project in Toronto). Finally, one day the Globe sent me to photograph cows that had been set up outside the ROM. It was so fun!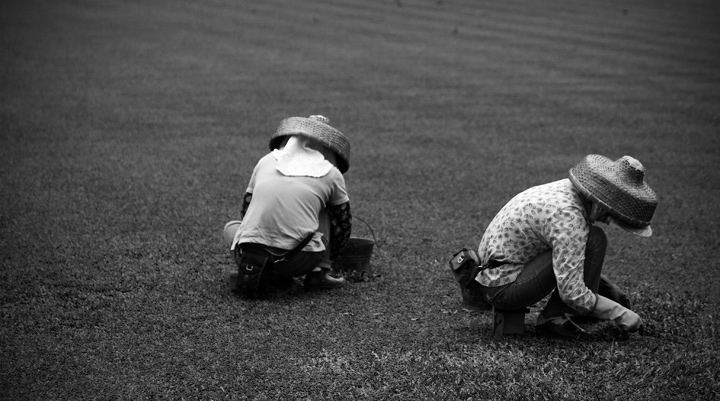 9) What are the advantages for you of working in a large city like Toronto?
The sheer amount of work available in Toronto is staggering. I cannot believe how much work there is! So many stories originate from Toronto so there is a ton of editorial work and most companies are based here so there are a lot of corporate clients to pick up as well.
In fact, it's been almost a burden for me because I've spent the last year and a half constantly taking assignments and haven't really taken some time to figure out exactly what it is I want to do next or what I want to shoot myself.
There's a huge photo community in Toronto as well. Photo festivals like Contact are inspirational and allow you to meet other photographers. It's a lot to wade through but it's wonderful.
10) Are you working on any personal projects?
I'm ashamed to say that I'm not right now. Since landing in Toronto in April of 2009 I've been so busy chasing work with clients that I have not left myself an iota of time to work on things I would like to.
Every time I decide to start on a personal project I get derailed. So the goal is for January (when it's quiet) to work on one personal project, get my website revamped and set a course for 2011. I have a book where I keep a number of project ideas and I know which one I'd like to start with.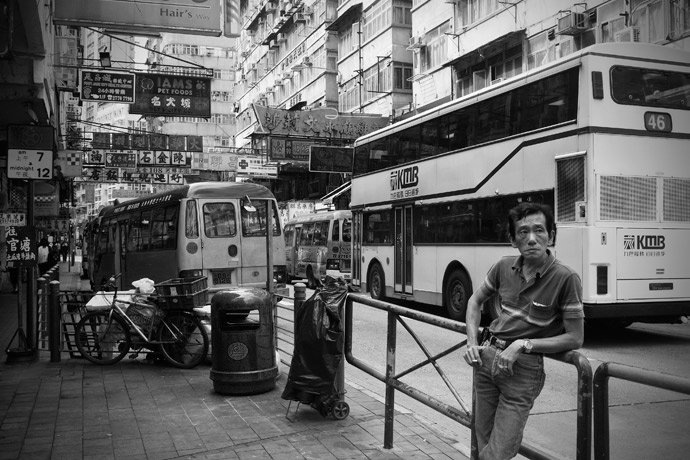 You can see more of Della Rollins work and read her blog  here.
April 25, 2010 | Filed Under Art, BC Photography Archive, British Columbia, British Columbia Photographic Archive, Canada, Canadian, Careers, Documentary Photography, Don Denton, Donald Weber, Personal Project, Photographers, Photography, Photojournalism | Leave a Comment
One of the downsides of living in a smaller place is that you have a tendency to feel isolated from the rest of the world. This week Don Weber was in town for a couple of workshops and it was a nice reminder of the wider world out there.
Thursday night I met up with him and a couple of other local photographers at a local pub and we had one of those great freewheeling talks over a few drinks that left me buzzing with ideas at the end of the night.
Don and I were joined by Deddeda Stemler, Sean White (the two just back from three months in the Philippines) and Duane Prentice, all local photographers although Sean is also a videographer, filmaker, producer etc.
We chatted about the basic (equipment and cameras) , we talked about travel, we talked about technical things and format but most of all we just talked about ideas.  Everybody had different viewpoints  but it was all agreeable and thought provoking. I don't really know Duane, this was the first time I had had a chance to chat with him and while he was quiet (compared to the rest of us) he had some interesting insights and thoughts about challenging yourself as a photographer.
The next day I took a look at Duane's site and was struck by the connection between his Remnants project, David Pollocks's Sign, Symbol and Nature and my own Saltwater And Rain project. There are, of course,  differences, for instance both David and Duane are using large format and I'm not. All are about Vancouver Island though and are concerned with the impact of landscape. It would be interesting to see a show with all of our work together.
July 30, 2009 | Filed Under Careers, Photography | Leave a Comment
There's been a lot of talk in the online photo world the past week or so regarding the fact that a recent Time magazine cover consisted of a $30 iStock photo  (story here) and how it's yet another indicator of the challenges of making a living in today's media world.
I was reminded of this story while rereading the 1984 Patricia Bosworth biography of Diane Arbus last night. Here's an excerpt from a section on the photographer Robert Frank….'In 1947 the Franks came to New York and Frank began photographing for Fortune, Life, Harper's Bazaar. The pay was terrible ($50 a picture)'.
Think about it, sixty seven (67) years ago the major magazines were paying $50 a photo (not a cover , a photo) and today a photographer is excited he got $30.