August 1, 2012 | Filed Under Exhibition, Photography | Leave a Comment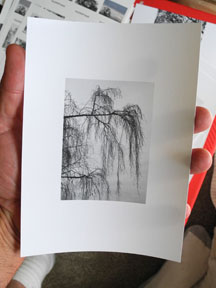 A couple of weeks off which has been good for some travel, Kamloops, Maple Ridge, Vancouver and Portland, and now I've been doing some printing. I know everyone seems to be going for big photographs but I'm enjoying making small prints.
November 15, 2011 | Filed Under Exhibition | Leave a Comment
An eye and mind boggling exhibit by Mike Andrew  McLean at the Open Space gallery in Victoria. Here's the intro from the gallery's web page:
Thirty-Five Thousand Forty
Mike Andrew McLean
November 10 to December 10, 2011
Opening November 10 at 7:30 p.m.
Thirty-Five Thousand Forty is the physical culmination of Mike Andrew McLean's project to shoot ninety-six photographs a day for three hundred and sixty-five consecutive days. McLean's year of photos, now printed as 4"x6" snapshots, will tile the interior of Open Space, forming a sprawling record of the artist's life from June 2010 to June 2011.
McLean writes "photography in the digital era is developing its own language, forging unique processes and technologies. It seems to have reached the democratic potential that George Eastman predicted one hundred years ago, when he took the process out of the studio of the trained craftsman and put it into the hands of the unskilled hobbyist." McLean turns the idea of digital photography inside out, conferring an analogue physicality and monumentality onto a format that proliferates effortlessly, flooding websites, Facebook, memory cards and hard drives in an unimaginably deep cloak of images.
———————
Note the final photo posted here. Dan Milnor snaps a photo of a 2G hard drive mounted on the gallery wall. All the photos in the show are stored on that one drive.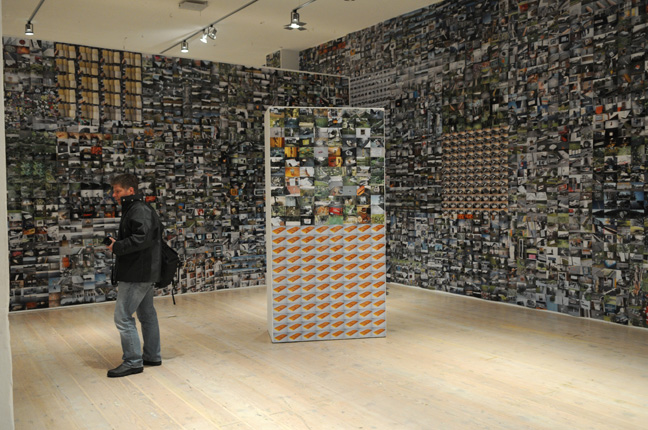 November 14, 2011 | Filed Under Exhibition | 1 Comment
Here's a few images from the opening last week of  the joint photo exhibition for T. J. Watt and myself called Seeing The Forest For The Trees at Dales Gallery in Victoria's Chinatown. The show, See The Forest For The Trees, runs until November 25.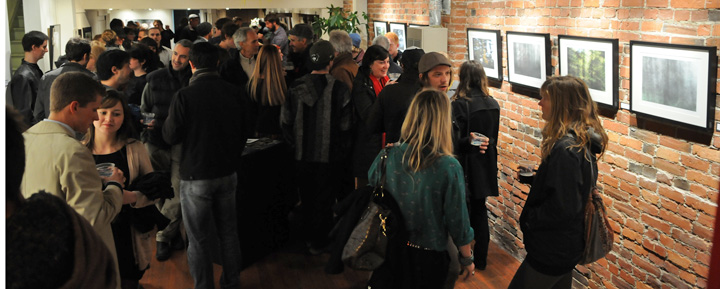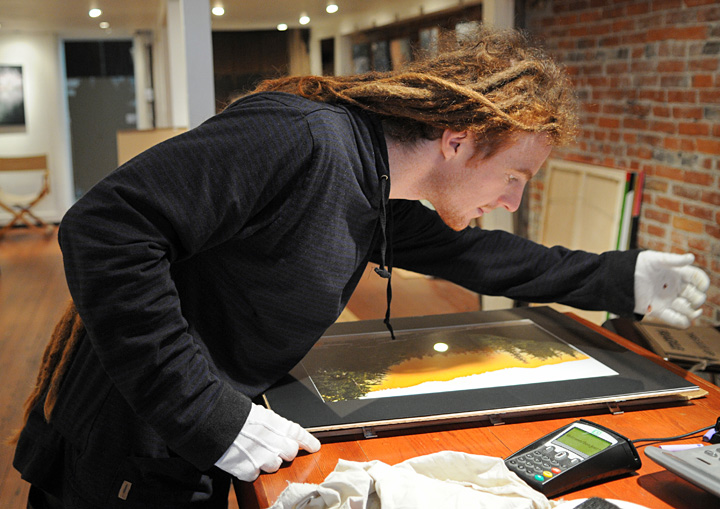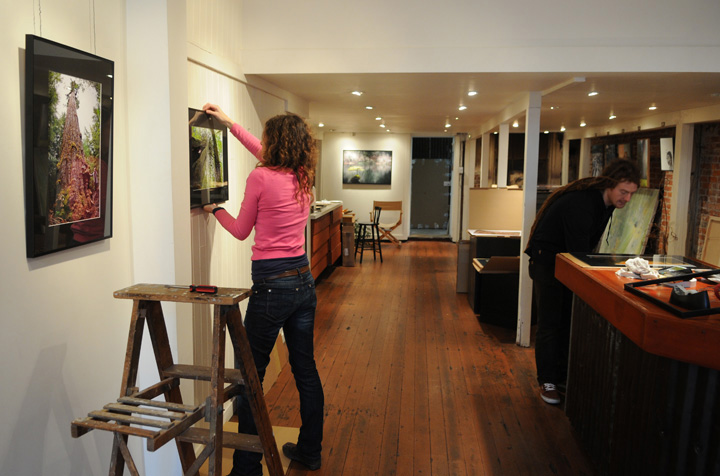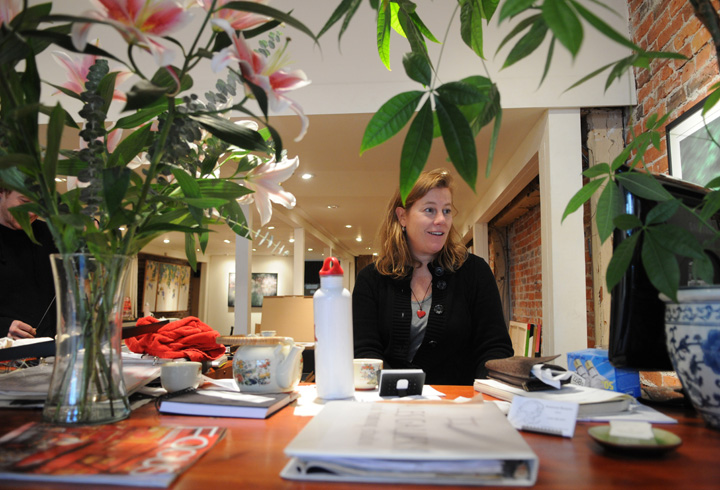 September 19, 2010 | Filed Under Exhibition, Featured | Leave a Comment
A busy night at Victoria's Luz Gallery with the opening of the Moment of Truth, The Rangefinder Chronicles exhibition and a demo by Leica of the new S2 camera.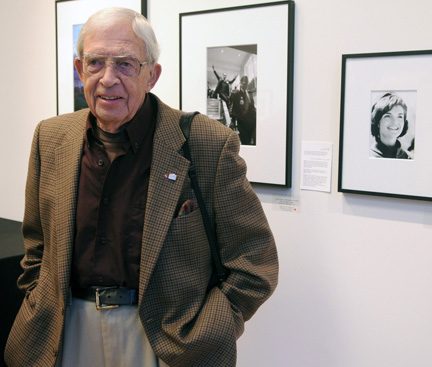 Dr. Ted Grant with two of his photos, Pierre Trudeau and Jackie Kennedy.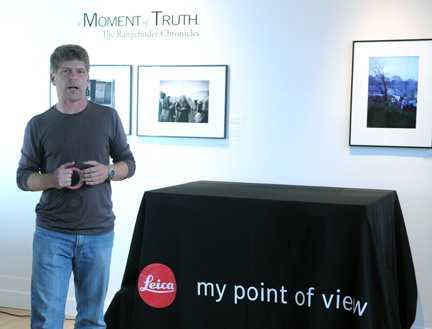 Quinton Gordon welcomes everyone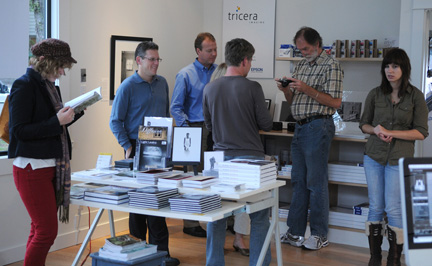 Some of the crowd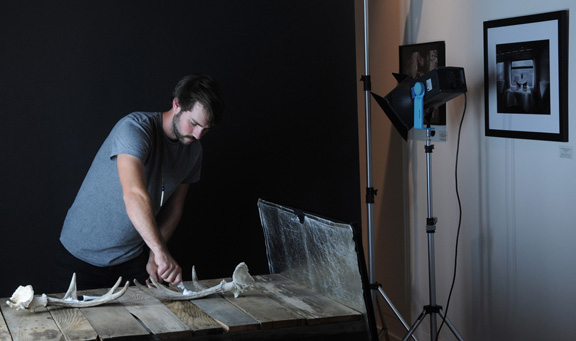 Photographer Troy Moth sets up for the Leica S2 demo.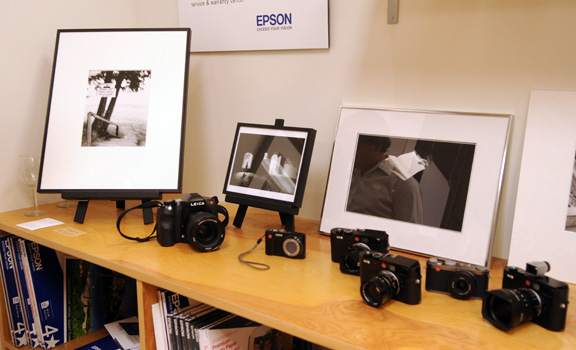 My photo in the show, at left, with Leica cameras.
September 14, 2010 | Filed Under Exhibition | Leave a Comment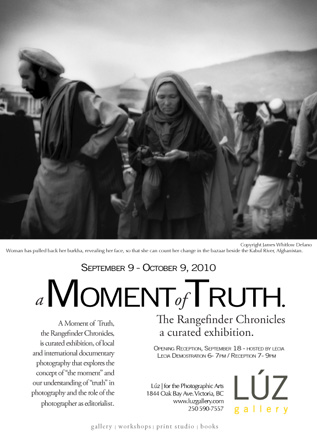 This coming Saturday, September 18, Luz Gallery will hold the opening for their latest show, a group exhibition entitled A Moment Of Truth, The Rangefinder Chronicles. It's a group exhibition and I have have an image in the show. I'm really excited to be showing with photographers  George Webber, Donald Weber, James Whitlow Delano, Ted Grant, Quinton Gordon, Lauren Henkin, Ryan Gauvin, Duane Prentice, Jamie Drouin, Federico Vanolli, Demetrious Tsimon and Mike McLean. The exhibition was curated by Diana Millar and Quinton Gordon.
September 13, 2010 | Filed Under Exhibition | 1 Comment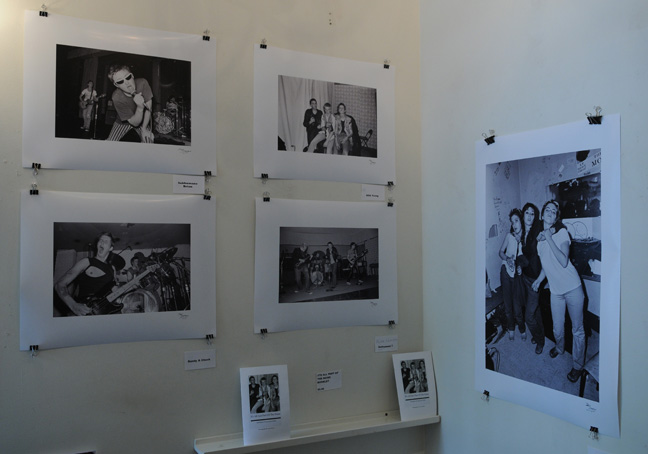 I had a great opening at the JEM Gallery Friday night.  We were scheduled to be open from 6PM until 9PM but it was after 11PM before people stopped dropping by. Saturday was excellent as well and we didn't close up shop until 5:30. Many thanks to gallery owner Carola Goetze for all her heard work.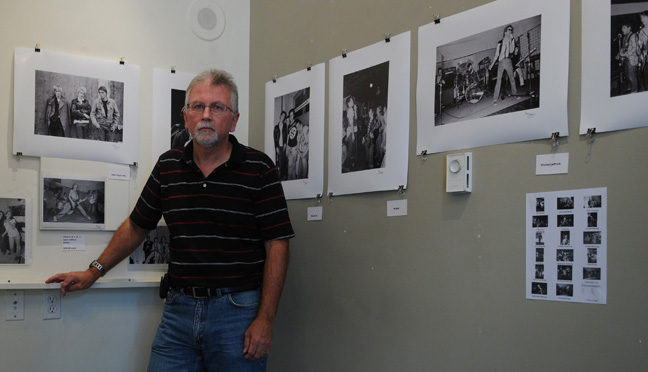 September 9, 2010 | Filed Under Exhibition | Leave a Comment
I've made up a small (16 page) booklet of images from the punk show for the JEM Gallery show that opens tomorrow night. First attempt with Indesign.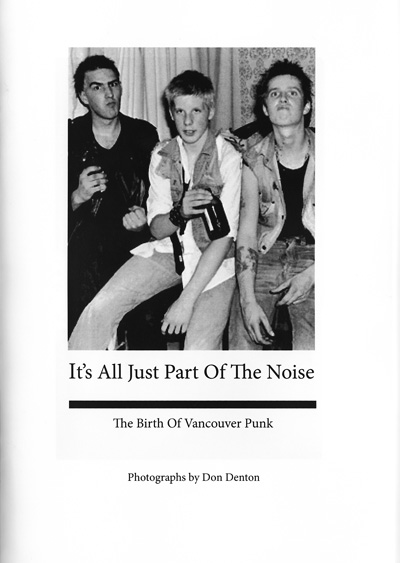 September 5, 2010 | Filed Under Exhibition, Featured | 1 Comment
I have an exhibition of photographs that document the beginning of the Vancouver punk rock world that opens next Friday September 10, 2010 at the JEM Gallery (#36 – 22 East Cordova Street)  in Vancouver. Please drop by and have a look. It's All Just Part Of The Noise, The Birth of Vancouver Punk runs until October 3rd.
Thanks to Carola Goetze for extending the invitation to exhibit at her gallery.
Many thanks to Tony Bardach for the use of his song lyric  "It's All Just Part Of The Noise"  in the show's title.  For me it encapsulates a lot about that era, in that we all were there, creating, playing, listening, photographing,  simply because we liked the music. We were all just part of the noise.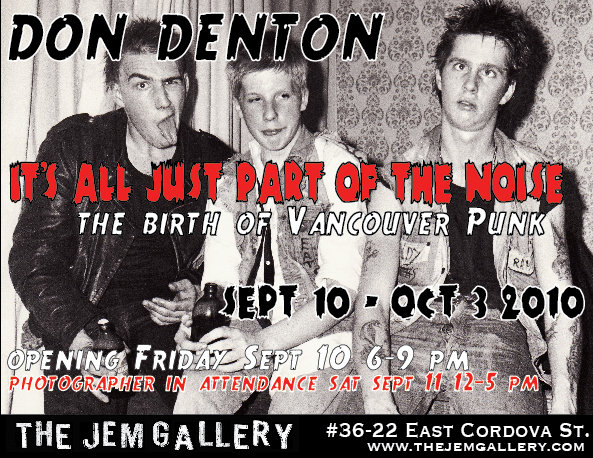 August 22, 2010 | Filed Under Exhibition | Leave a Comment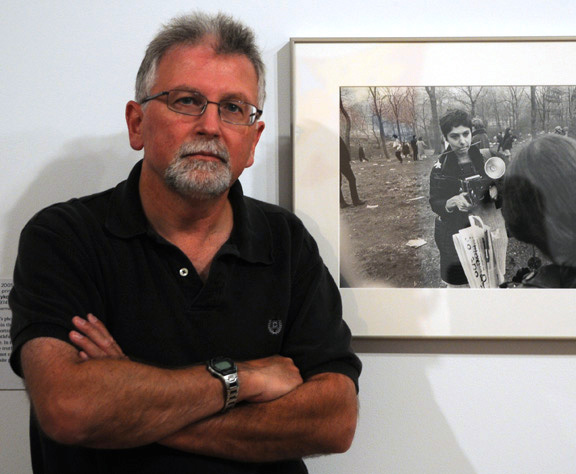 It's always great to see an actual print, even if it is behind glass, that you've only seen as a reproduction before. This Garry Winogrand image of Diane Arbus is currently hanging at the Seattle Art Museum (SAM).  Also on exhibition were a couple of Arbus prints, a collection of Imogen Cunningham prints and an exhibition of Andy Warhol photographs. Thanks to the SAM employee who snapped this for me.
April 1, 2010 | Filed Under Exhibition, Gallery & Workshop | Leave a Comment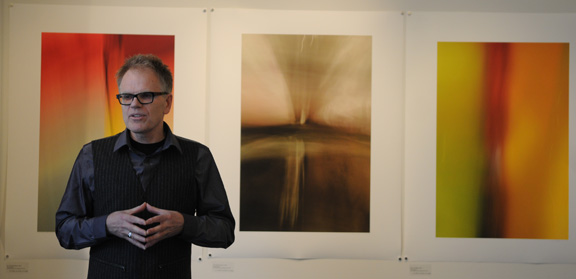 The Luz Gallery had an artist's talk and opening for the work of Saskatchewan photographer Thomas Bartlett tonight. Bartlett works with digital cameras creating his abstract images, images that he likens to colour field paintings.