September 7, 2015 | Filed Under Architecture, Art, BC Photography Archive, British Columbia, British Columbia Photographic Archive, Canada, Canadian, Cascadia, Documentary Photography, Don Denton, Fine Art, From The Archive, Historical, History, Kamloops, Landscape, Pacific Northwest, Personal Project, Photographers, Photography, Photos, Road Trip, Street photography, Tranquille | 2 Comments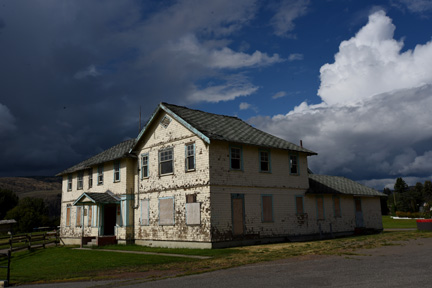 I get asked the question, what do you?,  regarding my photography a lot.
It's easy to answer when I talk about the photography that pays my rent. I am an editorial photographer who supplies images to accompany articles, illustrate stories and/or provide news, sports, entertainment coverage for newspapers and magazines. People get that.
It is much harder to explain the project work.
I often use the line (which is altered from an original sentence somewhere else I'm sure) that I am archiving British Columbia one image at a time.
That's part of it but explaining it is kind of like the challenge of crafting an artist's statement that encapsulates everything you do.
I do hope I am creating an archive of images, an archive that will have some sort of visual historical value. An archive that educates viewers about what a certain kind or part of life in this western/coastal part of Canada and North America.
I hope that the images convey something of the idea that I have that our immediate surroundings, be they physical, manufactured or social, shape who we are and save us from the commonality of global culture. I do think that despite the fact both I and a person living in Tokyo and another in Cairo could all be reading the Guardian on our iPhone while sipping a Starbucks coffee we are all fundamentally unique because of our own landscapes that we live and grow up in.
I also hope that the images stand on their own, simply as visual images, striking enough to hold hold your eye.
I hope they exist as both art and as archive.
The image above if from the site of the former Tranquille Institution in Kamloops, BC. It was at different times a home for the mentally challenged and a tuberculosis sanatorium. It has been closed as an institution for many years and now it is home to a small farm and vegetable stand but the many buildings on the site appear to be slowly wearing down. At the start of my career, working for the Kamloops News, I photographed my first photo essay ever at Tranquille, a series on volunteers working with kids with autism. It was the first time I saw the power of photography, having at the stage only read about it in photography textbooks, when the director called after the story had run to tell me about how people, moved by the images were calling up to offer their services as volunteers.
February 20, 2015 | Filed Under BC Photography Archive, British Columbia, British Columbia Photographic Archive, Canada, Canadian, Cascadia, Documentary Photography, From The Archive, Landscape, Pacific Northwest, Photographers, Photography, Urban, Vancouver Island | Leave a Comment
Looking for inspiration for my own work I'll look at the work of contemporaries but I also like to look through collections of the work of documentary photographers who photographed in earlier eras. The British Columbia Archives is the largest collection in the province (and the most diverse) but the Vancouver Library has some interesting holdings including images from the collective the Leonard Frank Memorial Society, not to mention the archives of  Leonard Frank himself. The Vancouver city archives hold a great deal of  photographs as well.
Memory BC provides link to a number of archives.
The universities can be a good source too. The University of Victoria archive is here and the University of British Columbia is here. If you're looking for a specific photographer than you may have to chase down an archive holding that photographer's images. The Belkin gallery at UBC  holds Roy Kiyooka images. They can be searched here.
Most smaller centres have their own archives as well and they can be useful if you are looking for something specific to a city.
February 10, 2014 | Filed Under British Columbia Photographic Archive, Canada, Canadian, From The Archive, Personal Project, Photography, Vancouver Street Photography | Leave a Comment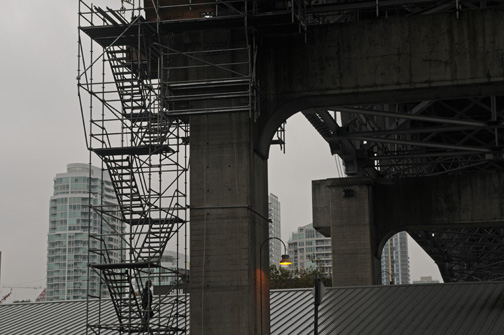 This photograph, showing a worker descending a scaffolding staircase from the Granville Street Bridge to Granville Island in Vancouver, was taken in the fall of 2013. As a photographer you always hope that your images have an immediate visual impact for viewers but for photographers who work in a documentary mode you also hope that your photographs have a historical value. I enjoy looking at the photos of Curt Lang or Fred Herzog and observing the differences in the locations they photographed in the 1950′s or 60′s and seeing how they've changed. I wonder if a viewer looks at this Granville Island view 30 years from now and compares it with this photograph what will be the differences. Likely the bridge will look the same but I'm sure that at the very least the background skyline will be more crowded. Will the same roofline be there r will another building block this view.
We're lucky to have  images held in a variety of archives (the BC Archives in Victoria, the Vancouver Public Library's holdings etc.) although they are general archives holding documents, objects as well as photographs. It is too bad there is no one British Columbia Photographic Archive or BC Photography Archive, whatever you'd call it, where one could view all the images held in collections.
December 21, 2008 | Filed Under From The Archive, Photography, Portrait | 3 Comments
This photo was taken in the late seventies along Georgia Street in Vancouver when I was just starting out and photographing mainly musicians. We just went out one night and were taking photos for fun. This record was Bryan Adam's first single, the disco flavoured Let Me Take You Dancing.