August 7, 2011 | Filed Under From the Newspapers | 1 Comment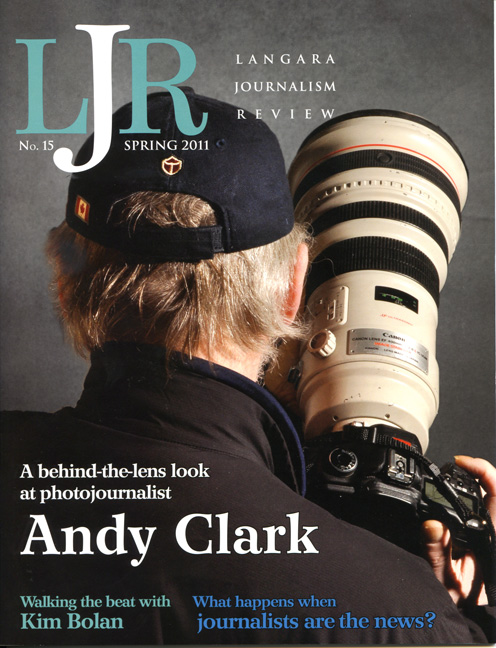 The Langara Journalism Review has an excellent interview with Vancouver-based Reuter photographer Andy Clark. I can't find an online version so you'll have to search out a hard copy on your own. Interview was done by writer Leasa Hachey and photographers Jorge Posada and Lina Zarate. I think Hachey does a nice job of capturing the essence of Andy although I'm not sure how he felt about the one description of him as a symbolic grandfather. A few interesting facts I didn't know including that the late great Canadian journalist Greg Clark was his grandfather. Greg Clark is probably the first journalist whose stories I looked for as a kid.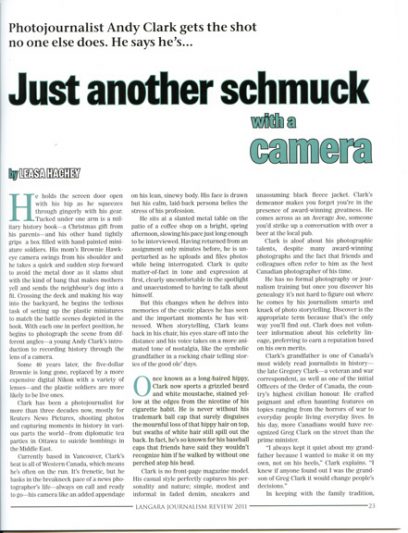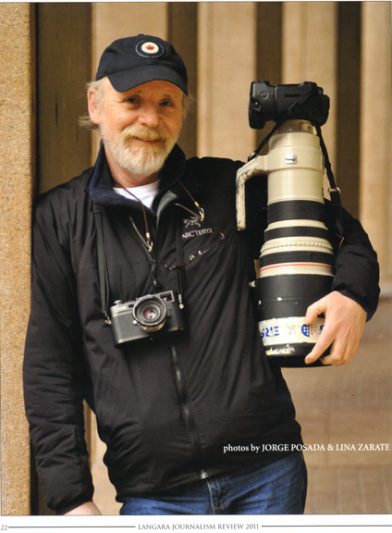 January 1, 2011 | Filed Under Blog, From the Newspapers | Leave a Comment
The various stories this past week about the end of Kodachrome reminded me of a couple of articles I came across on Derek Beaulieu's blog. Beaulieu is a Calgary based artist, a bit of a Renaissance man, a poet and artist, arts organizer etc,. Derek had been using Letraset to create text based works of art but has run into the problem of finding Letraset sheets. In case you don't remember Letraset sheets contained letters (and more) that you would rub to transfer to another surface. They were used heavily by the graphic, design and publishing industries but have been replaced by more modern technology. Beaulieu tells a story of going to the store he usually bought the sheets from only to be told they'd thrown them out as nobody was buying them anymore leaving him without a favourite tool. You can read a story about it at The Weal or see a short film of Derek creating one of his Letraset artworks on a window in Calgary's Pages book store.
To get you started on New Years day how about the pictures of the day from the NY Times Lens blog with images of New Year celebrations around the globe. You can also take a look at John Galayda's photos of a burlesque show Kitty Nights from the NY Times East Village blog. A reminder of low light and black and white.
Need some incentive to get out with your camera for the New Year, why not try a little street photography? You can follow the enigmatic instructions posted at Street Photography Now to get a little inspiration. Assignment #14 posted Dec. 31 is Show Us The Aftermath.  Sarah Bakewell mentions the project in an article on street photography in the Guardian.
From the Washington Post – Banker Andrew Plara became fascinated by documentary photography and became a collector,  a collection that has now become part of a private museum 'Pier 24′ in San Francisco. Story here.
October 23, 2010 | Filed Under From the Newspapers | 1 Comment
I'm not usually a fan of bug pictures. It's not actually a subject that comes up all that often in my world. These macro images of insects, by John Hallmen, posted in the Guardian are quite amazing and certainly worth a look. Check them out here.
February 6, 2010 | Filed Under From the Newspapers | Leave a Comment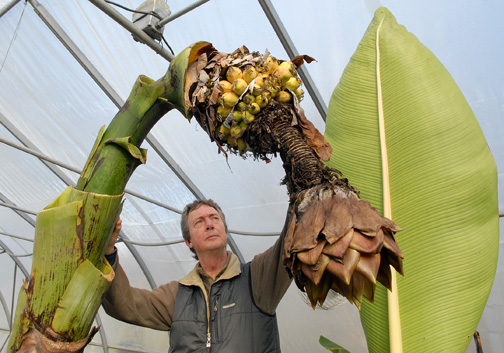 No snow for the Olympics in Vancouver and bananas growing in Victoria. Story here.
December 30, 2009 | Filed Under From the Newspapers, Music | Leave a Comment
In keeping with the recent punk theme, check out Tom Hawthorn's story on Joe Keithley's Sudden Death Records in the Globe and Mail. Check out Sudden Death Records yourself.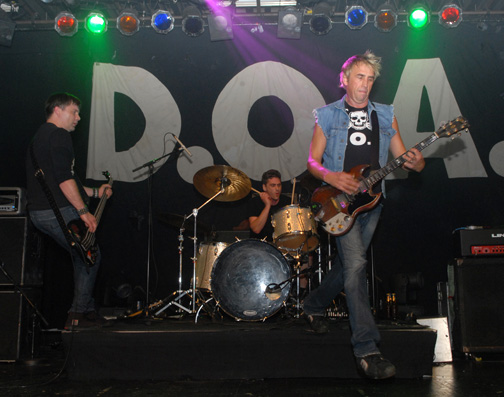 August 13, 2009 | Filed Under From the Newspapers | Leave a Comment
The New York Times' Home and Garden section has a slide show on the second house that writer (and artist)  Douglas Coupland bought in Vancouver  (behind his existing house) and turned into a gallery for his personal art collection. Slide number four shows a a photograph on the wall by BC photographer Brian Howell, from his series on wrestlers.
July 17, 2009 | Filed Under From the Newspapers | 1 Comment
The New York Times has a feature on 92-year-old fashion photographer Lillian Bassman and an obituary for 98-year-old architectural photographer Julius Schulman.
Spacing Toronto on taking photographs of events from the photographer's balcony.
A feature on Magnum's Susan Meiselas at artdaily.org.
Interesting piece from Thoughts of a Bohemian on photo-snobism.
Dirck Halstead at the always interesting Digital Journalist revisiting the death of photojournalism
An important book pointed out by Jorg Colberg at Conscientious, The Last Days of Shishmaref by Dana Lixenberg. Say goodbye to the Arctic.
Check out the newly redesigned News Photographers Association of Canada site.
A day late but a nice piece about selling your own stock from A Photo Editor.
July 12, 2009 | Filed Under From the Newspapers | Leave a Comment
Smashing magazine has a list of 35 great websites by photographers. Have a look and judge for yourself.
The Times features a story on 150 years of photographs for the Red Cross.
The shortlist for the 2009 Prix Pictet, the world's photography award for environmental sustainability has been announced. Two canadaians made the list, Ed Burtynsky and Christopher Anderson.
Brett Beadle update from Africa.
July 10, 2009 | Filed Under From the Newspapers | Leave a Comment
78 Photography Rules for Complete Idiots -funny
St. Petersburg Times  photog Melissa Lyttle uses her  iPhone for Weekend Magazine feature.
Sacramento photographer Doug Biggert has a local exhibit of his hitchiker photos. He's exhibited and better known overseas than at home. The story here.
Maisie Crow wins Ian Parry Scholarship.
The Telegraph on the ongoing police vs photographer battle in Engalnd over who can photograph what.
Woman sues Black's Photography after they handed over pix of pot to police.
June 15, 2009 | Filed Under From the Newspapers | Leave a Comment
The Independent has a story about how photojournalism images are being sold as fine art.  British photojournalist Jason Fraser has an exhibition of limited edition prints that are being sold for prices ranging from roughly $9000 to $50,000.