August 7, 2011 | Filed Under From the Newspapers | 1 Comment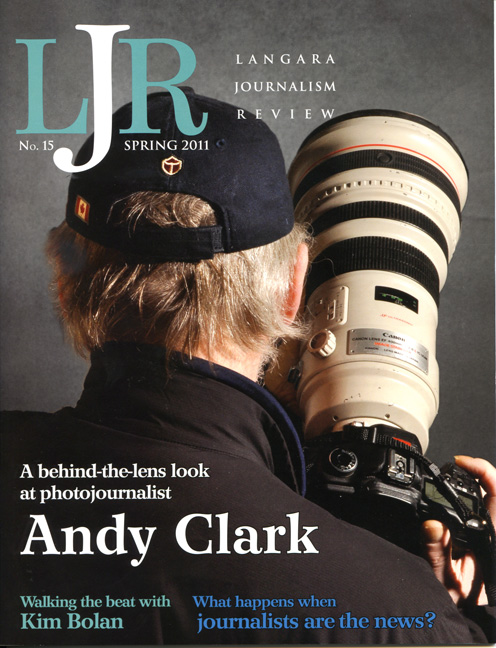 The Langara Journalism Review has an excellent interview with Vancouver-based Reuter photographer Andy Clark. I can't find an online version so you'll have to search out a hard copy on your own. Interview was done by writer Leasa Hachey and photographers Jorge Posada and Lina Zarate. I think Hachey does a nice job of capturing the essence of Andy although I'm not sure how he felt about the one description of him as a symbolic grandfather. A few interesting facts I didn't know including that the late great Canadian journalist Greg Clark was his grandfather. Greg Clark is probably the first journalist whose stories I looked for as a kid.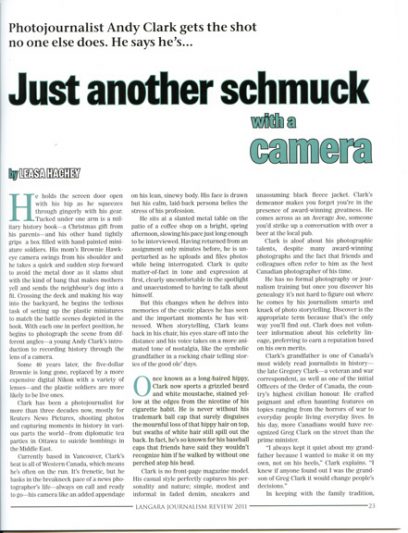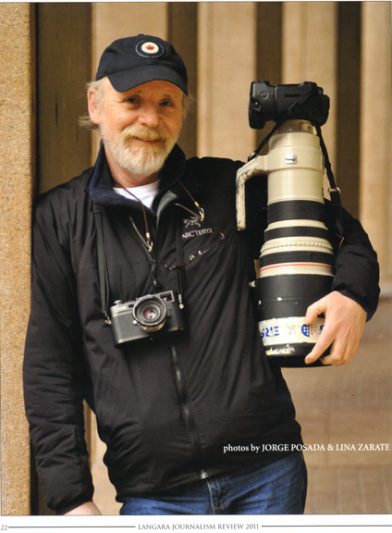 January 1, 2011 | Filed Under Blog, From the Newspapers | Leave a Comment
The various stories this past week about the end of Kodachrome reminded me of a couple of articles I came across on Derek Beaulieu's blog. Beaulieu is a Calgary based artist, a bit of a Renaissance man, a poet and artist, arts organizer etc,. Derek had been using Letraset to create text based works of art but has run into the problem of finding Letraset sheets. In case you don't remember Letraset sheets contained letters (and more) that you would rub to transfer to another surface. They were used heavily by the graphic, design and publishing industries but have been replaced by more modern technology. Beaulieu tells a story of going to the store he usually bought the sheets from only to be told they'd thrown them out as nobody was buying them anymore leaving him without a favourite tool. You can read a story about it at The Weal or see a short film of Derek creating one of his Letraset artworks on a window in Calgary's Pages book store.
To get you started on New Years day how about the pictures of the day from the NY Times Lens blog with images of New Year celebrations around the globe. You can also take a look at John Galayda's photos of a burlesque show Kitty Nights from the NY Times East Village blog. A reminder of low light and black and white.
Need some incentive to get out with your camera for the New Year, why not try a little street photography? You can follow the enigmatic instructions posted at Street Photography Now to get a little inspiration. Assignment #14 posted Dec. 31 is Show Us The Aftermath.  Sarah Bakewell mentions the project in an article on street photography in the Guardian.
From the Washington Post – Banker Andrew Plara became fascinated by documentary photography and became a collector,  a collection that has now become part of a private museum 'Pier 24′ in San Francisco. Story here.
November 16, 2010 | Filed Under From the Newspapers | Leave a Comment
The Guardian has an excellent article by Sean O"Hagan on the work of Susie Linfield who writes about how photography receives a different kind of critical coverage from other arts, especially contemporary reportage photography.
Spring in Paris? For photographers it might be fall in Paris. The NY Times has a couple of articles on the Paris Photo Fair and an offshoot Mois de la Photo Off.
The Province has an interview with David Campion about his work 'Memory And The Valley' being shown during The Memory Festival.
November 13, 2010 | Filed Under From the Newspapers | Leave a Comment
Australia's Sydney Morning herald has a piece on the Reportage Festival and discussion there on the future of photojournalism.
On the NY Times Lens blog Mark Bussell talks about Ken Heyman, documentary photographer and teacher. Bussell talks about photo education, how he learned from Heyman who learned from Margaret Mead.
November 12, 2010 | Filed Under Blog, From the Newspapers | 2 Comments
The Chicago Tribune has rather unique photo blog in that they not only have general showcase of daily images but two staff photographers have their own blogs on the site providing two separate and very different perspectives on newspaper photography. Scott Strazzante writes Shooting  From The Hip and Alex Garcia is responsible for Assignment Chicago. The general showcase is good as are most photo blogs from the major papers but it's really the two staffers that make this site worth returning to. Strazzante provides more sports images while Garcia offers more photography advice. They both offer up an amazing selection of photographs and thoughts on their profession.
October 24, 2010 | Filed Under From the Newspapers, Photo Book | 1 Comment
The NY Times Lens blog is  a great resource I check on a regular basis but somehow I missed this piece from September examining the closing of a photo book store in Maine.
Timothy Whelan closed his  store October 2 but the article examines the challenges faced not only by speciaized stores but by all bookstores.
You can the story here.
October 23, 2010 | Filed Under From the Newspapers | 1 Comment
I'm not usually a fan of bug pictures. It's not actually a subject that comes up all that often in my world. These macro images of insects, by John Hallmen, posted in the Guardian are quite amazing and certainly worth a look. Check them out here.
February 6, 2010 | Filed Under From the Newspapers | Leave a Comment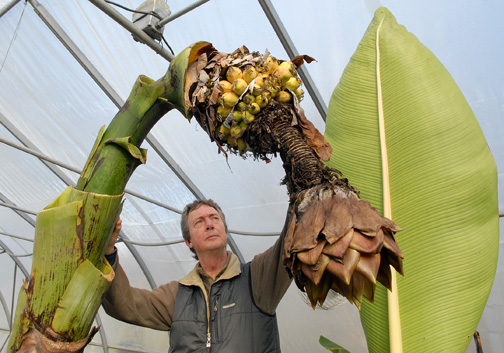 No snow for the Olympics in Vancouver and bananas growing in Victoria. Story here.
December 30, 2009 | Filed Under From the Newspapers, Music | Leave a Comment
In keeping with the recent punk theme, check out Tom Hawthorn's story on Joe Keithley's Sudden Death Records in the Globe and Mail. Check out Sudden Death Records yourself.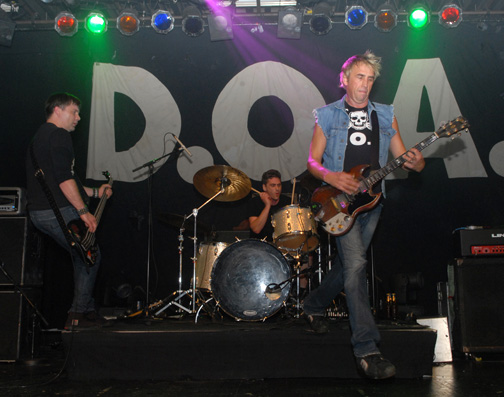 November 7, 2009 | Filed Under From the Newspapers | Leave a Comment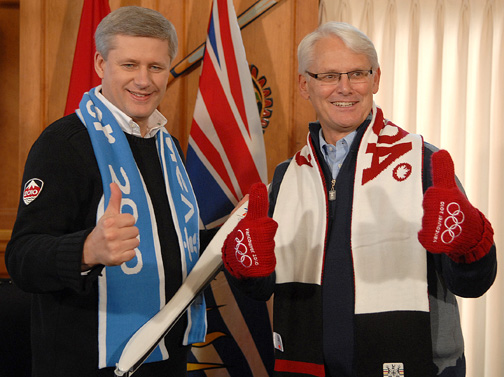 An interesting article in the Globe and Mail regarding the growing control by Prime Minister Stephen Harper's office over the photo coverage of the PM.
Here's the lead on the article:
Minutes after Stephen Harper finished his now-famous rendition of With a Little Help from My Friends , the Prime Minister's Office e-mailed Canadian media an arresting close-up shot of what it described as the gala piano performance.
Only it wasn't.
The picture, which featured Mr. Harper framed by dazzling theatre lights, was actually snapped by a PMO photographer at a private rehearsal hours before the Oct. 3 evening concert.
My photo above was from a brief photo opp in Victoria a few weeks ago where photographers did have access.