January 10, 2016 | Filed Under Architecture, BC Photography Archive, British Columbia, British Columbia Photographic Archive, Canada, Canadian, Cascadia, Documentary Photography, Don Denton, Historical, History, Homelessness, Landscape, Pacific Northwest, Photography, Photojournalism, Street photography, Urban, Vancouver Island, Victoria | 2 Comments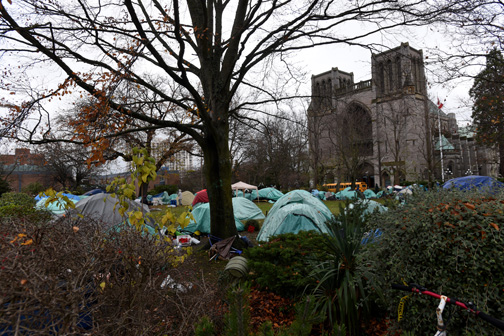 Homelessness continues to be an issue, mainly for urban areas and Victoria is no exception.  Over the past decade a number of tent cities have sprung up, established by the homeless and transient street folk, usually in city parks. The city created a bylaw to address the issue, one that allows camping in parks overnight, but creates time boundaries, when tents can be pitched and at what time they have to be removed (7am I believe). The bylaw has worked reasonably well without solving any real issues, giving people a place to sleep with allowing any permanent encampment.
This situation has changed though with the realization by someone that the park abutting the courthouse in the downtown core is actually provincial property and not subject to city bylaws. This has allowed the creation of  a new tent city on the park grounds. Reaction from the province has been nonexistent but a solution of sorts for some people has been created with the conversion of the old Boys and Girls Club building into a temporary (April) shelter with room for about 40 of the tent city residents. That still leaves more than that still camped out in the park who have no intention of leaving and really, without anywhere permanent to go anyhow.
The tent city obviously can't stay. the area is not made for any continuing encampment. There are no permanent washroom or shower or laundry facilities there. The constant foot traffic has already turned most of the grass into a field of mud (the park was still largely green when the photo above was taken) and the site is gradually being accumulating more possessions/garbage on the periphery.
The campers at this site have been largely responsible with their self governing structure but they need residences, a park in a city is merely a temporary stop. Continuing to allow the tent city to remain will only cause further deterioration of the park grounds and will not solve the very real issues of  homelessness.
Another take on the issue of the homeless and tent city's can be seen here , from the blog Fraseropolis which explores a variety of urban issues on the lower mainland.
UPDATE: While some campers did leave, the tent camp has both continued to grow and become more permanent. Several wooden structures have been erected among the tents and the grounds continue to deteriorate. Note the full size filing cabinet, at centre of image.
Update #2: Andrew Macleod of The Tyee has an interview with one of the tent city residents here. I don't think the guy does himself  or the encampment any favours in the interview, coming across not as someone who needs help or who has been overcome by events but as someone who is taking advantage of the situation.  A couple of quotes below:
"The first time you started sleeping outside, how did you end up there?
That was actually a self-choice. I chose to become homeless because well, I was just sick and tired of life the way it was for me, and honestly it's very, very freeing when you become homeless for the first time. Not needing to pay rent on anything, not needing to worry about having to work for this, work for that. If you go hungry in Victoria, you really have to be stupid, because there are so many things that are available to the homeless here. I'm also better dressed than I ever was when I was working.
Why's that?
I've just had more expensive, nicer clothes, an abundance of them, here being homeless than I did when I was working. Working, you'd think about money, think about this, think about that. Here you get handed RDS hoodies, leather jackets. I got this; it's a brand new Guess leather jacket, absolutely free. [It was] just a hand-me-down from somebody who donated it."