April 7, 2010 | Filed Under Gallery & Workshop, Online Learning, Photography | Leave a Comment

I mentioned a few posts back that I'd attended a show opening and artist's talk with Thomas Bartlett at Luz Gallery. All the images posted here are from the show.  Bartlett talked a bit about how he creates his images, he uses a digital camera and long exposures and focuses on common objects often in his house or in motel rooms when he travels. He won't tell what the original objects are as he prefers to let the viewer use their imagination. It all sounds simple. point the camera, set it for a long exposure and let fly or at least move the camera around a lot.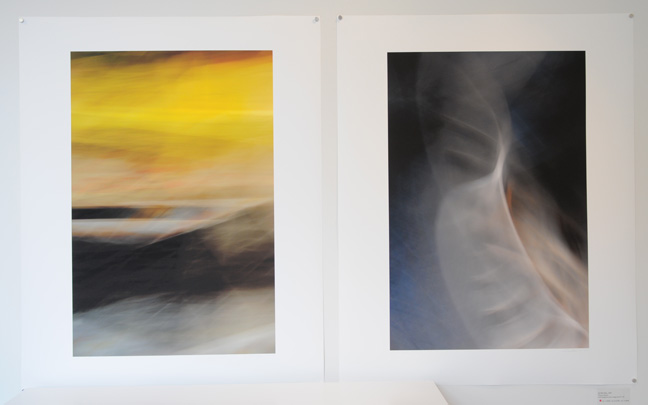 It sounded so simple I thought I'd fool around with the techniques mentioned over the weekend and create some 'Bartletts". The reality is that like most art, technique is more than camera settings. I tried a variety of settings and focused on a number of objects but just ended up with a series of rather ugly smears none of which I'll bore you with. I'll obviously have to keep practicing and experimenting if I want to start creating images as arresting and colourful as those Bartlett creates. It's a good lesson that we should all remember.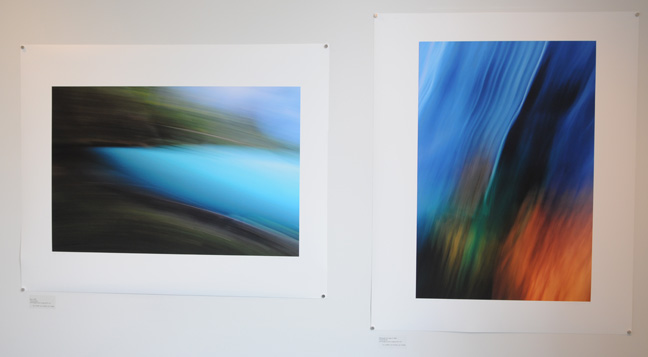 July 30, 2009 | Filed Under Online Learning, Photography, Website | Leave a Comment
Last week I mentioned how amazing it's become online with all the great sites and posting where you can read/listen and watch posting/stories/videos about photography and photographers. A former student, Byron Fry thoughtfully sent me this link of interviews and talks that is quite extensive.
I've also taken a look at New York photographer Erica McDonald's collection of her observations at photographer's talks she's attended. They're different in that they are an interesting combination of straight reportage and quotes from the events combined with her own personal observations. She calls the series of reports Scribbling In The Dark as she's usually taking the notes that will make up these postings in a darkened room as she listens to the presentations.
She's also an excellent photographer, very nice stories and portraits to look through on her site.
July 24, 2009 | Filed Under Online Learning, Photography | Leave a Comment
Students often ask where they can go to add to their knowledge when classes are done and many online sites are obvious recomendations. The past few weeks I've had the opportunity to revisit some favourite sites as well as take a look at some new offerings.
Lens Culture hosts a great site but I've never checked out their collection of audio interviews before. I really enjoyed the talk by Stephen Mayes on the World Press Photo contest. I actually found myself scribbling notes on a nearby envelope as the lecture unfolded. At 49 minutes it's a long but very useful, thought provoking talk.
Yesterday checked out the just posted interview with Danny Wilcox Frazier at Brian Storm's MediaStorm and still have to go back for the rest of the presentation on Wilcox Frazier's Driftless.
Over at the Lenswork site where I haven't been in ages I found a whole series (400) of short podcasts from Brooks Jensen. These are all quite short and while you won't want to listen to every one (well, maybe you will) there are lots to choose from . I'd actually gone there because I'd just read elsewhere about the death in May of Bill Jay, whose work especially his portraits of photographers I'd always found quite fascinating (I actually published a series of them in my short lived photo paper Deadline, back in the mid-nineties). Jay had been a long time contributor to Lenswork. Look at Jay's images and/or read his essays at his site here.
Youtube offers up a number pf presentations on photography. I've paricularily enjoyed the videos on Magnum photographers, an amzing view of  Bruce Gilden, focusing on his street photography techniques, and a nice interview by Michael David Murphy with Alec Soth.
Magnum Photos offers up essays and podocasts on their agency site. I really like Trent Parke's Minutes To Midnight presentation and have watched it a number of times. Parke and his wife, the equally accomplished photographer Narelle Autio, spent two years traveling around their native Australia.
If you want a look at how some photographer's set up their workspaces take a look at Andrew Hetherington's What's The Jackanory site for video tours of photographers's studios.