June 19, 2012 | Filed Under Art, BC Photography Archive, Blog, British Columbia, British Columbia Photographic Archive, Canada, Canadian, Careers, Daily Work, Documentary Photography, Don Denton, Fine Art, Historical, History, Pacific Northwest, Photo Coach, Photographers, Photography, Road Trip, Street photography, Vancouver Island, Victoria, Workshop | Leave a Comment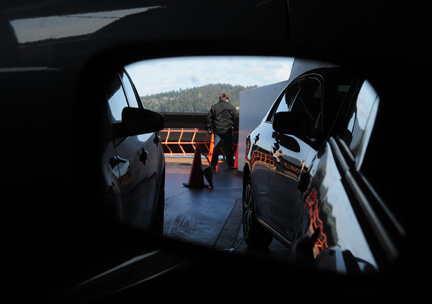 BC Ferries, Swartz Bay, BC 2012
I've spoken to a number of photo groups lately, showing some of my images and talking about the projects.
The audiences have been great, very appreciative and always lots of questions and discussion afterwards.
It's a two way street though. I get lots of feedback on my images which is so helpful and it's often a surprise which photographs resonate with an audience and why.
The other thing I find is that talking about my projects, both during the presentation and during the discussions after allows me to fine tune my own thinking about what I'm photographing and different directions I might take it.
In my main Pacific Northwest related project Salt Water & Rain I've been discussing as a way to find that within the local (landscapes, natural, manmade and cultural) that defines us, as opposed to the generic (chain stores and products) that makes us the same.However due to the presentations I've been thinking about more complex issues within that and trying to figure out how to present those. Issues like why certain cultural influences such as writing seem to be stopped by the United States/Canada border, especially since it is regional writing. Yes, the US and Canada are separate regions but the commonalities of the Pacific Northwest really do transcend the imaginary line that is the border.
So, thanks again to all those groups that have had me as a speaker.
March 2, 2011 | Filed Under Gallery & Workshop, Photo Coach | 1 Comment
A busy week for talks with a presentation Monday night on documentary photography to the good folks at the Esquimalt Photography Club and a Tuesday Q & A with students in the written Images class at the Western Academy of Photography. Both were a lot of fun for me and hopefully everyone got a little photo info to think about. Tonight after work I checked out the opening of the Club's photo exhibition. The great thing about photo clubs is you get such a great variety of photography subjects and styles, something for everyone.
October 21, 2010 | Filed Under Photo Coach, Photography | Leave a Comment
I hate making mistakes.
I especially hate making mistakes that are so basic I should have stopped making them years ago.
When I teach photography one point that I really try to drive home is that photographers have to pay attention to the foreground and background in their images.  Our eye naturally goes to our subject and we don't notice unfortunate details in front or behind the subject. We then end up with wires sticking out of heads and oher such rookie mistakes.
Last week I photographed Daniel Laskarin, Victoria artist and UVIC professor, for his new show Agnostic Objects (things persist) at the Art Gallery of Greater Victoria. One sculpture, called TurnyGurl, caught my eye and I really wanted to photograph Laskarin with it. The sculpture has a round circle that rotates while at the centre a video screen projects an image of a woman's head turning. It was oddly mesmerizing, simultaneously (if that possible) the video screen pulling you into the centre while the outside circle was grabbing your attention as well. I wanted Laskarin framed by the circle and the girl in the video looking straight ahead. I got that but………………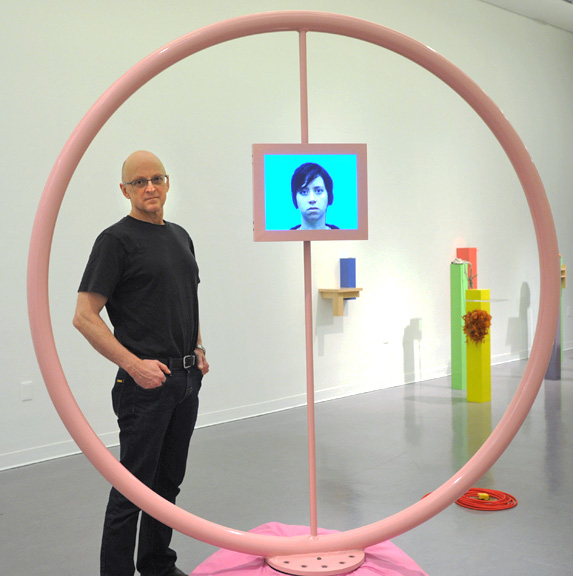 I didn't move the electrical cord on the floor. I saw it when I was first looking over the artwork but when I started shooting I was so focused on Laskarin's face, the pink circle and the video screen that the cord just….evaporated, until I looked at the images in the computer.
Always, always check the foreground and back ground before you press the shutter.