January 1, 2011 | Filed Under Photo Book | Leave a Comment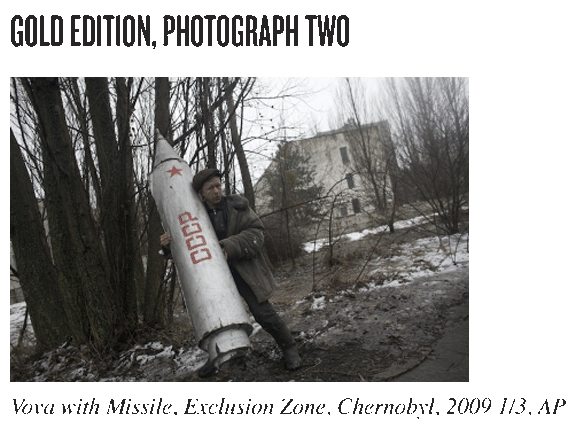 Documentary photographer, and rising art star (check out the 12 page spread in the Fall 2010 edition of Canadian Art magazine) Donald Weber has a new book INTERROGATIONS coming out in the fall of 2011. Published by Schilt Publishing, features more of Weber's images from Eastern Europe.
The following, from the release for the book, explains Weber's work:
'Interrogations is the result of his personal quest to uncover the hidden meaning of the bloody 20th Century. In dialogue with writer Larry Frolick – whose own ancestors had been decimated in the final months of WW II – Weber insistently and provocatively addresses his questions both to the living survivors and to the ghosts of the State's innumerable victims, resurrecting their final hours by taking their point of view, and performing a kind of incantatory meditation over their private encounters with Power.
The policemen, working girls, thugs, dissidents and hustlers who inhabit these pages are all orphans of a secret History; the outlines of our collective fate takes shape in Weber's epic work, expanding our awareness of what it means to be an actor in today's dark opera.
Weber will be selling a number of collector's editions to help support the publication of the book. Buying at Bronze edition at $200 will get you a 8×10 signed print and a signed specially packaged edition of the book. The Gold Edition, at $1000, gets you the choice of one of five 30×40 prints (each an edition of 3 Artist's Proofs) plus the signed packaged book.
You can get more information and order the special editions here.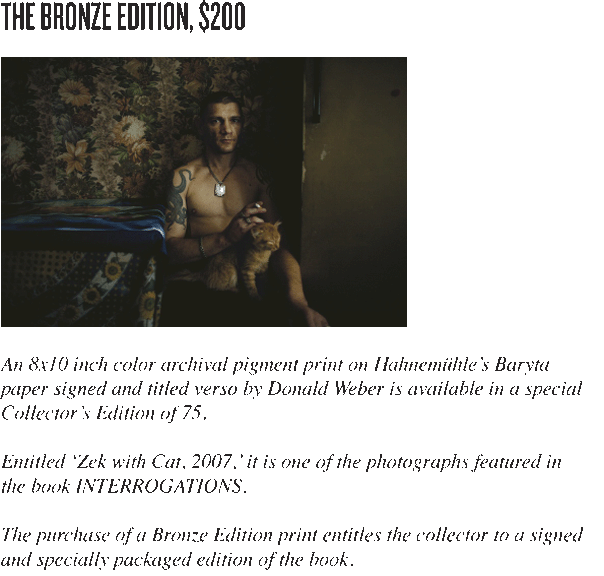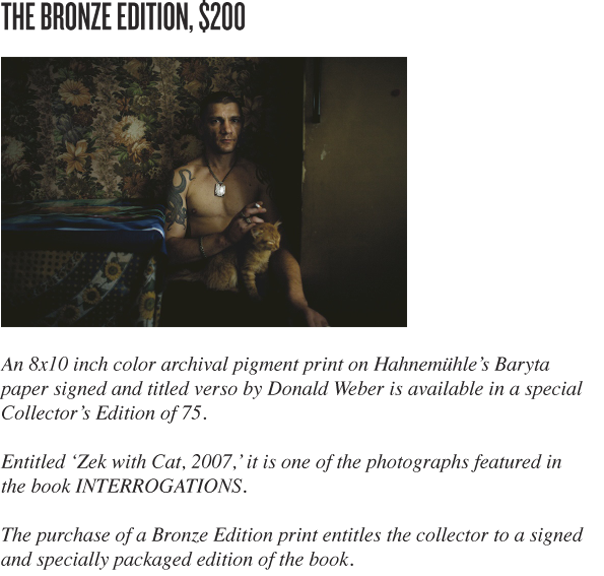 '
April 21, 2010 | Filed Under Featured, Gallery & Workshop | Leave a Comment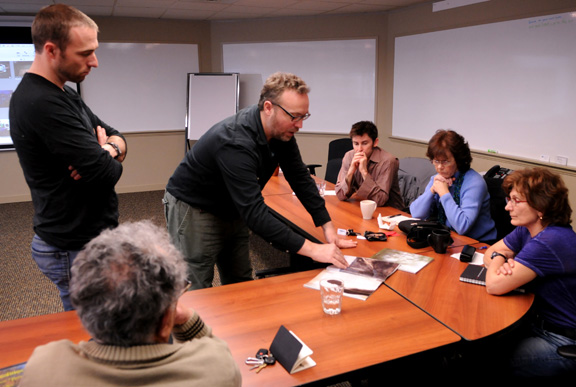 Last weekend I attended a two day workshop presented by Luz Gallery with Toronto photographer Don Weber, a member of the VII agency. We had a diverse group of twelve workshoppers (if that's a word). There was the legally blind Anglican minister, the woman who'd had Ansel Adams drop by her house when she was a child and critique her photos,  a philosophy professor who had just returned from a workshop with Mary Ellen Mark and the motorcycle riding government lawyer. The others were equally interesting. There was even a few of us pro photographers.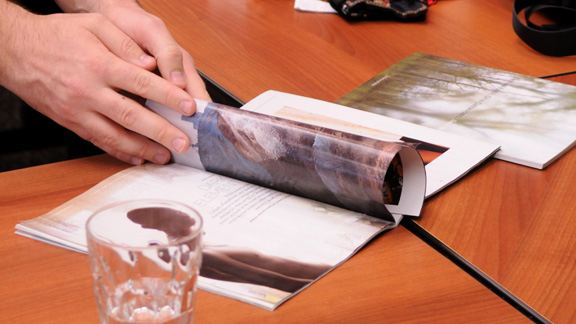 The first day focused on looking at various projects shot by Don as well as work by his fellow VII photographers and others. Don showed his Ukraine images including those from Chernobyl that are featured in his book Bastard Eden as well as images from Russia and other eastern countries. I've attended a fair number of lectures as well as short seminars but never a weekend workshop. Looking at it from the perspective of someone who teaches now and then I was impressed by the way Don was able to keep the day on track while allowing people to ask questions even if they were slightly off topic.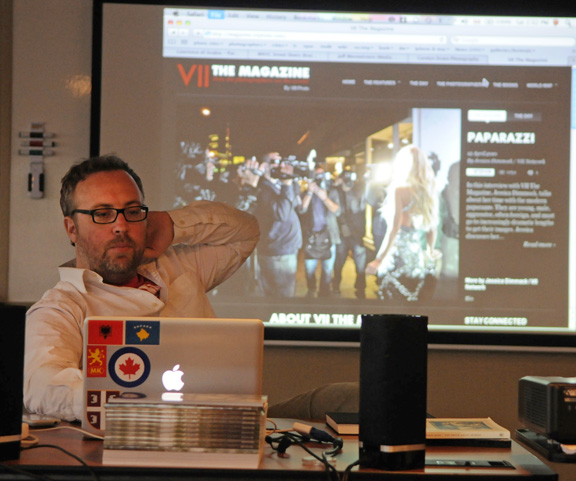 The second day we spent time looking at each other's projects with Don doing an edit of our images. It's always interesting ( and a good practice) to have someone else look over your images and provide feedback. Don was quite good at distilling everyone's pile of images down to a select few.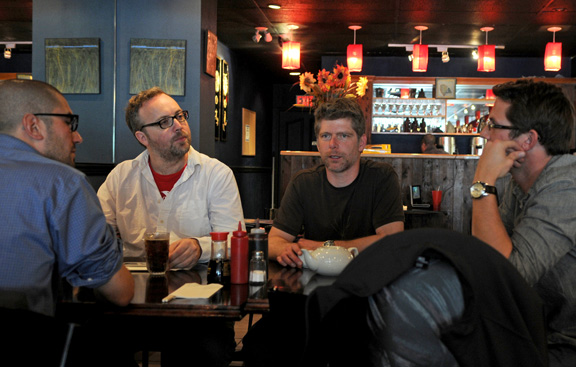 I found the workshop allowed me to look at my own work with fresh eyes and perhaps seek a slightly different direction with a couple of projects. I was also extremely impressed with Don's organization and his focus on his career. He appears to have a very solid understanding of where and how he wants to have his career advance and how to make that happen. That's awfully rare I think,  so it was very useful to see it explained.
This coming Saturday I'll be attending Don's grant writing workshop and I'll be looking forward to that and having the mysterious world of grants simplified.
I have to say that Luz Gallery's Diana and Quinton's hard work at promoting shows and putting on workshops like these have made Victoria a far more interesting place for photographers. A year ago there was simply no chance to spend a weekend with a photographer of the calibre of Don Weber.  Now we have someone coming in every few months, and sometimes weeks,  for a new show or workshop.
July 24, 2009 | Filed Under Online Learning, Photography | Leave a Comment
Students often ask where they can go to add to their knowledge when classes are done and many online sites are obvious recomendations. The past few weeks I've had the opportunity to revisit some favourite sites as well as take a look at some new offerings.
Lens Culture hosts a great site but I've never checked out their collection of audio interviews before. I really enjoyed the talk by Stephen Mayes on the World Press Photo contest. I actually found myself scribbling notes on a nearby envelope as the lecture unfolded. At 49 minutes it's a long but very useful, thought provoking talk.
Yesterday checked out the just posted interview with Danny Wilcox Frazier at Brian Storm's MediaStorm and still have to go back for the rest of the presentation on Wilcox Frazier's Driftless.
Over at the Lenswork site where I haven't been in ages I found a whole series (400) of short podcasts from Brooks Jensen. These are all quite short and while you won't want to listen to every one (well, maybe you will) there are lots to choose from . I'd actually gone there because I'd just read elsewhere about the death in May of Bill Jay, whose work especially his portraits of photographers I'd always found quite fascinating (I actually published a series of them in my short lived photo paper Deadline, back in the mid-nineties). Jay had been a long time contributor to Lenswork. Look at Jay's images and/or read his essays at his site here.
Youtube offers up a number pf presentations on photography. I've paricularily enjoyed the videos on Magnum photographers, an amzing view of  Bruce Gilden, focusing on his street photography techniques, and a nice interview by Michael David Murphy with Alec Soth.
Magnum Photos offers up essays and podocasts on their agency site. I really like Trent Parke's Minutes To Midnight presentation and have watched it a number of times. Parke and his wife, the equally accomplished photographer Narelle Autio, spent two years traveling around their native Australia.
If you want a look at how some photographer's set up their workspaces take a look at Andrew Hetherington's What's The Jackanory site for video tours of photographers's studios.
July 7, 2009 | Filed Under From the Newspapers | Leave a Comment
Your chance to get an original Brett Beadle print. Delivery will take a bit as he's off to Africa for a month today.
Photo stories are where you find them, the NY Times on Jose Gaytan and his photos of the Gowanus canal in Brooklyn.
A different kind of photo blog – Prison Photography, the practice of photography in sites of incarceration.
The Business of Editorial Photography from the Photoshelter crew.
In case you missed it VII takes on more photographers. Lynsey Addario, Ziyah Gafi?, and Seamus Murphy have been invited to join VII Network. More at the agency site click on Latest News.
Prime Minister Stephen Harper gets flashed by John W. MacDonald