April 11, 2012 | Filed Under Gallery & Workshop | Leave a Comment
I've just finished up the documentary project class I was teaching as part of the University of Victoria's Continuing Education program. The first time for continuing ed and it was a great experience. A small class but enthusiastic and everyone ended up working on a great project of their choice. The best part of teaching for me is watching the students' confidence and skill improve through the duration of the course. We ended up with a real variety of projects and some amazing individual photographs. I've got another proposal in for a fall course at UVic. I'll post the details when I know it's a go. It'll be  a very different photo offering.
November 25, 2010 | Filed Under Ideas | 1 Comment
Like most people when I notice my bookmarks page is getting out of control with far too many links I'll go through and delete those links I'm not visiting any more, that no longer work, or that simply are not updated anymore. There is one site though that doesn't get updated that I still leave on my list.
That site belongs to the British photographer Chris Schwarz.
I only met Schwarz once and it was such a different event that it continues to resonate with me.
It was the early 80′s and I was working in Edmonton. It was winter and I'd been assigned to cover a First Nations powwow on a small reserve at least an hour drive south of the city. It was cold and snowing and while I'd been promised a page for the images from the event I wasn't expecting much from the event, indoors in small rural hall.
Once there I and working I noticed another photographer shooting away in the crowded room and eventually made my way over over to myself. We said hello and he introduced himself. I looked at him and said the British photographer (his accent being my first clue).  He answered in the affirmative looking a little puzzled and then even more so when I told him I knew his work. He shook his head and said that just wasn't possible.
Now you have to remember this was pre-internet, pre-email etc. He was not a famous photographer just a documentary photographer in London who had snagged a gig from a  group of First Nation tribes who wanted an exhibition of images up in London before a delegation looking for help with treaty rights arrived in England, a way to generate publicity and interest in their cause. That assignment had resulted him being at that powow.
The chance that he'd run into another photographer in a tiny Alberta town on a freezing winter day was slim enough let alone one who knew who he was and knew some of his work.
A couple years earlier I'd been in London for several months and at some point had picked up copies of a tabloid photo magazine called Camera Works. In one issue that looked at the coverage of a (famous for the time) march and riot in Lewisham Schwarz's work was featured which was where I remembered his name and work from. I believe he was in other issues I had but that one sticks in my brain for some reason.
He was quite overwhelmed and excited that I knew his images and some of the events he'd covered.  I was excited that I'd run into a photographer from London whose work I knew (which made him famous in my eyes)  I offered him a ride back to Edmonton after we'd finished shooting (he'd bused down) which he happily accepted and we talked photography all the way back and then through dinner and into the night.
That was the one and only time I met him. Later when I was working in Europe and was in London I'd ask photographers about him and he seemed to have dropped out of sight although one photographer told me that he'd heard Schwarz was helping start up a museum about the River Thames.
I don't know if that story was true or not but he did end up starting a museum. It wasn't in London though and it didn't celebrate a river or even photography although it did feature a large number of his photographs.  In Krakow, Poland he opened the Galicia Jewish Museum, an outgrowth of his interest and photo project on Poland's Jewish heritage.
Schwarz died in 2007 from cancer. His site is here. The site for the museum he founded is here. A New York Times obituary is here.
July 23, 2009 | Filed Under Photography | 1 Comment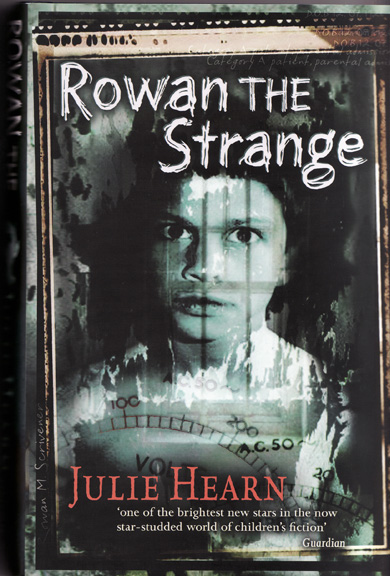 The cover for Julie Hearn's book Rowan The Strange is a photo I took several years ago of my youngest son.  It's always great to get an image published somewhere different and while I've had my own books published and have had a number of writer portraits used for book covers this is the first book cover from a photograph of mine. The image was chosen from a British/Spanish agency I have some photos with, Arcangel. Here's a review of the book from the Guardian a couple of weeks ago.
June 15, 2009 | Filed Under From the Newspapers | Leave a Comment
The Independent has a story about how photojournalism images are being sold as fine art.  British photojournalist Jason Fraser has an exhibition of limited edition prints that are being sold for prices ranging from roughly $9000 to $50,000.
January 25, 2009 | Filed Under Photography | Leave a Comment
Writer Chris Gainor stands in as the late British Prime Minister Winston Churchill at an annual ceremony to remember the politician Sunday afternoon. A group, heavily dressed against a cold wind, gathered around a hawthorn tree planted by Churchill in Beacon Hill Park on a visit to Victoria in 1929, listened to few speeches, received Churchill related books and memorabilia in a draw and then toasted the memory of the cigar smoking man. Anyone interested in Churchill can check out www.churchillvictoria.com.