June 19, 2012 | Filed Under Workshop | Leave a Comment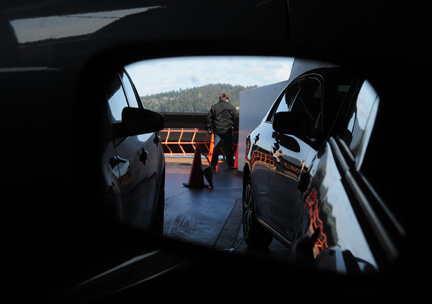 BC Ferries, Swartz Bay, BC 2012
I've spoken to a number of photo groups lately, showing some of my images and talking about the projects.
The audiences have been great, very appreciative and always lots of questions and discussion afterwards.
It's a two way street though. I get lots of feedback on my images which is so helpful and it's often a surprise which photographs resonate with an audience and why.
The other thing I find is that talking about my projects, both during the presentation and during the discussions after allows me to fine tune my own thinking about what I'm photographing and different directions I might take it.
In my main Pacific Northwest related project Salt Water & Rain I've been discussing as a way to find that within the local (landscapes, natural, manmade and cultural) that defines us, as opposed to the generic (chain stores and products) that makes us the same.However due to the presentations I've been thinking about more complex issues within that and trying to figure out how to present those. Issues like why certain cultural influences such as writing seem to be stopped by the United States/Canada border, especially since it is regional writing. Yes, the US and Canada are separate regions but the commonalities of the Pacific Northwest really do transcend the imaginary line that is the border.
So, thanks again to all those groups that have had me as a speaker.
May 29, 2012 | Filed Under Personal Project, Website | Leave a Comment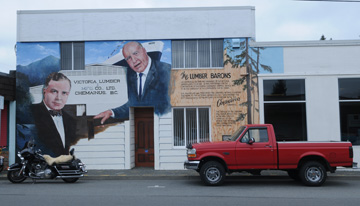 Red Truck and Mural, Chemainus, BC 2012
I'm going to try and concentrate on this blog as my main (lone) source of news about my work.
Other methods of social media are great and certainly useful but I've found that, for me at least, they end up being a distraction from creating work.  The other issue was quality, lack of quality. Trying to feed the social media bear meant I was rushing posts just to get something  new up. Posts I wasn't satisfied with and didn't always reflect what I needed or wanted to say about the photographs and projects.
It's not even that they weren't fun because it was enjoyable to rapidly post work. I just felt that it was all taking me away from my core purpose. To create great images and then create great prints and publications.
I'll see how this works over time.  I do plan on using other digital distribution streams in the future when I want to promote a single project or event but for now this, and now and then Facebook, will suffice.
September 13, 2010 | Filed Under Exhibition | 1 Comment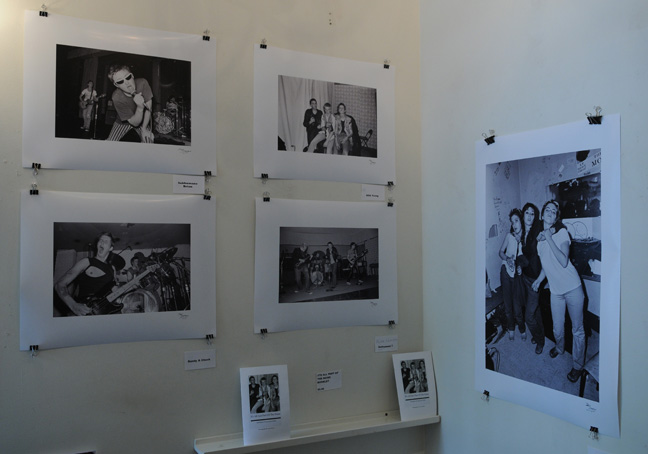 I had a great opening at the JEM Gallery Friday night.  We were scheduled to be open from 6PM until 9PM but it was after 11PM before people stopped dropping by. Saturday was excellent as well and we didn't close up shop until 5:30. Many thanks to gallery owner Carola Goetze for all her heard work.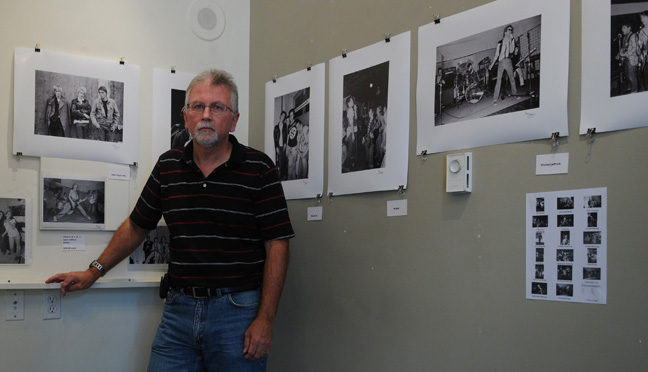 September 5, 2010 | Filed Under Exhibition, Featured | 1 Comment
I have an exhibition of photographs that document the beginning of the Vancouver punk rock world that opens next Friday September 10, 2010 at the JEM Gallery (#36 – 22 East Cordova Street)  in Vancouver. Please drop by and have a look. It's All Just Part Of The Noise, The Birth of Vancouver Punk runs until October 3rd.
Thanks to Carola Goetze for extending the invitation to exhibit at her gallery.
Many thanks to Tony Bardach for the use of his song lyric  "It's All Just Part Of The Noise"  in the show's title.  For me it encapsulates a lot about that era, in that we all were there, creating, playing, listening, photographing,  simply because we liked the music. We were all just part of the noise.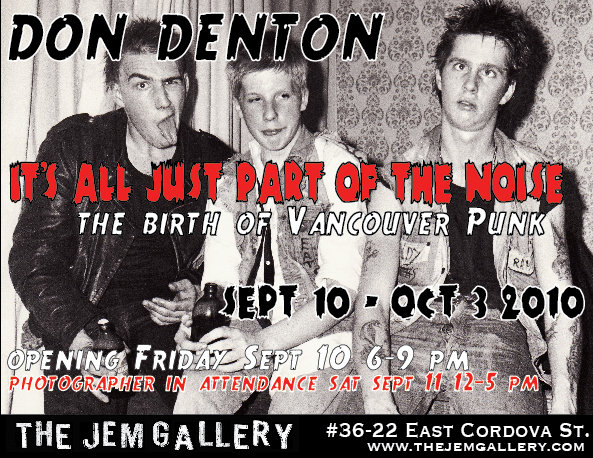 November 10, 2009 | Filed Under Personal Project | Leave a Comment
It was more than a pleasant surprise today during my daily check of photo sites to click on Joerg Colberg's Conscientious site and see one of my photos from the Salt Water &Rain project.
It was especially heartening as this is one of the first projects where I've moved away (or at least I feel like I have)  from my newspaper photojournalism background.
The project is based on the idea that despite increasing globalization and commodification of culture we are all, no matter where we live, still strongly shaped and given identity by our landscape and weather. Those two factors work to keep us distinct. Living on the western edge, actually off the western edge, of Canada on islands, surrounded by the ocean and often, certainly in the fall and winter months, living in the rain and fog does affect how you live.
These photographs are an attempt to look at and understand that effect.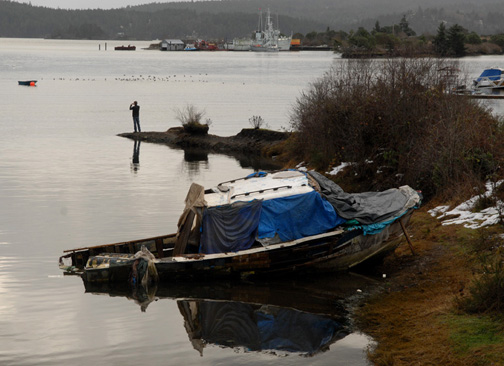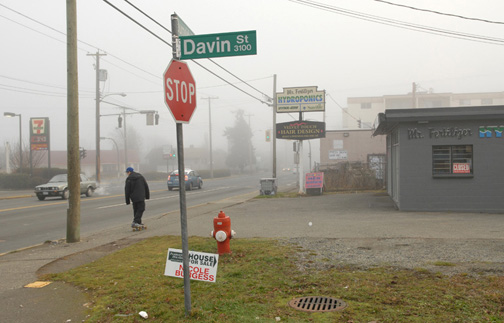 June 15, 2009 | Filed Under From the Newspapers | Leave a Comment
The Independent has a story about how photojournalism images are being sold as fine art.  British photojournalist Jason Fraser has an exhibition of limited edition prints that are being sold for prices ranging from roughly $9000 to $50,000.