January 17, 2012 | Filed Under Blog, Road Trip | Leave a Comment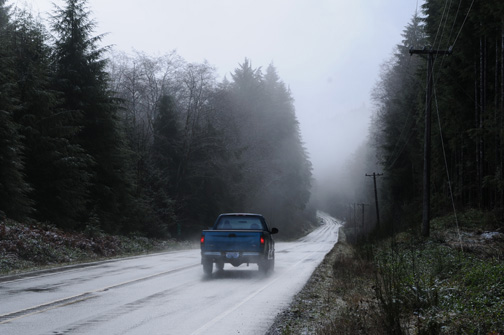 Hit the road for a weekend with a trip around the Olympic Peninsula. I'd been down the east side before travelling to and from Portland but hadn't done the whole loop around the peninsula. Great trip although the weather was constantly changing, providing a number of challenges for driving and making it difficult to get all the photos I wanted. That said it was a lot of fun and I saw lots of places that I want to go back to.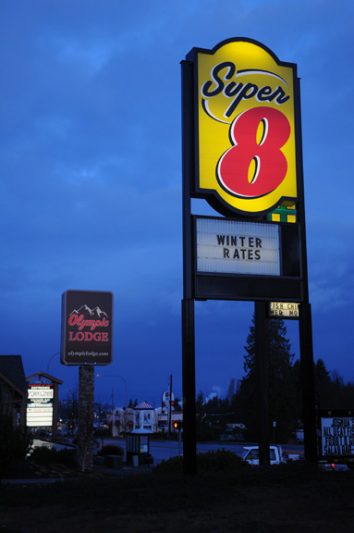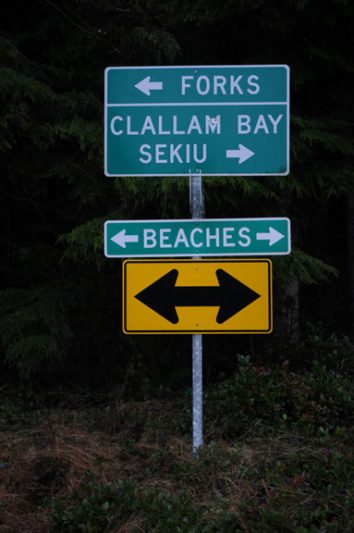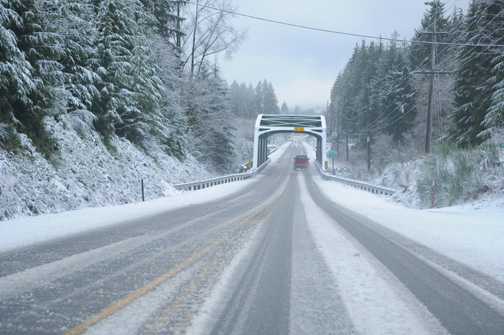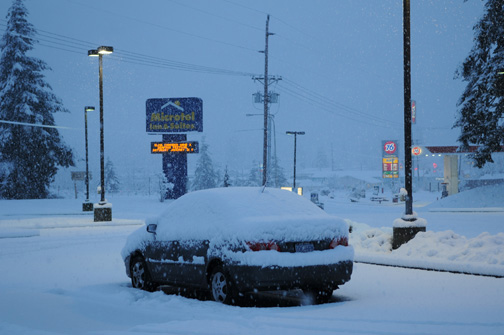 November 28, 2010 | Filed Under Interview, Photography | 3 Comments
1) You are unusual among newspaper photographers in that you have your own weekly column. Describe what your column is about.
Basically, I go and have an adventure and write about it. The adventure can be anything I feel like doing. Most of the time I poke around southern Alberta – the best place in the world – but I also write about my trips to other places as well. I've done stories from every continent except Australia and Antarctica but I expect to knock those two off pretty soon.
Most of the time i just pick a direction and go. My natural tendency is to head east and south because those wide open, unpopulated, treeless lands are what I prefer to explore. The mountains are okay, too, but they just don't speak to me like the prairies do. I photograph the land, the sky, the plants and animals and absorb the ambiance of wherever I am. I'm not often around other people when I'm at these places but I don't try to avoid them. I like chatting with folks and quite often those visits get mentioned in my yarns but most of the time I have the world to myself.
All of this is done on my own time, on my days off from my regular newspaper job.
2) How long have you been producing the column?
I started doing these stories in 1991 so I'm coming up on 20 years. At first I travelled everywhere with my dog Ansey and it was him who made the stories popular. In the pre-internet days we got mail from as far off as Saudi Arabia and Australia from people who had the clippings sent to them by friends in Alberta. Ansey and I rode the rails together for nearly 16 years but since he ran ahead up the trail back in 1997 I've been rolling solo. I miss him every day and I still keep his bandana hanging from my rearview mirror. He will always be with me.
4) Describe a typical day out for the column.
My favorite time of day is the early morning so I'm often up at around 4 a.m. in the summer to make sure i'm somewhere interesting when the sun pops above the horizon. I'll look for birds and animals and stop to shoot whatever catches my eye. These days I shoot video along with still photos so I look for situations will work as video clips as well. I thoroughly enjoy the video aspect. It adds a whole other dimension. Come wintertime I'll go wherever the weather takes me. On a cold, sunny day I'll head to the grasslands. if it's snowing I'll swing through the foothills or hit the mountains. A typical day any time of year runs about 12 hours, most of it spent driving with a couple of hours of walking thrown in. When I'm writing about a fishing trip it might be the opposite with just a couple of hours driving and more time spent walking.
Most days, though I just cruise and keep my eyes open. I always see something and every time it's something new.
5) You do a lot of driving for the column, what sort of mileage do you accumulate in a year?
I average about 400 km per trip but I've had several days where I've driven 1000 km or more. Last year I took off to New Mexico and drove over 6000 km in six days. I drive a 2007 Toyota FJ Cruiser that's just about to hit 250,000 km.
6) Do you carry a lot of photo gear with you or do you travel light?
I always pack at least two cameras which these days are Canons that shoot both still and video. On one is a big-ass Sigma 50-500 and the other usually has a wide-angle zoom. When I hike around I pack a carbon-fibre tripod with a video head, a microphone, extension tubes and a hand-held audio recorder. I always have a flash with me but I rarely use it. When I'm shooting to please myself I have the luxury of looking for good light. When I'm shooting for the paper I often have to use the flash to make up for the lack of good light.
7) What is it about Southern Alberta that continues to fascinate you?
Here's my favorite example of why Southern Alberta is so awesome. The Bow River runs from the Rockies down through the foothills. It bisects Calgary before heading out onto the plains where it meets the Oldman River to form the South Saskatchewan River. For its first third its a tumbling mountain stream. The middle is one of the best trout streams in the world. And the lower stretch is a wide, warm, slow-moving prairie river.
In the space of a single day you can photograph mountain goats, bighorn sheep and grizzlies at the base of a glacier, catch and release trout as long as your arm right in the middle of a city of a million people and poke around sagebrush flats photographing cactus, rattlesnakes and scorpions and never be more than a quarter-mile away from that one ribbon of bright water. I don't think you can do that anywhere else in the world.
And that's just one watershed. the Red Deer River cuts through the badlands and exposes massive dinosaur graveyards, the Milk River has sandstone cliffs covered with petroglyphs and is the farthest north branch of the Mississippi. You can paddle a canoe from the town of Milk River all the way to New Orleans. The Rockies run along the B.C. border and no one has to tell you how spectacular they are. But the sand dunes and near-desert country along the eastern border are every bit as amazing.
Then there's the Milk River canyon where you can find yucca blooming and watch elk and antelope mingle on the sagebrush-studded plains.  Over by Waterton there's sandhill cranes nesting on the same ponds that trumpeter swans raise their young. Drive up into the Porcupine Hills and see Head-Smashed-In Buffalo Jump, a World Heritage site, and continue on into the best ranching country in the world. Find the shade of a cottonwood tree to get yourself out of the 40C summer heat over by Medicine Hat and pack survival gear for a winter drive drive west of Caroline in minus-40C cold. Or wait a couple of days for a chinook that you can smell as it blows in across the mountains and watch the temperature rise 20 degrees in the space of a few hours. God, I love this country!
8) Is there one area of southern Alberta in particular that you enjoy more than another?
I far prefer the plains to the mountains but there are places in both that draw me back. In the mountains there's the upper Oldman River valley – great cutthroat trout fishing – and Smith-Dorrien Trail that runs up the Spray River behind Canmore. And Waterton, of course, that gorgeous gem of a forgotten national park that sits in the southwest corner of the province. Almost no one goes there and that's all right with me. The Porcupine Hills south of Calgary should be a national park run entirely by ranchers. I enjoy the wild horse country west of Sundre and on up to Ya-Ha-Tinda.
On the prairies, well, I like pretty much everywhere. The top spots would be Dry Island Buffalo Jump, the north side of Dinosaur Provincial Park, the Red Deer River valley from Jenner down to Empress and the Saskatchewan border, the Milk River Ridge, the Pinhorn Grazing Range and the Milk River canyon, the Cypress Hills – especially the south-facing slopes – and the irrigation lands between Lethbridge and Medicine Hat. Gotta give some love to the parkland country, too, up around Stettler and Buffalo Lake and on east from there.
9) You have a close connection with your readers who seem to relate very personally with your columns. Can you talk about that?
I can't tell you how much I enjoy people coming up to me and introducing themselves. It's just so cool to know that there are folks out there who get a little joy out of what I do. Not to sound too cynical but when you work in the news business you tend to pay far more attention to all the worst parts of humanity. You cover far more deaths than births, you rush to a house burning down and forget the ones being built. You shoot millionaires playing games and pass right by the working poor on your way to do it.
So when someone seeks you out to shake your hand or takes the time to write you an email or send you a card, well, it's like taking a deep breath of prairie air after a thunderstorm has passed. Every time it happens I know that I have been blessed.
10) You are out in about in all manner of weather. You drive through areas that are sometimes remote and/or isolated.  Have you ever had a negative experience as a result of weather conditions or human/wildlife confrontations?
I have done many stupid things while adventuring around. I got struck on the hand by a rattlesnake because I got too close with my camera – it didn't bite, fortunately – and came mighty close to running out of gas in the middle of Nevada trying to follow a Pony Express trail. I've fallen into numerous creeks and rivers – cameras and all – and driven fish hooks into both hands, both arms, my back and nailed my hat to my head a half-dozen times trying to cast heavy flies on windy days. Fishing in Argentina I drove a hook into the end of my nose.
But the worst was getting lost among the steep coulees that run down into the Milk River Canyon. I'd spent the night out on the prairie and lit out first thing in the morning to hike down to the river about 600 feet below on the canyon floor. i followed a coulee down to the river and then hiked upstream thinking I'd just find another coulee and walk back up to the truck. I left my water jug behind thinking I'd only be gone for maybe an hour.
Nine hours later I still hadn't found the truck. I'd forgotten that the coulees weren't running in straight lines and the one I'd picked followed a long curve that took me way past where I thought I was. The temperature out in the sun was pushing 40C. There was no shade and I had no water. My vision was starting to tunnel and I was thinking very seriously of just lying down and going to sleep. The nearest human habitation was more than a 30 km walk away and I had just sat down on a rock to try to think about what to do next when a glint about a quarter mile off caught my eye. It was my truck and in my delirium I'd walked right past it. I staggered over, opened the door and grabbed the water jug but my throat was so dry I couldn't swallow. I let the water sit in my mouth until my throat opened up and when that first swallow hit my stomach every pore opened up on my body and I was suddenly drenched with sweat. I was so dehydrated that my systems were shutting down and I hadn't even realized that up until then I hadn't been sweating despite the heat. A rough lesson to learn but I got lucky. I'll never let that happen again.
11) You shoot video now, as part of the online presentation of the column. How has that affected the way you work?
Shooting video has changed quite a lot of things, the biggest being that about all you use from your stills background is framing. All the rest is different. For example, say you're shooting a story on a toy maker. For stills you shoot all the standard stuff – the tools, the hands, the parts being put together, the finished product. But for video you shoot ten seconds of the hands, ten seconds of the tools, ten seconds multiplied by as many angles as you can think of of the toys being assembled and various angles at ten seconds each of the finished project. Then you have the interview with the toymaker, maybe something of kids with the toys. And all of this has to be framed properly in a horizontal format. There's no vertical in video and cropping options are limited.
Basically, video is a whole separate job from the stills.
When I do my On The Road stuff, though, I kind of have the opposite problem. Because wildlife opportunities are generally quite fleeting, I concentrate on video first and hope for stills. Yeah, video has changed my workflow a lot. But it has made me more aware of the visual opportunities all around me.
12) Do you have any plans for a book based on the columns?
I'd sure love to do one but I don't have the slightest idea of how to get it done. So no, no plans but if I can figure out how it's done I'll go for it.
13) What else do you cover for the Calgary Sun? What have been some of the highlights of your 'regular' newspaper work?
I cover all the usual news and sports and shoot the things other news photographers shoot. Unlike most, though, I'm not a big sports fan. Sure, I like getting the peak moments and the story-telling photos of the games but really, I can take it or leave it. I'd really like to do more documentary photojournalism but newspapers don't seem to be doing much of that any more. I had high hopes for a bright future in newspaper photography with the advent of the internet but no, so far it's just more of the same. Editors are far better at finding ways to say no than to say yes. Thank God I have my column to do on my days off.
Having said that, though, I've done some pretty nifty things. The 1988 Winter Olympics were a lot of fun because there was so much more going on than just sports. There's been some spectacular fires I've covered and it's a blast driving around in a blizzard looking for pictures. And one time I was presented to the Queen.
But the best one was a trip to China to look at illegal immigration. The story was a bust but the pictures were great. It was a perfect lesson in how to get along in a foreign country. Just before we were about to leave an earthquake hit Taiwan and since we were close the reporter and I were sent to cover it. It was 48 hours of travel, shooting and sending photos over telephone lines – 45 minutes per picture! I remember watching the TV bounce across the cabinet and a picture swaying on the wall of the hotel room as the place shook with aftershocks.
The devastation was amazing but the people were so kind and unfailingly polite. Some day I want to go back there and see how everything has healed up.
You can follow Mike Drew's adventures here
October 20, 2010 | Filed Under Blog, Personal | 1 Comment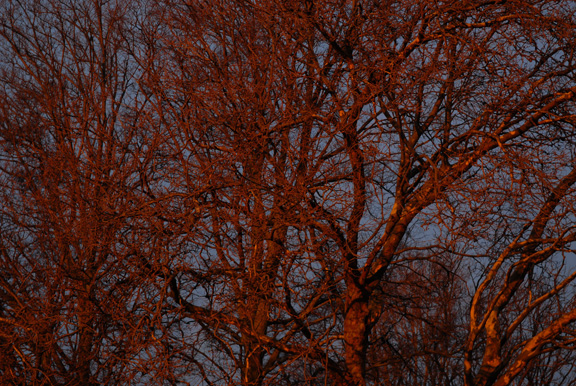 Why am I blogging?
Well,  the common wisdom when I had my website built was that you had to have a blog with your site. Everybody was doing it.  If you wanted to draw attention to yourself and your work then you had to blog. Just having galleries of your photos wasn't good enough. A blog however, if you posted at least twice a week, would have editors flocking to your site.
The reality is , of course, different.  Posting a few photographs on your blog is no guarantee of anything especially if you start losing interest and only post now and then. Which is what had been happening here.
It was important to realize that the blog wasn't was was important, the blog is only a platform for delivery, the content is what is important ( repeat to self Content is King,  Content Is King).
I wasn't sure what to do about my blog so I did a little research, mainly going back to blogs I like and taking a closer look at what it was that I enjoyed. I also checked out bloggers who blog about blogs and blogging, some of the more interesting ones anyhow and a couple of trends did emerge.
One was the advice that it wasn't enough to just post a new photo, or piece of art or an update on what you ate for breakfast, that's not enough to hold your readers interest, at least not very often or for very long. The other was that you should post on topics that you are interested in because you can usually find a group of readers who are interested in the same topics you are. If you write about those topics, in a manner that's entertaining, controversial, timely and/or at the very least well written, you'll pull in the people who have that common interest.
It all sounds obvious and it is, the challenge is in the doing, on a regular schedule and for a long period of time.  The time part is especially important because that's how you start to keep the readers that enjoy the same subjects you do and enjoy whatever it is you're posting about them.
So, what am I going to do?
I'm going to keep blogging but on a far more regular basis (he says with fingers firmly crossed). I'm going to post on topics I find interesting. There'll be lots of stuff on photography and photographers.  I enjoy when I teach photo classes so I'll try and make sure some of the posts are educational, maybe lessons learned from my assignments. I'll write about other subjects I find of interest,  things like the media (all of them), blogging and bloggers, public relations and marketing, travel, hockey, music, coffee, scotch and beer. Not necessarily in that order.
I'll post photos too. Sometimes connected to the article, sometimes just because I like the image. I'll keep posting the odd punk photo too because I know there is a group of people interested in those and because I am too.
Let me know how I'm doing.
February 22, 2010 | Filed Under 2010 Winter Olympics | Leave a Comment
Best overheard conversation of the day.
Visitor: How do I get to the Canadan Mint display?
Olympic Volunteer: Walk two blocks until you come to the end of a lineup and stand there.
As a fan the Canada vs USA match was a disapointment but next game, for sure. We can beat Germany, can't we?
Today I have aerials at Cypress at 6pm. That means catching a 3pm bus to the mountain (55minutes), an hour window to set up and make sure everything is on time, out to the course to get a spot an hour ahead and even then all the best spots will be taken. Wait and hour, shoot for an hour and a half, rush back to file, Hike back to the media bus stop (a long trek at Cypress, especially with all your gear at the end of the day). 55 minutes ride back to the media centre and then still have an hour back to my bed.
I'm envious of the guys at the bigger organizations who have hotels close by.
Knock wood, no serious camera, computer or disc problems, seeing other photographers trying to recover images from damaged discs and dealing with malfunctioning cameras and computers. I've lost a skylight filer and the protection screen from the back of one camera. Screen rubbed off while was sprinting through Whistler village trying to catch the bus back to Vancouver (or have to wait another hour). Made it with the door literally closing behind me. Then spent 15 minutes trying to breathe again. Sprinting with a camera back, computer backpack and long lens while trying not t run over small children not recommended especially for the out of shape, yes me.
January 20, 2010 | Filed Under Literary Photographer, Music, Portrait, Sports | Leave a Comment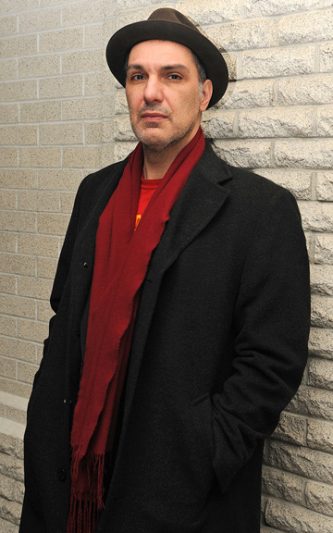 The great Dave Bidini was in Victoria last night giving the annual Orion lecture. He talked about his travel for his books and TV documentaries and afterwards took questions from the audience. He'll be around for a few more days talking to various writing classes at UVIC. I'm sure it's not always so but Dave's life seems so seamless, travel and music and writing and family and hockey all melding together magically. Plus he's a cool stylish guy. Just look at the images from last night.