I'm continuing a long slow sort through my boxes of negatives. A good lesson as to why you should keep your work not only organized and catalogued as you create it but make sure you have adequate written information with the photographs. There are so many envelopes of negatives documenting events that I only have a vague remembrance of.
I came across a folder of images of Tim Ray and his band AV who were part of the early Vancouver punk explosion. I've been having difficulties with my neg scanner (the old software doesn't seem to like the new computer) so I can't scan my negatives right now. I did find this print though and scanned it on the flatbed.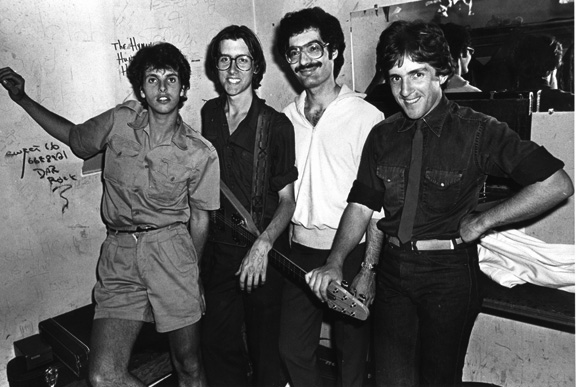 The photograph shows (L-R) Tim Ray, Bill Napier-Hemy, Unknown to me, Colin Griffiths in a dressing room at one of the clubs. Napier-Hemy and Griffiths played in the Pointed Sticks as well.
Tim was an interesting guy with quite a theatrical performance at times. I was just looking at  negatives that show him starting out a show while his upper torso was encased in a large bag that he then punched his way out off. Unfortunately you'll have to wait for the fixing of the scanner before I can show those.