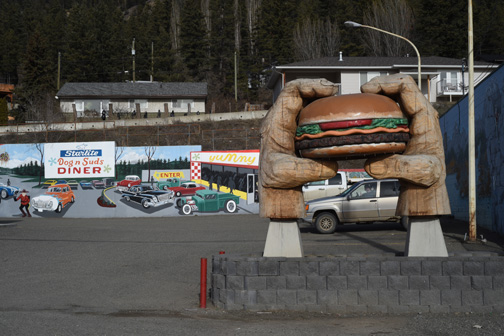 Williams Lake,  a small city in British Columbia's Cariboo-Chilcotin  was in the news last week after  the city council voted to "inject' repeat offenders with a GPS tracker (story here). The wacky story could have come right from the pages of Mark Leiren-Young's memoir of his days as a rookie reporter for the Williams Lake Tribune called Never Shoot A Stampede Queen. The shooting, by the way, refers to a photographic incident.
Coincidentally I've just recently returned from my first visit to Williams Lake and I'd packed along Leiren-Young's book to reread. The Starlite Dog N Suds, pictured above, features in the book as a favourite lunch stop for the new reporter in town and it was great to see it still there and busy 30 years later.
My experiences in the town of 12,000 was different and  over a much shorter period as I was in town just for a weekend and while I was reporting/photographing it was for a tourism publication not a newspaper.
I flew in with Pacific Coastal Airlines and it was a reminder of how much pleasanter airline travel used to be. You still had to undergo security screening but because the aircraft are small you were on and off the planes quickly, take off/landings were shorter and quicker and using smaller terminals meant luggage showed up quickly after you arrived. You forget how much time you waste waiting for everyone to board larger aircraft, how long they can take to get in position and take off and then luggage can take forever to be downloaded and transferred to carousels inside the airport. On my return to Victoria I saw my luggage speeding past me as I walked off the plane.
The flights weren't direct but the stopover in Vancouver was at the small south terminal. The terminal isn't big and doesn't have all the bells and whistles of the main terminal but it does have a cafeteria where you can get a drink as well as food (I had an excellent wild salmon bagel sandwich) and a gift shop if you want reading material or a souvenir. I was off my plane there in minutes, grabbed a free Sun and Province newspaper from the PCA stand, read through them while eating my lunch. Read a bit more of the Stampede Queen book, went back through security in a few minutes and then when the call came boarded my plane in just another few minutes. It was all so fast and hassle free!
The south terminal is a hub for smaller airlines and it appeared many of the other passengers were headed for work camps or sites around BC and Alberta including Firebag. Yes, I had to look it up too. It appears to be a Suncor oilfield operation north of Fort McMurray, Alberta.
Williams Lake itself was small, population 12,000, with lots of logging activity. A couple of large mills are right on the edges of the town. There is mining outside of the city and there is still large ranching and agriculture operations throughout the region. You see lots of folks in cowboy hats and boots and they are the real deal.
The architecture is pretty lacklustre. I love unique local buildings and not much stood out in the downtown core.
The hamburger sculpture outside the Dog N Suds was fun and interesting. I was told it was the work of the Pioneer LogHomes, the folks featured in the TV series Timber Kings. You can see examples of the work they're known for, larger log structures, scattered throughout the region. Their work is distinguished by the use of large logs that still retain their 'tree" shape and/or sport unique shapes and growths.
Williams Lake is noted for it's annual Stampede. This year is the 90th anniversary of the rodeo. It used to be known for the wildness of the event and participants but over the years has grown more family friendly but still offers pro rodeo action, beer gardens, live music and assorted associated events including the Stampede Queen.