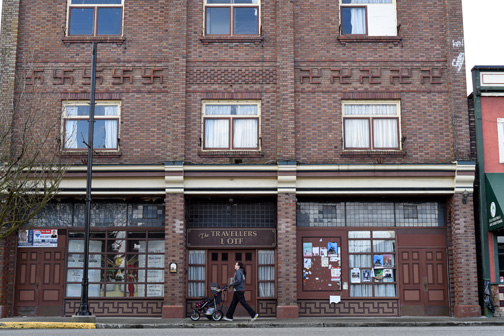 The first time I photographed the Travellers Hotel in Ladysmith on the town's main street my attention was held by the dilapidated hotel sign over the main doors. I really didn't look up at the higher stories and facade which at a quick glance seemed to be just fairly plain brick. A closer look on a more recent visit revealed a line of swastikas girdling the building. It seems a strange, and offensive, symbol to find on the side of a Vancouver Island building.
The building was constructed in 1912-13 and at that time the swastika was considered a symbol of  peace and prosperity, not gaining it's Nazi connection/connotation until the Second World War. There was apparently talk during that later time of removing the symbols because of  anti-German feeling but in the end the swastikas were left as is.
The late British Columbia artist ManWoman spent his career trying to restore the original meaning of the swastika. His body was tattooed with over 200 swastikas and he used the symbol in his art. Victoria writer Tom Hawthorn wrote the obituary in the Globe and Mail for ManWoman. It details his connection with the swastika.
You'll note the continued deterioration, if you look at the 2012 image, of the hotel sign.