July 8, 2012 | Filed Under Collectives, Photo Book, Photojournalism | Leave a Comment
The photographer's from Luceo Images, the American photo collective, are the photography world's (or at least the photojournalism world's) current IT girls, the stars of the scene. It's with good reason too. They have taken up the challenge of working in a world that is often seen as falling apart, no work, no venues for display and no money to be earned, and found new ways to get their images noticed, make a living from it and take things in often new directions.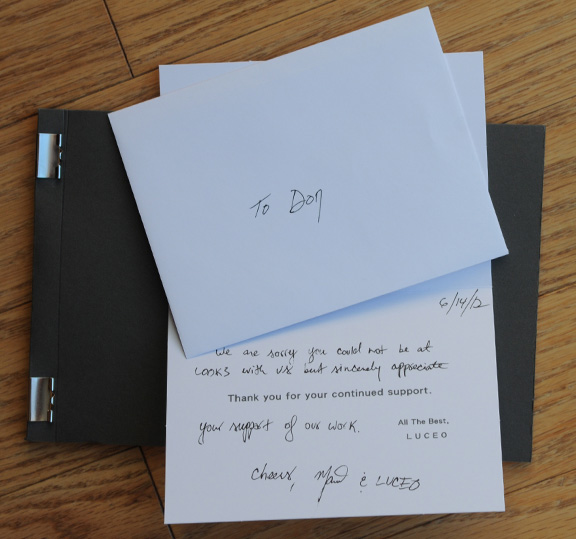 One area that is old school, service, they still pay attention to. I ordered, or tried to, their new handmade catalogue You Are Here off heir website and kept getting a message that the item couldn't be shipped to Canada. I dropped an email to Luceo and quickly received a message back from member Matt Eich who arranged for an alternate way for me to pay and for shipping. The catalogue arrived last week and what was most impressive upon opening was a small detail, a signed note saying thanks.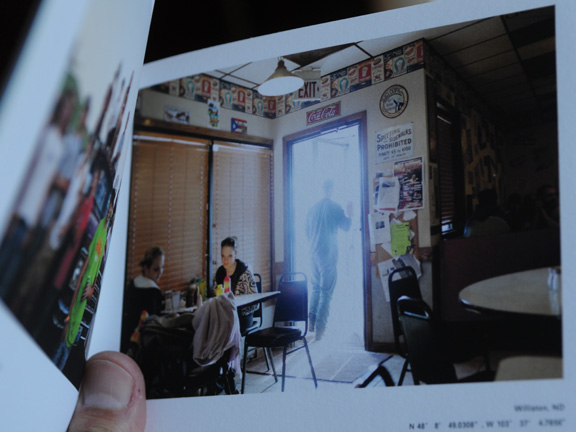 The catalogue itself is small with photographs printed on to Moab paper and then bound simply between covers with clips. This might be my favourite image from the book, a combination of  lots of visual detail inside the road and then the man disappearing into the light outside, it's as though a Bill Allard image was combined with an old Duane Michaels image.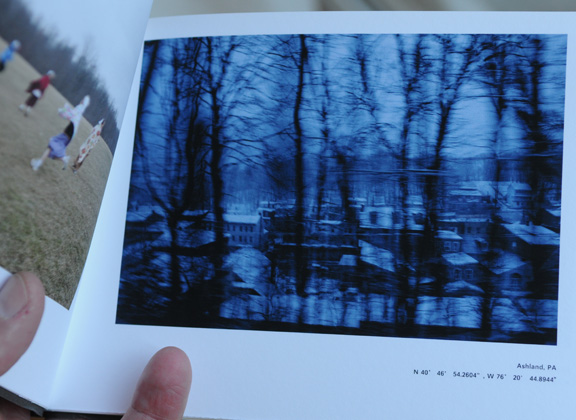 I like this one too, very different look and feel.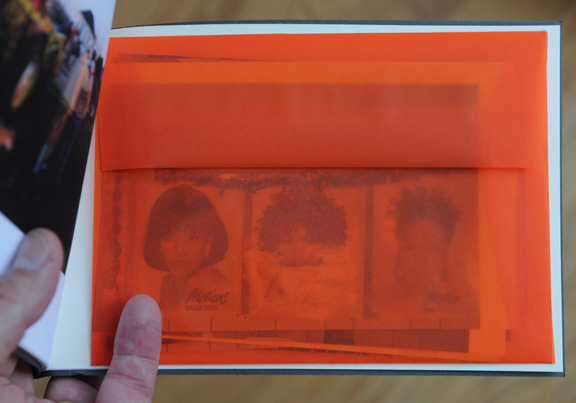 A fun touch is the garish orange envelope at the back that has fragments of prints inside.
One sad and/or amazing thing is that the catalogue, printed and/or assembled in an edition of 100 and on sale at the recent Look3 festival for a special price of $15 did not sell out there. Here's a chance to pick up a book of 10 photographs and more by a group doing some of the most interesting work in North America and it didn't sell out. Good news for you as you can order it, at a slightly higher price, here and check out more of Luceo Images here.
November 17, 2010 | Filed Under Collectives, Photography | 2 Comments
I 've mentioned it before but I'll say it again.
I'm a big fan of  photographers' collectives.
Collectives aren't a new idea of course. Magnum, the prestigious photo agency is perhaps the oldest photographer's collective or cooperative having begun in the late 1940's.
The past few years however have seen, if not quite an explosion, then certainly a surge in the creation of collectives.
Collectives, for those who don't know, are simply a group of like minded photographers who band together in order to further their photography and interests. A collective can be as simple as a few photographers pooling money to purchase and share studio lights to the previously mentioned Magnum which is a full agency with over 50 members.
One of my favourite collectives is Oculi, an Australian group. I personally like the styles of the photographers in the collective and I like the fact that one of the forces behind the creation of the group was the promotion of things and events Australian. Check out Tamara Dean's Ritualism project.
A newer group of young American photographers, Luceo Images, has been getting a lot of attention lately. There's good reason for that. The photographers are all talented, highly organized, they've been winning a ton of awards and their site is extremely well run.
In Canada we've recently seen the formation of two collectives.
Boreal was the first. Formed by five photographers, Rafal  Gerszak, Brett Gundlock, Jonathan Taggart, Aaron Vincent Elkaim and Ian Willms who are all about the same age and stage of their careers. Their site states they are "committed to the documentation of injustice and inequities that exist environmentally, socially, culturally and politically in Canada and abroad".
The site is interesting and easy to move through. Limited to an info page with bios and links to the photographer's individual sites, a projects page and  a blog it's simple to get right to the work.
I've got one complaint with the blog and that's when the individual photographers post a series of photos, they don't often post any text or commentary with them. Personally I like to know if images were shot for an assignment or are personal. An example is the recent posting by Taggart of photographs simply labeled Main Street, some intriguing images and maybe I should just enjoy them as posted but I'd like to know more.
I do like that they don't just post about themselves but will post about other photographers they know or work they like, such as John Lehmann's phone images of roadside memorials.
Another new group is Rogue.
This group is a little more diverse with a mixture of female and male photographers with a greater range of ages and who  live right across the country, well,  aside from the Maritimes and one member is in New York.
The photographers in this group are Brett Beadle, Todd Korol, Marianne Helm, Tim Smith, Jennifer Roberts, Deddeda Stemler, John Morstad and Jimmy Jeong, the recent NY transplant and they have a pretty cool logo.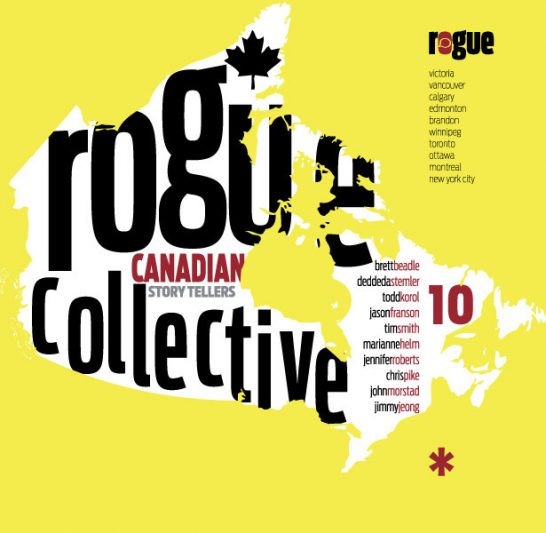 The Rogue site is brighter, literally, brighter colours, lighter screens as opposed to their Boreal counterparts site which is quite dark. The Rogue site is almost a little too light I had trouble seeing some of the links on the front page.
Their blog does include text with most postings and since they are very new, there's not a lot up yet.
I should also mention The Photographer Network which has been around for a few years, a group of five photographers Ben Benvie, Chris Webber, Jenna  Shouldice, Ryan Macdonald, and Tristan Shouldice.
This site is much more basic than either Boreal or Rogue with the simple posting of  single images by the photographers. Interesting images though and with less pronounced photojournalism feel than the first two Canadian collectives.