September 2, 2017 | Filed Under BC Photography Archive, British Columbia, British Columbia Photographic Archive, British Columbia writer, Canada, Canadian, Cascadia, Documentary Photography, Don Denton, Literary Photographer, Music, Pacific Northwest, Photography, Portrait, Punk Rock, Vancouver, Vancouver Island, Victoria, Writer, Writing, Yasuko Thanh | Leave a Comment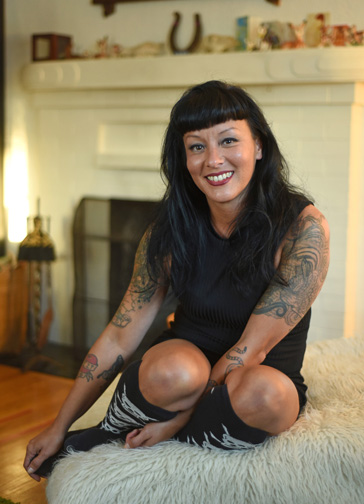 Yasuko Thanh is both an award-winning writer with a short story collection and a novel published (and a new publication on the way) and a musician who performs in a number of bands. I've photographed her singing and at a book reading/signing before but this was our first shot at a portrait. Her site is here. A review of her novel in the Globe and Mail is here.
February 12, 2011 | Filed Under Art, Arts, BC Photography Archive, British Columbia, British Columbia Photographic Archive, Canada, Canadian, Documentary Photography, Fine Art, Historical, History, Pacific Northwest, Personal Project, Photography, Portrait, Vancouver Island, Victoria | 5 Comments
Every year I like to start at least one new project. I like to have a number of projects going at the once as I find that due to my full time shooting job my time for personal shooting is limited in both hours and time of day. Having a number of projects means I can usually shoot something in the windows that I have.
So, this year, adding to the mix is a series of environmental portraits of artists. I've done a large project featuring images of writers but hadn't really worked on that much in the past couple of years. I wanted to introduce a new portrait project and figured focusing in on visual artists would be both interesting and challenging and would also have the side benefit of not only meeting new people but I'd get to see a lot of art.
I've started off with artist Rachel Berman who is local again after a couple of years in Toronto. I'd never met her before the session but had admired her work so called her up, explained what I was doing and we set up a time to meet.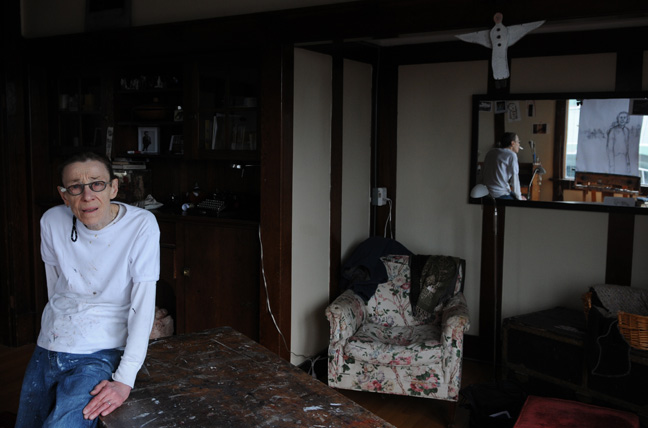 Rachel works out of her apartment studio, a great place in an older building with bay windows that let in a ton of light. She was busy working on two projects, illustrations for a book and a show at her Toronto gallery.
A bonus at this shoot was the presence of Karl Spreitz, a long time local artist, photographer and member of the Limners, a long time Canadian art collective. It was my first time meeting Karl as well and I took the opportunity to enquire about photographing him at some point. Karl, as mentioned, is a stills photographer as well as a documentary filmmaker and he was busy shooting and filming during part of my portrait session.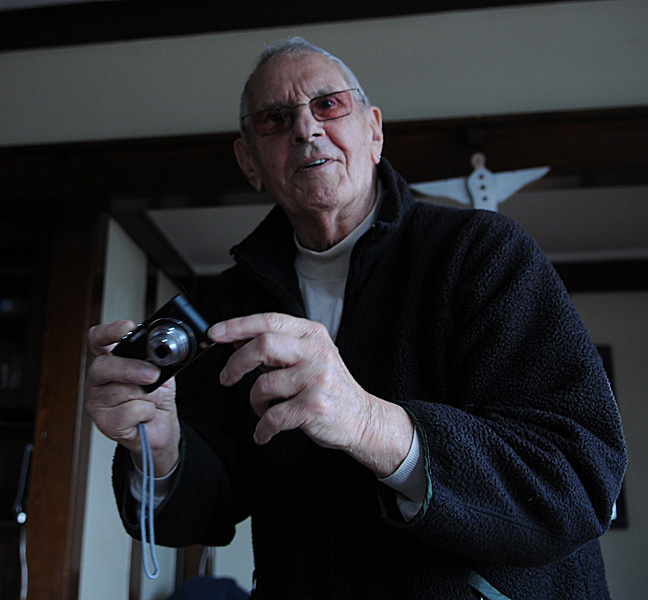 I spent about an hour with Rachel, taking photographs, but also chatting and getting to know each other a bit.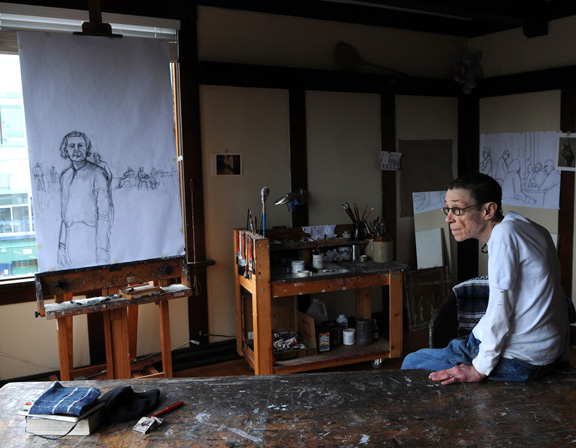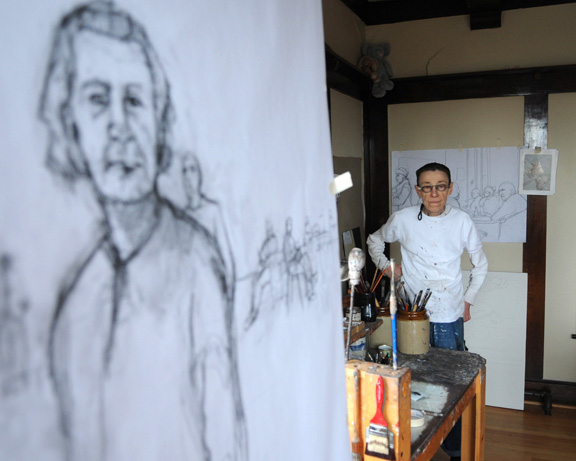 I took Rachel a couple of prints last week and she seemed pleased with the images. It was, from my viewpoint, a successful shoot, I had a few frames I'm happy with. I got to meet two new creative people and I've got another project underway.
Rachel is represented by the Ingram Gallery in Toronto and Granville Fine Art in Vancouver. Toronto artist Sara Sniderhan has painted a portrait of Rachel that you can see HERE.
November 29, 2010 | Filed Under Photography, Portrait, Self portrait | Leave a Comment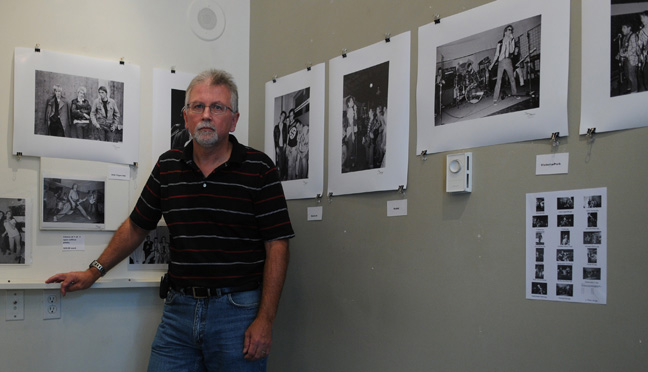 I'm a sucker for self-portraits. I like taking them and I like looking at them so I had to take a peek when I saw the Globe and  Mail was running a Share Your Self Portrait page. I kind of like the smily face finger image. If you really want to want to spend some time looking at self-portraits check out the many pages of images in the Flickr self portrait pool. You can see some pro photographer's self portraits here at Listicles, not to mention other weird stuff. Google will supply you with nearly 6000 self portraits although not all are photography. Gizmodo has some pretty cool examples from the 168 readers who sent in images. Wikipedia will give you all the history and background you need on self portraits. Wikipedia also told me that Bob Dylan made an album called Self Portrait. If you want to get kind of creeped out, look at these photoshopped self portraits at Speckyboy. Last, and as always, certainly not least quickly check out the 638 Magnum photographers' self portraits.
December 8, 2009 | Filed Under Photography, Portrait | Leave a Comment
I really enjoying taking portraits, especially of creative people. It's always interesting to try and incorporate their environment into the image.With tighter papers, every section is squeezed for space so we're not running as many entertainment stories and consequently not as many portraits of artists etc.  Here are a few, fairly recent, images.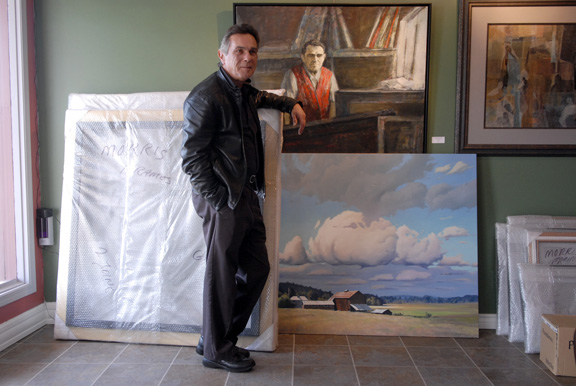 I really liked this image of Keith Hiscock at the Morris Gallery. They were just starting to hang his new show, those are his paintings on the floor, but behind him hung a couple of paintings from the last show, an exhibition from the estate of  Myfanwy Pavelic including a portrait of artist Maxwell Bates in his studio.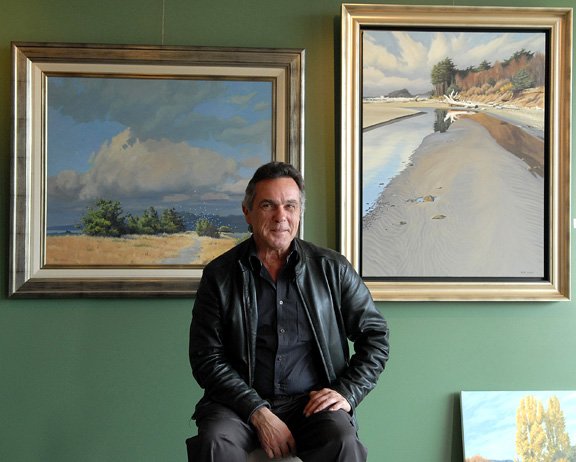 This probably showed off Keith's painting better and I liked his expression but I still like the first image best. A tighter head shot with painting behnd actually ran in the paper.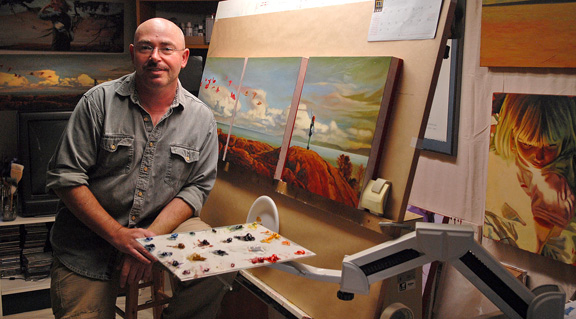 Mark Heine in his home studio, it's encouraging to see you don't need a great big space to create.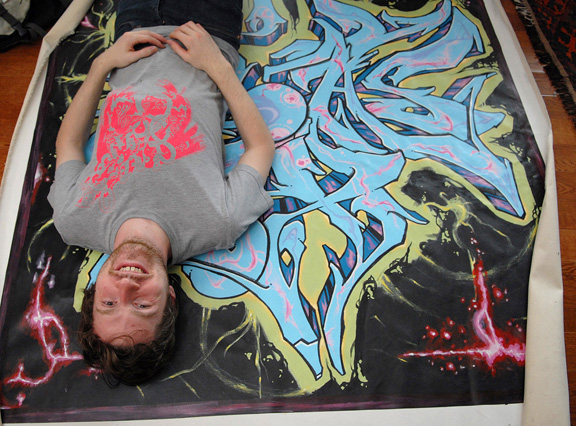 Ben Westergreen paints in his front room, it was tight and kind of dark so I just had him lie down on one of his paintings.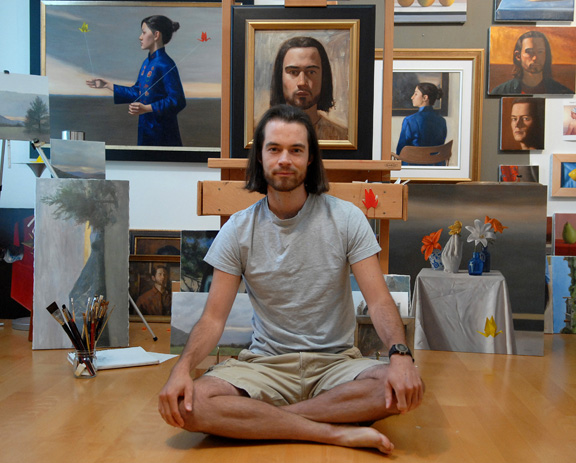 Noah Layne paints portraits, self portraits too. He'd just won an award for one.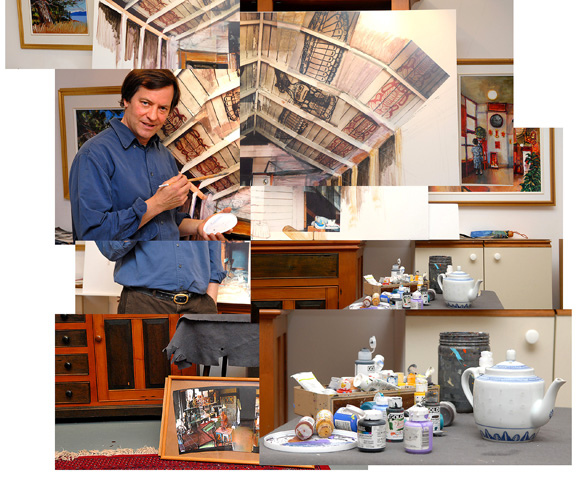 Robert Amos had been creating collages of artists in their studios. This was my attempt to capture him using his own technique. I think he does it better.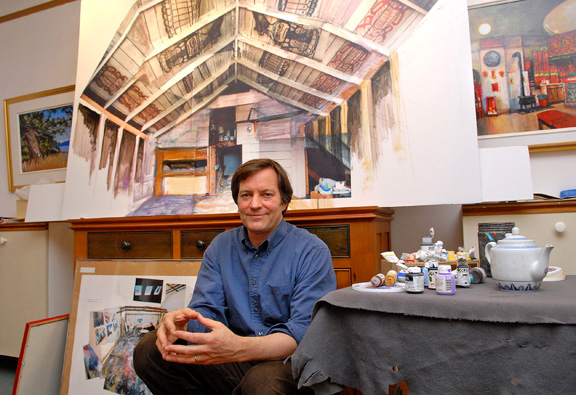 Robert with some of his collages. He also paints, does calligraphy etc etc etc.
October 15, 2009 | Filed Under Photography | 2 Comments
This portrait led off a feature on Victoria area coroners. Barb is a former Vancouver Province reporter.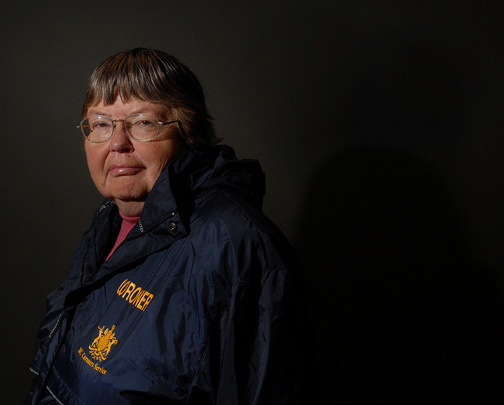 July 24, 2009 | Filed Under Online Learning, Photography | Leave a Comment
Students often ask where they can go to add to their knowledge when classes are done and many online sites are obvious recomendations. The past few weeks I've had the opportunity to revisit some favourite sites as well as take a look at some new offerings.
Lens Culture hosts a great site but I've never checked out their collection of audio interviews before. I really enjoyed the talk by Stephen Mayes on the World Press Photo contest. I actually found myself scribbling notes on a nearby envelope as the lecture unfolded. At 49 minutes it's a long but very useful, thought provoking talk.
Yesterday checked out the just posted interview with Danny Wilcox Frazier at Brian Storm's MediaStorm and still have to go back for the rest of the presentation on Wilcox Frazier's Driftless.
Over at the Lenswork site where I haven't been in ages I found a whole series (400) of short podcasts from Brooks Jensen. These are all quite short and while you won't want to listen to every one (well, maybe you will) there are lots to choose from . I'd actually gone there because I'd just read elsewhere about the death in May of Bill Jay, whose work especially his portraits of photographers I'd always found quite fascinating (I actually published a series of them in my short lived photo paper Deadline, back in the mid-nineties). Jay had been a long time contributor to Lenswork. Look at Jay's images and/or read his essays at his site here.
Youtube offers up a number pf presentations on photography. I've paricularily enjoyed the videos on Magnum photographers, an amzing view of  Bruce Gilden, focusing on his street photography techniques, and a nice interview by Michael David Murphy with Alec Soth.
Magnum Photos offers up essays and podocasts on their agency site. I really like Trent Parke's Minutes To Midnight presentation and have watched it a number of times. Parke and his wife, the equally accomplished photographer Narelle Autio, spent two years traveling around their native Australia.
If you want a look at how some photographer's set up their workspaces take a look at Andrew Hetherington's What's The Jackanory site for video tours of photographers's studios.
July 17, 2009 | Filed Under Literary Photographer, Portrait | Leave a Comment
Sometimes you don't need a face for a portrait.
I had photographed the late Timothy Findley for my first book First Chapter and following that photo session he sat down for an interview and lunch with then Calgary Herald books editor, now best selling author in his own right, Ken McGoogan. I joined the pair and Findley's partner Bill Whitehead and continued to take a few photos but mainly listened in. What I was treated to was an entertaining hour and a half as Findley and Whitehead, the practiced tag team that they were, traded stories, memories, observations while eating, smoking and drinking wine. i think Ken just hung on and tried to get it all down.  It was an incredibly enjoyable lunch and I think this image showing Findley's hand, glasses and wine remind me more of that encounter than the other, more traditional,  portraits I took that day.
December 21, 2008 | Filed Under From The Archive, Photography, Portrait | 3 Comments
This photo was taken in the late seventies along Georgia Street in Vancouver when I was just starting out and photographing mainly musicians. We just went out one night and were taking photos for fun. This record was Bryan Adam's first single, the disco flavoured Let Me Take You Dancing.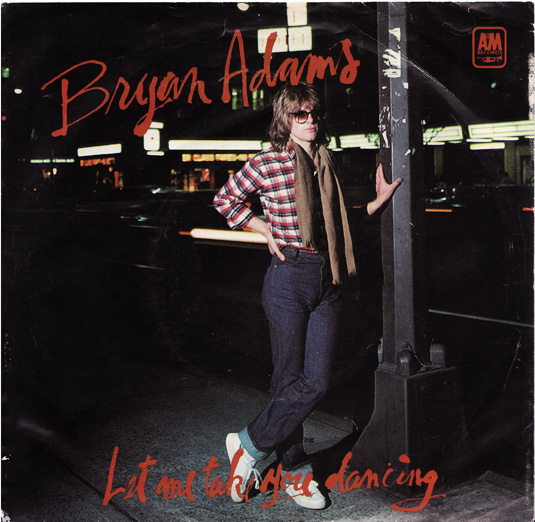 November 11, 2008 | Filed Under Photography, Portrait | Leave a Comment
Director Brian Richmond on the set of the new UVIC Phoenix Theatre play Dark of the Moon which runs November 6-22.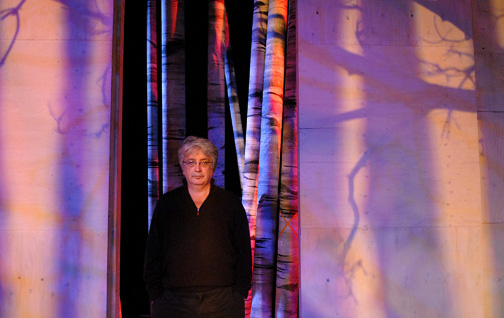 November 11, 2008 | Filed Under Photography, Portrait | Leave a Comment
Reporter Rebecca Aldous had an assignment to walk through Ross Bay Cemetery at night, alone,  and write about the experience. These photographs were taken before her solitary stroll.