November 22, 2015 | Filed Under Art, BC Photography Archive, Black and white, British Columbia, British Columbia Photographic Archive, Canada, Canadian, Cascadia, Documentary Photography, Don Denton, Fine Art, Historical, History, Landscape, Omen of Bones, Pacific Northwest, Personal Project, Photography, Road Trip, Salmon, Vancouver Island, Victoria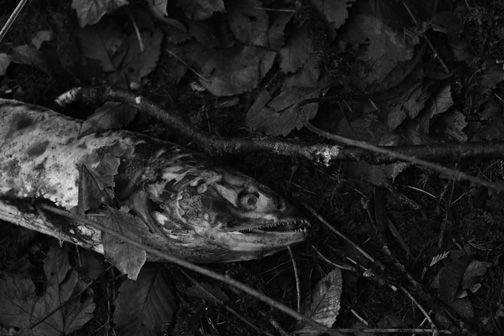 Every fall since I returned to British Columbia twelve years ago I've photographed the spectacle and aftermath of  the salmon returning to spawn in Vancouver Island rivers. When I started photographing the autumn event I was using black and white film. I shoot mainly digital now, although still shooting some B/W film when out on the rivers, but feel this particular project looks better in black and white so am converting the files. Nature photography is not something I do a lot of but I find the return of the salmon is not only an amazing example of the wonders and complications of the natural world but is a unique addition to the experience of west coast life.
An earlier post from 2010 with more photos and info here.
Comments