August 12, 2015 | Filed Under Art, Arts, BC Photography Archive, Blog, British Columbia, British Columbia Photographic Archive, Canada, Canadian, Cascadia, Documentary Photography, Don Denton, Landscape, Pacific Northwest, Personal Project, Photography, Photojournalism, Photos, Street photography, Urban, Vancouver Island, Victoria | Leave a Comment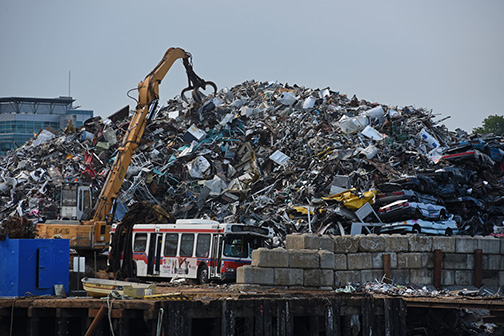 A BC Transit bus lies at the bottom of a heap of scrap metal waiting to be torn apart and added to the pile in Victoria, British Columbia. The business sits on Victoria's waterfront just on the edge of the city core. The city has voiced support for keeping industry on the waterfront but one wonders how long a recycling plant will stay (be allowed to stay) on shoreline property with amazing views..
June 19, 2012 | Filed Under Art, BC Photography Archive, Blog, British Columbia, British Columbia Photographic Archive, Canada, Canadian, Careers, Daily Work, Documentary Photography, Don Denton, Fine Art, Historical, History, Pacific Northwest, Photo Coach, Photographers, Photography, Road Trip, Street photography, Vancouver Island, Victoria, Workshop | Leave a Comment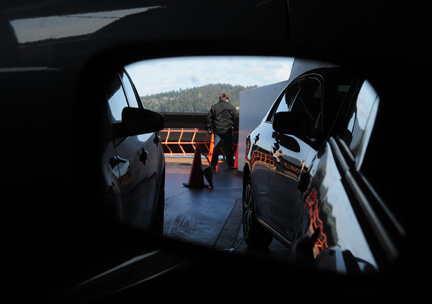 BC Ferries, Swartz Bay, BC 2012
I've spoken to a number of photo groups lately, showing some of my images and talking about the projects.
The audiences have been great, very appreciative and always lots of questions and discussion afterwards.
It's a two way street though. I get lots of feedback on my images which is so helpful and it's often a surprise which photographs resonate with an audience and why.
The other thing I find is that talking about my projects, both during the presentation and during the discussions after allows me to fine tune my own thinking about what I'm photographing and different directions I might take it.
In my main Pacific Northwest related project Salt Water & Rain I've been discussing as a way to find that within the local (landscapes, natural, manmade and cultural) that defines us, as opposed to the generic (chain stores and products) that makes us the same.However due to the presentations I've been thinking about more complex issues within that and trying to figure out how to present those. Issues like why certain cultural influences such as writing seem to be stopped by the United States/Canada border, especially since it is regional writing. Yes, the US and Canada are separate regions but the commonalities of the Pacific Northwest really do transcend the imaginary line that is the border.
So, thanks again to all those groups that have had me as a speaker.
January 17, 2012 | Filed Under Blog, Cascadia, Documentary Photography, Don Denton, Historical, History, Landscape, Olympic Peninsula, Pacific Northwest, Personal Project, Photography, Road Trip, Street photography | Leave a Comment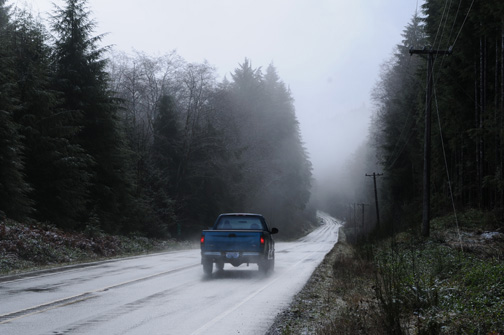 Hit the road for a weekend with a trip around the Olympic Peninsula. I'd been down the east side before travelling to and from Portland but hadn't done the whole loop around the peninsula. Great trip although the weather was constantly changing, providing a number of challenges for driving and making it difficult to get all the photos I wanted. That said it was a lot of fun and I saw lots of places that I want to go back to.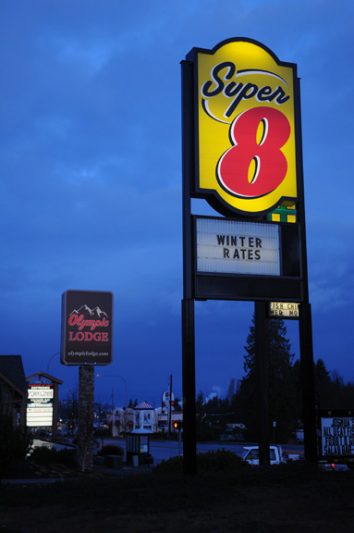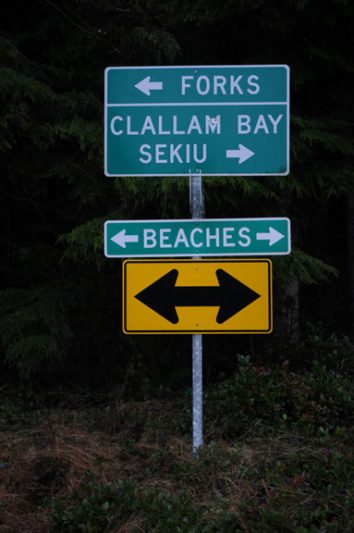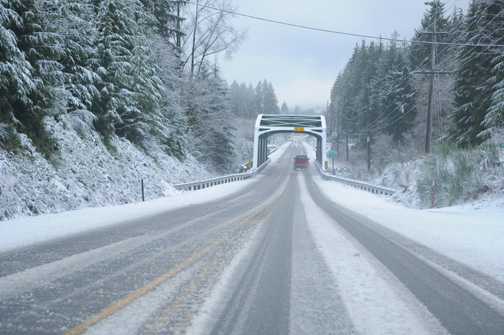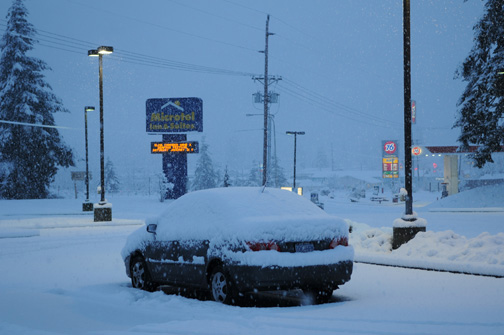 February 3, 2011 | Filed Under Blog | 3 Comments
I haven't been posting a great deal here. That said I have been checking out a few other blogs. One that I've spent quite a bit of time on the past week is Daniel Milnor's Smogranch. I'd never run across Milnor until a week ago so it's all a pleasant surprise. I enjoy Milnor's writing and his images are amazing. It's oddly nice to see someone shooting film. He's a book making machine and there's lessons there for all of us in presenting/promoting our work.  I'm slowly making my way through his archives learning about Milnor's work and life. His latest post tells about his decision to give up all commercial work and concentrate on his personal work. He doesn't explain how he'll replace his commercial income but maybe that'll be in a post to come. Here's a bit from that post that captures some of Milnor's style: "As many of you know, on December 1st I stopped shooting commercially. No mas. No portraits, weddings, magazine work, commercial shoots, etc. I needed a new direction, and so far the grand experiment has been enlightening, making me think I should have done this ten years ago. However, it's not enough, just stopping the work for others focusing only on the work for me. Within this shift lies another, smaller, but I'm realizing perhaps more important, micro shift. The direction of the work. And when I say direction I mean the content, the style in which it is created and the method of presentation". His post on the documentary life is certainly worth a read as well but you need the whole piece, an excerpt won't do. Read it here.
January 1, 2011 | Filed Under Blog, From the Newspapers | Leave a Comment
The various stories this past week about the end of Kodachrome reminded me of a couple of articles I came across on Derek Beaulieu's blog. Beaulieu is a Calgary based artist, a bit of a Renaissance man, a poet and artist, arts organizer etc,. Derek had been using Letraset to create text based works of art but has run into the problem of finding Letraset sheets. In case you don't remember Letraset sheets contained letters (and more) that you would rub to transfer to another surface. They were used heavily by the graphic, design and publishing industries but have been replaced by more modern technology. Beaulieu tells a story of going to the store he usually bought the sheets from only to be told they'd thrown them out as nobody was buying them anymore leaving him without a favourite tool. You can read a story about it at The Weal or see a short film of Derek creating one of his Letraset artworks on a window in Calgary's Pages book store.
To get you started on New Years day how about the pictures of the day from the NY Times Lens blog with images of New Year celebrations around the globe. You can also take a look at John Galayda's photos of a burlesque show Kitty Nights from the NY Times East Village blog. A reminder of low light and black and white.
Need some incentive to get out with your camera for the New Year, why not try a little street photography? You can follow the enigmatic instructions posted at Street Photography Now to get a little inspiration. Assignment #14 posted Dec. 31 is Show Us The Aftermath.  Sarah Bakewell mentions the project in an article on street photography in the Guardian.
From the Washington Post – Banker Andrew Plara became fascinated by documentary photography and became a collector,  a collection that has now become part of a private museum 'Pier 24′ in San Francisco. Story here.
December 12, 2010 | Filed Under Blog, Landscape | Leave a Comment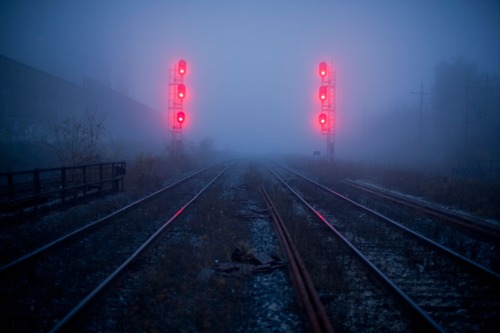 An interesting set of moody images titled Wrong Side of the Tracks from Ian Willms of Boreal Collective.
November 4, 2010 | Filed Under Blog, Featured, Photography, Photojournalism | Leave a Comment
A few months ago Neil Burgess caused a stir with a posting on the EPUK site when he declared that photojournalism was dead. His comments created quite a debate in the world wide journalism community.
This included the NPAC site where debate ranged back and forth between agreement with Burgess and others who felt the opposite was true, that photojournalism had never been healthier.
I joined in that discussion with one post. I started that post with two recent quotes from photographers Louie Palu and Stanley Greene.
This is what I wrote then:
'Louie Palu -NPAC site – "I rent a room in a house, own no real estate or vehicle, I have an old bike and take transit. I own no furniture except a cheap IKEA desk. Right now I am living out of a bag in Kandahar."
Stanley Greene -NY Times Lens blog – "let's be real here. I don't own an apartment. I don't own a house. I don't own a car. I don't have any stocks and bonds. All I own are my cameras. That's it. And some cowboy boots."
There are almost two directions to this discussion. Yes there are lots of places and spaces to display photoj, probably more places than ever, but it does seem to be harder to make a living at it. A good living meaning the basics like being able to buy a house, a car etc. The two guys above are success stories, well respected, great shooters and they're not 19 year old rookies, they should be able to afford more than a bus pass from their work.
If guys at the top of the profession struggle to make a living what kind of a profession is it?'
I've had some time to think about my comments and I've changed my opinion somewhat.
I do think this is a wonderful time for the creation of photojournalism. There are incredible photographers creating amazing work. The internet, through news sites, photography sites and photographer's sites, is a cornucopia of photography, displaying more photojournalism than magazines ever did.
Photographers can create their own books at a reasonable cost. There are lots of  venues available  where images can be displayed, from high end galleries to local cafes and community centres.
At the same time there are less staff jobs and many of those still around now pay less. Many online sites pay nothing for the photos they display.
I do believe that a professional at the top of their game should be able to make a good living.
What I believe though and the reality of life may be two different things.
Sometimes the chance to work at what we want is what counts. That work, though it may not bring us what would be considered even a mid range salary, may be enough to pay our bills and allow us to work at what we think to be important.
The real downside to that though is that it means that many young photographers will tire of funding their own projects, tire of trying to attract an online audience that looks but doesn't pay and move on to other careers.
I've always joked that I've never had to work for a living and it's true. I've never felt that what I do is work in the sense that I've never felt like a wage slave. Not like the days when I worked in sawmills when time crawled so slowly that I didn't look ahead to the end of the shift, that was too far away. I just waited for the next coffee break. While I've had bad days in my photography career I've never felt like that.
It may be enough for photojournalism that there will always be committed photographers for whom only the imagery matters not the pay cheque.
In the end though there's still one thing that bothers me. It seems to be the elephant in the room that nobody wants to acknowledge.
It's generally understood to be a professional at anything, you have to get paid for what you do.
In any career, certainly at the beginning,  you may work at improving your skills  by practicing or volunteering, work that you're not paid for.
However, eventually if you do something you enjoy a lot for no pay then you are simply a hobbyist. If you pay your bills by taking photos of weddings and in your off time travel to international hotspots to take photographs on your own nickel you're not a photojournalist  you're  a wedding photographer who takes cool holiday photos.
Not that there is anything wrong with any of that. It just seems people are avoiding the obvious, that there are a lot of people (talented people) calling themselves professional career photojournalists who are in reality nothing of the sort.
October 26, 2010 | Filed Under Blog, Photography | Leave a Comment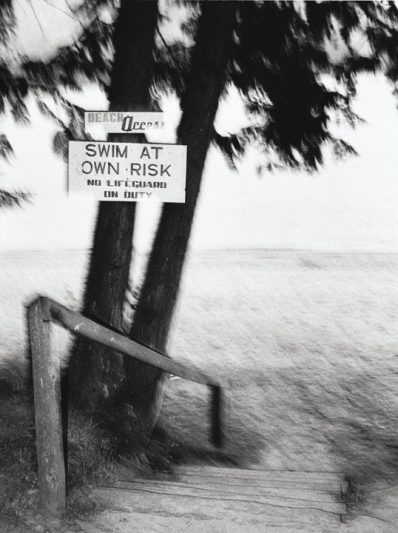 Atlanta based photographer Zack Arias had a recent blog post called Imperfect Work: Blowing it on Purpose with samples of work that was technically off but worked for the assignment he was working on. He showed images that were blurred, out of focus, had unusual focus or awkward posing.
They were all 'wrong' but they worked for shoot in question.
The one thing the photos are not, is mistakes.
The photographer made deliberate choices to create the an effect even if traditionally that effect has been considered an error.
It's an important distinction to make especially for beginning photographers. You have to learn the rules before you can break them properly.
When marking students papers I'd often come across a photo that was tilted, out of focus or blurred. The out of focus or blur was usually just sloppy photography. The tilted frames though were often deliberate. The tilt usually added nothing to the image, was usually inappropriate for the assignment.  When asked why they had shot the assignment that way the most common answer was that they thought it made the photograph more interesting but they weren't able to answer why that was so or how the tilt enhanced the image. The reality was they had seen where a photo had been tilted for an effect and it struck them as an easy solution to photographic challenge. Instead of finding a better location, pose  or lens they simply tilted the camera and there it was, an interesting photo.
It wasn't though. It was still a failure, but now it was a tilted failure.
It's easy to look through magazines, blogs and websites and to see lots of examples of blurred, out of focus, grainy, distorted imagery that is stunning but there is an equal amount that is just lazy or unskilled photography.
Photographers need to know not only how to create effects or looks, they need to know when they are critical for the image or assignment in question and then apply them.
Make sure when you make an error, it's not a mistake.
October 20, 2010 | Filed Under Blog, Personal | 1 Comment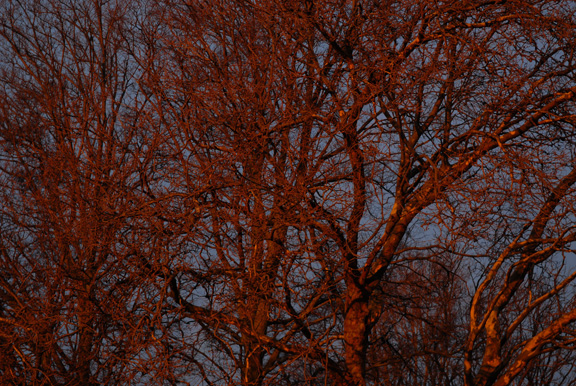 Why am I blogging?
Well,  the common wisdom when I had my website built was that you had to have a blog with your site. Everybody was doing it.  If you wanted to draw attention to yourself and your work then you had to blog. Just having galleries of your photos wasn't good enough. A blog however, if you posted at least twice a week, would have editors flocking to your site.
The reality is , of course, different.  Posting a few photographs on your blog is no guarantee of anything especially if you start losing interest and only post now and then. Which is what had been happening here.
It was important to realize that the blog wasn't was was important, the blog is only a platform for delivery, the content is what is important ( repeat to self Content is King,  Content Is King).
I wasn't sure what to do about my blog so I did a little research, mainly going back to blogs I like and taking a closer look at what it was that I enjoyed. I also checked out bloggers who blog about blogs and blogging, some of the more interesting ones anyhow and a couple of trends did emerge.
One was the advice that it wasn't enough to just post a new photo, or piece of art or an update on what you ate for breakfast, that's not enough to hold your readers interest, at least not very often or for very long. The other was that you should post on topics that you are interested in because you can usually find a group of readers who are interested in the same topics you are. If you write about those topics, in a manner that's entertaining, controversial, timely and/or at the very least well written, you'll pull in the people who have that common interest.
It all sounds obvious and it is, the challenge is in the doing, on a regular schedule and for a long period of time.  The time part is especially important because that's how you start to keep the readers that enjoy the same subjects you do and enjoy whatever it is you're posting about them.
So, what am I going to do?
I'm going to keep blogging but on a far more regular basis (he says with fingers firmly crossed). I'm going to post on topics I find interesting. There'll be lots of stuff on photography and photographers.  I enjoy when I teach photo classes so I'll try and make sure some of the posts are educational, maybe lessons learned from my assignments. I'll write about other subjects I find of interest,  things like the media (all of them), blogging and bloggers, public relations and marketing, travel, hockey, music, coffee, scotch and beer. Not necessarily in that order.
I'll post photos too. Sometimes connected to the article, sometimes just because I like the image. I'll keep posting the odd punk photo too because I know there is a group of people interested in those and because I am too.
Let me know how I'm doing.
February 3, 2010 | Filed Under Blog | Leave a Comment
I'm guest blogging all week at www.npac.ca. While you're there get a membership and support Canadian photoj.