November 4, 2010 | Filed Under Blog, Featured, Photography, Photojournalism | Leave a Comment
A few months ago Neil Burgess caused a stir with a posting on the EPUK site when he declared that photojournalism was dead. His comments created quite a debate in the world wide journalism community.
This included the NPAC site where debate ranged back and forth between agreement with Burgess and others who felt the opposite was true, that photojournalism had never been healthier.
I joined in that discussion with one post. I started that post with two recent quotes from photographers Louie Palu and Stanley Greene.
This is what I wrote then:
'Louie Palu -NPAC site – "I rent a room in a house, own no real estate or vehicle, I have an old bike and take transit. I own no furniture except a cheap IKEA desk. Right now I am living out of a bag in Kandahar."
Stanley Greene -NY Times Lens blog – "let's be real here. I don't own an apartment. I don't own a house. I don't own a car. I don't have any stocks and bonds. All I own are my cameras. That's it. And some cowboy boots."
There are almost two directions to this discussion. Yes there are lots of places and spaces to display photoj, probably more places than ever, but it does seem to be harder to make a living at it. A good living meaning the basics like being able to buy a house, a car etc. The two guys above are success stories, well respected, great shooters and they're not 19 year old rookies, they should be able to afford more than a bus pass from their work.
If guys at the top of the profession struggle to make a living what kind of a profession is it?'
I've had some time to think about my comments and I've changed my opinion somewhat.
I do think this is a wonderful time for the creation of photojournalism. There are incredible photographers creating amazing work. The internet, through news sites, photography sites and photographer's sites, is a cornucopia of photography, displaying more photojournalism than magazines ever did.
Photographers can create their own books at a reasonable cost. There are lots of  venues available  where images can be displayed, from high end galleries to local cafes and community centres.
At the same time there are less staff jobs and many of those still around now pay less. Many online sites pay nothing for the photos they display.
I do believe that a professional at the top of their game should be able to make a good living.
What I believe though and the reality of life may be two different things.
Sometimes the chance to work at what we want is what counts. That work, though it may not bring us what would be considered even a mid range salary, may be enough to pay our bills and allow us to work at what we think to be important.
The real downside to that though is that it means that many young photographers will tire of funding their own projects, tire of trying to attract an online audience that looks but doesn't pay and move on to other careers.
I've always joked that I've never had to work for a living and it's true. I've never felt that what I do is work in the sense that I've never felt like a wage slave. Not like the days when I worked in sawmills when time crawled so slowly that I didn't look ahead to the end of the shift, that was too far away. I just waited for the next coffee break. While I've had bad days in my photography career I've never felt like that.
It may be enough for photojournalism that there will always be committed photographers for whom only the imagery matters not the pay cheque.
In the end though there's still one thing that bothers me. It seems to be the elephant in the room that nobody wants to acknowledge.
It's generally understood to be a professional at anything, you have to get paid for what you do.
In any career, certainly at the beginning,  you may work at improving your skills  by practicing or volunteering, work that you're not paid for.
However, eventually if you do something you enjoy a lot for no pay then you are simply a hobbyist. If you pay your bills by taking photos of weddings and in your off time travel to international hotspots to take photographs on your own nickel you're not a photojournalist  you're  a wedding photographer who takes cool holiday photos.
Not that there is anything wrong with any of that. It just seems people are avoiding the obvious, that there are a lot of people (talented people) calling themselves professional career photojournalists who are in reality nothing of the sort.
November 3, 2010 | Filed Under Featured, Photography | Leave a Comment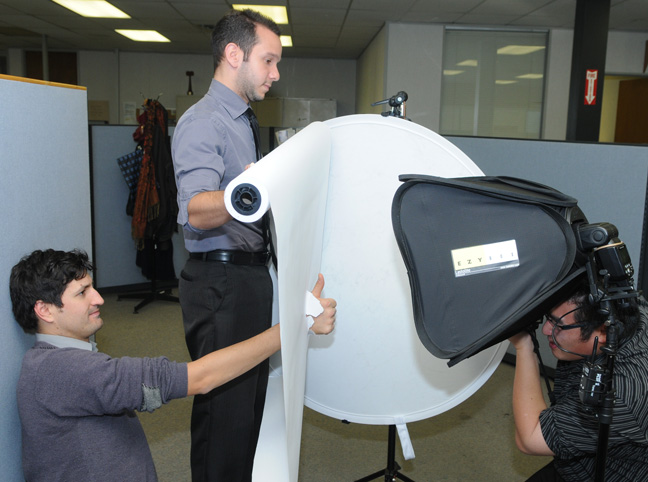 DIY photographer Arnold Lim takes advantage of colleagues Travis Paterson (hand model)
and Kyle Slavin (backdrop holder) to create a photo illustration in the offices of Black Press.
October 30, 2010 | Filed Under Featured, Literary Photographer, Photography | 1 Comment
I hope to start posting new interviews with photographers shortly. In order to give you an idea of what I hope to post here are a few links to interviews with photographers from my literary site Literary Photographer. I've put that site on hiatus in order to concentrate my energies here. These interviews all have a connection to writing but give you a pretty good insight into the photographers and the work featured.
September 19, 2010 | Filed Under Exhibition, Featured | Leave a Comment
A busy night at Victoria's Luz Gallery with the opening of the Moment of Truth, The Rangefinder Chronicles exhibition and a demo by Leica of the new S2 camera.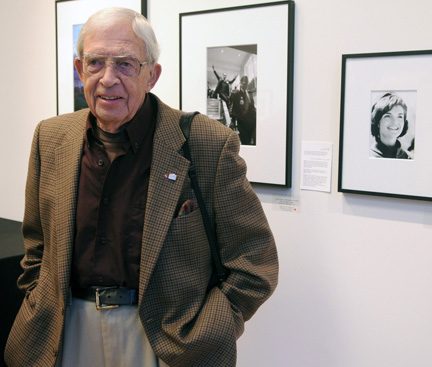 Dr. Ted Grant with two of his photos, Pierre Trudeau and Jackie Kennedy.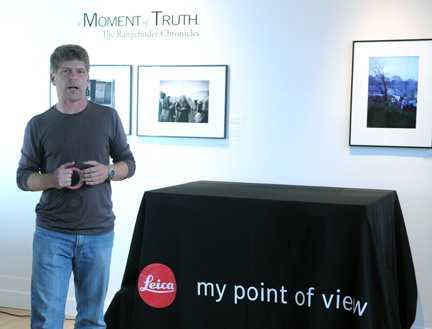 Quinton Gordon welcomes everyone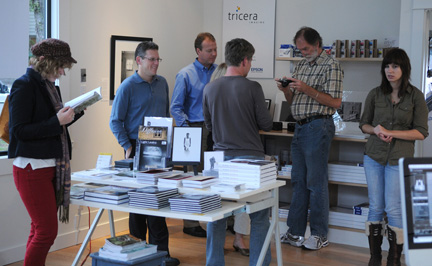 Some of the crowd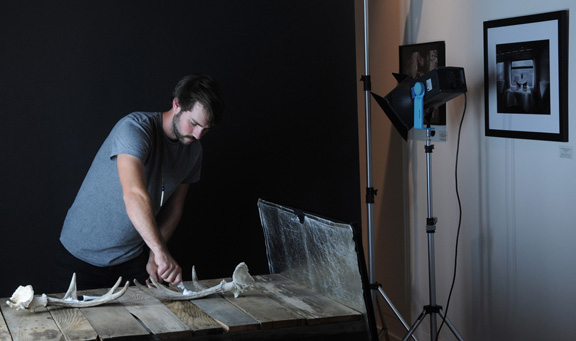 Photographer Troy Moth sets up for the Leica S2 demo.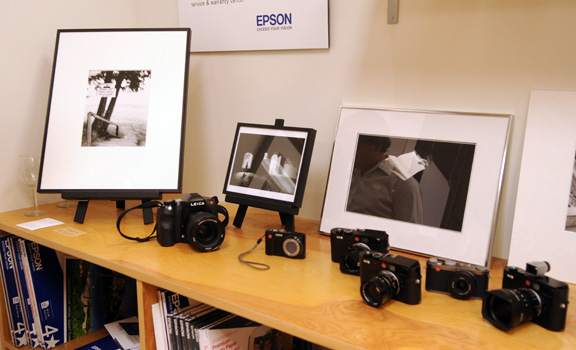 My photo in the show, at left, with Leica cameras.
September 5, 2010 | Filed Under Exhibition, Featured | 1 Comment
I have an exhibition of photographs that document the beginning of the Vancouver punk rock world that opens next Friday September 10, 2010 at the JEM Gallery (#36 – 22 East Cordova Street)  in Vancouver. Please drop by and have a look. It's All Just Part Of The Noise, The Birth of Vancouver Punk runs until October 3rd.
Thanks to Carola Goetze for extending the invitation to exhibit at her gallery.
Many thanks to Tony Bardach for the use of his song lyric  "It's All Just Part Of The Noise"  in the show's title.  For me it encapsulates a lot about that era, in that we all were there, creating, playing, listening, photographing,  simply because we liked the music. We were all just part of the noise.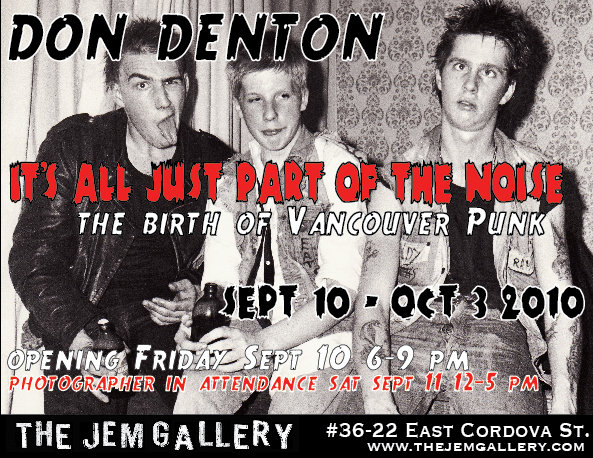 May 18, 2010 | Filed Under Featured, Photography | Leave a Comment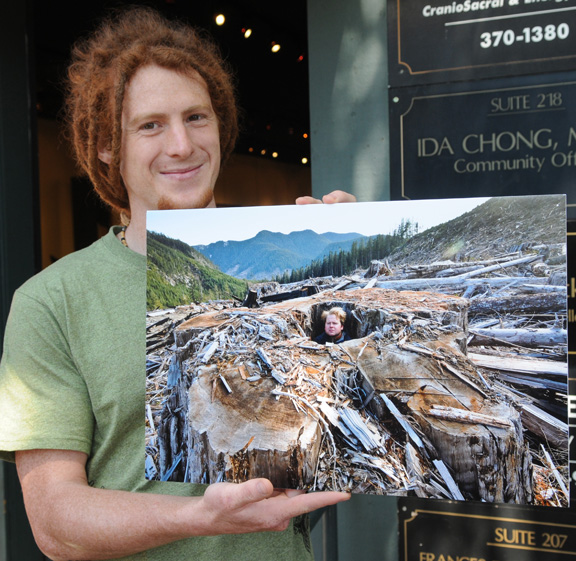 Photographer T. J. Watt holds one of his photographs, this one showing fellow photographer Byron Fry sitting inside the giant stump of a recently logged old growth tree on Vancouver Island. Watt is also one of the co-founders of the Ancient Forest Alliance. You can see more of his photographs at his site or the Ancient Forest site.
April 21, 2010 | Filed Under Canada, Canadian, Documentary Photography, Featured, Fine Art, Gallery & Workshop, Photography, Vancouver Island, Victoria | Leave a Comment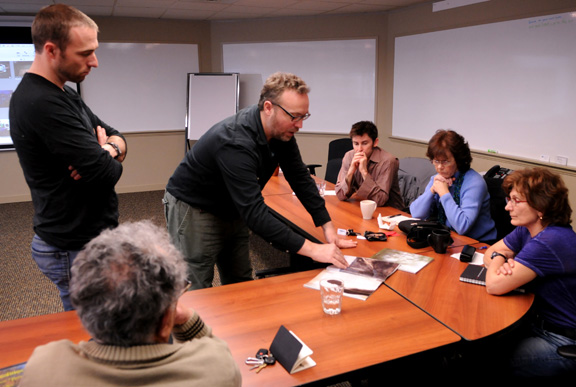 Last weekend I attended a two day workshop presented by Luz Gallery with Toronto photographer Don Weber, a member of the VII agency. We had a diverse group of twelve workshoppers (if that's a word). There was the legally blind Anglican minister, the woman who'd had Ansel Adams drop by her house when she was a child and critique her photos,  a philosophy professor who had just returned from a workshop with Mary Ellen Mark and the motorcycle riding government lawyer. The others were equally interesting. There was even a few of us pro photographers.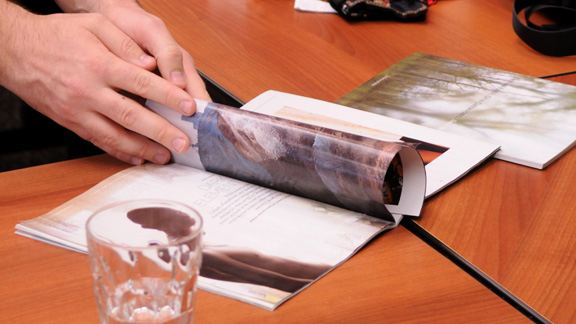 The first day focused on looking at various projects shot by Don as well as work by his fellow VII photographers and others. Don showed his Ukraine images including those from Chernobyl that are featured in his book Bastard Eden as well as images from Russia and other eastern countries. I've attended a fair number of lectures as well as short seminars but never a weekend workshop. Looking at it from the perspective of someone who teaches now and then I was impressed by the way Don was able to keep the day on track while allowing people to ask questions even if they were slightly off topic.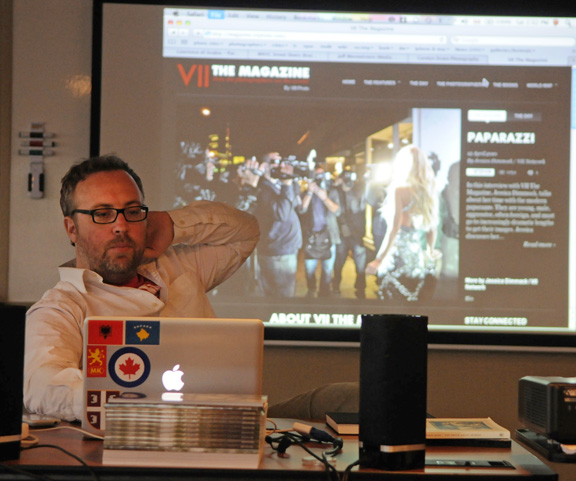 The second day we spent time looking at each other's projects with Don doing an edit of our images. It's always interesting ( and a good practice) to have someone else look over your images and provide feedback. Don was quite good at distilling everyone's pile of images down to a select few.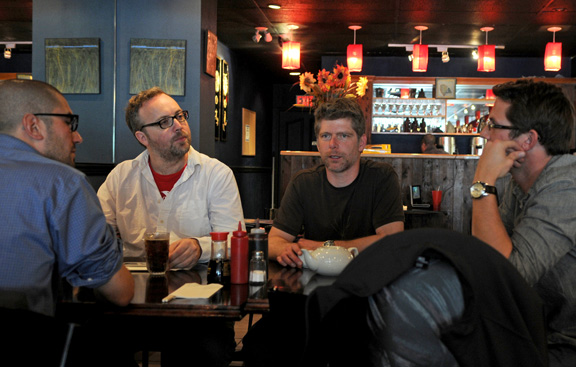 I found the workshop allowed me to look at my own work with fresh eyes and perhaps seek a slightly different direction with a couple of projects. I was also extremely impressed with Don's organization and his focus on his career. He appears to have a very solid understanding of where and how he wants to have his career advance and how to make that happen. That's awfully rare I think,  so it was very useful to see it explained.
This coming Saturday I'll be attending Don's grant writing workshop and I'll be looking forward to that and having the mysterious world of grants simplified.
I have to say that Luz Gallery's Diana and Quinton's hard work at promoting shows and putting on workshops like these have made Victoria a far more interesting place for photographers. A year ago there was simply no chance to spend a weekend with a photographer of the calibre of Don Weber.  Now we have someone coming in every few months, and sometimes weeks,  for a new show or workshop.