November 21, 2015 | Filed Under Architecture, Art, BC Photography Archive, British Columbia, British Columbia Photographic Archive, Canada, Canadian, Cascadia, Documentary Photography, Don Denton, Fine Art, Historical, History, Ideas, Pacific Northwest, Personal Project, Photography, Photos, Road Trip, Street photography, Vancouver Island, Victoria | Leave a Comment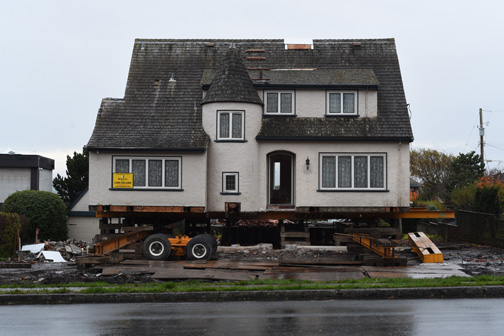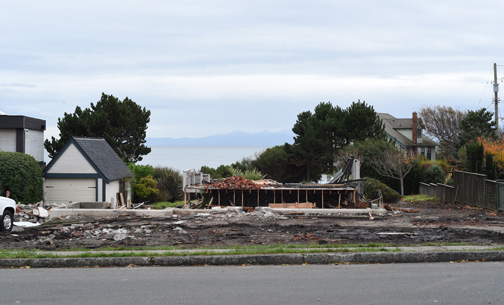 Two photographs taken a week apart. In the first a heritage house, sporting some unique architectural detail, sits on supports and a trailer, in the second, the vacant lot after the house was removed and view of the previously hidden seascape. The third, yet to be taken, will show the new structure built on the lot. Change is inevitable and at least in this case the original structure will be placed on another lot and continue it's architectural life.
CBC British Columbia has a story about a new book out called Vancouver Vanishes which 'laments the demolition of character homes and the histories they contain..' The book grew out of the photos and essays contributed to the Vancouver Vanishes Facebook page.
March 5, 2011 | Filed Under Ideas | 1 Comment

The other day I was thinking about how culture is created. A big picture topic for sure but I was thinking more about little movements, little movements that have big consequences.
The Beat movement for instance, Jack Kerouac, Allen Ginsberg and crew. A fairly small group overall but the even now when almost all the originals are dead the work they created is still read and the culture around them emulated.
Vancouver is renowned in the art world right now but it started with a handful of photographers such as Jeff Wall, Ian Wallace and Rodney Graham.
My friend Ian Ferguson recently moved to Victoria with his wife Kirsten Van Ritzen. They are both writers, actors, directors etc. Ian has teamed up with local theatre guy Les Bland and formed a tv production company. Ian has also formed a comedy improv troupe Sin City and Kirsten has started up a series of standup comedy workshops. These three people in a few short months have set the stage for the emergence of a culture of acting and comedy. I said to Ian a few weeks ago that in five years we could be seeing a whole group of actors and comics and it will all come back to three people.
Two years ago photography was an afterthought at best in Victoria. There were (are) talented photographers of all stripes around but nothing to bring them together. One gallery, Dales, was showing photography on a regular basis but there was no single institution dedicated to photography.
That all changed a year and half ago with two people Quinton Gordon and Diana Millar and the opening of their gallery and workshop space Luz Gallery. Luz has shown a variety of photographers and styles, they've held workshops with both local and out of town photographers.
The results of all that have been a revitalized and energized local photo community. Victoria is now better known to other photographers and links have been forged with photo galleries and communities in other cities. Other local galleries are programming photography exhibitions. Local photographers are creating new work and booking shows.
Again that all comes back to two people. Two people creating a culture.
What can you create?
December 14, 2010 | Filed Under Gallery & Workshop, Ideas | Leave a Comment
I've heard of photographers using crowd sourcing as a source of funding but only third hand. Yesterday I received this email from photographer Mike Andrew McLean and thought I'd pass it along. It's an interesting concept, using Kickstarter,  for an interesting project and with even just a $10 donation you get a print: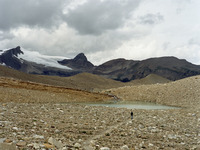 I am pleased to announce that Range, the photo project I've been working
on for the past three years, will be exhibited in its entirety at the
Southern Alberta Art Gallery in July 2011 (a selection will also be
exhibited at the Kamloops Art Gallery this January).
Due to the costs associated with the production of the exhibition, I
researched some alternative funding avenues and discovered Kickstarter.
My project was launched today on the Kickstarter website, so please have a
look!
http://www.kickstarter.com/projects/1058706563/range-mountain-national-park-photographs
If you are willing to make a pledge, you will receive some amazing
incentives  not the least of which will be my eternal gratitude.  Also,
it would be wonderful if you would consider forwarding this link to anyone
else who may be interested.
If you have any questions, or need more info, please let me know.
Thanks for your consideration,
Mike
November 25, 2010 | Filed Under Ideas | 2 Comments
Like most people when I notice my bookmarks page is getting out of control with far too many links I'll go through and delete those links I'm not visiting any more, that no longer work, or that simply are not updated anymore. There is one site though that doesn't get updated that I still leave on my list.
That site belongs to the British photographer Chris Schwarz.
I only met Schwarz once and it was such a different event that it continues to resonate with me.
It was the early 80′s and I was working in Edmonton. It was winter and I'd been assigned to cover a First Nations powwow on a small reserve at least an hour drive south of the city. It was cold and snowing and while I'd been promised a page for the images from the event I wasn't expecting much from the event, indoors in small rural hall.
Once there I and working I noticed another photographer shooting away in the crowded room and eventually made my way over over to myself. We said hello and he introduced himself. I looked at him and said the British photographer (his accent being my first clue).  He answered in the affirmative looking a little puzzled and then even more so when I told him I knew his work. He shook his head and said that just wasn't possible.
Now you have to remember this was pre-internet, pre-email etc. He was not a famous photographer just a documentary photographer in London who had snagged a gig from a  group of First Nation tribes who wanted an exhibition of images up in London before a delegation looking for help with treaty rights arrived in England, a way to generate publicity and interest in their cause. That assignment had resulted him being at that powow.
The chance that he'd run into another photographer in a tiny Alberta town on a freezing winter day was slim enough let alone one who knew who he was and knew some of his work.
A couple years earlier I'd been in London for several months and at some point had picked up copies of a tabloid photo magazine called Camera Works. In one issue that looked at the coverage of a (famous for the time) march and riot in Lewisham Schwarz's work was featured which was where I remembered his name and work from. I believe he was in other issues I had but that one sticks in my brain for some reason.
He was quite overwhelmed and excited that I knew his images and some of the events he'd covered.  I was excited that I'd run into a photographer from London whose work I knew (which made him famous in my eyes)  I offered him a ride back to Edmonton after we'd finished shooting (he'd bused down) which he happily accepted and we talked photography all the way back and then through dinner and into the night.
That was the one and only time I met him. Later when I was working in Europe and was in London I'd ask photographers about him and he seemed to have dropped out of sight although one photographer told me that he'd heard Schwarz was helping start up a museum about the River Thames.
I don't know if that story was true or not but he did end up starting a museum. It wasn't in London though and it didn't celebrate a river or even photography although it did feature a large number of his photographs.  In Krakow, Poland he opened the Galicia Jewish Museum, an outgrowth of his interest and photo project on Poland's Jewish heritage.
Schwarz died in 2007 from cancer. His site is here. The site for the museum he founded is here. A New York Times obituary is here.
November 18, 2010 | Filed Under Arts, Ideas | Leave a Comment
In these days of unemployment and cuts to the arts its always a thrill to come across someone who has a different idea of how to improve things. Eighteen months ago Martin Bright, a resident of London, got such an idea. He called it the New Deal Of The Mind. He wrote about it in The New Statesman, where it received a lot of attention and has now become a reality. He's written about the whole adventure in the Guardian and here's an excerpt which lays out his idea:
"I suggested that what we really needed was a New Deal of the Mind, which would harness the potential of Britain's creative industries (film, music and the performing arts, as well as new forms of innovation such as software design and social media). This could take its lead from the cultural projects of Roosevelt's Works Progress Administration, which put thousands back to work on artistic and literary projects. Although some of the works produced were mediocre, among the alumni of the scheme were painters Mark Rothko, Willem de Kooning and Jackson Pollock, and writers Saul Bellow, John Cheever and Ralph Ellison."
You can read the rest of the article here.
You can visit the New Deal Of The Mind site here.