August 5, 2015 | Filed Under Art, Canada, Canadian, Dion Manastyrski, Documentary Photography, Interview, Landscape, Personal Project, Photo Book, Photography, Prairie, Publishing | Leave a Comment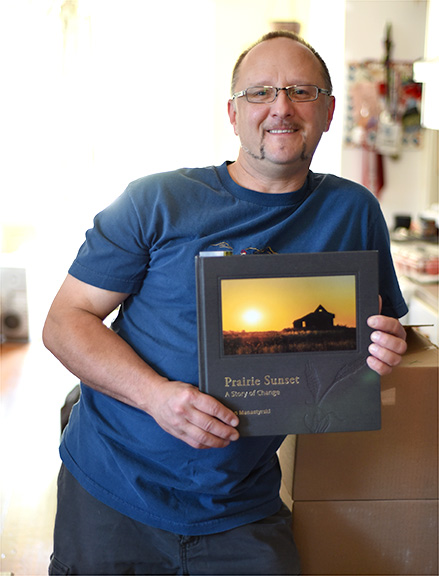 I met  photographer Dion Manastyrski a few years ago when I gave a talk to a local photo group. He contacted me after and asked if I minded meeting up to have a look at images from a project he was working on.  The photos he showed me were from the Canadian prairies, mainly Saskatchewan, and examined the disappearance of  rural and small town life in that region. He had a lot of questions about where to take the project and about his desire to create a book of the work. We talked about the images he had at that point and I gave him some advice on shooting and different ways he might approach a book project. We kept in touch after that, mainly by email, as he continued to work on his project. I meet a lot of photographers who want to create books or exhibitions of their work and often nothing happens. It's a lot of work, coordination and too often, a very expensive proposition. Dion persevered though, continuing to shoot, learning to create videos, searching out archive images to complement his own photos. Collecting quotes from residents about their experiences in the prairie. Conducting an Indiegogo crowd funding campaign. The result of all that hard work, just out now, is a big beautiful self published book (printed by Friesens in tiny Altona, Manitoba), You can check out the project and book here at his site Prairie Sunset.
February 13, 2011 | Filed Under Interview, Photo Book | Leave a Comment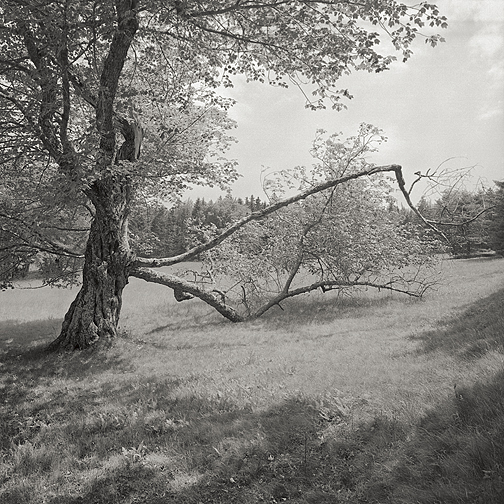 1:  You came to photography as career fairly recently. What made you or how did you come to make that decision to become  a photographer?
I started photographing in college actually, which was 15 years ago.  We had a very small darkroom in the architecture school where I was studying and I was lucky enough to be able to work one-on-one with an architectural photographer, who taught me quite a bit in a short amount of time.
I've been committed to building portfolios of work for about 6 years. It started after seeing a retrospective of Harry Callahan's work at the National Gallery of Art in Washington, DC.  I knew, when I saw his prints, that I wanted to dedicate myself to being able to print and photograph at the high standard that he was.  From there, I started taking intensive workshops and reading whatever I could find to hone my technical abilities.
2: How would you describe your photography?
I would describe it as stories that build slowly, where one image leads to the next and an understanding comes at the end, when some conclusion is made.  I tend to work from the inside out, using photography as a way to communicate what my fears are, what my hopes are, what I long for.
3: You use film, why?
I use film for two reasons.  The first is because it gives me the best quality files to be able to print from. I have not experienced a digital camera that can give me the range of light that film can.  The second is habit.  I have my process down, I'm comfortable with it, it's what works for me.
4.  How do you print, digitally or traditional wet darkroom and why?
I print digitally because I have the most control that way over my prints.  I used to be a darkroom printer and I've also tried platinum, but I like, for example, to be able to control localized contrast and sharpening, both of which are problematic in traditional wet darkroom printing.
5:  You've created two books of your photography. Self published photo books are extremely popular right now but yours are different in that they are very high quality. Most photographers are printing lower quality/priced volumes. Why did you decide to go a higher end project?
I decided to make handmade books filled with original prints because I haven't found a print on demand option that can produce the level of printing that I like to present my work.  Print on demand books are also quite expensive to produce, not that much less than what it costs to produce my handmade books.  I think they are perfect for many photographers, it's just not the kind of presentation I'm interested in for my work.
6: What were some of the challenges you faced in producing your books?
The downside to producing handmade books is the amount of effort, time and upfront costs associated. There are more options to consider, what paper, what binding, what edition size that go into the process.  Hand-printing an edition of 60 books with 39 images in the book is a huge undertaking, and I've learned, as I've gone through it, how to get better at managing my time, but it's still a huge process.
7: You've had numerous gallery exhibitions of your work. How do you see the difference between the 'gallery' of a book and images hung on a wall?
The biggest difference is the ability for the artist to control the viewing experience more.  Usually, with images hung on a wall, people move to look at images that interest them, they can skip images, or move out of the order the artist intends.  With a book, beyond just controlling that viewing experience, you can go beyond just the sense of sight and incorporate touch, sound, text, and other means of telling your story more carefully as well.  In addition, a book is a personal experience, it is something usually done alone, and is portable also.
8. You live in Portland, Oregon which does have a reputation as an artist friendly city. Would you agree? What is the attraction for a photographer?
It's definitely an artist friendly city.  There is a large artist population, not just limited to photographers.  There are large printmaking, book arts, and graphic arts communities as well.  The attraction is to be surrounded by other photographers that are working artists, not just hobbyists, and to also have galleries importing good works to show as well.  The point is keep pushing forward, and part of that is being exposed to other good work.
9: You've photographed in Nova Scotia and are currently doing work on Salt Spring Island. What;s the attraction of Canada?
There wasn't an attraction to Canada per se, although Canadians do seem more open to me freely trespassing on their property!  I went to both places because they looked like beautiful places to go and photograph, not because they were in Canada.  I should say that Canadians have treated me wonderfully, and I'd like to do more work there.
10. You have a site, Photo Radio, where you offer sound only interviews with photographers. In these days of  YouTube, why radio rather than video?
I don't know the first thing about video.  And frankly, it seems pretty intimidating to me.  I'm not sure what you would get from video that you can't get from audio.  I also prefer stripping away the visual at times and just focusing on someone's words and thoughts, I think it puts everyone on a level playing field.
11. You offer workshops in marketing yourself as an artist. What is the attraction for you of teaching a workshop?
The attraction is being able to share what I have learned in the hopes that the information or experiences that I have will be useful to others.  There are so many aspects to being a successful artist, I have always been as open as I can in sharing what knowledge I have with others, I would hope for more of that actually from the entire community.
12. What are your top three tips for anyone wanting to become a fine art photographer?
I only get three?  I can't do less than four!
1- Hone your craft.  If you don't have the foundation to craft good photographs and prints, you're going to be leaping way ahead of yourself and eventually, you'll have to come back, so might as well learn to take good pictures and make beautiful prints from the start.
2- Make connections. The biggest part of gaining an audience for your work is through making connections with anyone associated in fine art photographer, whether that be other artists, or curators, or even writers.  You never know how someone can help you or your career, so talk to lots and lots of people.
3- Develop a thick skin. There is so much rejection involved with trying to get your work out there, that if you're sensitive, it will be a problem.  I have been rejected so many times I've stopped counting, and even though I know it could have very little to do with me or my work, it's still tough to swallow sometimes.
4- Give back. No matter how much or how little success you experience, you should always try to give back to the community, to nurture younger photographer, to educate, and to encourage sharing, acts that benefit us all.
Lauren Henkin's site is HERE.
January 26, 2011 | Filed Under Interview | Leave a Comment
1)    Please introduce yourself. Who is Claire Martin?
Just a girl from Perth Australia, nothing special bout that really

2)    You?re in Haiti right now. What are you doing there?
Every now and then I feel compelled to sink my teeth into a personal project or give myself a new work challenge, where I can follow my own
story and develop it in my own style. I have always intended to work within an international market and I felt I had to get out of Australia
and photograph something that is internationally relevant. So aside from these self indulgent urges to further my international career, I actually
care to tell the story of those displaced by the tragic earthquake. When I first heard about the earthquake I felt an instant urge to go, but I
restrained myself because there was already so many media people there reporting. I figured I could potentially be more of a strain on their
fragile infrastructure and do more harm than good, so I decided to postpone and look at it from an aftermath perspective. Although the
international media would loose it's attention span for Haiti, the suffering would be around for a long time! I am focusing on life in the
tent cities. Much of my work to date has focused on marginalized communities and internal displacement and the culture of these tent cities
resonates with these themes that run through my work.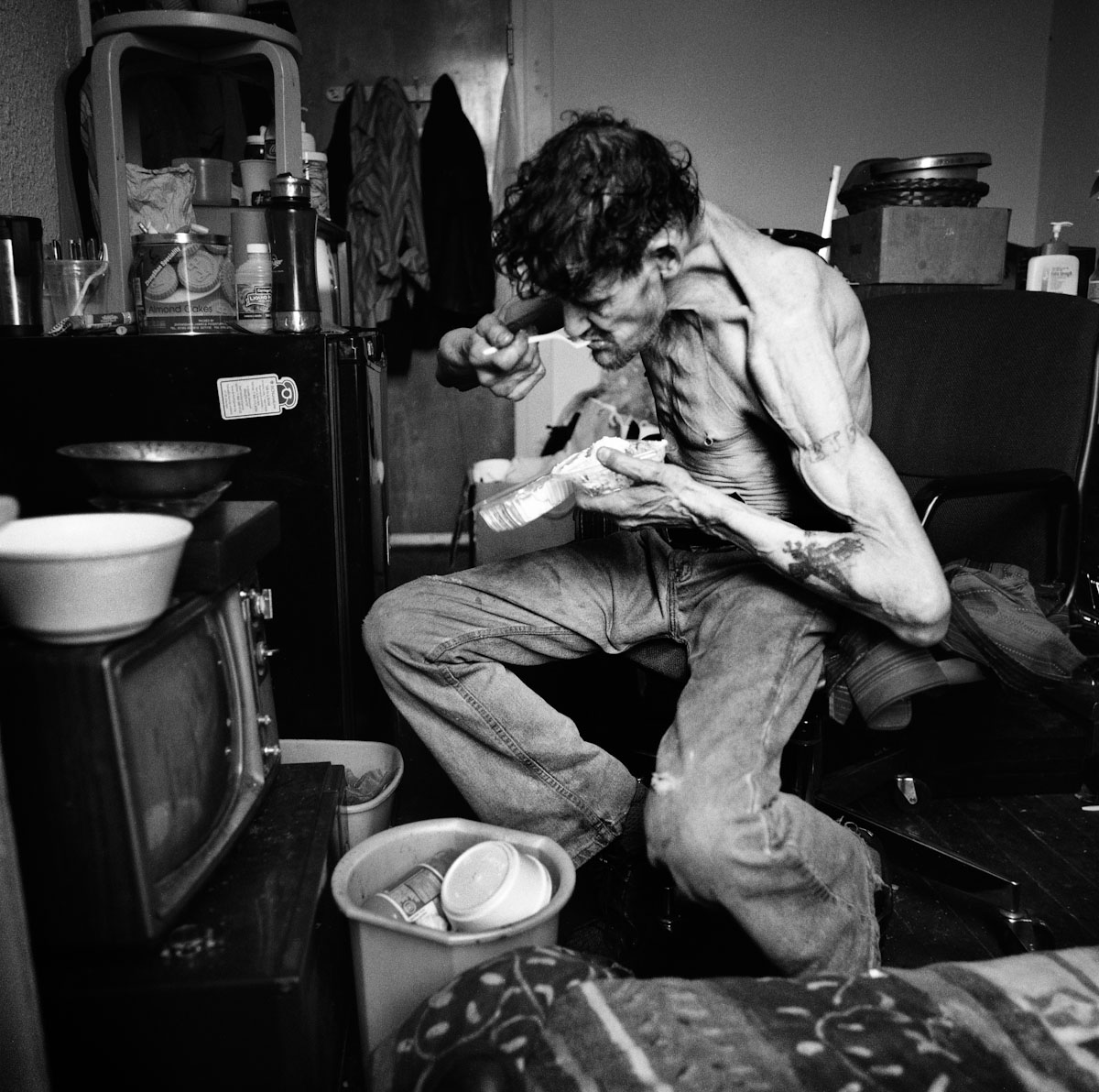 3)    Last year you won the Inge Morath award for your essays on Vancouver?'s Downtown East Side and California?s Slab City. Let?s talk
about the first essay. What is your connection to Canada and how did you end up photographing in the Downtown East Side? Can you talk a little
about the main image we've seen from that essay, of the man eating who seems somehow to be both emaciated and yet very muscular?
I moved to Vancouver with a 1 year work VISA just for something to do. And the "Cheap Hostel" I booked online turned out to be practically one of the
half way homes on the border of the Downtown East Side. I wasn't practicing as a photographer at this point, I had just taken a bunch of
photo's during my travels. At this time I wasn't thinking about telling stories or making comment on anything but I kind of knew I wanted to do
this type of thing, and when by chance I landed in this community I knew it would be a story I would want to tell. At university I studied Social
work and have always been interested in working with the marginalized people, and I've witnessed the problems of addiction personally so I felt
I it was a story I could tell if I tried.
About Tony? I met him and we just had a rapport. It's a great thing when you meet someone who really want's their story told and who is uninhibited
in front a camera. Tony was 50 at the time and had been addicted to Heroin for over 25  years. He has AIDS and lost his wife to an overdose. he also
had twin girls who were born HIV positive and were taken away by the state shortly after they were born. Despite these addiction induced problems he
is unable to quit using. In the photograph he is eating cream pie that I brought for him. I recently had an email from a woman who works in the
DTES who saw the photo and knows Tony, she gave me an update on him. She said "He is battling with AIDs and his brother has Leukemia and has
recently been in and out of the hospital.  We haven't seen Tony since before Christmas, so I don't know how his brother (or him) is doing now.
We have seen Tony go through rehab and gain 20 lbs and slowly deteriorate again. "
I sincerely hope he is ok. He really wanted to be a a good person but his addiction compromises his ability to be this way.
4)    How much time did you spend on both essays?  It seems it would take a great deal of time to build up the rapport and trust to make the
intimate images you did.
Well, the Vancouver series I shot in my spare time. I was working as a chef and would hang out down there on some of my days off. I was shot over
maybe a year? But the progress was slow as I had never done this type of photography before. At first I didn't even really know how to approach someone and ask for a picture. I was lucky to find a friend and mentor at the same time (Lung Liu – Amazing photographer) who trained me in visual story  telling and introduced me to the work of today's documentary photographers. It's through studying others work, that I have learned about the way I want to shoot.
The Slab City series I spent about 6 weeks camping in the community with intermittent "sanity and sanitation" trips to LA. It seems a long time and
hopefully I have more confidence in my ability to create stories on a tighter time frame than this now, but rule of thumb, the more time you can
invest, the better and more authentic the outcome.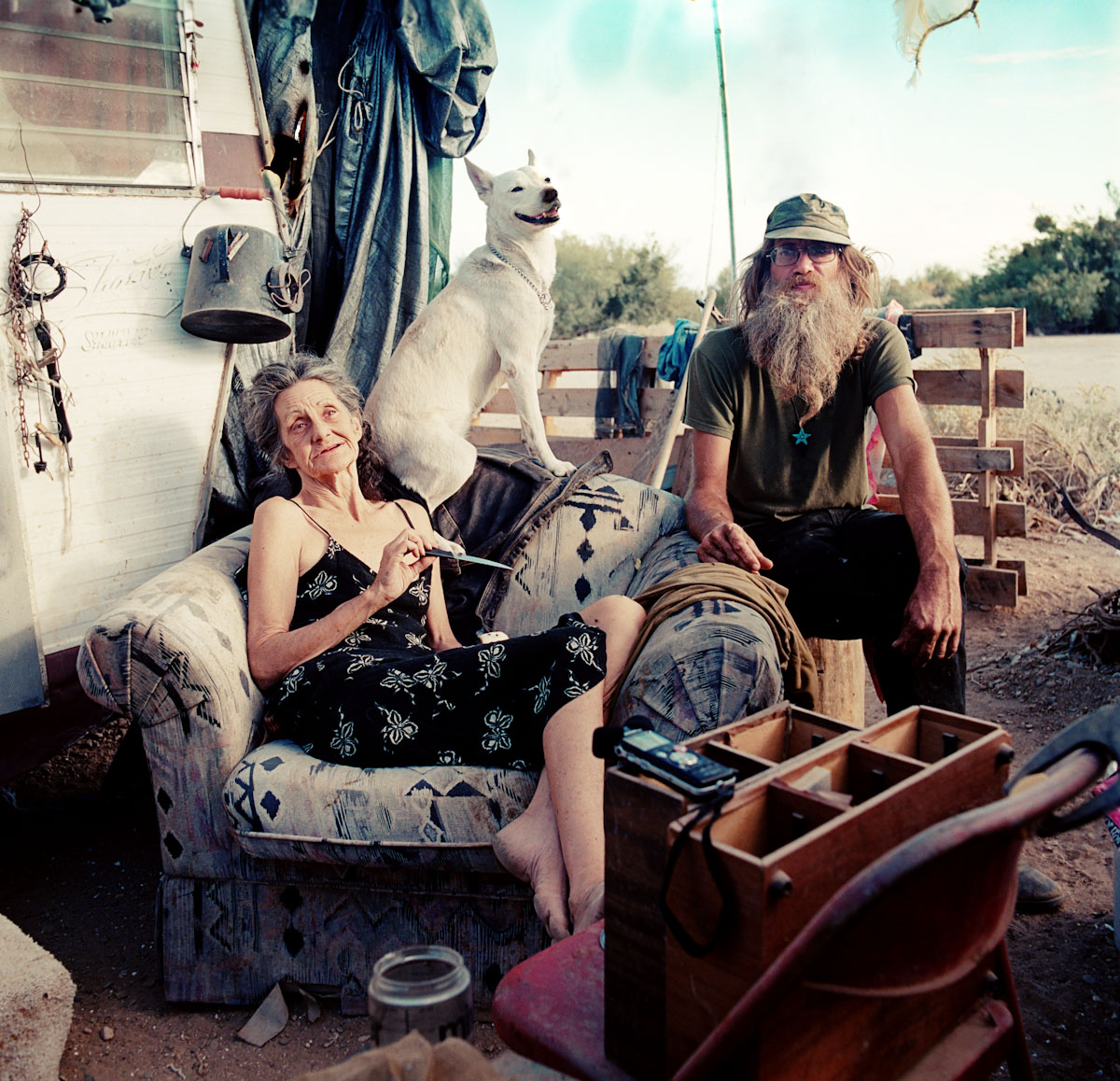 5)    What did winning the Inge Morath award mean to you? How did it affect your career?
I was just reading a BJP article about funding work through grants, I could pretty much copy and paste it here to elaborate. I'm still in what
I'd say is the "emerging phase" of my photographic practice even thoughsaying that makes me sound like a wanker …. I'm not at the level that
this guy is at, but it's the same principle. Here's a link to the article
http://www.bjp-online.com/british-journal-of-photography/feature/1938739/tips-2011-writing-grant-application (Article is by Don Weber)
So basically, yes, it's fantastic because it gives you credit, cash and material for your CV, but it also means you have to work harder to keep
proving it was worth it for me to receive it. At first I thought with one award people would be knocking on my door. The press from various awards
has indirectly brought assignments my way, but it isn't a magic wand, it's a link in the chain.
6)    2010 appears to have been a very good year for you. You were accepted as the newest member of Oculi, the Australian collective. How did
that come about and why did you want to be a member of Oculi?
I had never worked as a photographer in Australia prior to returning home from my time over seas, so I really had no idea about the industry there.
I'd looked at what was going on and saw that Oculi was really the only collective working predominantly in a documentary style. They also have a great reputation with award winning photographers and distribution through Agency VU and Redux. I'd always worked on my own but felt it was time to join up with others and be in an environment where I can learn from my peers. I didn't bother contacting them about membership because I figured
they were exclusive, but they saw my  work exhibited at Foto Freo, an international photography festival and invited me to join. I was thrilled
because they view photography in the same way I do and it's quite rare. Most agencies are very commercially based.
7)    Australia and Canada have a lot of similarities, both are Commonwealth countries with decent economies and educational standards.
Australia, however, on the arts front, seems to have far more galleries and institutions devoted to photography.  What do you think? Do you see
more support for photography in Australia?
Haha, I'd say this is a case of the grass is greener syndrome… I honestly think Canada and Australia are really very similar in a lot of
ways. Arts scene or lack there of, included. Then again, there are a few great festivals here and some large photography prizes. But really I think
it's about the same. The benefit here is that it is a small scene so if you're doing good work and putting it in front of the right people, you will
be recognized.
8)    You have three essays on your web site, Downtown East Side, Slab City and Salton Sea. The first two are about people while Salton Sea seems
to be about landscape and remains of previous existence. What appealed to you about the Salton Sea?
I like the surreal and the unusual. I don't always want my work to be too literal. I also like things that are good and bad in equal measures. I
like to show ying and yang in in my work. Not things that are just pretty, or just dark. I like the complexity of the balance and as a landscape this
area has that same duality that I look for in communities or in people. It is really a very ugly place, stinking of rubbish and left derelict and
unwanted, but with all the natural beauty of a desert lake landscape. It's a visual contradiction, this a more interesting landscape to me than  one
that is just pretty. It also has an interesting historical and environmental story.
9)    Crowd sourcing, an alternate source of raising funds for projects, has started to become popular recently. You are currently using the
IndieGoGo site to raise funds for work in Haiti. Why did you decide to try this route and how do you feel about the results so far?
Honestly it has taken a while to come around to the benefits of social networking and marketing your work in this way, but I've realized that I
can't fossilize with the dinosaurs and that I need to have a modern and diverse business model in order to survive in this industry. I researched
it a little and saw that there was a high success rate for funding, that many reputable photographers are funding their personal work in this way
and that the system is based on commerce, not charity. It is through the pre-sale of limited edition prints that I fund my project, so there is a valuable exchange. I am happy with the result so far. I hope I can reach my goal! (Claire's IndieGoGo link)
10) Finally, can you talk a little about how you work? Do you do a lot of research before you begin a project?  Do you work with minimal equipment
or do you carry lots of backup gear? How do you know when you?re done?
Well the work on my website is personal work, so I have complete authorship over the content, the way the story is told, the visual style,
etc and I really love to shoot this way. I love to tell stories the way I see them as oppose to translating another person's vision, which is what
you often have to do when on assignment. I have my own unique way of seeing a situation / the world and to me it really is story telling and
I'm the author. As it's documentary work, I'm allowed to have a perspective and an opinion and for the work to be emotional which is
frowned upon is straight journalism which is supposed to be objective and based on facts and events. By way of research, honestly I don't do too
much. I usually try and put something together. I always have an idea of the story I will shoot, but it ALWAYS changes completely when I am
actually shooting. I go in with an idea and a plan, just so I at least have a point to be there, but I always expect the outcome to be different.
I'm quite opportunistic and intuitive in the way I work.
Re: Equipment. I'm a minimalist. One body, one lens, one tripod, maybe a flash, sometimes
some filters. I hate carrying too much shit around. I feel like a pack horse and not a photographer. It gets in the way for me. I work the shots
to the equipment I have as oppose to the other way around. Mostly I'm done when my time is up – when my plane leaves. I look forward to trying to
find a local project I can keep returning to over a period of years. There's no need to rush personal work.
You can find more of Claire Martin's work here.
January 11, 2011 | Filed Under Interview, Photography | 3 Comments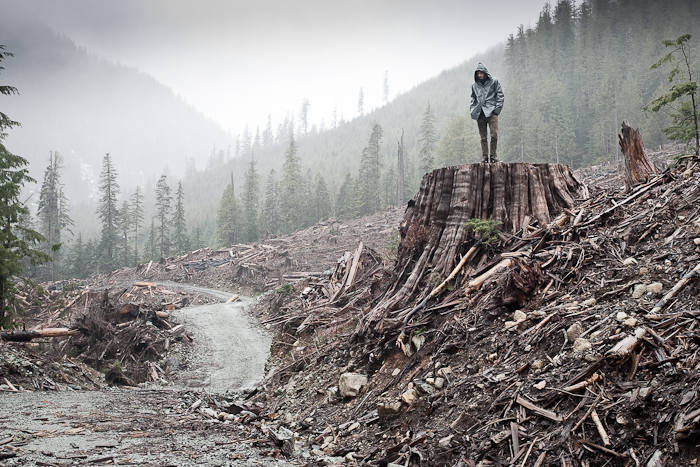 1) Who is TJ Watt?
Born, raised, and living in beautiful Metchosin, BC, he is on a quest to protect BC's world class ancient forests through visual media and public outreach. He spends his free time skateboarding, climbing trees, dancing through the night, and staring curiously at the stars.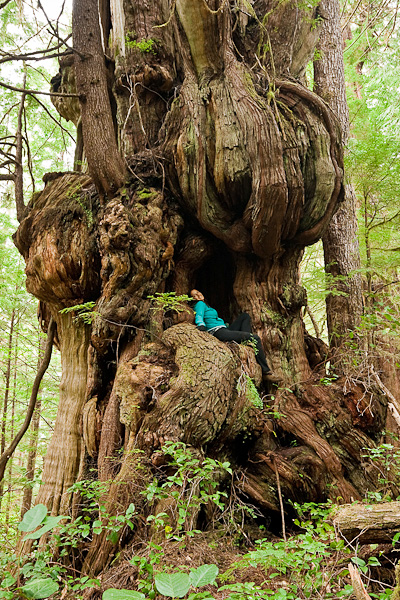 2) I think it's safe to say your photography is mainly related to your interest in environmental protection. Can you explain why?
Well it seems to have evolved naturally in that direction over the past few years. It's basically a melding of my interest in landscape photography with my strong passion for conservation work and exploring the wilderness of BC. Instead of just taking pretty pictures I started to see it would be much more valuable if they served a higher purpose at the same time. Photography is a very powerful tool for raising environmental awareness in many ways but I think one of the most critical points is its ability to bring very remote or hidden places to the public's eye. My work focus's mainly on the threats to BC's endangered old-growth forests and often times I am taking photos where less than and a handful of people have been if any at all. The dense rainforest's of Vancouver Island are largely unexplored so it's amazing to share images from these virtually unknown places. If you can't bring the 4 million plus citizens of British Columbia to the woods then you need to bring the woods to them and now, with the power of GPS mapping and Google Earth, you can extend that concept to the entire world.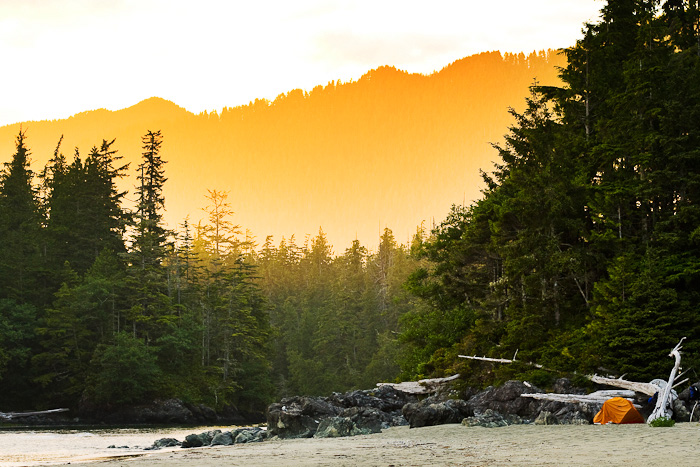 3) You've actually, with a couple of others, started your own environmental group. What is the focus of that group and how did it start?
At the start of 2010, Ken Wu, the former Campaign Director for the Western Canada Wilderness Committee along with myself and a few other activists launched a new ENGO called the Ancient Forest Alliance. In our first year we have become the fastest growing environmental group in Canada with nearly 20,000 supporters joining on with us. The organization's goal is to be the driving force in the fight to protect BC's endangered ancient forests and forestry jobs. We're pushing to see old-growth forests protected where they are scarce such as Vancouver Island and the Southern Mainland, a transition to sustainable second-growth logging instead, a ban on raw log exports, and the creation of more value added wood manufacturing facilities. Our group differs as well in that we chose not to have charitable status which allows us to be much more political. We are exercising that power in one way by helping start Ancient Forest Committees that will work in key provincial swing ridings to put pressure on politicians around their forest policies. You can find us on Facebook, on Twitter, and at www.ancientforestalliance.org  Don't forget to sign the petition as well at www.ancientforestpetition.com !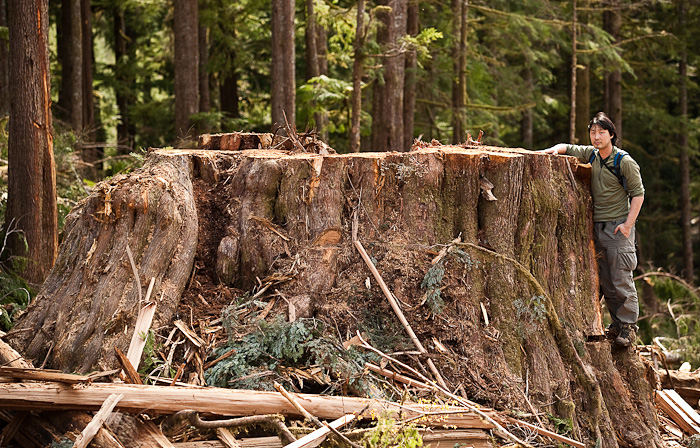 4) You work in some fairly difficult terrain and the west coast forests can be both wet and dark. What are some of your photography challenges?
That is true! As beautiful and enchanting as the temperate rainforest is, it has its many photographic challenges. The first and foremost struggle is just moving through it. Next time you're on a boardwalk in Carmanah Provincial Park or the rainforest trail in Tofino, take a look off to the side and imagine bush whacking through the under story while carrying 30 pounds of gear with you. The forest can be incredibly dense with 6ft tall salal bushes, sharp branches poking your eyes, steep slippery cliffs, sinkholes, and not to mention giant fallen trees that even on their side can be twice as tall as you and over 200ft long. It's perfect leg breaking territory. The second test is found in the name rainforest itself. Rain! Lots of it! Trying to keep yourself and your expensive gear dry is at times impossible and makes changing lenses, batteries, and memory cards a scary task. The last challenge might sound off but it is the sun. It seems strange to complain about it after whining about the rain but it can be just as frustrating. The patchwork of openings in the forest canopy causes the light to be very mottled on the forest floor. The contrast from light to dark is often times too wide a range for the camera and makes for a very distracting scene. The ideal day is overcast with the sun just about shining through right after a light rain shower which gets everything rich in color.
Oh, and a tripod is a must too!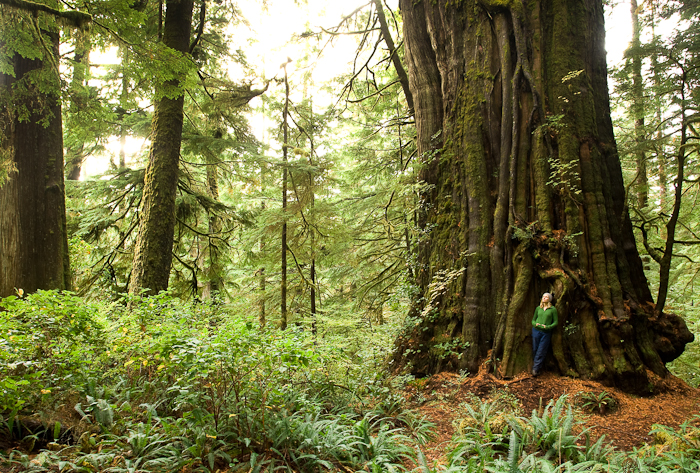 5) Your work is about the west coast landscape, are there any other areas in the world you'd like to photograph?
To be honest, I am quite obsessed with the forests of BC and could be happy taking photos here forever but if I had to choose some other places I might say somewhere like Iceland. I love its dramatic and desolate landscapes, giant mountains, and exploding volcanoes. It almost appears from another planet. Recently I was down in Argentina and Chile and crossing the Andes was an incredible experience. It's like getting a trip through canyons on Mars. The red, yellow, and black color of the soil in contrast with ice blue glacial lakes was just spectacular. I would also find it fascinating to photograph in abandoned urban areas that are slowly decaying and being reclaimed by nature. It's a great reminder of our own impermanence.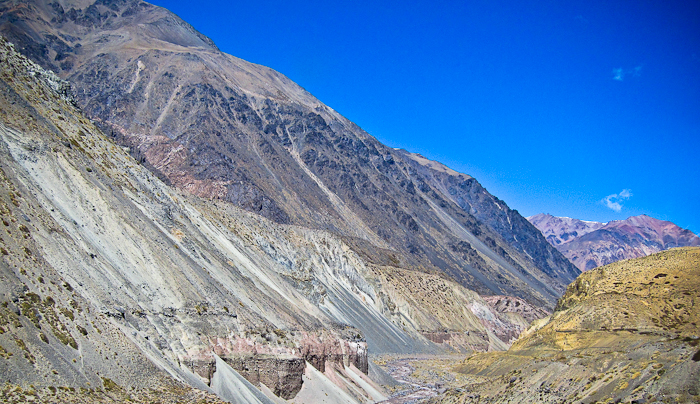 6)  Are there other photographers whose photography is centered around protection of the natural environment that you admire?
Most definitely. In this province the work of people like Garth Lenz and Ian McAllister really stand out. Garth has documented BC's rainforests and the effects of industrial forestry for nearly two decades and has more recently focused his aerial photography on the Alberta tar sands. It was exciting to have him as a teacher at Western Academy of Photography and I was happy to hear he was recently accepted into the International League of Conservation Photographers. Ian works with a group called Pacific Wild and has done an absolutely stunning job of photographing the wildlife in the Great Bear Rainforest on BC's coast. His shots of wolves and grizzlies are breathtaking and have helped tremendously in raising awareness about the complexity and fragility of that areas ecosystems.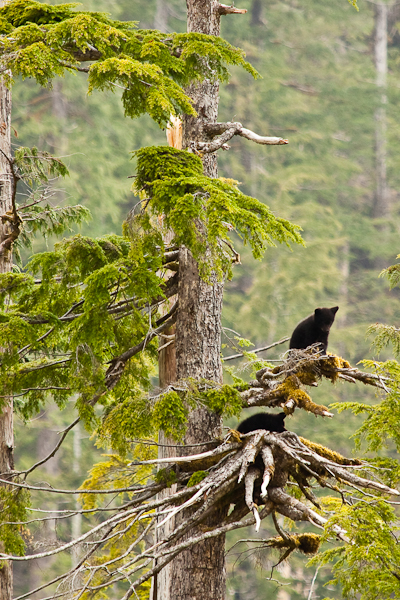 7) Do you do any other photography to supplement your environmental work?
In the sense of weddings or advertising, etc, no. It doesn't really work for me. If I can find a way to make a personal connection with a project, even if it's out of my usual field, I may try to take it on. It can be a fun new challenge stepping out of the norm for awhile but I mostly stick to my main focus.
I find that most of my interesting new experiences come from the combination of my environmental campaign work and my own photography leading to opportunities I may have otherwise missed. With the power of the internet people from all over the world can stumble upon your images and next thing you know you're on to something new as well.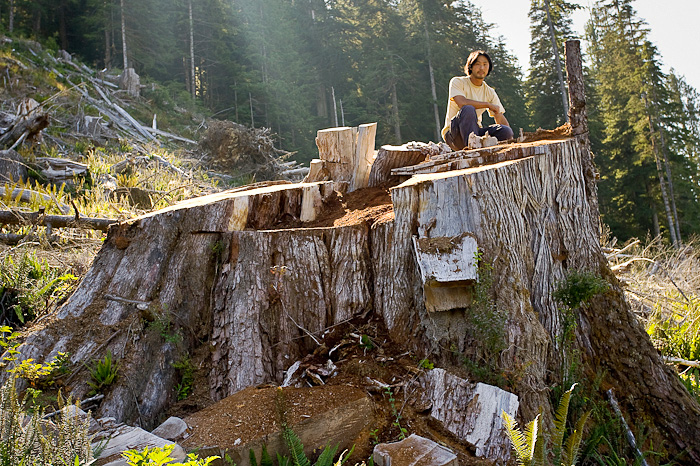 8) Most photographers have personal projects. You photograph abandoned mattresses. Tell us about that?
Haha, yes. I have a thing for abandoned places and objects. The collecting of mattress photos started while I was living in Toronto for a year and one day noticed just how many were strewn about the streets and alley ways. It was like they had been invisible before I became aware of them and then they were just everywhere. I think what I find most interesting about them is that you never see anyone in the actual process of abandoning one. You will be driving down a rural road somewhere and there will just be one looking shiny and new leaning up against and old rotting fence. Or there will be one out alone in the middle of a soccer field with the spotlights shining eerily on it at night as if it just teleported there. Even though I am sure people dump them in a hurried or careless way, each one ends up taking on its own unique aesthetic as to how it fits into the scene. And then they just disappear.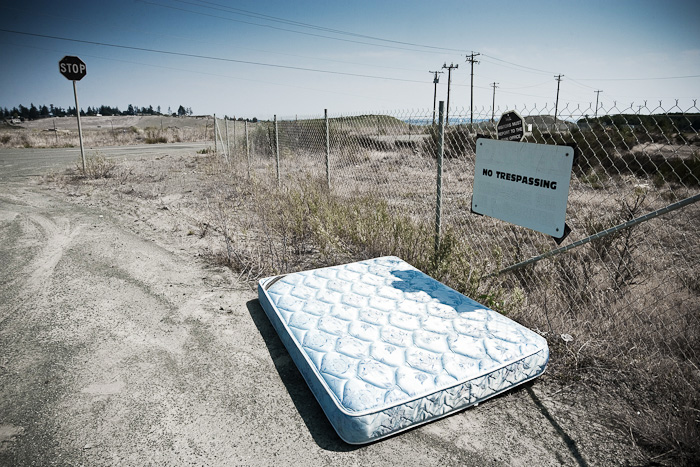 9) You also buy old cameras from thrift shops and process any film found inside. Why?
I haven't done this in awhile but it sure is fun. I find it odd that people could leave film inside a camera and toss it away with their pictures inside it. Maybe they forgot or just didn't care but for me it becomes a surprise peek into another world. It's really like reaching into a stocking on Christmas because you just don't know what you'll pull out. I have found some pretty funny photos in the rolls. I'm sure many of them seem funny though only because you don't have any context for the scenes you're looking at. You find some beautiful ones too like this one roll of old expired disc film that had someone's travel pictures on it. There were these lovely scenes of fields with rainbows, giant mountains, and old buildings mixed with all the distorted colors from the old film. It would be great to put a collection of them together for a show.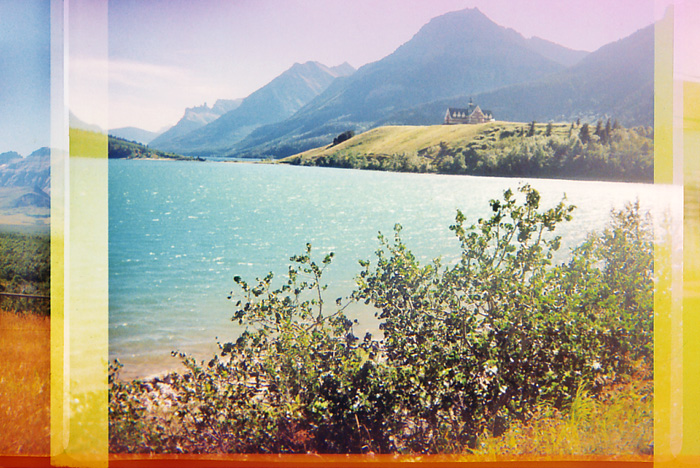 10) What will 2011 bring for TJ Watt?
That's an exciting thought! I'm really hoping it brings plenty of adventure and opportunities to work with more new and interesting people doing progressive things. 2010 was the most exciting year of photography for me so far as working with the Ancient Forest Alliance has finally allowed me to really focus on what I love instead of doing random jobs and trying to run out into the woods on weekends. We have plans to undertake many more expeditions into the valleys and forests of the mid and north of Vancouver Island. There really is so much more to be explored out there. A couple of books should be in the works as well along with the startup of a new eco-tourism based business I am working on. Keep your eyes peeled!
You can see more of TJ Watt's work here.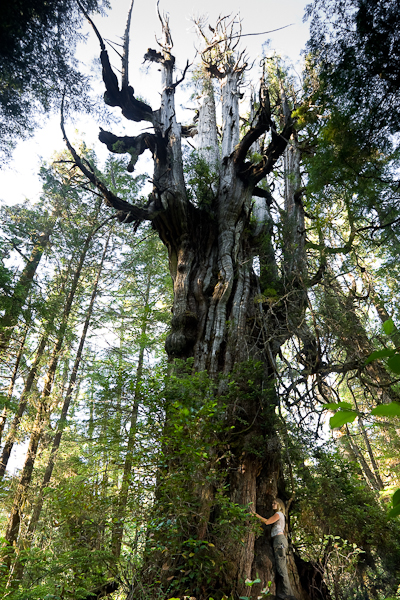 December 31, 2010 | Filed Under Interview, Personal Project, Photo Studios and Work Spaces, Road Trip | 1 Comment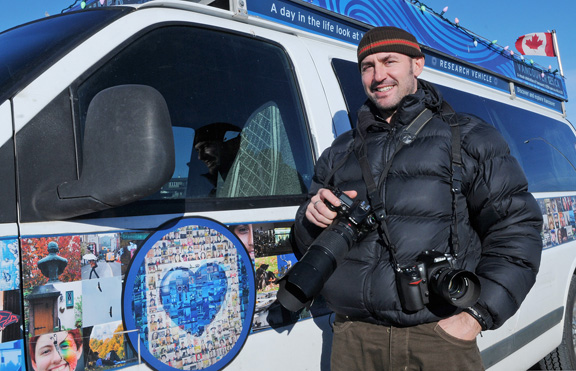 I met up with photographer Tim Van Horn for a coffee today but forgot to bring a mug so I was out of luck. When you live in a small camperized van, room for everything, including extra dishes just isn't there.
I don't know how you'll be celebrating the new year but for Van Horn  Jan. 1, 2011 will mark 27 months on the road for the Alberta photographer and he'll celebrate that milestone in Victoria. The 41-year-old photographer has been traveling across the country in his van photographing Canadians, 5000 so far, for his Canadian Mosaic project. His plan is to stay on the road until he captures 25,000 portraits that he will use to create a giant Canadian flag mosaic in time for the country's 150th birthday on July 1, 2017. Van Horn, who has travelled from Newfoundland to Nunavut for his project, expects to spend the next few weeks in the greater Victoria area.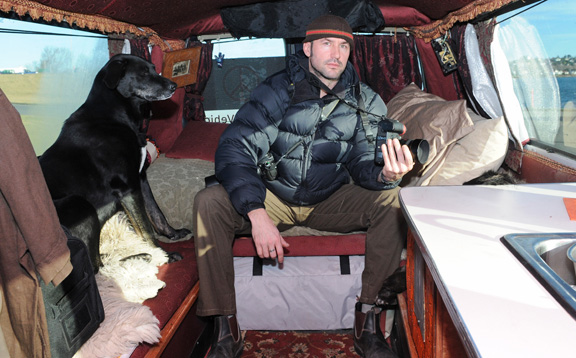 You have to admire Tim as he is doing what so many of us talk about but never get around to actually acting on,  hitting the road and just working on a project, taking photographs everyday.
His work can be seen at http://celebratecanada.wordpress.com/.
December 8, 2010 | Filed Under Interview | Leave a Comment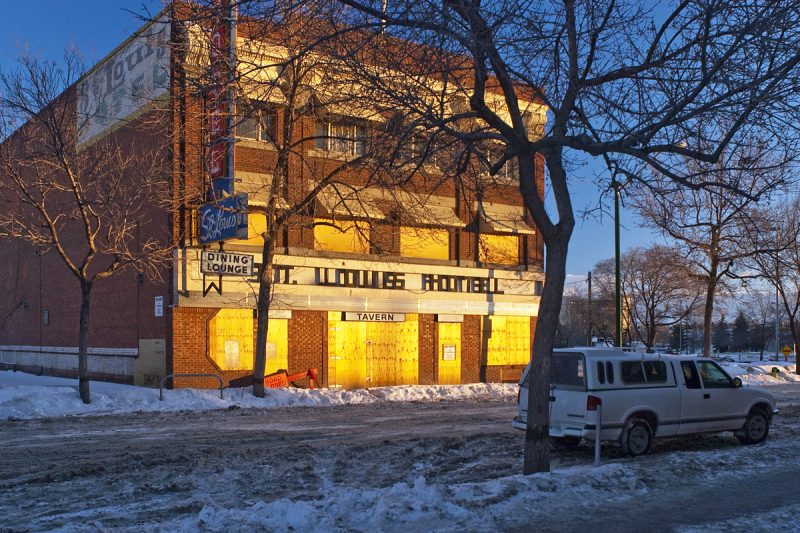 1)    Who is George Webber?
I think of myself as a documentary photographer. Photography is a wonderful medium for harvesting up stories from the stuff of daily life.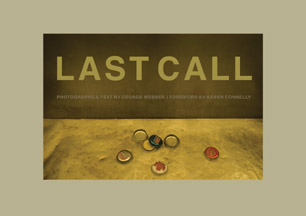 2)    You have a brand new book out entitled Last Call published by Rocky Mountain Books. What is the book about?
LAST CALL tells the story of the final years of Calgary's notorious East Village, a feral little precinct situated smack behind Calgary's cobalt blue city hall.  The East Village was best known for its shabby hotels, the St Louis, King Edward and Cecil that formed an un-holy trinity and an affront to Calgary's Mayor and many members of city council.
You went to the East Village if you needed a cheap room or you wanted to deal for booze, drugs or sex. Some nights you went in hopes of a long shot paying off.
Like the night a guy sitting at one of the back tables in The St Louis suggesting to his beer soaked buddy, a rumpled local TV news reporter that he might want to consider a
run for civic politics
Through heavy lidded eyes the reporter turned the idea over in his head.
His name was Ralph Klein. It wasn't long before he was Alberta's Premier.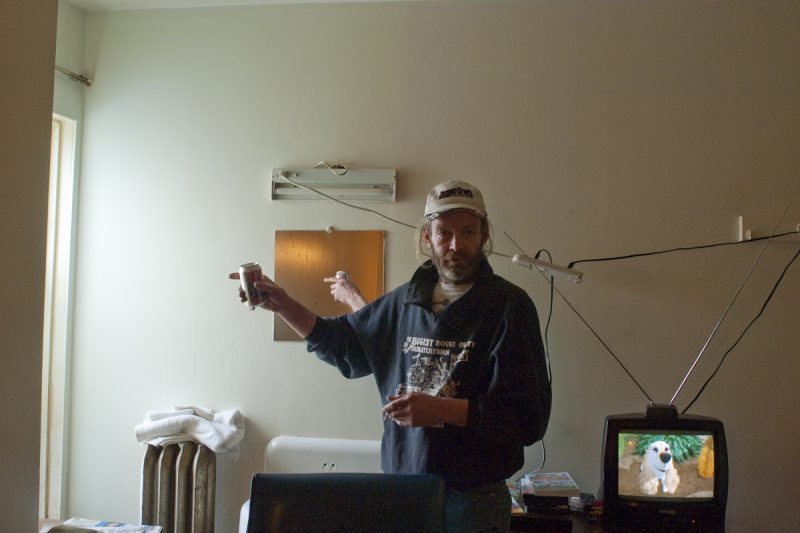 3)    How long did you work on that project? What were some of the challenges in creating the images.
I spent the years of 2004 – 2009 photographing in the East Village. The biggest challenge in this kind of work is winning the trust and respect of the people you wish to photograph. You have to earn it. That takes time.
4)    You've photographed prairie towns for a long time, in fact you seem to have two separate bodies of work that focus on the subject. You've photographed disappearing towns, remnant of towns or even towns that no longer exist and the black white images while beautiful have a somber, at times sad feel to them. At the same time you've been photographing small town architecture in colour which seem to be perhaps more upbeat. Can you talk about these two projects and how they fit together?
The choice of black and white vs. colour is a matter of intuition, judgment and experience. Which one will be capable of conveying the subject most powerfully? Colour is closer to reality, capable of a kind of exquisite transcription. Black and white is more distanced from reality, more abstract, capable of a kind of poetry. The rich, allusive subject matter of these disappearing places calls out for both.
5)    Your work in a number of your projects (Calgary's East Village, Prairie towns,  People of the Blood) has recorded, if not way of life, a least a slice of life that has vanished and/or changed dramatically. Do you feel drawn to this type of story or were you just interested in the subject and it all changed around you.
I have a powerful attraction to the sharpness and poignancy of endings. Life is so often about endings, about losing things….photography is about keeping them….for just a bit longer.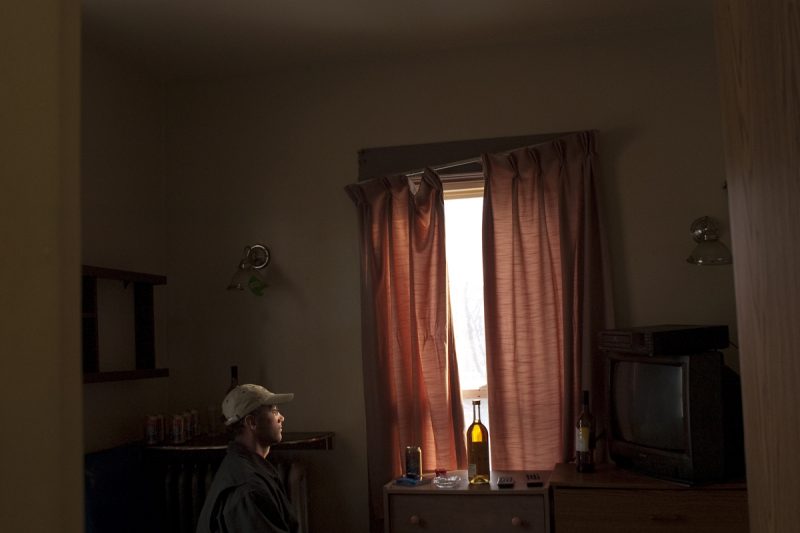 6)    In contrast to your more recent projects one of your early documentaries, focusing on  the Hutterites , featured a subject ( a conservative religious sect that clings to the past in many ways) that didn't change. Can you talk about that?
A girlfriend once said to me, "You have an infinite appetite for inspiration." She was right. Time with the Hutterites was filled with stories and lessons, most of them unspoken. You can learn a lot about courage, compassion and commitment from the Hutterite people. The  fundamentals don't really change much on a Hutterite Colony. That's what make a day there so dear.
7)    You exhibit your work as fine art on a regular basis and your style is most often referred to as documentary. Do you think there is any distinction between fine art and documentary photography?
Names like "Fine Art" and "Documentary" can be convenient ways to categorize photography but just exactly where would you put Eugene Atget, or William Eggleston, or Lee Friedlander, or Diane Arbus or August Sander? Their work can be said to have grown out of the Documentary tradition but it surely transcends that tradition and it stands as some of the most enduring and important art of the twentieth century. Photography is like a great river. It's most powerful current is the documentary current.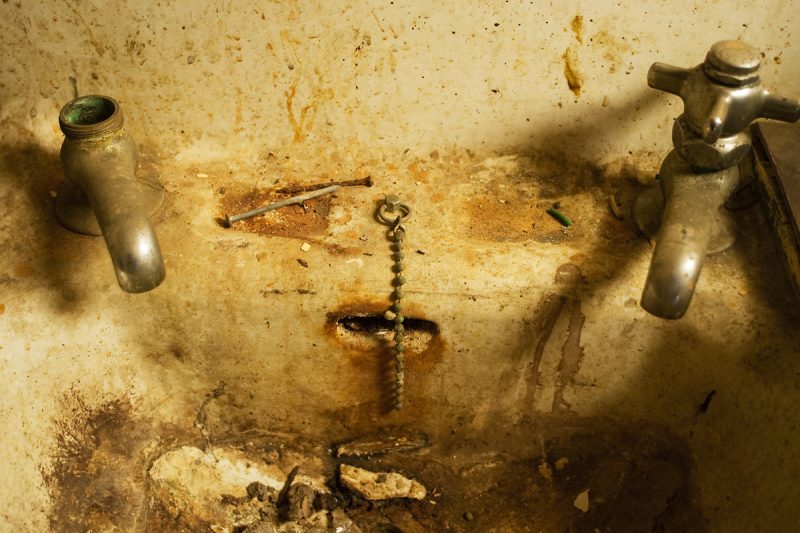 8)     Most photographers have routines when they work on a project. What are some of yours?
I like to photograph where it's quiet, when there's not much going on. That often means getting up early or staying out until the light's all gone. I like to travel light, usually one camera with one lens. I like to hang out. I like to go back to the same place over and over again. I like to watch for the little changes.
9)     You have exhibited a lot and have had numerous books published. Which is the greater challenge, getting a book published or arranging exhibitions?
I just try to do justice to the reality of the things that I photograph and care about. When I've completed a project I try to bring the work to the attention of curators and publishers. I'm very grateful for the support and encouragement I've received in recent years. Traditional book publishing is facing some challenges right now but you might also consider this a golden age in book publishing. The breadth and quality of work available now is extraordinary. The hard part isn't getting the work published or exhibited. The hard part is creating work that deserves to be published or exhibited. Good work will always find an audience.
10)  You teach some photography classes, what's the attraction of teaching for you?
Energy, passion, commitment and decency are things that students can bring into the classroom. It doesn't happen all the time. But when it does, it feels pretty good to be around.
To see a preview of Last Call, go to Youtube.com and type in Last Call by George Webber.    You can see more of George Webber's work here.
November 19, 2010 | Filed Under Careers, Interview, Photography | Leave a Comment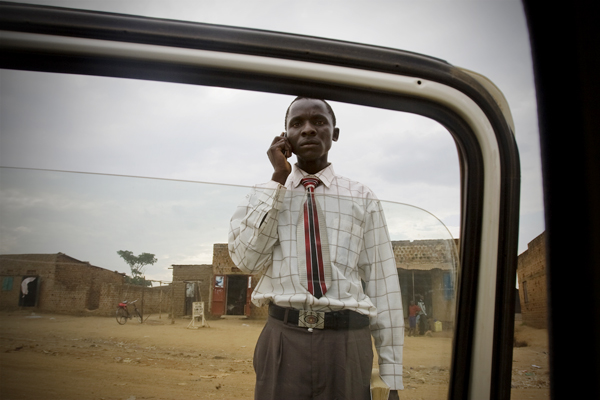 1) Photography is a second career for you. What advantage and/or disadvantage did that create for you?
I've actually found it quite to my advantage that I had a previous career in public relations.
My PR background gave me some solid skills that I have found to be quite useful, namely:
-    Networking:
I hate this term since it sounds so phony, but it really is important. In my previous career it became evident that there were people who were quite good at what they did. I would make every effort to get to know them and learn what I could from them.
In photography I was able to quickly size up the industry – who was who, who makes decisions, who is good at their job and is well respected – and then seek them out to meet them. That alone has helped a ton.
I've found that if you're eager and willing to listen, people are more than happy to help.
-    Expectations:
I think I was pretty realistic about what to expect when starting a business. I knew it would take time, that I'd have to work hard and put in my time at the bottom and that the work ethic I had applied to my previous career would carry me through in this new job.
-    Marketing:
The basics of getting myself up-and-running were easier. I was familiar with invoicing (as I managed clients I knew what I liked/disliked in invoices I received). I know what clients expect from suppliers. I was not nervous about creating a business plan, how to find clients and how to keep clients happy. I knew how to sell myself.
-    Writing:
Some projects I picked up this year involved writing. I'm able to market myself as a writer and photographer, a skill that a lot of my clients appreciate.
-    Service:
Having worked on the client side of the business, managing suppliers (in PR) I knew how I wanted people to manage my account. I instinctively knew what newspapers and other clients were looking for in a photographer beyond just technical skills.
I took editors to lunch and for drinks, I dropped off thank you cards to anyone who spent any iota of time with me, I brought Christmas gifts for the editors who gave me work, I did pro-bono work on small projects for corporate clients who gave me large chunks of business. All these small things really make a big difference. People want to work with people that they like.
-    Clients:
I had a base of clients immediately upon arriving in Toronto. I did a quick tour of all the major PR shops in town and picked up work from them. I also checked in with some of my PR colleagues working at companies (e.g., pharmaceutical companies). Building up a network like that would have been challenging otherwise.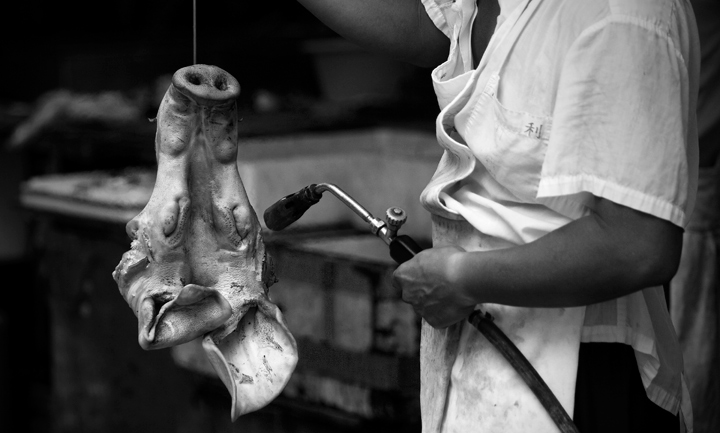 2) You are now a few years into your career as a photographer so what are your thoughts on the photo education you received before embarking on this career? What mattered and what didn't? What do you wish you were taught that you weren't?
I did a commercial photography course but ended up going into photojournalism. Looking back, I wish I had done strictly a photojournalism program. Some of the skills I learned in the commercial program were great, but took up a lot of time that I could have used to hone my photojournalism skills (e.g., all the printing courses and some of the high end photoshop courses).
Also, it was that much more of an uphill battle to find a job since the program at Loyalist seems to provide students with more contact with the newspaper industry than other schools.
I wish I had been taught more on-site lighting skills. We mostly did studio lighting and while the principles are the same, the actual technical details of using your speedlight got skimmed over. To this day I'm still not 100% comfortable with my speedlight.
I wish we had done some multimedia. The commercial program didn't do this at all but it would have been nice to have at least a basis in it.
As much as I enjoyed the film component of the course at WAP, I felt that it took away time from learning the ins and outs of digital photography.
I wish we'd learned more about managing your workflow and backing up your work. I had/still kind of have an ad hoc process. It's getting better but a firm foundation to work from would have been helpful.
I also wish there had been more emphasis on finding out your style. I found that on the photojournalism front (and Loyalist is guilty of this as well – I was a judge of this year's NPAC student of the year portfolios) there is too much emphasis on producing the portfolio of a well-rounded wire-shooter or at a daily.
Everyone produces a portfolio that has three features, three sports shots, three portraits and three news images. It created a generic look and everyone's stuff starts to look the same. People need to learn to shoot these things, but I'd really emphasize the importance of shooting work to stand out.  Shoot what you love. I'd really like to see more documentary work from students – from a project they are working on – than the crappy university rugby shot that they needed to round out the sports section of their portfolio.
To be honest, the best education I got was actually working on the job and meeting with working photographers. My internships at papers were invaluable.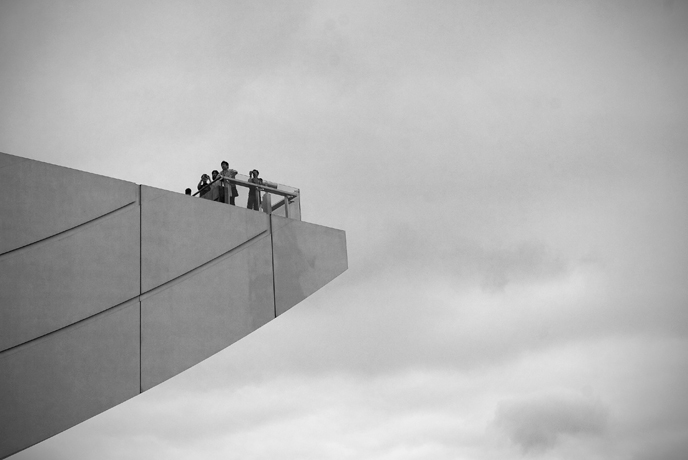 3) What lessons have you learned from actually working as a photographer that you wished you knew when you began shooting as a pro?
I wish I had known just how stressful assignments would be. I spent my first eight months freelancing for the Globe and Mail thinking I was going to throw up every time my phone rang.
I would sometimes go to assignments and think to myself, "How am I going to turn THIS into a photo?" (I did a lot of R.O.B assignments early on – generic, boring offices). Now I'm calm and know that I'm always going to produce a publishable shot (and more than one).
There's so much technical know-how to absorb in school that I didn't know how to deal with people when I first showed up at assignments. Now I have a little bit of a routine. I ask them if they've had their photo taken for the paper before. I explain that it's not like having their photo taken by their friends for facebook, that I have to provide at least six different shots for the paper, that it's not going to take five minutes. Giving them some context for this really helps.
People don't like ambiguity. They want direction. They want to feel like they know what's going on all the time when they're having their photos taken. They need to be told to relax when you're taking a few seconds to adjust something with your light or with the camera. They want to know when you're going to start shooting.
This is obviously different for a documentary style shoot. In those cases people need to be told to "just ignore the camera – just do whatever it was you were doing before I showed up."
4) How important has your website and blog been to your career?
I think having a web presence is essential. However, I'm finding that having a blog is more important than a website.
The blog has an ongoing evolution that I enjoy. You can post pics from assignments, from your day-to-day living, from trips or anything you find interesting.
The web site is more fixed and I keep meaning to update it but never seem to find the time. I'm thinking of possibly transitioning to a hybrid site/blog where I have a portfolio posted but the bulk of the content is constantly new on the blog portion of the site.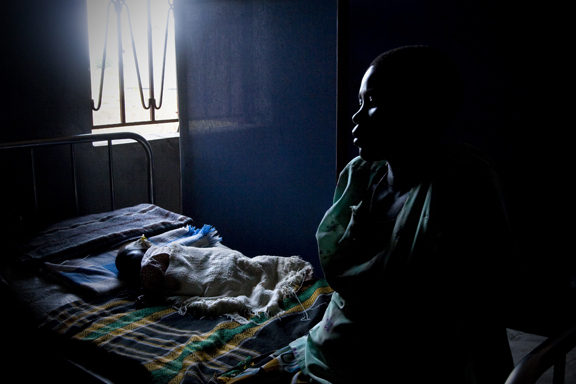 5) Do you use social media for work at all? If so how?
I find my facebook to be an important photography networking tool. It's become a virtual community for me. It's how I find out about photography events going on in Toronto and how I keep in touch with other photojournalists.
I don't have a "fan" page up on facebook yet, but I'm considering doing that next. I think it's just one more resource for people to find you and the work that you do. It's just another way to share what you're doing with friends, clients and other photographers.
I used Twitter for a while, but found eventually that I was just using it to pick up information from others. I haven't used it in over a year but I'm considering picking it up again.
6) Is video a part of the photo services you offer. Why or why not?
Right now video is not one of the services I offer. When I met with John Lehmann from the Globe he told me to focus on being a better photographer first.
I recently took a course with Brent Foster at Pikto on multimedia. However, it seems super expensive to get into and if I'm going to go that route I want to be sure I'll make money off of it. Recently a number of freelancers have sold off their audio and video gear. No one is asking them for it.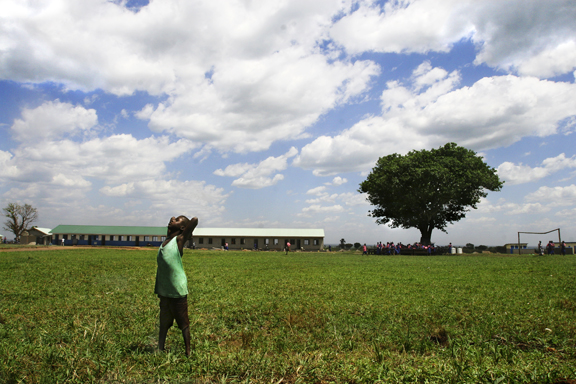 7) What types of photo assignments are you doing these days?
I'm shooting mostly for the Globe and Mail and very occasionally for the Post.
I shoot a lot of portraits, but not traditional portraits. The Globe wants to see more of a documentary approach – people doing their thing as opposed to a posed environmental portrait. I much prefer this type of assignment.
I also shoot a lot of concerts. Lots of late nights, lots of weekends and lots of last minute requests.
Finally, I've been shooting a ton of "Society Page" events for the Globe. These are parties where I literally hunt out famous or attractive people at exclusive events (where the Globe is usually the only photographer allowed inside) and ask people to stand together, like for a facebook picture. It's not super challenging but it's great for contacts and I'm starting to make the most of it by shooting interesting things that I see on my own since this type of access is usually pretty limited.
I shoot very little "news" (that tends to go to the staffers but I'm occasionally at press conferences or outside courthouses) and have not shot any sports since the fall of 2008 when I shot the Senators pre-season exhibition games for the Ottawa Sun.
8) What has been your most memorable assignment so far?
Easily the work I did for an NGO – Canadian Physicians for Aid and Relief (CPAR) in Uganda and Tanzania. I spent the month in refugee camps in Uganda and on rural farms in Tanzania. It was absolutely incredible.
Editorially, the assignments I remember most were spending the day with Canada's youngest breast cancer survivor (four-years-old). I also spent an evening with a family in Regent Park (a social housing project in Toronto). Finally, one day the Globe sent me to photograph cows that had been set up outside the ROM. It was so fun!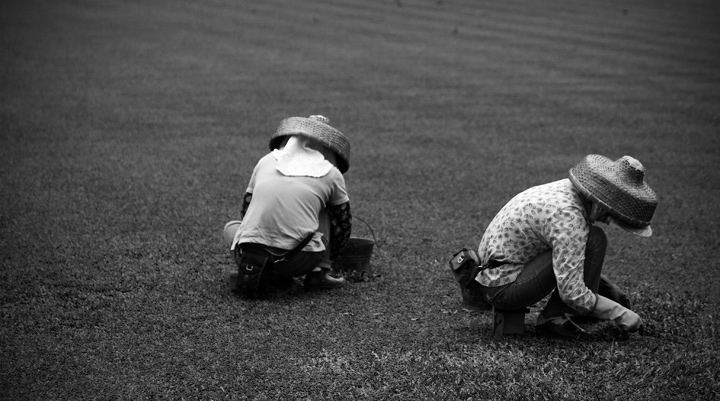 9) What are the advantages for you of working in a large city like Toronto?
The sheer amount of work available in Toronto is staggering. I cannot believe how much work there is! So many stories originate from Toronto so there is a ton of editorial work and most companies are based here so there are a lot of corporate clients to pick up as well.
In fact, it's been almost a burden for me because I've spent the last year and a half constantly taking assignments and haven't really taken some time to figure out exactly what it is I want to do next or what I want to shoot myself.
There's a huge photo community in Toronto as well. Photo festivals like Contact are inspirational and allow you to meet other photographers. It's a lot to wade through but it's wonderful.
10) Are you working on any personal projects?
I'm ashamed to say that I'm not right now. Since landing in Toronto in April of 2009 I've been so busy chasing work with clients that I have not left myself an iota of time to work on things I would like to.
Every time I decide to start on a personal project I get derailed. So the goal is for January (when it's quiet) to work on one personal project, get my website revamped and set a course for 2011. I have a book where I keep a number of project ideas and I know which one I'd like to start with.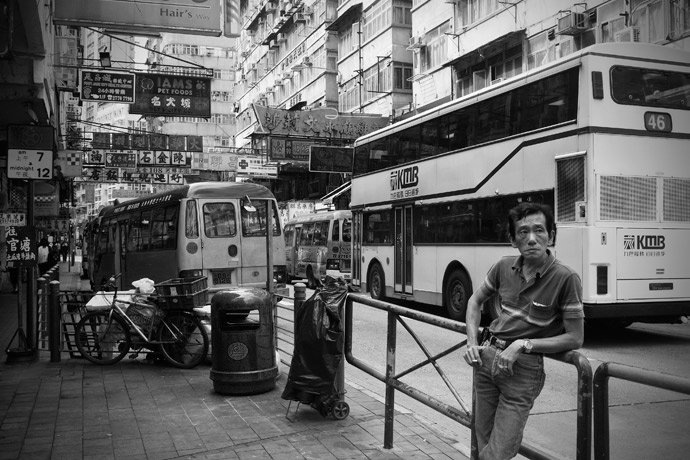 You can see more of Della Rollins work and read her blog  here.
November 15, 2010 | Filed Under Interview | 1 Comment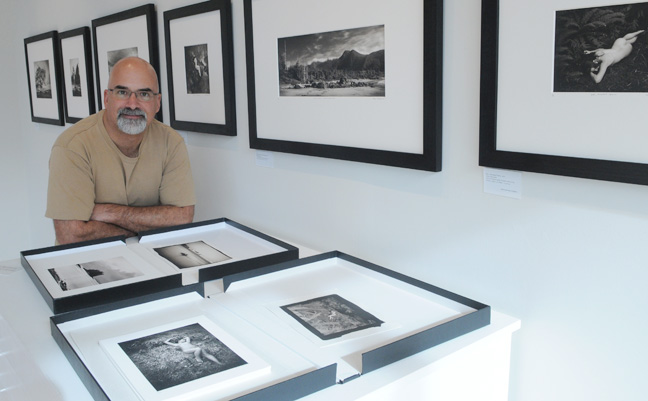 1) Give us a brief biography.
I'm from Toronto originally.  I moved to Victoria in 1991 to do my grad studies in geography at Uvic.  After a brief career as a civil servant (4 years working for the Ministry of Environment) I quit and attended the Western Academy of Photography.  I then moved to Vancouver where I did assisting work and began my own photography business.
2) Is it safe to say that architectural photography is your vocation while your fine art is your inspiration?
Yes, although I am also inspired when I get to photograph interesting architecture.  My commercial work is mostly architectural and I've made a division between that and my Fine-Art work, but I shoot architecture because I'm fascinated by it, not just because its a way to make money.
3) What's the attraction of architectural photography?
I've always been inspired by how we use and occupy space.  I believe we are far more affected by the physical space we occupy on a day to day basis than we realize.   When I get to see interesting architecture then try to interpret it photographically, I'm a very happy camper!   I like the challenge of shooting architecture too.  Some people think its boring, but I'm fascinated with how to make a building look its best.  You need to look at the natural light on the outside as well as how the interior space uses both natural and artificial light.  It presents a number of logistical challenges that I enjoy solving.
4) You present your fine art work as platinum/palladium prints as well as digital prints. What is involved in the platinum/palladium process?
Platinum printing is a very old method of making black & white prints, preceding traditional silver prints.  It involves hand-coating paper with an emulsion containing platinum and/or palladium metals along with ferric oxalate which sensitives it to UV light.  This is a contact printing process so I scan my film then create a new digital negative in the size I wish to print.  This negative is then placed over the dried emulsion on the paper and exposed to UV light.  The print is then developed and rinsed.  Its a labour-intensive method btu I love the tonal range and overall appearance of platinum prints.  They match the vision I've always had for my b&w photographs which I've been unable to achieve in any other way.



5) What do you do to produce your digital prints?
If I make a digital print, I'm usually trying to emulate the look of a platinum print.  I do like digital printing especially because of the variety of beautiful papers we have to print on now.  In general, I print on anEpson 3800 printer using a variety of both matte and glossy papers.  I tend to warm-tone my prints which is the way I like my b&w to look.
6) What came first landscapes or nudes?
I was first drawn to photography so I could shoot the landscape.  I'be been doing that since I was a teenager.  It was only about 10 years ago that I began photographing the nude and it has taken some time to develop a coherent way in which to move forward with this work.
7) Have you always incorporated your nudes into a landscape?
Initially I didn't necessarily shoot nudes in the landscape.  Even now, I still shoot some nudes indoors but this is a small area of my work.  My primary nude work is a series of nudes in the rainforest that I've been working on for several years now.
8) Do you use pro models or amateurs? Why?
I've worked with both, but in general, I tend to work with professional models.  This is largely because My goal is to publish and exhibit these photographs.  Models need to be okay with having their images shown this way, which sometimes amateurs models are not.  I've also been extremely fortunate to work with a number of models that share my vision for the nudes I shoot.  This makes it more of a collaborative process which always results in much better photographs.
9) What is it about the west coast landscape that fascinates you?
When I moved to the Island from Toronto I knew I'd never leave the coast.  The coastal landscape inspires me in numerous ways.  I do lots of sea kayaking and have paddled the entire BC coast from Prince Rupert to Victoria.  The coastal landscape is an amazing place.  Its surprisingly varied and can be both incredibly beautiful and also terrifying at the same time.  From warm summer days to deep winter storms the coast provides me with an amazing canvas to work with.  Its also surprisingly difficult to photograph, which makes for a very interesting challenge.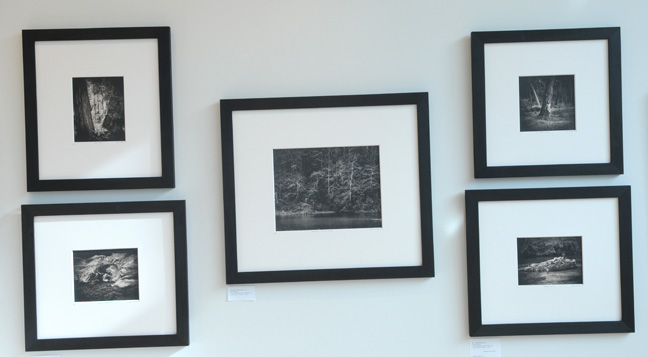 10) You often photograph in remote areas where extreme weather and wildlife are abundant. What is the greatest challenge when you're out photographing your landscapes?
Probably just getting there is the biggest challenge.   My favourite place in the world is the Brooks Peninsula on the northwest coast of the island.  Its accessible only by boat and its a desolate and remote location.  Kayaking to these places means packing all my gear into a small boat and sometimes paddling for days to get to certain places.
11) What photographer's work do you look to for inspiration?
That's a tough one.  I grew up looking at Ansel Adams and Edward Weston's works.  Other people such as Wynn Bullock, Minor White and Sally Mann have provided great inspiration.  I admit, nowadays I don't look at a lot of other photographs for inspiration.  Lately I've been shooting as much as I can to refine my own process and I've been finding that pushing myself to refine my vision and technique has itself been a great source of inspiration.
12) What advice can you give to the aspiring landscape or nude fine art photographer?
Shoot as much as you can.  Be ruthless in editing your work.  Shoot film.
You can find more of Dave's work at www.daveaharonian.com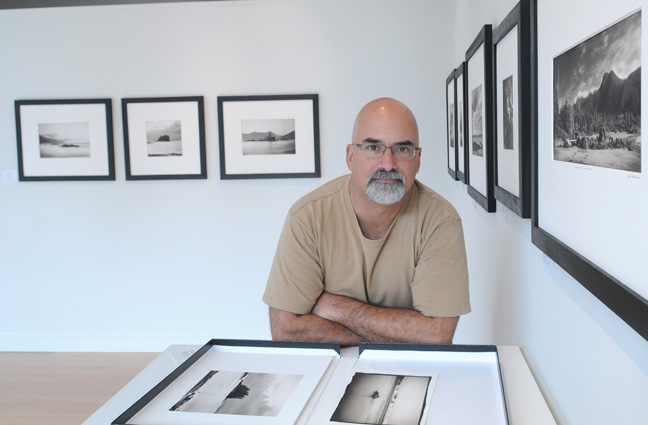 March 29, 2010 | Filed Under Arts, BC Photography Archive, British Columbia, British Columbia Photographic Archive, Canada, Canadian, Documentary Photography, Gallery & Workshop, Historical, History, Interview, Kamloops, Photo Studios and Work Spaces, Photographers, Photography, Portrait | 10 Comments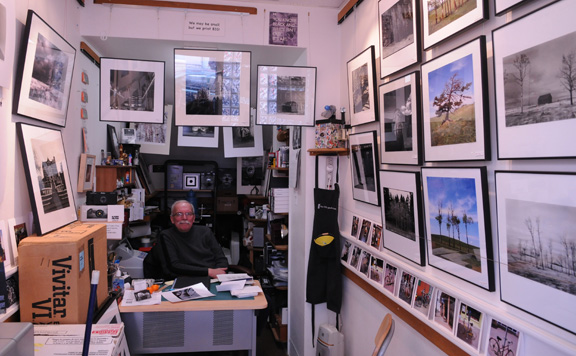 I was in Kamloops this past weekend, the first time I've spent anytime there in at least three years.  One of the last times I was there I'd come across this gallery/store on 3rd Avenue run by photographer Wilf Schmidt and I was curious to see if  he was still there, and he was. Schmidt calls his place The Little Photo Shop and claims it's "The World's Smallest Photography Supply Store'. The former high school photography teacher sells prints of his own work but also stocks black and white film, Holga cameras and has a group of pinhole cameras in the back of the shop as well as other photo odds and ends. It's a very cool space and it's tiny which just adds to the charm. The shop is currently a little more crowded than usual as he is selling off his darkroom equipment and has the boxes stacked there. Hidden behind him is an antique safe, part of the original furnishings in the heritage building his store is located in.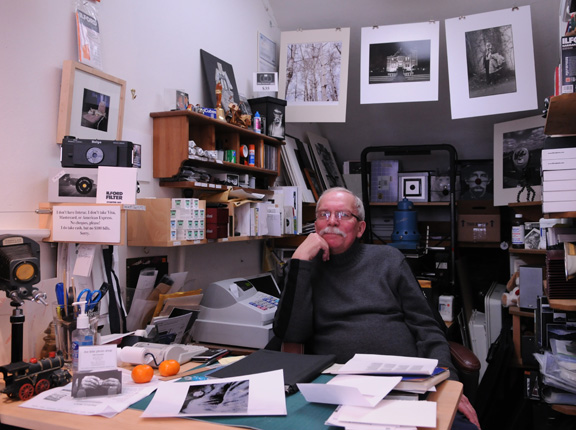 Wilf  in the  'office' section of his shop.
Wilf shows off a tiny camera that actually works. It originally came with rolls of film.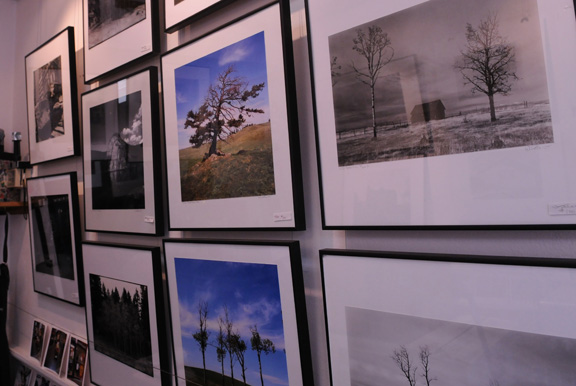 A few of Wilf's photographs