June 9, 2014 | Filed Under Art, Arts, British Columbia, Canada, Canadian, Documentary Photography, Don Denton, Fine Art, Obituary, Pacific Northwest, Photo Studios and Work Spaces, Photography, Vancouver Island, Victoria | Leave a Comment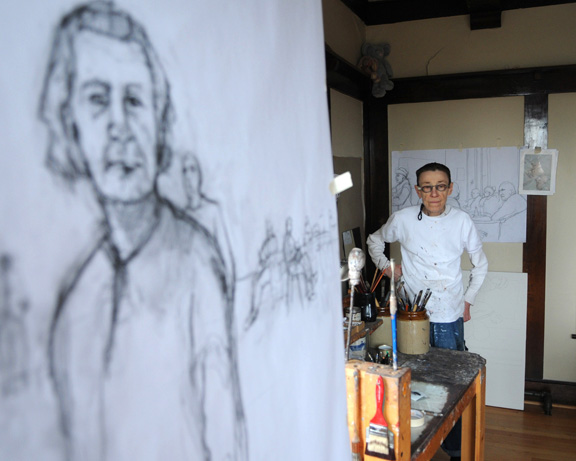 Artist Rachel Berman died in Victoria on May 28. I can't claim to have known her very well but I had really liked her work and two years ago she agreed to let me photograph her. After that, we'd  often  run into each other on the street and have a chat. She  would encourage me to photograph other artists, making suggestions about possibilities, and chiding me (gently) for not doing so. She eventually moved back to Toronto for awhile and then I'd heard she had come back to Victoria. I kept expecting to once again come across her walking through downtown, but it never happened. A lovely memoir/obituary from Robert Amos in the Times-Colonist.
December 31, 2010 | Filed Under Interview, Personal Project, Photo Studios and Work Spaces, Road Trip | 1 Comment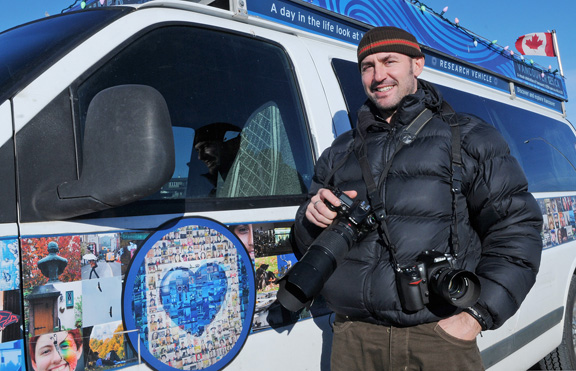 I met up with photographer Tim Van Horn for a coffee today but forgot to bring a mug so I was out of luck. When you live in a small camperized van, room for everything, including extra dishes just isn't there.
I don't know how you'll be celebrating the new year but for Van Horn  Jan. 1, 2011 will mark 27 months on the road for the Alberta photographer and he'll celebrate that milestone in Victoria. The 41-year-old photographer has been traveling across the country in his van photographing Canadians, 5000 so far, for his Canadian Mosaic project. His plan is to stay on the road until he captures 25,000 portraits that he will use to create a giant Canadian flag mosaic in time for the country's 150th birthday on July 1, 2017. Van Horn, who has travelled from Newfoundland to Nunavut for his project, expects to spend the next few weeks in the greater Victoria area.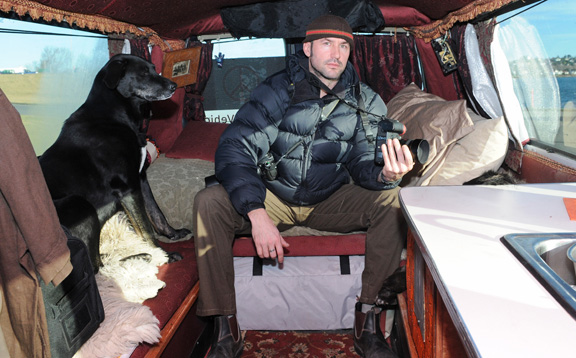 You have to admire Tim as he is doing what so many of us talk about but never get around to actually acting on,  hitting the road and just working on a project, taking photographs everyday.
His work can be seen at http://celebratecanada.wordpress.com/.
March 29, 2010 | Filed Under Arts, BC Photography Archive, British Columbia, British Columbia Photographic Archive, Canada, Canadian, Documentary Photography, Gallery & Workshop, Historical, History, Interview, Kamloops, Photo Studios and Work Spaces, Photographers, Photography, Portrait | 10 Comments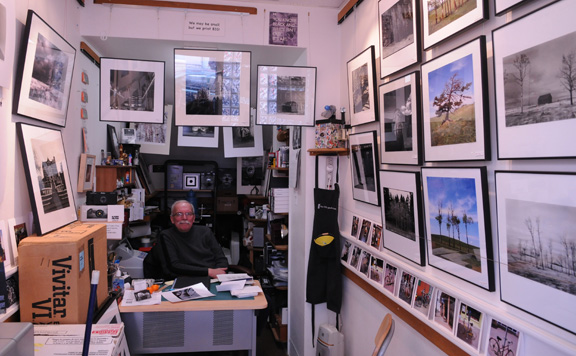 I was in Kamloops this past weekend, the first time I've spent anytime there in at least three years.  One of the last times I was there I'd come across this gallery/store on 3rd Avenue run by photographer Wilf Schmidt and I was curious to see if  he was still there, and he was. Schmidt calls his place The Little Photo Shop and claims it's "The World's Smallest Photography Supply Store'. The former high school photography teacher sells prints of his own work but also stocks black and white film, Holga cameras and has a group of pinhole cameras in the back of the shop as well as other photo odds and ends. It's a very cool space and it's tiny which just adds to the charm. The shop is currently a little more crowded than usual as he is selling off his darkroom equipment and has the boxes stacked there. Hidden behind him is an antique safe, part of the original furnishings in the heritage building his store is located in.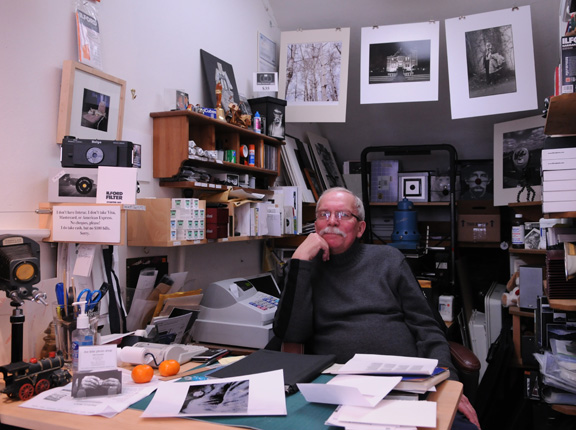 Wilf  in the  'office' section of his shop.
Wilf shows off a tiny camera that actually works. It originally came with rolls of film.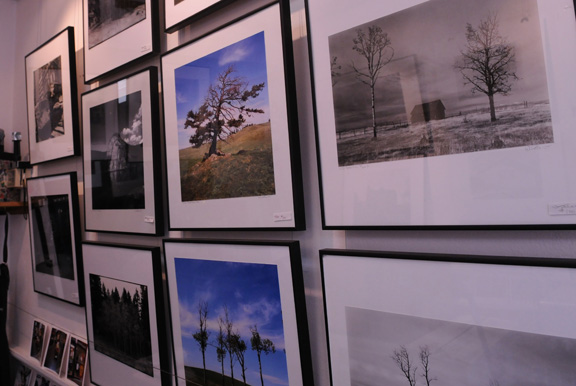 A few of Wilf's photographs
March 24, 2010 | Filed Under Photo Studios and Work Spaces | Leave a Comment
Here's a couple  of photos of photographer's work spaces. First up is Tristan and Jenna's space in Victoria and then Stefan's in Whistler.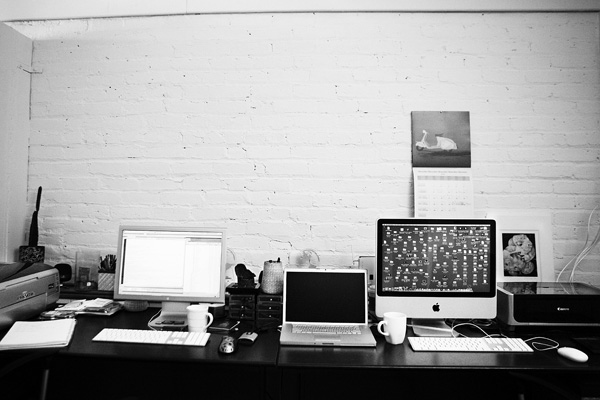 The calendar was bought with the idea that we would have a quick reference for checking the date.  It's a 2009 calendar which I maybe looked at twice.  We like the illustrations so it keeps hanging.
Other wise the entire space behind our monitors is a white brick wall.  We have talked about putting up some images but honestly editing photos with a beautiful white brick wall as the back drop keeps the edit process focused.  Also after a final edit on a wedding or photo series, sitting back and watching a full screen slideshow with the blank wall is completely enjoyable.  The drawing of the two kissing faces to the right is an illustration waiting to be framed from a painter I worked with.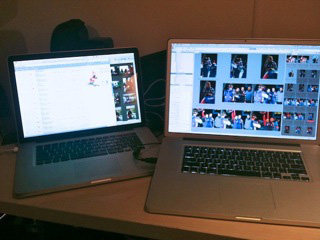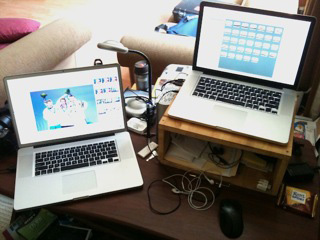 The first image is of editing Olympic Bobsled imagery at our temporary office in Whistler Village. Bridge CS4 runs on the 17″ Macbook Pro while race information is referenced on the second. Both are running off of 1-3 external hard drives with images from two separate photographers being edited, captioned, batched through Photoshop and uploaded. Works pretty smoothly. The second image is of the same setup but at home.
March 17, 2010 | Filed Under Photo Studios and Work Spaces | 1 Comment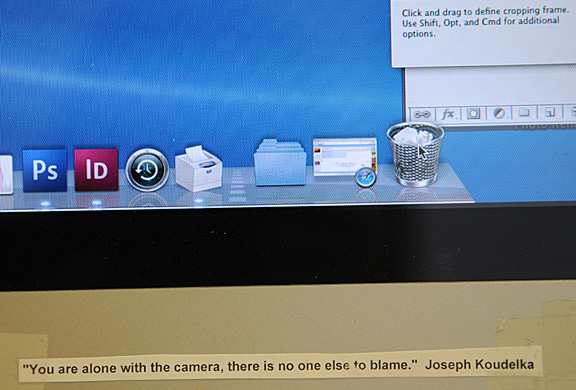 This quote, by Magnum photographer Josef Koudelka, is probably my favourite quote that relates to photography which is why I keep it taped to my computer at work. I  should stick a copy to the back of my cameras so I'd see it everytime I went to take a photograph. And yes, I know Joseph is spelled wrong on the quote, but hey I just printed it out.
I was looking at it today and thinking about the different ways we , for lack of a better word, decorate our workspaces. Mine is pretty basic. I have the quote taped to my computer and I have a couple of bulletin boards with various photo related items, press passes, promos for photo shows, photographs stuck to it. It all serves as a bit of an inspiration I guess and brightens my area up a bit.
I often have a take out coffee cup on my desk too, usually filled with coffee of course, but this one, from Street Level Espresso on Fort Street is more entertaining than most featuring Gareth Gaudin's Perogy Cat and an amusing but appropriate saying. Street Level's owner Ken Gordon is an accomplished photographer as well and his shop features displays of his photographs.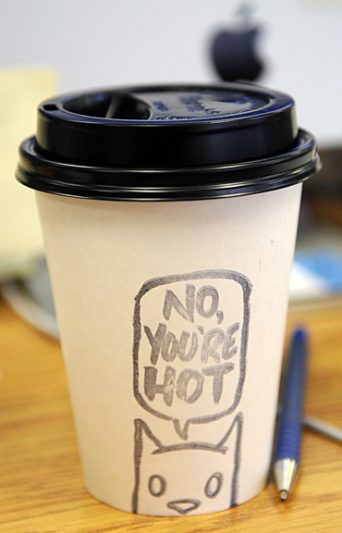 So, I was wondering how does  everyone else decorate their workspace? Send me a photo ( 600 pixels on the longest side at 72 dpi) of your photo desk/area/studio and  I'll try and post it here. Send a little info as to what we're looking at as well.  dd (at) dondenton.ca That would be you, right now, send me a photo.