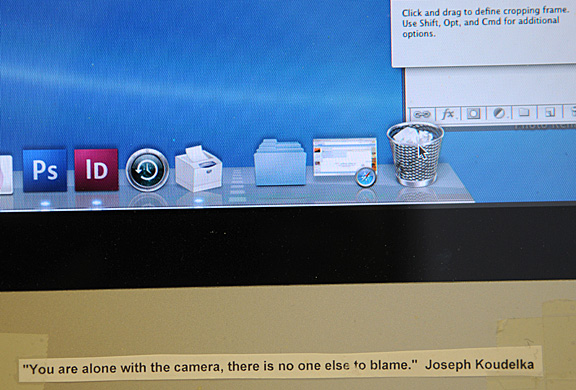 This quote, by Magnum photographer Josef Koudelka, is probably my favourite quote that relates to photography which is why I keep it taped to my computer at work. I  should stick a copy to the back of my cameras so I'd see it everytime I went to take a photograph. And yes, I know Joseph is spelled wrong on the quote, but hey I just printed it out.
I was looking at it today and thinking about the different ways we , for lack of a better word, decorate our workspaces. Mine is pretty basic. I have the quote taped to my computer and I have a couple of bulletin boards with various photo related items, press passes, promos for photo shows, photographs stuck to it. It all serves as a bit of an inspiration I guess and brightens my area up a bit.
I often have a take out coffee cup on my desk too, usually filled with coffee of course, but this one, from Street Level Espresso on Fort Street is more entertaining than most featuring Gareth Gaudin's Perogy Cat and an amusing but appropriate saying. Street Level's owner Ken Gordon is an accomplished photographer as well and his shop features displays of his photographs.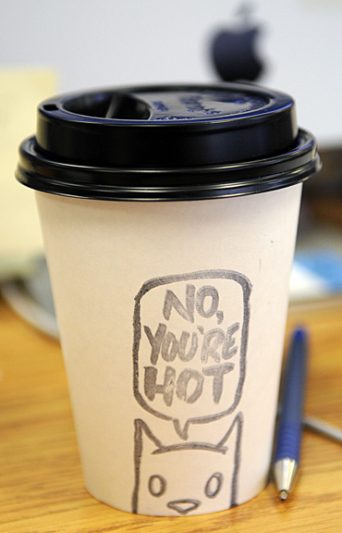 So, I was wondering how does  everyone else decorate their workspace? Send me a photo ( 600 pixels on the longest side at 72 dpi) of your photo desk/area/studio and  I'll try and post it here. Send a little info as to what we're looking at as well.  dd (at) dondenton.ca That would be you, right now, send me a photo.