March 4, 2010 | Filed Under Uncategorized | Leave a Comment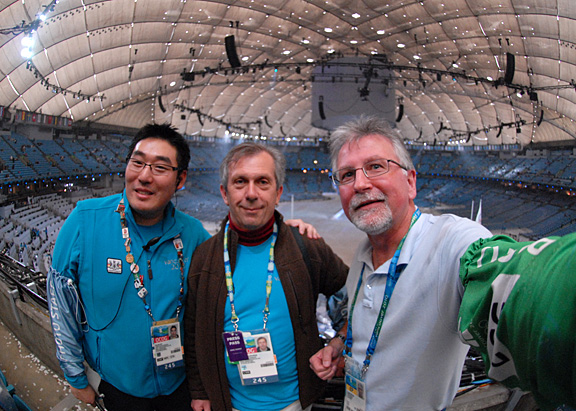 Arnold Lim, A. P. Hovasse and myself before the closing ceremonies at BC Place Stadium
Well, it's all over and it was quite a ride. The early bus rides and wet wet weather are fading memories and I'm left with a vague depression now that it's all over. I'm sure a few others are feeling the same.
The closing ceremonies were, I thought, pretty cool although they dragged out at the end. A lot of people didn't enjoy the Canadian Icon production but I thought it was great.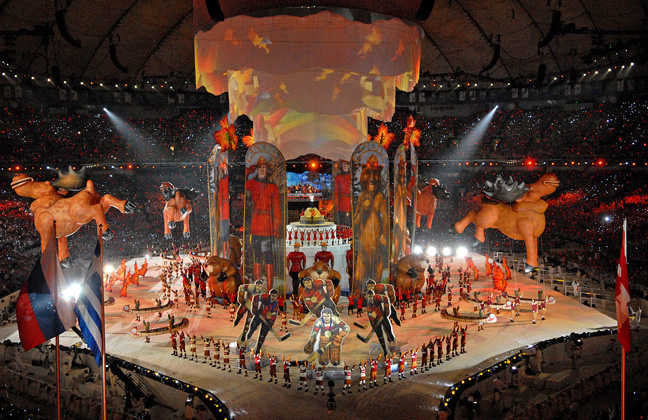 Now it's back to the real world but I'll post a couple of last images. A crash,  jubilation and dejection.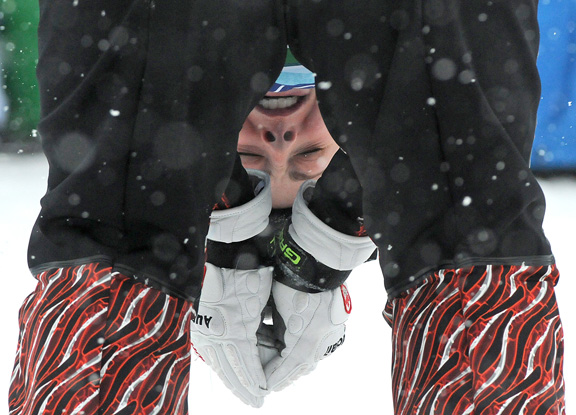 February 28, 2010 | Filed Under Uncategorized | Leave a Comment
Hard to believe but it's the final day of the 2010 Olys. Last weekend it seemed like they would never end and now it seems like the time has just sped by.
Great help from Nick Didlick and all the photo staff at all the venues and from all the volunteers, known as Smurfs because fo their blue uniforms.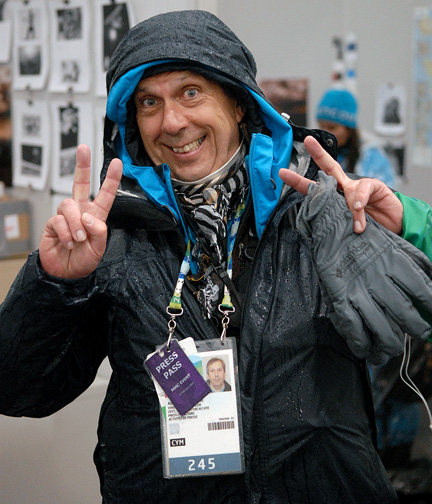 A. P Hovasse, photo venue manager at Cypress mountain got used to being wet
The past few days I've shot snowboarding and speed skating and today I'll do the closing ceremonies. Not the hockey game as I'd hoped and had been originally skedded to do. It'll mean a late night and then up early tomorrow and then back to Victoria and the real world.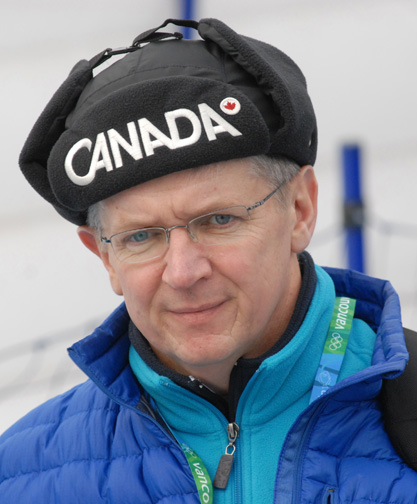 Nick Didlick, 2010 Winter Olympics Photo Supremo
It was fun, challenging and I think I did pretty well with my images.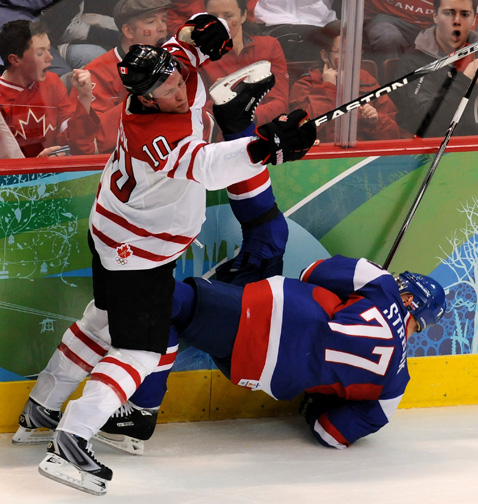 Now to the closing ceremonies which will feature a famous Canadian writer whose name can't yet be revealed but I have his cel number.
February 20, 2010 | Filed Under 2010 Winter Olympics | Leave a Comment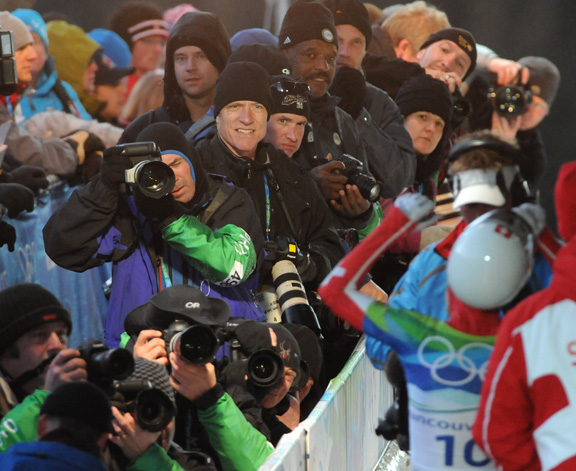 Photographers at the Skeleton track finish line.
It's been busy, riding buses, getting to venues early to hold your place, waiting for the event to start, shooting like crazy, rushing to file, back to the bus. Trying to maintain a somewhat normal eatinng and sleeping schedule and pretty much failing.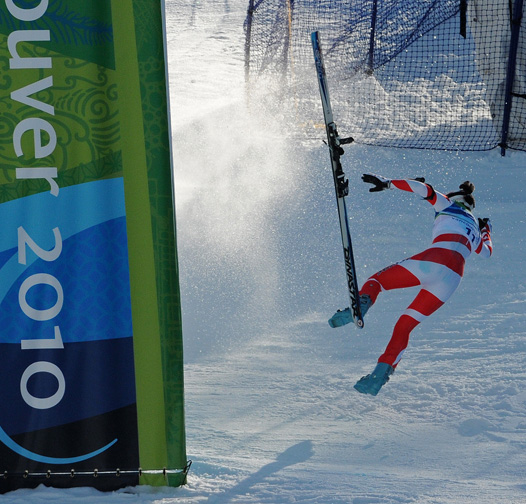 One of the biggest challenges is shooting a different sport almost everyday, sometimes for the first time. Yesterday I shot Skeleton, amazingly fast. I was shooting at 2000 of a sec and got two frames of the athlete I needed zooming by.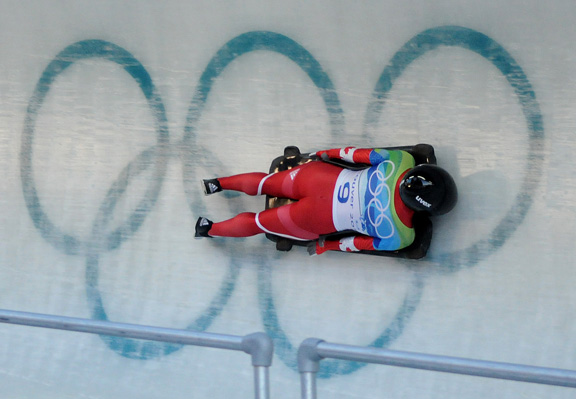 By and large I'm happy with the images I'm getting and it's all an experience.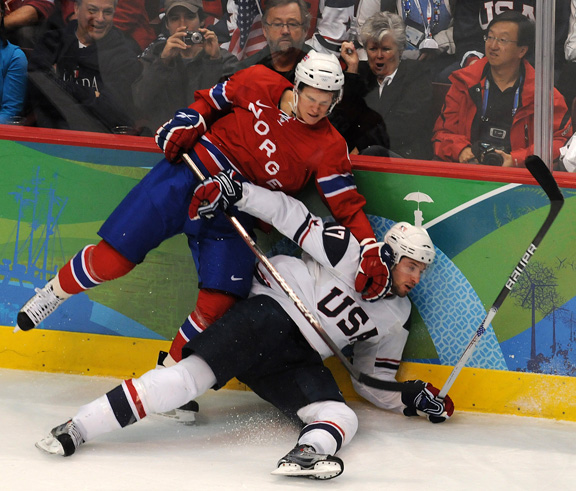 Downtown the public crowds are crazy big and getting bigger everyday. Everyone seems in a great mood, it would be nice if downtown Vancouver was like this all the time.
February 12, 2010 | Filed Under 2010 Winter Olympics | Leave a Comment
Day 3 for me is the actual first day of the Oylmpics and the first day the Black Press crew were out and filing all day. You can follow what we are shooting and writing at http://www.bclocalnews.com/olympics/.
Got a later start today, headed out from the main press centre before noon looking for people from the communities our papers represent who were out celebrating the Olys. Found lots of people around the art gallery taking photographs of the countdown clock and of former torch bearers who'd come downtown with their torches  to watch the final day of the run.
We had thought the run ended late in the day but it finished up a the First Nations Pavilion at about 1:30. A phone call alerted me to that and  hustled down there.  The crew around te Pavilion wouldn't let e in saying the event wasn't an Olympic event but a BC Tourism event. Didn't really make sense but I just went out back in the street and shot the final runner coming down Georgia and then just followed him and the police escort into the Pavilion area and got a couple pix of the torch bearer lighting the cauldron with Buffy St. Marie, the singer.
Just as I finished that I got a call saying I had been given a late pass to the opening ceremonies, for some reason a couple of spots had opened up. That meant a hustle back through downtown to the press centre to pick up the pass for the evening ceremonies and then edit ad file the torch pix. Then ran out to catch the bus to the stadium.  All the photographers had to go through a complete search of their bags, removing everything from our pockets and taking off belts etc before we were allowed on the buses. They're taking security seriously but it's relatively fast and staff is friendly about it all.
My bus arrived around  3:30 PM for the 6PM ceremonies and everyone was staking out seats in their assigned areas of the stadium,. It's a long time to sit and stand around your seat waiting for the actual event. Luckily I had the Globe's Fred Lum next to me and the Star's Steve Russell behind so  had people to chat with. The big Russian guy next t me didn't speak any English, well not to me anyhow. As I was the second shooter for the event I just shot the first hour and then bolted back to file the images.
Then a rush to catch the Skytrain before the ceremonies finished and that way avoid the crush.
Now, to file a few more photos and then to bed until 4AM and off to Whistler tomorrow.
February 10, 2010 | Filed Under 2010 Winter Olympics | Leave a Comment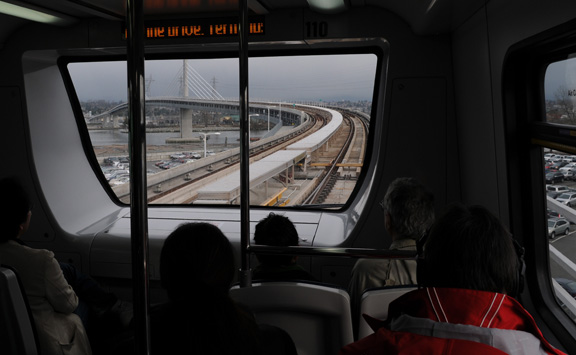 A travel day, my son Nick dropped me off for the 9am ferry, then bus to the Bridgeport Station and Skytrain downtown. A walk to the main media centre for what I thought was a 1pm photog's press conference that turned out to have been moved to 10am. A wander through the press centre to get oriented and  an opportunity to say hello to a number of photographers I hadn't seen in ages. These big events are always a chance to catch up with people you haven't seen in a long time, some a very long time. Then I had to Skytrain out to Burnaby carrying all my gear so I could drop off my clothes at my son Spencer's . It's a short walk from the station to his house, a short walk provided you aren't carrying a ton of gear and clothing and it doesn't start to rain which it did. Now I'm almost dry again so I'll hop back on the Skytrain ( we get free transit rides with our media passes, thank God) and head downtown and see what else I can find out is going on and/or to shoot.
Calgary's The Camera Store's Peter Jeune, a volunteer in the photographer's corrall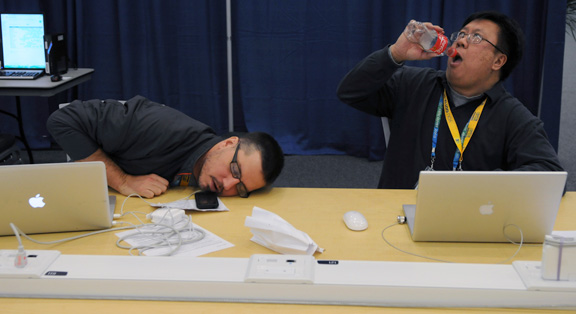 In from Toronto, the Star's Steve Russell and the Globe's Fred Lum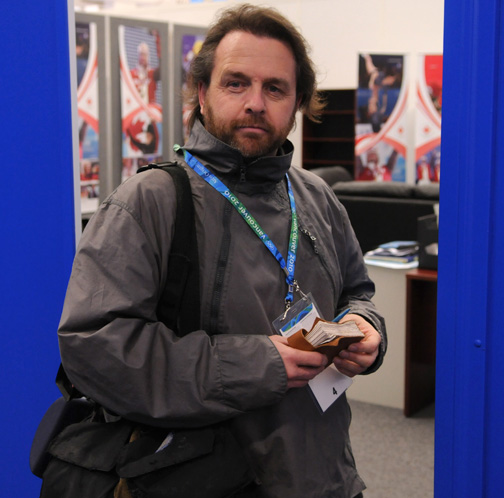 Vancouver's Wendell Phillips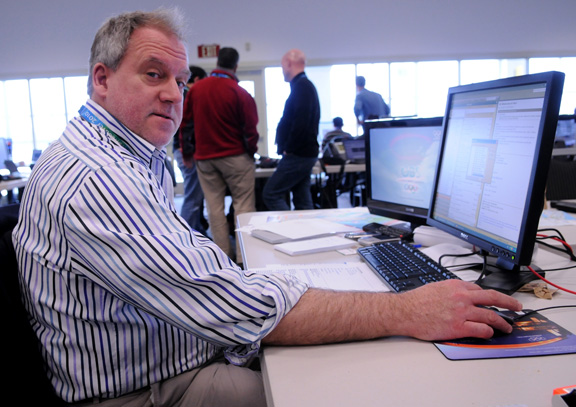 Victoria, BC native Greg Bos is a Reuter sports photo boss based in London, England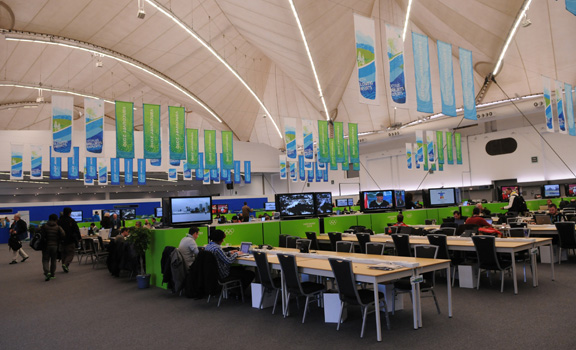 Reporters at work in the main press centre at Canada Place in Vancouver
February 10, 2010 | Filed Under 2010 Winter Olympics | Leave a Comment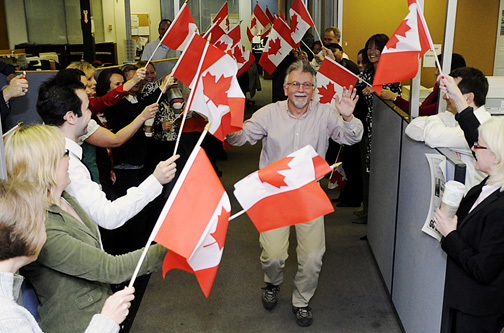 Sharon Tiffin Photo
The paper threw a little send off party for me yesterday morning, which, while a little embarrassing, was really thoughtful. Now the fun/hard part starts.
November 5, 2009 | Filed Under Uncategorized | Leave a Comment
The Olympic Torch Run started it's trek across Canada in Victoria with a lot of ceremony but luckily very short speeches in front of the Legislature.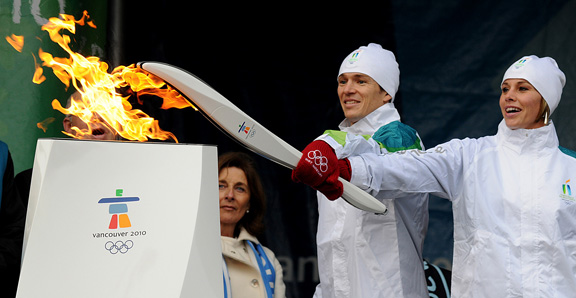 Olympic medalists Simon Whitfield and Catriona Lemay-Doan light the first torch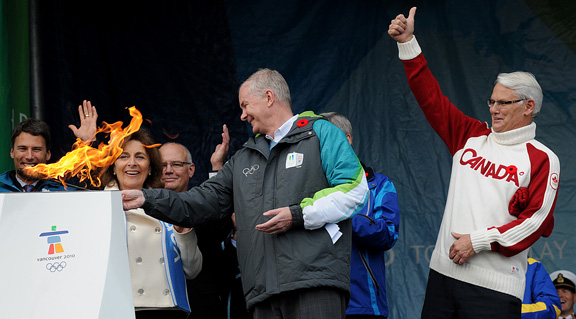 Premier Gordon Campbell signals success as VANOC CEO John Furlong lights a cauldron with the Olympic flame brought over from Greece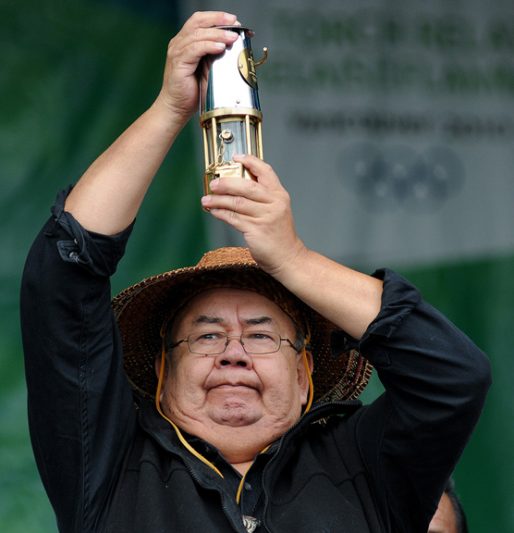 Esquimalt Chief Andy Thomas holds up the Olympic flame inside a lantern at the start of the ceremony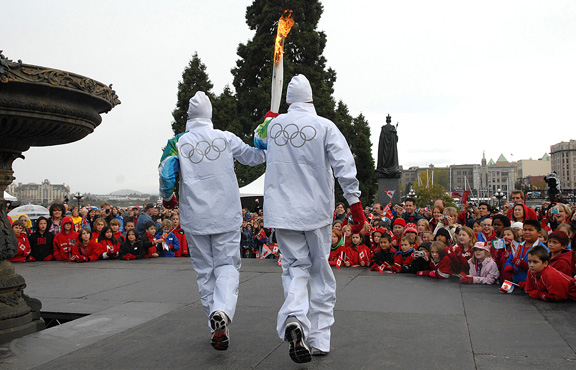 School children watch as athletes leave with the torch