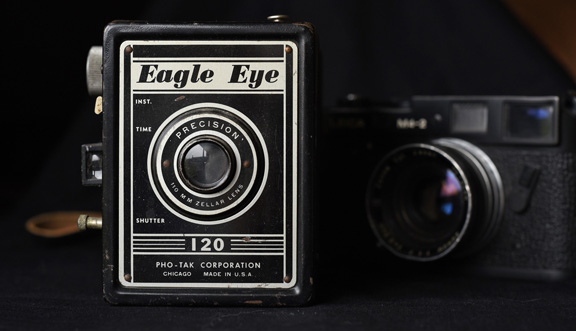 I am looking for help with a personal long-term project. I am compiling an archive of interviews of Canadian photographers — which, in turn, will become a history of Canadian photography.
When I began my project I was (and still am) researching a specific group of Vancouver-area photographers. The project has kept growing, and I am now looking for input/information from photographers (and anyone connected to the photography world) about photographers across Canada.
The idea behind this project is to create an archive of interviews of Canadian photographers and their work. It is too easy for any creative person to be overlooked, slip from view, and have their work disappear. So, I want to create a historical archive — a library/datatbase of information that can be used to promote photographers and their work, but to also preserve that information to serve as a research source.
Here?s where you can help — I am asking every individual photographer to send me two things:
a resume, and
a brief biography
OR
Answer this brief questionnaire.
1.How/When did you first get interested in photography?
2. Who were your first photographic influences?
3. Who were your first photography teachers/mentors?
4. Who have you mentored or taught?
5. Name some of the photographers you have worked with and/or collaborated with?
6. What major photo projects have you worked on/created?
The resume will serve as a record of your career, and the biography will fill in details. Ideally the bio will include: how and when you first became connected to photography; who your influences were/are; who were/are your Canadian mentors/teachers? You can mention career highlights and any personal projects you photographed away from your "career" work. Are you part of a formal/informal group of photographers who get together to share and bounce ideas or collaborate?
Note: I want to know and hear about ALL Canadian photographers: photojournalists, artists, commercial photographers, portraitists, landscape photographers, etc. and those connected to photography and photographers such as gallery owners, curators, camera shop/darkroom operators.
I also want to hear about any photographers who you feel have been overlooked or who have been forgotten about. Please send me the contact information for the photographer (or for their family/friends if deceased).
As well, I?m curious about non-professional photographers (folks who made a living from other work) who created substantial bodies of work or a small but unique body of work.
I am also interested in receiving any items connected with photography (yours or others). For example: business cards, exhibition postcards, publications, previously published interviews, zines, posters/books.
I would like to include photographs of photographers at work (and play), work spaces, shop fronts (studios/camera shops) will be useful. If you have photos to contribute, please include captions that include names, events, places and dates on each.
The archive will also include: email interviews, audio interviews, video interviews, essays, printed material and photographs. I am aiming for the material to be displayed online at www.lenslives.com, and in exhibitions and/or publications.
Copyright will stay with the photographer, but I?m asking for the right to use any submitted material in any way that is connected with the project (ie online/exhibitions/media/publications etc) and that once the material is in the completed archive it will be available to researchers for their use in the study of Canadian photographers, photography and the arts.
Emailed material can be sent to don@lenslives.com Physical material can be mailed to 48 Stoneridge Drive, Victoria, BC, V9B 6M4.
Please ensure you include contact info for any material sent. You may receive follow- up queries regarding your submitted material, or for further email, phone or in-person interviews.
Thank You
Don
don@lenslives.com