February 20, 2015 | Filed Under BC Photography Archive, British Columbia, British Columbia Photographic Archive, Documentary Photography, From The Archive, Photographers, Photography, Vancouver Island | Leave a Comment
Looking for inspiration for my own work I'll look at the work of contemporaries but I also like to look through collections of the work of documentary photographers who photographed in earlier eras. The British Columbia Archives is the largest collection in the province (and the most diverse) but the Vancouver Library has some interesting holdings including images from the collective the Leonard Frank Memorial Society, not to mention the archives of  Leonard Frank himself. The Vancouver city archives hold a great deal of  photographs as well.
Memory BC provides link to a number of archives.
The universities can be a good source too. The University of Victoria archive is here and the University of British Columbia is here. If you're looking for a specific photographer than you may have to chase down an archive holding that photographer's images. The Belkin gallery at UBC  holds Roy Kiyooka images. They can be searched here.
Most smaller centres have their own archives as well and they can be useful if you are looking for something specific to a city.
January 31, 2015 | Filed Under BC Photography Archive, British Columbia, British Columbia Photographic Archive, Personal Project, Photography | 1 Comment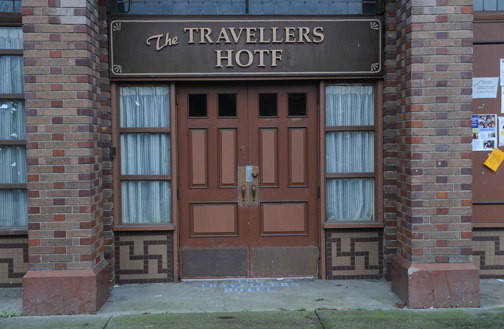 The Travellers Hotel on the main street in Ladysmith on Vancouver Island has seen better days. The construction of the hotel was completed in 1913 when the town was an important coal shipping port. although a miner's strike in 1912 had halted the economic boom that had been underway.
January 4, 2015 | Filed Under BC Photography Archive, British Columbia Photographic Archive, Personal Project, Street photography | Leave a Comment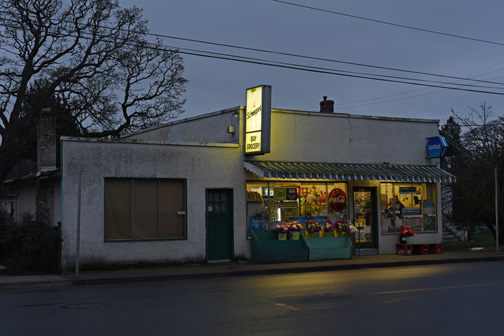 The Bay Grocery is one of those neighbourhood establishments, the corner store, that get get harder and harder to find each year. I enjoy how they look front the street, at either dawn or dusk, lighting up the street for the residents.
June 1, 2014 | Filed Under BC Photography Archive, British Columbia Photographic Archive, Personal Project, Photography | Leave a Comment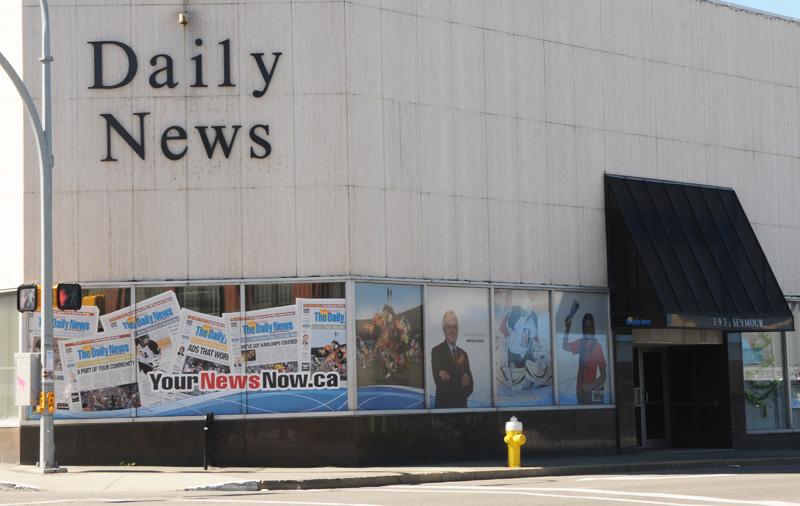 This is the Kamloops Daily News building on Seymour Street in Kamloops, British Columbia. The News ceased publication on January 11, 2014, another victim of the declining fortunes of the newspaper industry. The man in the suit pictured on the wall is long time editor and former Mayor Mel Rothenburger. The News survived when the Daily Sentinel newspaper folded and is itself  survived by Kamloops This Week but it does leave the city as a one newspaper town. I worked at the News twice, once as a photographer when it was a tri-weekly and then again later when they went daily as the chief photographer. At those points in time the paper was located on Tranquille Avenue (tri-weekly) and then in the old Woodwards building, now BC Lotteries during the switch to daily publication). I'm guessing that the next time I'm in the interior visiting Kamloops the building will be in use for someone else or torn down/rebuilt.  For now though it stands a reminder of  local history and change.
February 4, 2014 | Filed Under British Columbia Photographic Archive, Personal Project, Photography, Road Trip | Leave a Comment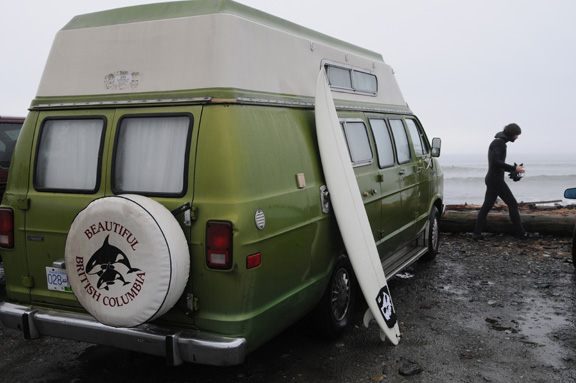 A surfer walks past a van and board at Jordan River, British Columbia on Vancouver Island.
October 6, 2013 | Filed Under Art, British Columbia Photographic Archive, Landscape, Personal Project, Photography | Leave a Comment
I was at Coopers Cove last week. The derelict boat in long gone although, for now at least, the former naval ship seen in the background is still anchored in the cove. It's a reminder how photographs, while they must stand on their own as visual images, also serve as historical records, a document of time passing. This was one of the first group of images I took that have become part of the Salt Water & Rain project, photographs of Vancouver Island and coastal British Columbia. A photographic archive of British Columbia and one of a series of inter-linked projects on the Pacific Northwest.
January 17, 2013 | Filed Under Gallery & Workshop, Workshop | Leave a Comment
I'll be teaching a documentary course and a couple of one day workshops at the University of Victoria. Sign up here http://www.uvcs.uvic.ca
Courses are:
Documentary Photography: Creating the Personal Project
In this course you will learn how to use the techniques of documentary work to create a personal photo project. Participants will examine the work of other documentary photographers and see how and why certain ways of seeing and photographing can be applied to their work. You will learn how to organize your own projects, budget time, find out how to edit a project and discover different ways to bring that project to a larger audience.
Students will work on a project throughout the duration of the class; this can be an existing project or something new and initiated by the class experience. This work will serve as a catalyst for class discussions and critiques. This is a course about creativity, not equipment. Participants can use whatever equipment they own, digital or film.
Editing Your Photographs—Developing a Critical Eye
Do you have a jumble of images stored away on your hard drive or boxes of prints tucked away in the closet? Learn how to look critically at your photographs and find the treasures hidden among the less successful images. We'll also learn how we can have a higher success rate while shooting by learning to edit as we photograph. Students should bring a selection (20–40) of 4 x 6 machine (cheap) prints to the class from a project, trip or just that box in the closet, as well as a camera and a notebook.
Find the Photo Spark
Have you lost your photographer's creative urge? Do all the images you take seem to look like the last one? Rekindle your photo creativity with a day of exercises designed to make you and your camera best friends again. Bring your camera and a notebook and prepare to exercise your mind and eye and have some fun in the process.
April 11, 2012 | Filed Under Gallery & Workshop | Leave a Comment
I've just finished up the documentary project class I was teaching as part of the University of Victoria's Continuing Education program. The first time for continuing ed and it was a great experience. A small class but enthusiastic and everyone ended up working on a great project of their choice. The best part of teaching for me is watching the students' confidence and skill improve through the duration of the course. We ended up with a real variety of projects and some amazing individual photographs. I've got another proposal in for a fall course at UVic. I'll post the details when I know it's a go. It'll be  a very different photo offering.
February 3, 2011 | Filed Under Blog | 3 Comments
I haven't been posting a great deal here. That said I have been checking out a few other blogs. One that I've spent quite a bit of time on the past week is Daniel Milnor's Smogranch. I'd never run across Milnor until a week ago so it's all a pleasant surprise. I enjoy Milnor's writing and his images are amazing. It's oddly nice to see someone shooting film. He's a book making machine and there's lessons there for all of us in presenting/promoting our work.  I'm slowly making my way through his archives learning about Milnor's work and life. His latest post tells about his decision to give up all commercial work and concentrate on his personal work. He doesn't explain how he'll replace his commercial income but maybe that'll be in a post to come. Here's a bit from that post that captures some of Milnor's style: "As many of you know, on December 1st I stopped shooting commercially. No mas. No portraits, weddings, magazine work, commercial shoots, etc. I needed a new direction, and so far the grand experiment has been enlightening, making me think I should have done this ten years ago. However, it's not enough, just stopping the work for others focusing only on the work for me. Within this shift lies another, smaller, but I'm realizing perhaps more important, micro shift. The direction of the work. And when I say direction I mean the content, the style in which it is created and the method of presentation". His post on the documentary life is certainly worth a read as well but you need the whole piece, an excerpt won't do. Read it here.
January 26, 2011 | Filed Under Interview | 1 Comment
1)    Please introduce yourself. Who is Claire Martin?
Just a girl from Perth Australia, nothing special bout that really

2)    You?re in Haiti right now. What are you doing there?
Every now and then I feel compelled to sink my teeth into a personal project or give myself a new work challenge, where I can follow my own
story and develop it in my own style. I have always intended to work within an international market and I felt I had to get out of Australia
and photograph something that is internationally relevant. So aside from these self indulgent urges to further my international career, I actually
care to tell the story of those displaced by the tragic earthquake. When I first heard about the earthquake I felt an instant urge to go, but I
restrained myself because there was already so many media people there reporting. I figured I could potentially be more of a strain on their
fragile infrastructure and do more harm than good, so I decided to postpone and look at it from an aftermath perspective. Although the
international media would loose it's attention span for Haiti, the suffering would be around for a long time! I am focusing on life in the
tent cities. Much of my work to date has focused on marginalized communities and internal displacement and the culture of these tent cities
resonates with these themes that run through my work.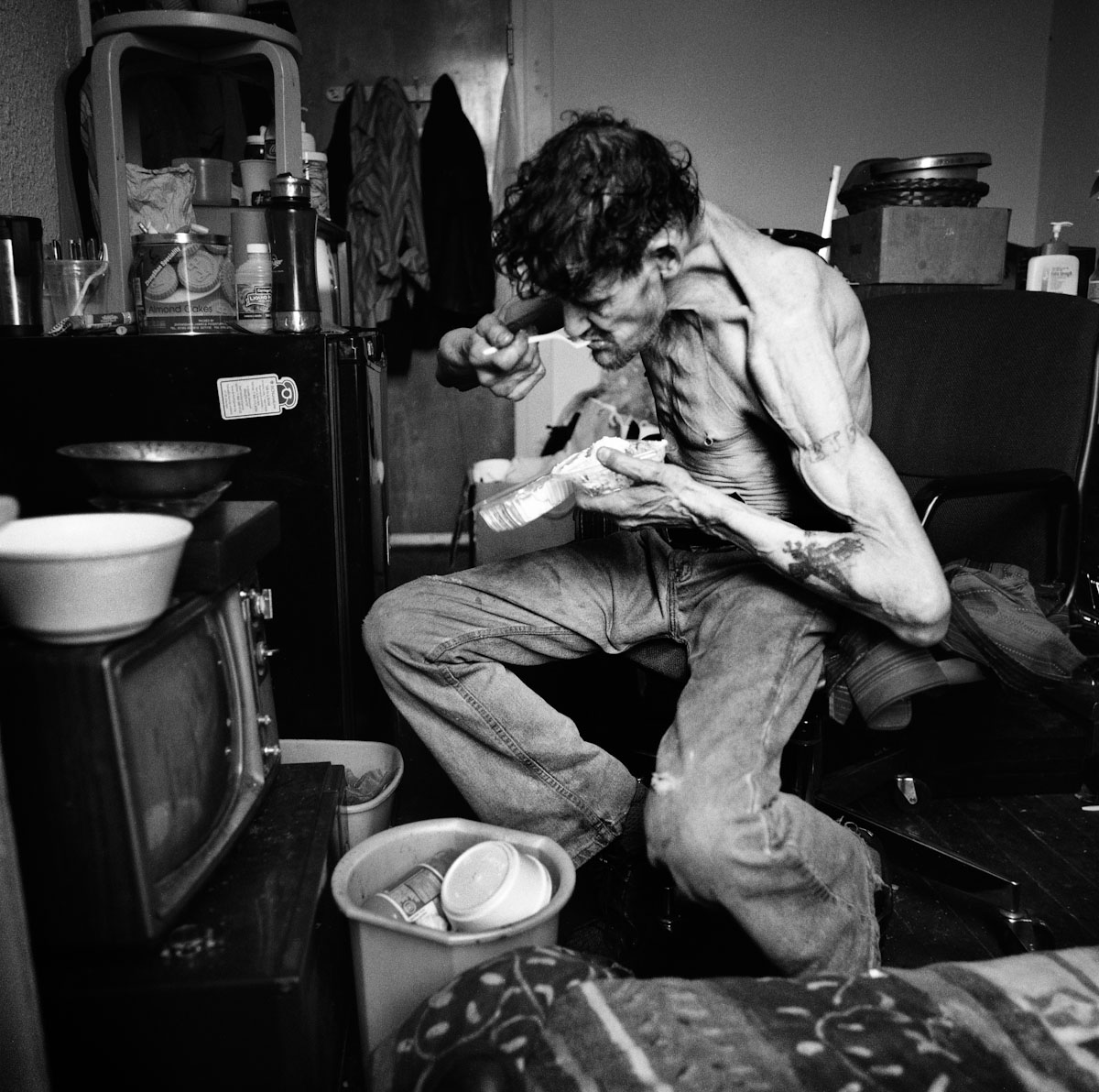 3)    Last year you won the Inge Morath award for your essays on Vancouver?'s Downtown East Side and California?s Slab City. Let?s talk
about the first essay. What is your connection to Canada and how did you end up photographing in the Downtown East Side? Can you talk a little
about the main image we've seen from that essay, of the man eating who seems somehow to be both emaciated and yet very muscular?
I moved to Vancouver with a 1 year work VISA just for something to do. And the "Cheap Hostel" I booked online turned out to be practically one of the
half way homes on the border of the Downtown East Side. I wasn't practicing as a photographer at this point, I had just taken a bunch of
photo's during my travels. At this time I wasn't thinking about telling stories or making comment on anything but I kind of knew I wanted to do
this type of thing, and when by chance I landed in this community I knew it would be a story I would want to tell. At university I studied Social
work and have always been interested in working with the marginalized people, and I've witnessed the problems of addiction personally so I felt
I it was a story I could tell if I tried.
About Tony? I met him and we just had a rapport. It's a great thing when you meet someone who really want's their story told and who is uninhibited
in front a camera. Tony was 50 at the time and had been addicted to Heroin for over 25  years. He has AIDS and lost his wife to an overdose. he also
had twin girls who were born HIV positive and were taken away by the state shortly after they were born. Despite these addiction induced problems he
is unable to quit using. In the photograph he is eating cream pie that I brought for him. I recently had an email from a woman who works in the
DTES who saw the photo and knows Tony, she gave me an update on him. She said "He is battling with AIDs and his brother has Leukemia and has
recently been in and out of the hospital.  We haven't seen Tony since before Christmas, so I don't know how his brother (or him) is doing now.
We have seen Tony go through rehab and gain 20 lbs and slowly deteriorate again. "
I sincerely hope he is ok. He really wanted to be a a good person but his addiction compromises his ability to be this way.
4)    How much time did you spend on both essays?  It seems it would take a great deal of time to build up the rapport and trust to make the
intimate images you did.
Well, the Vancouver series I shot in my spare time. I was working as a chef and would hang out down there on some of my days off. I was shot over
maybe a year? But the progress was slow as I had never done this type of photography before. At first I didn't even really know how to approach someone and ask for a picture. I was lucky to find a friend and mentor at the same time (Lung Liu – Amazing photographer) who trained me in visual story  telling and introduced me to the work of today's documentary photographers. It's through studying others work, that I have learned about the way I want to shoot.
The Slab City series I spent about 6 weeks camping in the community with intermittent "sanity and sanitation" trips to LA. It seems a long time and
hopefully I have more confidence in my ability to create stories on a tighter time frame than this now, but rule of thumb, the more time you can
invest, the better and more authentic the outcome.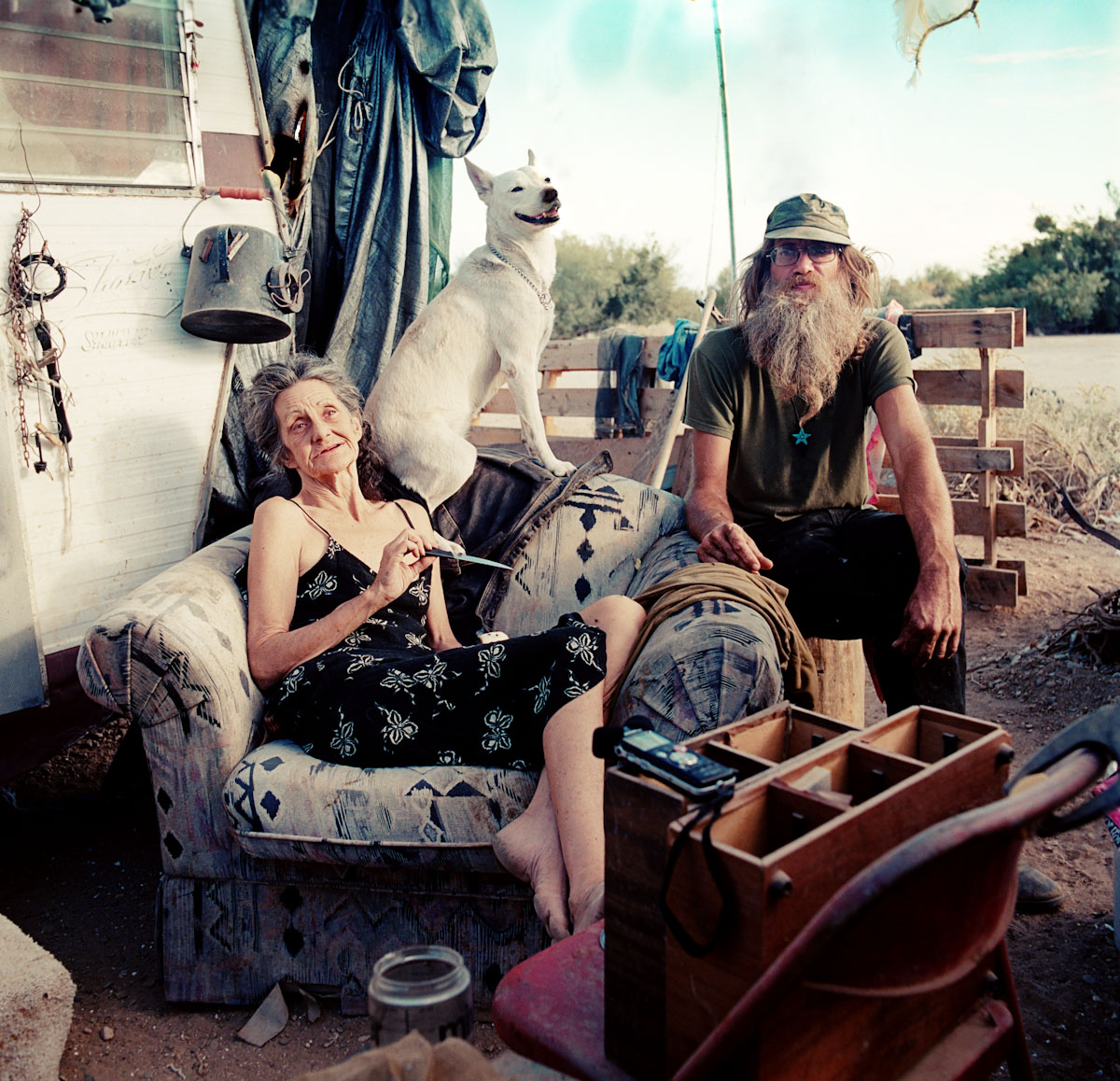 5)    What did winning the Inge Morath award mean to you? How did it affect your career?
I was just reading a BJP article about funding work through grants, I could pretty much copy and paste it here to elaborate. I'm still in what
I'd say is the "emerging phase" of my photographic practice even thoughsaying that makes me sound like a wanker …. I'm not at the level that
this guy is at, but it's the same principle. Here's a link to the article
http://www.bjp-online.com/british-journal-of-photography/feature/1938739/tips-2011-writing-grant-application (Article is by Don Weber)
So basically, yes, it's fantastic because it gives you credit, cash and material for your CV, but it also means you have to work harder to keep
proving it was worth it for me to receive it. At first I thought with one award people would be knocking on my door. The press from various awards
has indirectly brought assignments my way, but it isn't a magic wand, it's a link in the chain.
6)    2010 appears to have been a very good year for you. You were accepted as the newest member of Oculi, the Australian collective. How did
that come about and why did you want to be a member of Oculi?
I had never worked as a photographer in Australia prior to returning home from my time over seas, so I really had no idea about the industry there.
I'd looked at what was going on and saw that Oculi was really the only collective working predominantly in a documentary style. They also have a great reputation with award winning photographers and distribution through Agency VU and Redux. I'd always worked on my own but felt it was time to join up with others and be in an environment where I can learn from my peers. I didn't bother contacting them about membership because I figured
they were exclusive, but they saw my  work exhibited at Foto Freo, an international photography festival and invited me to join. I was thrilled
because they view photography in the same way I do and it's quite rare. Most agencies are very commercially based.
7)    Australia and Canada have a lot of similarities, both are Commonwealth countries with decent economies and educational standards.
Australia, however, on the arts front, seems to have far more galleries and institutions devoted to photography.  What do you think? Do you see
more support for photography in Australia?
Haha, I'd say this is a case of the grass is greener syndrome… I honestly think Canada and Australia are really very similar in a lot of
ways. Arts scene or lack there of, included. Then again, there are a few great festivals here and some large photography prizes. But really I think
it's about the same. The benefit here is that it is a small scene so if you're doing good work and putting it in front of the right people, you will
be recognized.
8)    You have three essays on your web site, Downtown East Side, Slab City and Salton Sea. The first two are about people while Salton Sea seems
to be about landscape and remains of previous existence. What appealed to you about the Salton Sea?
I like the surreal and the unusual. I don't always want my work to be too literal. I also like things that are good and bad in equal measures. I
like to show ying and yang in in my work. Not things that are just pretty, or just dark. I like the complexity of the balance and as a landscape this
area has that same duality that I look for in communities or in people. It is really a very ugly place, stinking of rubbish and left derelict and
unwanted, but with all the natural beauty of a desert lake landscape. It's a visual contradiction, this a more interesting landscape to me than  one
that is just pretty. It also has an interesting historical and environmental story.
9)    Crowd sourcing, an alternate source of raising funds for projects, has started to become popular recently. You are currently using the
IndieGoGo site to raise funds for work in Haiti. Why did you decide to try this route and how do you feel about the results so far?
Honestly it has taken a while to come around to the benefits of social networking and marketing your work in this way, but I've realized that I
can't fossilize with the dinosaurs and that I need to have a modern and diverse business model in order to survive in this industry. I researched
it a little and saw that there was a high success rate for funding, that many reputable photographers are funding their personal work in this way
and that the system is based on commerce, not charity. It is through the pre-sale of limited edition prints that I fund my project, so there is a valuable exchange. I am happy with the result so far. I hope I can reach my goal! (Claire's IndieGoGo link)
10) Finally, can you talk a little about how you work? Do you do a lot of research before you begin a project?  Do you work with minimal equipment
or do you carry lots of backup gear? How do you know when you?re done?
Well the work on my website is personal work, so I have complete authorship over the content, the way the story is told, the visual style,
etc and I really love to shoot this way. I love to tell stories the way I see them as oppose to translating another person's vision, which is what
you often have to do when on assignment. I have my own unique way of seeing a situation / the world and to me it really is story telling and
I'm the author. As it's documentary work, I'm allowed to have a perspective and an opinion and for the work to be emotional which is
frowned upon is straight journalism which is supposed to be objective and based on facts and events. By way of research, honestly I don't do too
much. I usually try and put something together. I always have an idea of the story I will shoot, but it ALWAYS changes completely when I am
actually shooting. I go in with an idea and a plan, just so I at least have a point to be there, but I always expect the outcome to be different.
I'm quite opportunistic and intuitive in the way I work.
Re: Equipment. I'm a minimalist. One body, one lens, one tripod, maybe a flash, sometimes
some filters. I hate carrying too much shit around. I feel like a pack horse and not a photographer. It gets in the way for me. I work the shots
to the equipment I have as oppose to the other way around. Mostly I'm done when my time is up – when my plane leaves. I look forward to trying to
find a local project I can keep returning to over a period of years. There's no need to rush personal work.
You can find more of Claire Martin's work here.