January 4, 2015 | Filed Under BC Photography Archive, British Columbia Photographic Archive, Personal Project, Street photography | Leave a Comment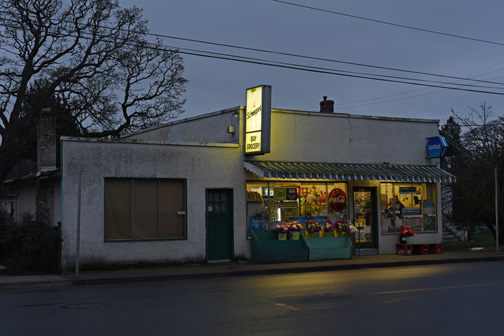 The Bay Grocery is one of those neighbourhood establishments, the corner store, that get get harder and harder to find each year. I enjoy how they look front the street, at either dawn or dusk, lighting up the street for the residents.
October 6, 2013 | Filed Under Art, British Columbia Photographic Archive, Landscape, Personal Project, Photography | Leave a Comment
I was at Coopers Cove last week. The derelict boat in long gone although, for now at least, the former naval ship seen in the background is still anchored in the cove. It's a reminder how photographs, while they must stand on their own as visual images, also serve as historical records, a document of time passing. This was one of the first group of images I took that have become part of the Salt Water & Rain project, photographs of Vancouver Island and coastal British Columbia. A photographic archive of British Columbia and one of a series of inter-linked projects on the Pacific Northwest.
January 17, 2013 | Filed Under Gallery & Workshop, Workshop | Leave a Comment
I'll be teaching a documentary course and a couple of one day workshops at the University of Victoria. Sign up here http://www.uvcs.uvic.ca
Courses are:
Documentary Photography: Creating the Personal Project
In this course you will learn how to use the techniques of documentary work to create a personal photo project. Participants will examine the work of other documentary photographers and see how and why certain ways of seeing and photographing can be applied to their work. You will learn how to organize your own projects, budget time, find out how to edit a project and discover different ways to bring that project to a larger audience.
Students will work on a project throughout the duration of the class; this can be an existing project or something new and initiated by the class experience. This work will serve as a catalyst for class discussions and critiques. This is a course about creativity, not equipment. Participants can use whatever equipment they own, digital or film.
Editing Your Photographs—Developing a Critical Eye
Do you have a jumble of images stored away on your hard drive or boxes of prints tucked away in the closet? Learn how to look critically at your photographs and find the treasures hidden among the less successful images. We'll also learn how we can have a higher success rate while shooting by learning to edit as we photograph. Students should bring a selection (20–40) of 4 x 6 machine (cheap) prints to the class from a project, trip or just that box in the closet, as well as a camera and a notebook.
Find the Photo Spark
Have you lost your photographer's creative urge? Do all the images you take seem to look like the last one? Rekindle your photo creativity with a day of exercises designed to make you and your camera best friends again. Bring your camera and a notebook and prepare to exercise your mind and eye and have some fun in the process.
April 11, 2012 | Filed Under Gallery & Workshop | Leave a Comment
I've just finished up the documentary project class I was teaching as part of the University of Victoria's Continuing Education program. The first time for continuing ed and it was a great experience. A small class but enthusiastic and everyone ended up working on a great project of their choice. The best part of teaching for me is watching the students' confidence and skill improve through the duration of the course. We ended up with a real variety of projects and some amazing individual photographs. I've got another proposal in for a fall course at UVic. I'll post the details when I know it's a go. It'll be  a very different photo offering.
February 3, 2011 | Filed Under Blog | 3 Comments
I haven't been posting a great deal here. That said I have been checking out a few other blogs. One that I've spent quite a bit of time on the past week is Daniel Milnor's Smogranch. I'd never run across Milnor until a week ago so it's all a pleasant surprise. I enjoy Milnor's writing and his images are amazing. It's oddly nice to see someone shooting film. He's a book making machine and there's lessons there for all of us in presenting/promoting our work.  I'm slowly making my way through his archives learning about Milnor's work and life. His latest post tells about his decision to give up all commercial work and concentrate on his personal work. He doesn't explain how he'll replace his commercial income but maybe that'll be in a post to come. Here's a bit from that post that captures some of Milnor's style: "As many of you know, on December 1st I stopped shooting commercially. No mas. No portraits, weddings, magazine work, commercial shoots, etc. I needed a new direction, and so far the grand experiment has been enlightening, making me think I should have done this ten years ago. However, it's not enough, just stopping the work for others focusing only on the work for me. Within this shift lies another, smaller, but I'm realizing perhaps more important, micro shift. The direction of the work. And when I say direction I mean the content, the style in which it is created and the method of presentation". His post on the documentary life is certainly worth a read as well but you need the whole piece, an excerpt won't do. Read it here.
January 26, 2011 | Filed Under Interview | 1 Comment
1)    Please introduce yourself. Who is Claire Martin?
Just a girl from Perth Australia, nothing special bout that really

2)    You?re in Haiti right now. What are you doing there?
Every now and then I feel compelled to sink my teeth into a personal project or give myself a new work challenge, where I can follow my own
story and develop it in my own style. I have always intended to work within an international market and I felt I had to get out of Australia
and photograph something that is internationally relevant. So aside from these self indulgent urges to further my international career, I actually
care to tell the story of those displaced by the tragic earthquake. When I first heard about the earthquake I felt an instant urge to go, but I
restrained myself because there was already so many media people there reporting. I figured I could potentially be more of a strain on their
fragile infrastructure and do more harm than good, so I decided to postpone and look at it from an aftermath perspective. Although the
international media would loose it's attention span for Haiti, the suffering would be around for a long time! I am focusing on life in the
tent cities. Much of my work to date has focused on marginalized communities and internal displacement and the culture of these tent cities
resonates with these themes that run through my work.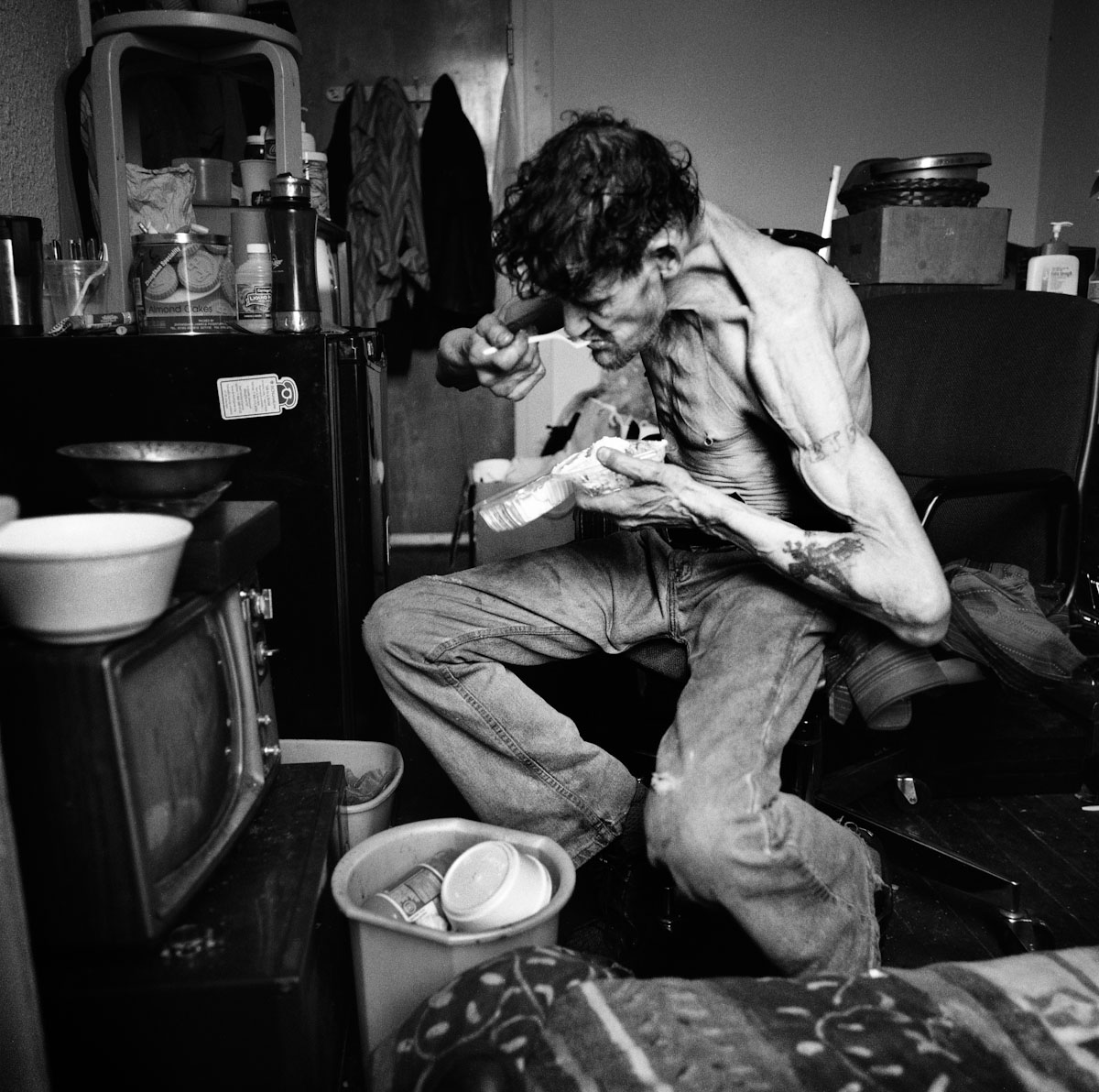 3)    Last year you won the Inge Morath award for your essays on Vancouver?'s Downtown East Side and California?s Slab City. Let?s talk
about the first essay. What is your connection to Canada and how did you end up photographing in the Downtown East Side? Can you talk a little
about the main image we've seen from that essay, of the man eating who seems somehow to be both emaciated and yet very muscular?
I moved to Vancouver with a 1 year work VISA just for something to do. And the "Cheap Hostel" I booked online turned out to be practically one of the
half way homes on the border of the Downtown East Side. I wasn't practicing as a photographer at this point, I had just taken a bunch of
photo's during my travels. At this time I wasn't thinking about telling stories or making comment on anything but I kind of knew I wanted to do
this type of thing, and when by chance I landed in this community I knew it would be a story I would want to tell. At university I studied Social
work and have always been interested in working with the marginalized people, and I've witnessed the problems of addiction personally so I felt
I it was a story I could tell if I tried.
About Tony? I met him and we just had a rapport. It's a great thing when you meet someone who really want's their story told and who is uninhibited
in front a camera. Tony was 50 at the time and had been addicted to Heroin for over 25  years. He has AIDS and lost his wife to an overdose. he also
had twin girls who were born HIV positive and were taken away by the state shortly after they were born. Despite these addiction induced problems he
is unable to quit using. In the photograph he is eating cream pie that I brought for him. I recently had an email from a woman who works in the
DTES who saw the photo and knows Tony, she gave me an update on him. She said "He is battling with AIDs and his brother has Leukemia and has
recently been in and out of the hospital.  We haven't seen Tony since before Christmas, so I don't know how his brother (or him) is doing now.
We have seen Tony go through rehab and gain 20 lbs and slowly deteriorate again. "
I sincerely hope he is ok. He really wanted to be a a good person but his addiction compromises his ability to be this way.
4)    How much time did you spend on both essays?  It seems it would take a great deal of time to build up the rapport and trust to make the
intimate images you did.
Well, the Vancouver series I shot in my spare time. I was working as a chef and would hang out down there on some of my days off. I was shot over
maybe a year? But the progress was slow as I had never done this type of photography before. At first I didn't even really know how to approach someone and ask for a picture. I was lucky to find a friend and mentor at the same time (Lung Liu – Amazing photographer) who trained me in visual story  telling and introduced me to the work of today's documentary photographers. It's through studying others work, that I have learned about the way I want to shoot.
The Slab City series I spent about 6 weeks camping in the community with intermittent "sanity and sanitation" trips to LA. It seems a long time and
hopefully I have more confidence in my ability to create stories on a tighter time frame than this now, but rule of thumb, the more time you can
invest, the better and more authentic the outcome.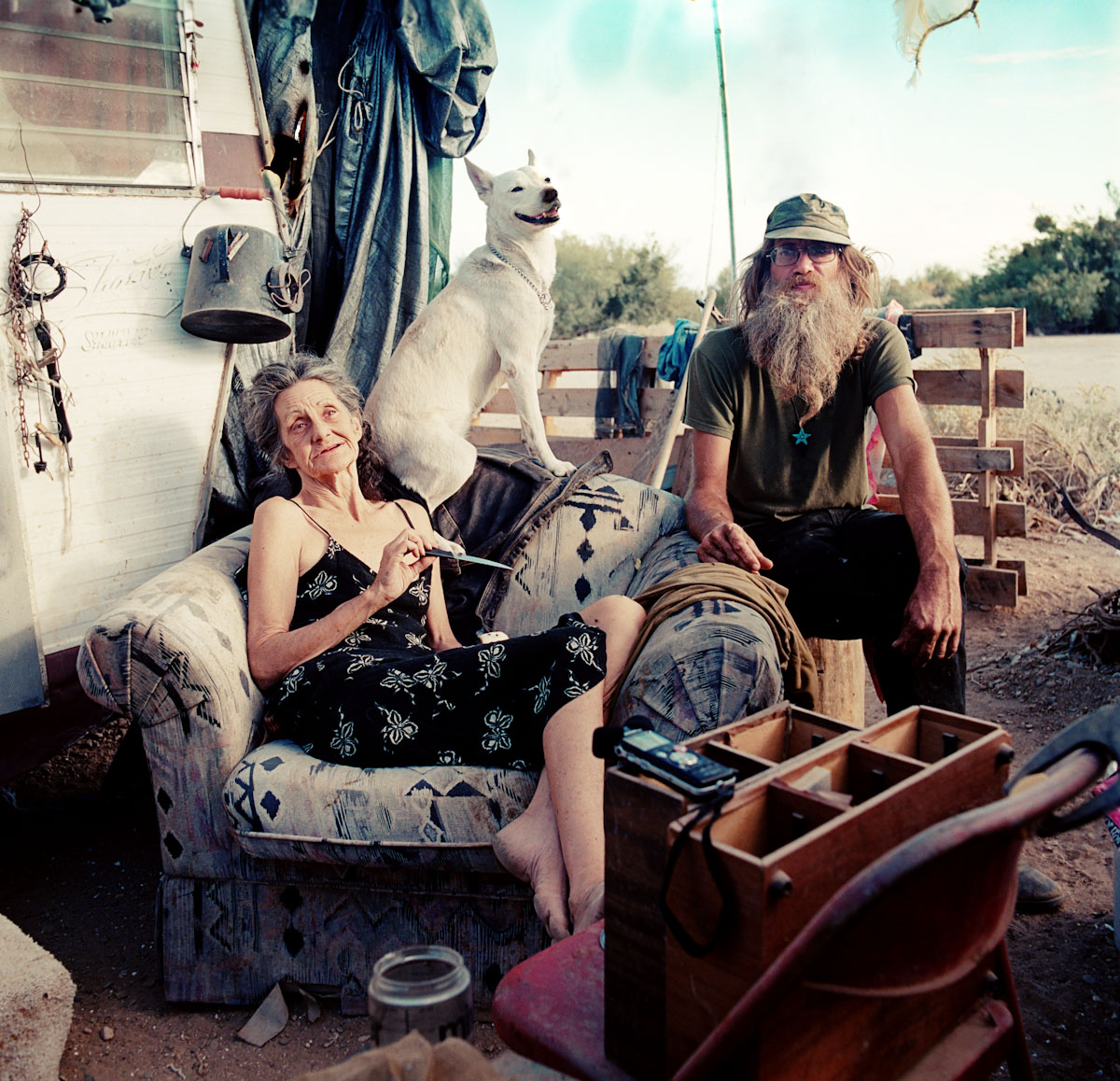 5)    What did winning the Inge Morath award mean to you? How did it affect your career?
I was just reading a BJP article about funding work through grants, I could pretty much copy and paste it here to elaborate. I'm still in what
I'd say is the "emerging phase" of my photographic practice even thoughsaying that makes me sound like a wanker …. I'm not at the level that
this guy is at, but it's the same principle. Here's a link to the article
http://www.bjp-online.com/british-journal-of-photography/feature/1938739/tips-2011-writing-grant-application (Article is by Don Weber)
So basically, yes, it's fantastic because it gives you credit, cash and material for your CV, but it also means you have to work harder to keep
proving it was worth it for me to receive it. At first I thought with one award people would be knocking on my door. The press from various awards
has indirectly brought assignments my way, but it isn't a magic wand, it's a link in the chain.
6)    2010 appears to have been a very good year for you. You were accepted as the newest member of Oculi, the Australian collective. How did
that come about and why did you want to be a member of Oculi?
I had never worked as a photographer in Australia prior to returning home from my time over seas, so I really had no idea about the industry there.
I'd looked at what was going on and saw that Oculi was really the only collective working predominantly in a documentary style. They also have a great reputation with award winning photographers and distribution through Agency VU and Redux. I'd always worked on my own but felt it was time to join up with others and be in an environment where I can learn from my peers. I didn't bother contacting them about membership because I figured
they were exclusive, but they saw my  work exhibited at Foto Freo, an international photography festival and invited me to join. I was thrilled
because they view photography in the same way I do and it's quite rare. Most agencies are very commercially based.
7)    Australia and Canada have a lot of similarities, both are Commonwealth countries with decent economies and educational standards.
Australia, however, on the arts front, seems to have far more galleries and institutions devoted to photography.  What do you think? Do you see
more support for photography in Australia?
Haha, I'd say this is a case of the grass is greener syndrome… I honestly think Canada and Australia are really very similar in a lot of
ways. Arts scene or lack there of, included. Then again, there are a few great festivals here and some large photography prizes. But really I think
it's about the same. The benefit here is that it is a small scene so if you're doing good work and putting it in front of the right people, you will
be recognized.
8)    You have three essays on your web site, Downtown East Side, Slab City and Salton Sea. The first two are about people while Salton Sea seems
to be about landscape and remains of previous existence. What appealed to you about the Salton Sea?
I like the surreal and the unusual. I don't always want my work to be too literal. I also like things that are good and bad in equal measures. I
like to show ying and yang in in my work. Not things that are just pretty, or just dark. I like the complexity of the balance and as a landscape this
area has that same duality that I look for in communities or in people. It is really a very ugly place, stinking of rubbish and left derelict and
unwanted, but with all the natural beauty of a desert lake landscape. It's a visual contradiction, this a more interesting landscape to me than  one
that is just pretty. It also has an interesting historical and environmental story.
9)    Crowd sourcing, an alternate source of raising funds for projects, has started to become popular recently. You are currently using the
IndieGoGo site to raise funds for work in Haiti. Why did you decide to try this route and how do you feel about the results so far?
Honestly it has taken a while to come around to the benefits of social networking and marketing your work in this way, but I've realized that I
can't fossilize with the dinosaurs and that I need to have a modern and diverse business model in order to survive in this industry. I researched
it a little and saw that there was a high success rate for funding, that many reputable photographers are funding their personal work in this way
and that the system is based on commerce, not charity. It is through the pre-sale of limited edition prints that I fund my project, so there is a valuable exchange. I am happy with the result so far. I hope I can reach my goal! (Claire's IndieGoGo link)
10) Finally, can you talk a little about how you work? Do you do a lot of research before you begin a project?  Do you work with minimal equipment
or do you carry lots of backup gear? How do you know when you?re done?
Well the work on my website is personal work, so I have complete authorship over the content, the way the story is told, the visual style,
etc and I really love to shoot this way. I love to tell stories the way I see them as oppose to translating another person's vision, which is what
you often have to do when on assignment. I have my own unique way of seeing a situation / the world and to me it really is story telling and
I'm the author. As it's documentary work, I'm allowed to have a perspective and an opinion and for the work to be emotional which is
frowned upon is straight journalism which is supposed to be objective and based on facts and events. By way of research, honestly I don't do too
much. I usually try and put something together. I always have an idea of the story I will shoot, but it ALWAYS changes completely when I am
actually shooting. I go in with an idea and a plan, just so I at least have a point to be there, but I always expect the outcome to be different.
I'm quite opportunistic and intuitive in the way I work.
Re: Equipment. I'm a minimalist. One body, one lens, one tripod, maybe a flash, sometimes
some filters. I hate carrying too much shit around. I feel like a pack horse and not a photographer. It gets in the way for me. I work the shots
to the equipment I have as oppose to the other way around. Mostly I'm done when my time is up – when my plane leaves. I look forward to trying to
find a local project I can keep returning to over a period of years. There's no need to rush personal work.
You can find more of Claire Martin's work here.
January 12, 2011 | Filed Under Funding, Personal Project | Leave a Comment
About a  month ago I wrote about crowd sourcing to fund photo projects and Victoria photographer Mike Andrew McLean and his use of Kickstarter to fund his project The Range.
Since then I've come across another good example,  Australian photographer, and Oculi member, Claire Martin is currently photographing in Haiti and she's using IndieGoGo to create a funding program for that work. You can follow her work in Haiti and see some of her images on the accompanying blog.
I hadn't heard about IndieGoGo before but the site is easy to navigate and certainly has a punchier front page than does Kickstarter.
Crowd sourcing does seem to be a viable way for photographers to raise funds (and for fund contributors to get books, prints, postcards or even a personal call from the photographer) and it's interesting to see that not only younger less well known photographers are using this method. Magnum photographer Larry Towell has a Kickstarter site up for his Afghanistan work.
January 1, 2011 | Filed Under Photo Book | Leave a Comment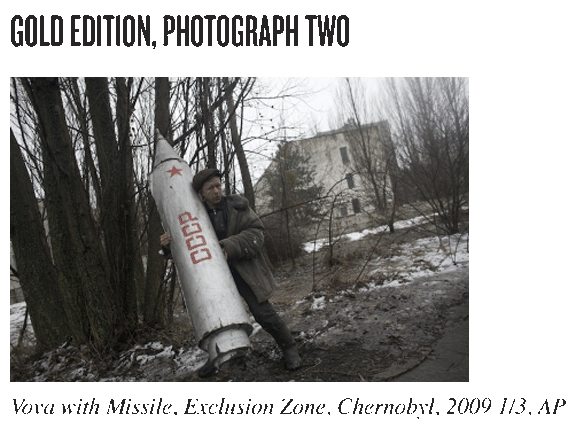 Documentary photographer, and rising art star (check out the 12 page spread in the Fall 2010 edition of Canadian Art magazine) Donald Weber has a new book INTERROGATIONS coming out in the fall of 2011. Published by Schilt Publishing, features more of Weber's images from Eastern Europe.
The following, from the release for the book, explains Weber's work:
'Interrogations is the result of his personal quest to uncover the hidden meaning of the bloody 20th Century. In dialogue with writer Larry Frolick – whose own ancestors had been decimated in the final months of WW II – Weber insistently and provocatively addresses his questions both to the living survivors and to the ghosts of the State's innumerable victims, resurrecting their final hours by taking their point of view, and performing a kind of incantatory meditation over their private encounters with Power.
The policemen, working girls, thugs, dissidents and hustlers who inhabit these pages are all orphans of a secret History; the outlines of our collective fate takes shape in Weber's epic work, expanding our awareness of what it means to be an actor in today's dark opera.
Weber will be selling a number of collector's editions to help support the publication of the book. Buying at Bronze edition at $200 will get you a 8×10 signed print and a signed specially packaged edition of the book. The Gold Edition, at $1000, gets you the choice of one of five 30×40 prints (each an edition of 3 Artist's Proofs) plus the signed packaged book.
You can get more information and order the special editions here.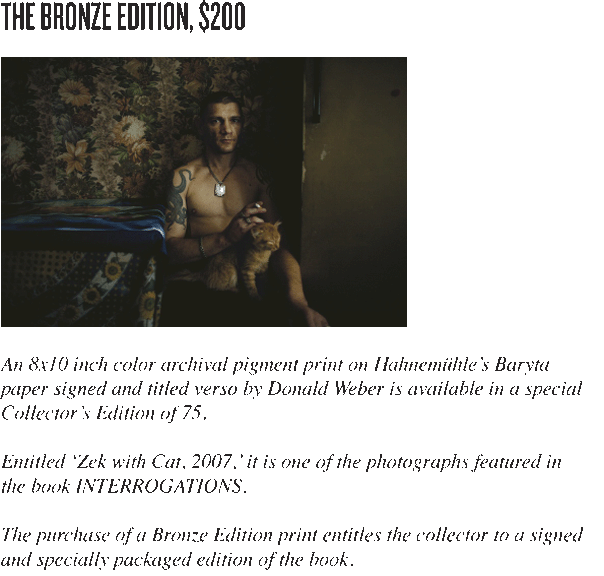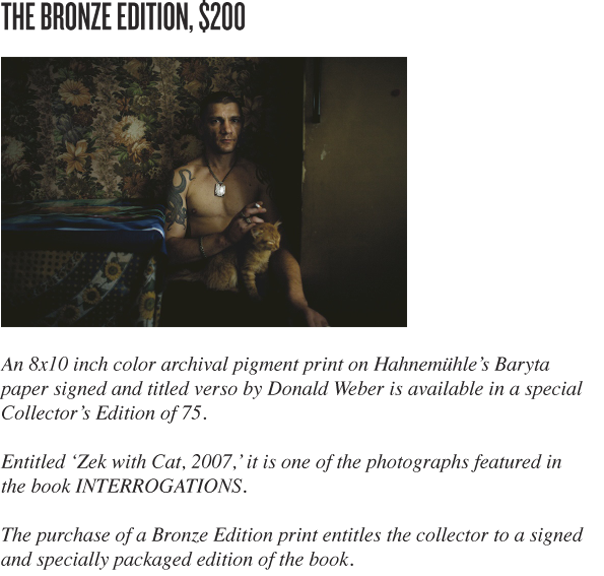 '
December 8, 2010 | Filed Under Interview | Leave a Comment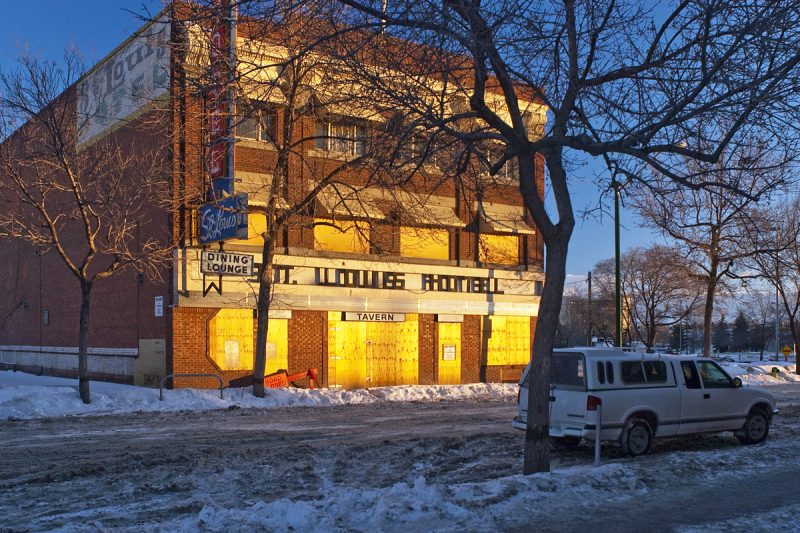 1)    Who is George Webber?
I think of myself as a documentary photographer. Photography is a wonderful medium for harvesting up stories from the stuff of daily life.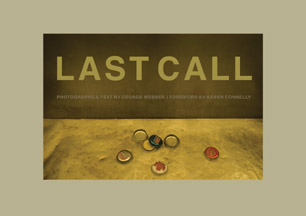 2)    You have a brand new book out entitled Last Call published by Rocky Mountain Books. What is the book about?
LAST CALL tells the story of the final years of Calgary's notorious East Village, a feral little precinct situated smack behind Calgary's cobalt blue city hall.  The East Village was best known for its shabby hotels, the St Louis, King Edward and Cecil that formed an un-holy trinity and an affront to Calgary's Mayor and many members of city council.
You went to the East Village if you needed a cheap room or you wanted to deal for booze, drugs or sex. Some nights you went in hopes of a long shot paying off.
Like the night a guy sitting at one of the back tables in The St Louis suggesting to his beer soaked buddy, a rumpled local TV news reporter that he might want to consider a
run for civic politics
Through heavy lidded eyes the reporter turned the idea over in his head.
His name was Ralph Klein. It wasn't long before he was Alberta's Premier.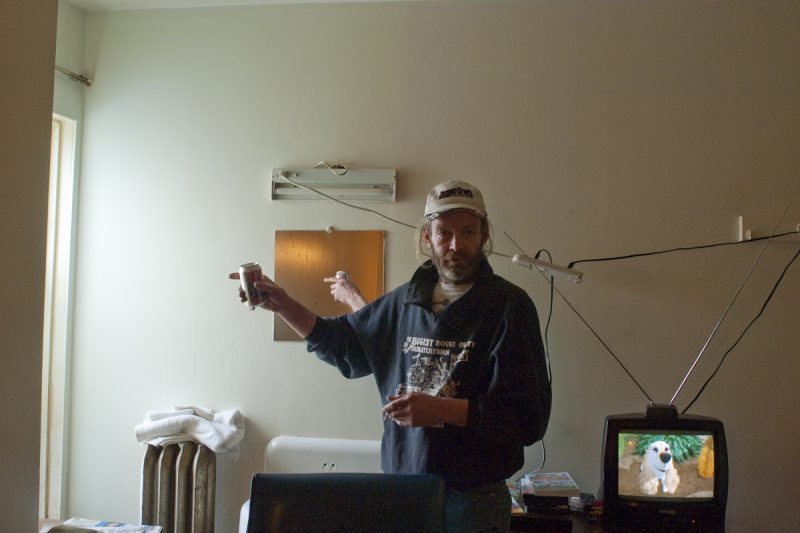 3)    How long did you work on that project? What were some of the challenges in creating the images.
I spent the years of 2004 – 2009 photographing in the East Village. The biggest challenge in this kind of work is winning the trust and respect of the people you wish to photograph. You have to earn it. That takes time.
4)    You've photographed prairie towns for a long time, in fact you seem to have two separate bodies of work that focus on the subject. You've photographed disappearing towns, remnant of towns or even towns that no longer exist and the black white images while beautiful have a somber, at times sad feel to them. At the same time you've been photographing small town architecture in colour which seem to be perhaps more upbeat. Can you talk about these two projects and how they fit together?
The choice of black and white vs. colour is a matter of intuition, judgment and experience. Which one will be capable of conveying the subject most powerfully? Colour is closer to reality, capable of a kind of exquisite transcription. Black and white is more distanced from reality, more abstract, capable of a kind of poetry. The rich, allusive subject matter of these disappearing places calls out for both.
5)    Your work in a number of your projects (Calgary's East Village, Prairie towns,  People of the Blood) has recorded, if not way of life, a least a slice of life that has vanished and/or changed dramatically. Do you feel drawn to this type of story or were you just interested in the subject and it all changed around you.
I have a powerful attraction to the sharpness and poignancy of endings. Life is so often about endings, about losing things….photography is about keeping them….for just a bit longer.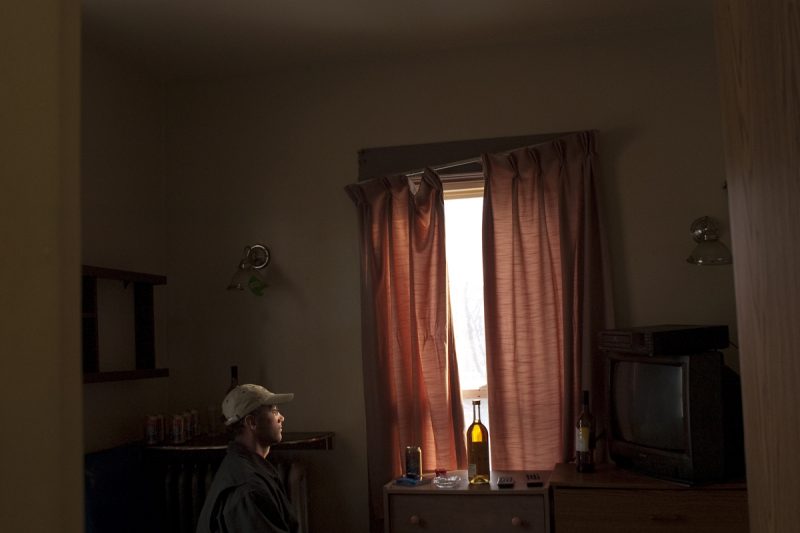 6)    In contrast to your more recent projects one of your early documentaries, focusing on  the Hutterites , featured a subject ( a conservative religious sect that clings to the past in many ways) that didn't change. Can you talk about that?
A girlfriend once said to me, "You have an infinite appetite for inspiration." She was right. Time with the Hutterites was filled with stories and lessons, most of them unspoken. You can learn a lot about courage, compassion and commitment from the Hutterite people. The  fundamentals don't really change much on a Hutterite Colony. That's what make a day there so dear.
7)    You exhibit your work as fine art on a regular basis and your style is most often referred to as documentary. Do you think there is any distinction between fine art and documentary photography?
Names like "Fine Art" and "Documentary" can be convenient ways to categorize photography but just exactly where would you put Eugene Atget, or William Eggleston, or Lee Friedlander, or Diane Arbus or August Sander? Their work can be said to have grown out of the Documentary tradition but it surely transcends that tradition and it stands as some of the most enduring and important art of the twentieth century. Photography is like a great river. It's most powerful current is the documentary current.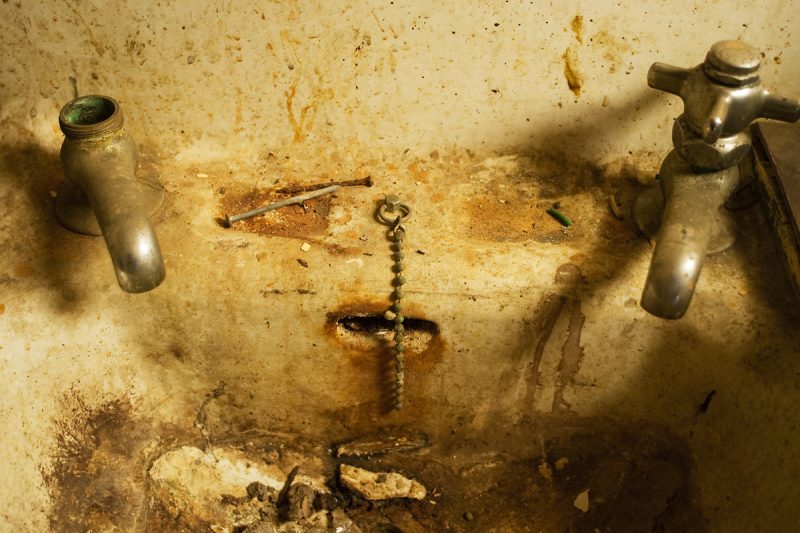 8)     Most photographers have routines when they work on a project. What are some of yours?
I like to photograph where it's quiet, when there's not much going on. That often means getting up early or staying out until the light's all gone. I like to travel light, usually one camera with one lens. I like to hang out. I like to go back to the same place over and over again. I like to watch for the little changes.
9)     You have exhibited a lot and have had numerous books published. Which is the greater challenge, getting a book published or arranging exhibitions?
I just try to do justice to the reality of the things that I photograph and care about. When I've completed a project I try to bring the work to the attention of curators and publishers. I'm very grateful for the support and encouragement I've received in recent years. Traditional book publishing is facing some challenges right now but you might also consider this a golden age in book publishing. The breadth and quality of work available now is extraordinary. The hard part isn't getting the work published or exhibited. The hard part is creating work that deserves to be published or exhibited. Good work will always find an audience.
10)  You teach some photography classes, what's the attraction of teaching for you?
Energy, passion, commitment and decency are things that students can bring into the classroom. It doesn't happen all the time. But when it does, it feels pretty good to be around.
To see a preview of Last Call, go to Youtube.com and type in Last Call by George Webber.    You can see more of George Webber's work here.
November 25, 2010 | Filed Under Ideas | 1 Comment
Like most people when I notice my bookmarks page is getting out of control with far too many links I'll go through and delete those links I'm not visiting any more, that no longer work, or that simply are not updated anymore. There is one site though that doesn't get updated that I still leave on my list.
That site belongs to the British photographer Chris Schwarz.
I only met Schwarz once and it was such a different event that it continues to resonate with me.
It was the early 80′s and I was working in Edmonton. It was winter and I'd been assigned to cover a First Nations powwow on a small reserve at least an hour drive south of the city. It was cold and snowing and while I'd been promised a page for the images from the event I wasn't expecting much from the event, indoors in small rural hall.
Once there I and working I noticed another photographer shooting away in the crowded room and eventually made my way over over to myself. We said hello and he introduced himself. I looked at him and said the British photographer (his accent being my first clue).  He answered in the affirmative looking a little puzzled and then even more so when I told him I knew his work. He shook his head and said that just wasn't possible.
Now you have to remember this was pre-internet, pre-email etc. He was not a famous photographer just a documentary photographer in London who had snagged a gig from a  group of First Nation tribes who wanted an exhibition of images up in London before a delegation looking for help with treaty rights arrived in England, a way to generate publicity and interest in their cause. That assignment had resulted him being at that powow.
The chance that he'd run into another photographer in a tiny Alberta town on a freezing winter day was slim enough let alone one who knew who he was and knew some of his work.
A couple years earlier I'd been in London for several months and at some point had picked up copies of a tabloid photo magazine called Camera Works. In one issue that looked at the coverage of a (famous for the time) march and riot in Lewisham Schwarz's work was featured which was where I remembered his name and work from. I believe he was in other issues I had but that one sticks in my brain for some reason.
He was quite overwhelmed and excited that I knew his images and some of the events he'd covered.  I was excited that I'd run into a photographer from London whose work I knew (which made him famous in my eyes)  I offered him a ride back to Edmonton after we'd finished shooting (he'd bused down) which he happily accepted and we talked photography all the way back and then through dinner and into the night.
That was the one and only time I met him. Later when I was working in Europe and was in London I'd ask photographers about him and he seemed to have dropped out of sight although one photographer told me that he'd heard Schwarz was helping start up a museum about the River Thames.
I don't know if that story was true or not but he did end up starting a museum. It wasn't in London though and it didn't celebrate a river or even photography although it did feature a large number of his photographs.  In Krakow, Poland he opened the Galicia Jewish Museum, an outgrowth of his interest and photo project on Poland's Jewish heritage.
Schwarz died in 2007 from cancer. His site is here. The site for the museum he founded is here. A New York Times obituary is here.