November 15, 2011 | Filed Under Exhibition | Leave a Comment
An eye and mind boggling exhibit by Mike Andrew  McLean at the Open Space gallery in Victoria. Here's the intro from the gallery's web page:
Thirty-Five Thousand Forty
Mike Andrew McLean
November 10 to December 10, 2011
Opening November 10 at 7:30 p.m.
Thirty-Five Thousand Forty is the physical culmination of Mike Andrew McLean's project to shoot ninety-six photographs a day for three hundred and sixty-five consecutive days. McLean's year of photos, now printed as 4"x6" snapshots, will tile the interior of Open Space, forming a sprawling record of the artist's life from June 2010 to June 2011.
McLean writes "photography in the digital era is developing its own language, forging unique processes and technologies. It seems to have reached the democratic potential that George Eastman predicted one hundred years ago, when he took the process out of the studio of the trained craftsman and put it into the hands of the unskilled hobbyist." McLean turns the idea of digital photography inside out, conferring an analogue physicality and monumentality onto a format that proliferates effortlessly, flooding websites, Facebook, memory cards and hard drives in an unimaginably deep cloak of images.
———————
Note the final photo posted here. Dan Milnor snaps a photo of a 2G hard drive mounted on the gallery wall. All the photos in the show are stored on that one drive.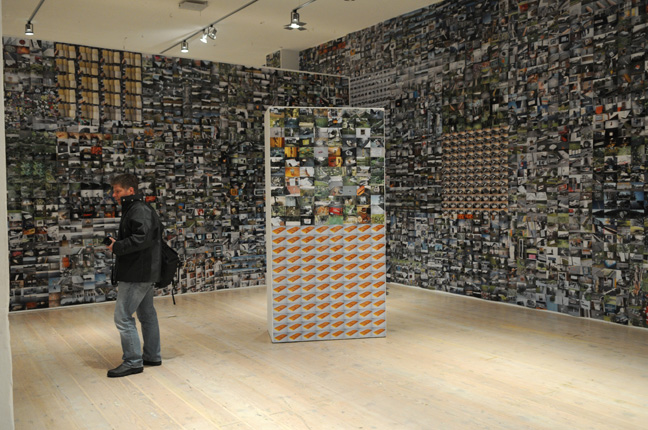 November 14, 2011 | Filed Under Exhibition | 1 Comment
Here's a few images from the opening last week of  the joint photo exhibition for T. J. Watt and myself called Seeing The Forest For The Trees at Dales Gallery in Victoria's Chinatown. The show, See The Forest For The Trees, runs until November 25.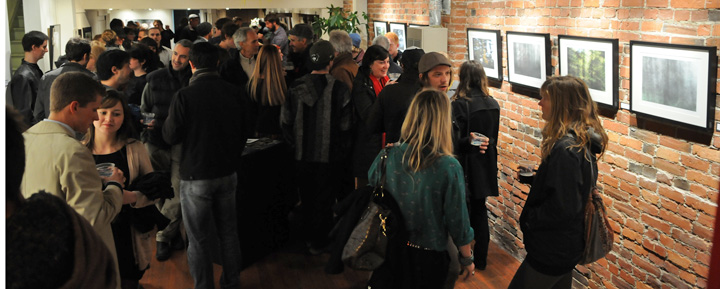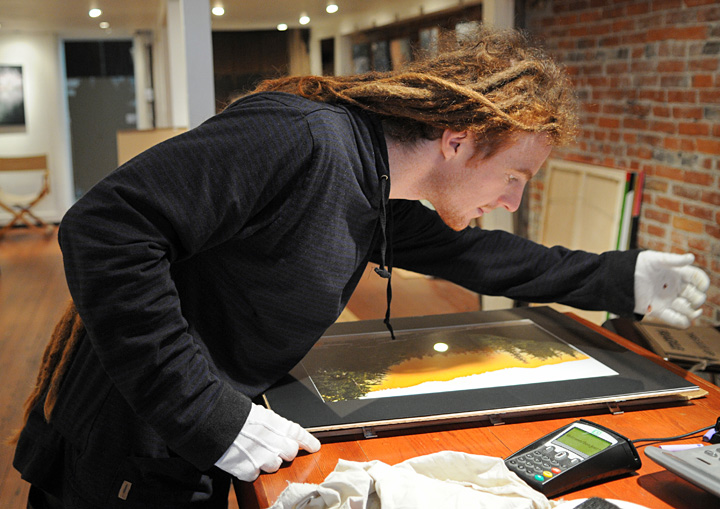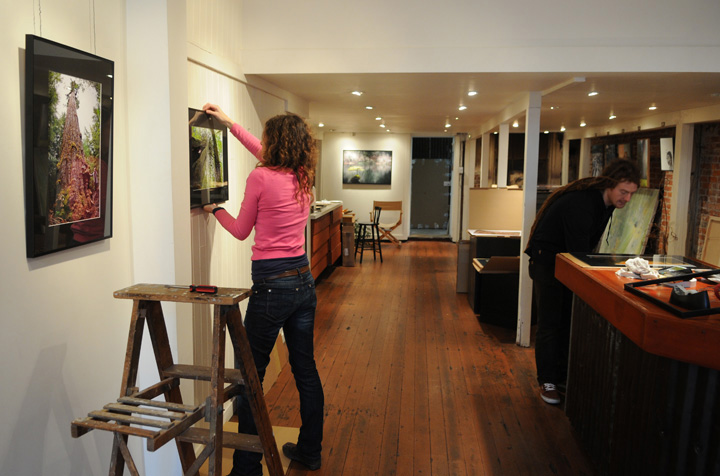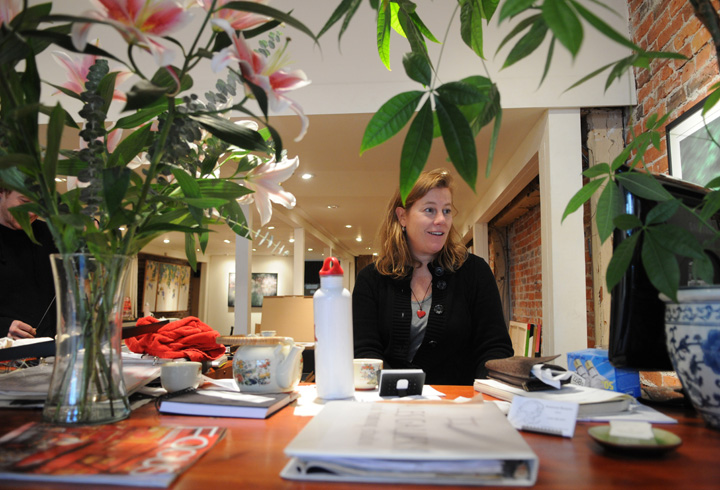 May 5, 2011 | Filed Under Obituary, Photography | Leave a Comment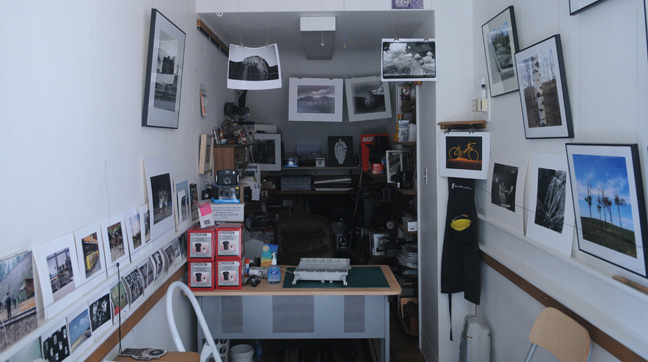 One of the more popular posts I'd done was about retired Kamloops photo teacher and photographer Wilf Schmidt who was operating a tiny photography gallery in the Interior city.
I hadn't been through Kamloops since last summer and that time was a quick stop so didn't get to drop by the gallery. We were finally heading up that way again this past weekend and on Thursday I opened my email to drop Wilf a note to see if he'd be open on the Monday and there was a link to Rachel Anastasia's blog I Heart Rachabees and a posting that Wilf had passed away a few days earlier. I knew Wilf had been battling cancer but we never really expect people to lose that battle I guess.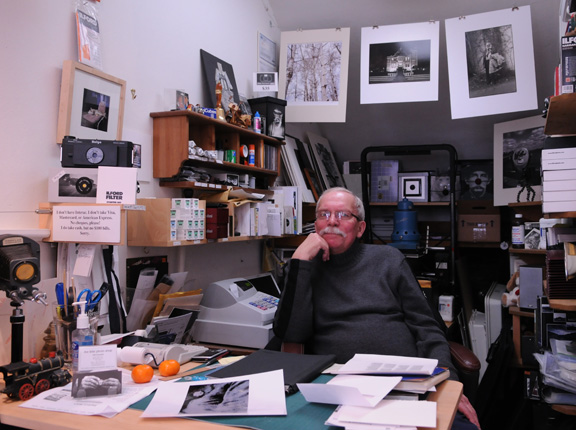 I can't say that I knew Wilf that well but I'd known him for a long time as I started my newspaper photography career in Kamloops thirty plus years ago. It's not that big a place and you get to meet most people with similiar interests.
Sunday I wandered downtown and checked out Wilf's gallery. Closed of course but with a sign announcing a memorial service for him this coming Saturday. I won't make it so this posting will be my small memorial.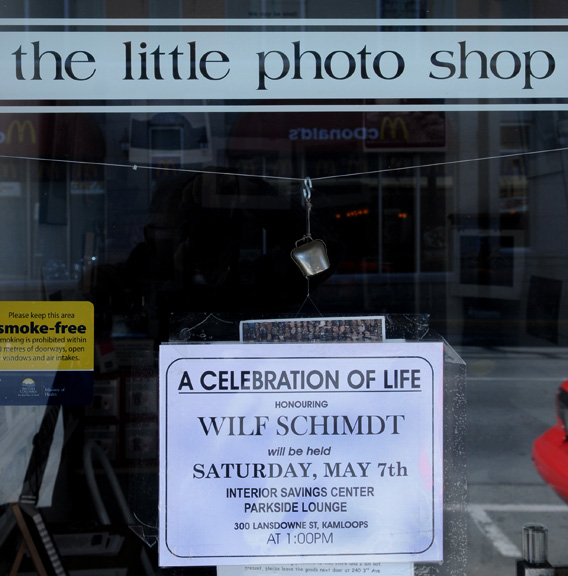 April 10, 2011 | Filed Under Art, BC Photography Archive, British Columbia, British Columbia Photographic Archive, Documentary Photography, Exhibition, Gallery & Workshop, Photography, Punk Rock, Vancouver Punk | Leave a Comment
Had the opening for my show of images of Vancouver punk rockers at Talk I Cheap Gallery in Victoria last night. A good turnout including the members of the Dishrags which was excellent.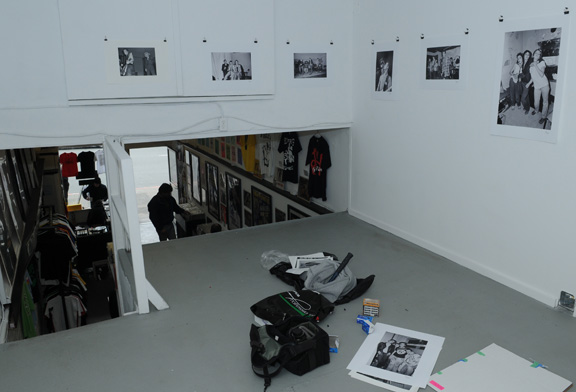 Hanging the show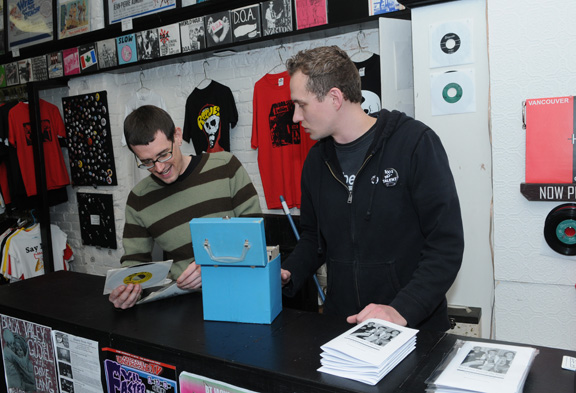 Jason Flower and Tiemen Kuipers sort through Vancouver punk singles.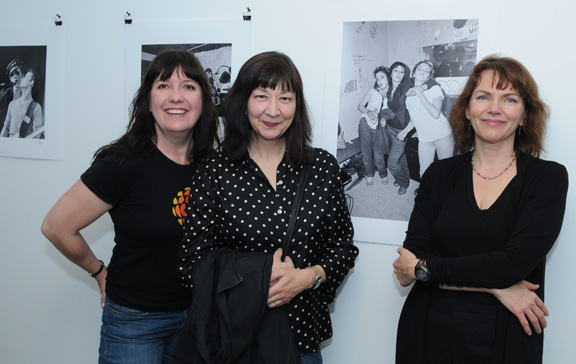 The Dishrags, Scout, Jade and Dale,  with a photo of their younger selves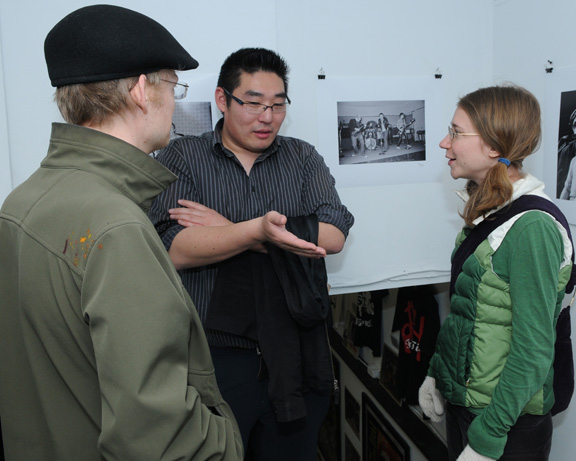 Friends chat during the opening
September 13, 2010 | Filed Under Art, BC Photography Archive, British Columbia, British Columbia Photographic Archive, Documentary Photography, Exhibition, Personal Project, Photography, Portrait, Punk Rock, Vancouver, Vancouver Punk | 1 Comment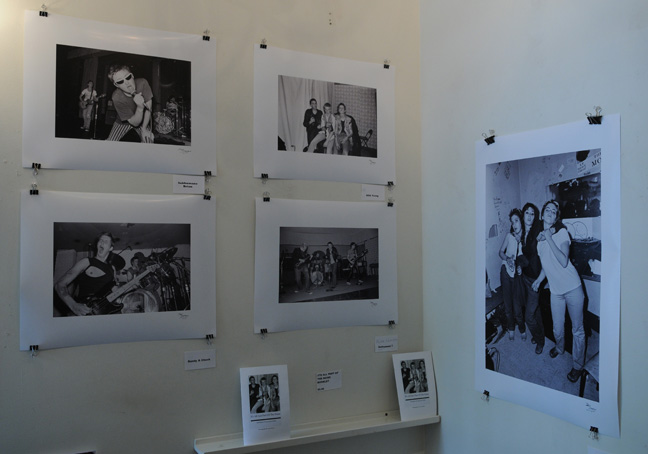 I had a great opening at the JEM Gallery Friday night.  We were scheduled to be open from 6PM until 9PM but it was after 11PM before people stopped dropping by. Saturday was excellent as well and we didn't close up shop until 5:30. Many thanks to gallery owner Carola Goetze for all her heard work.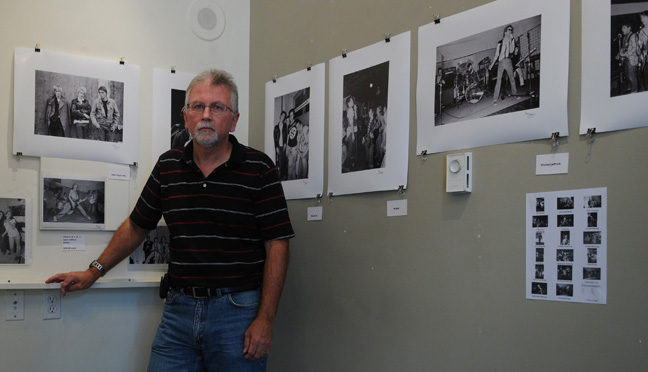 September 9, 2010 | Filed Under Exhibition | Leave a Comment
I've made up a small (16 page) booklet of images from the punk show for the JEM Gallery show that opens tomorrow night. First attempt with Indesign.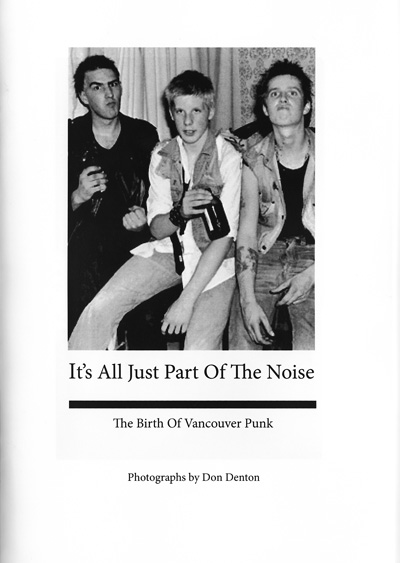 September 5, 2010 | Filed Under Exhibition, Featured | 1 Comment
I have an exhibition of photographs that document the beginning of the Vancouver punk rock world that opens next Friday September 10, 2010 at the JEM Gallery (#36 – 22 East Cordova Street)  in Vancouver. Please drop by and have a look. It's All Just Part Of The Noise, The Birth of Vancouver Punk runs until October 3rd.
Thanks to Carola Goetze for extending the invitation to exhibit at her gallery.
Many thanks to Tony Bardach for the use of his song lyric  "It's All Just Part Of The Noise"  in the show's title.  For me it encapsulates a lot about that era, in that we all were there, creating, playing, listening, photographing,  simply because we liked the music. We were all just part of the noise.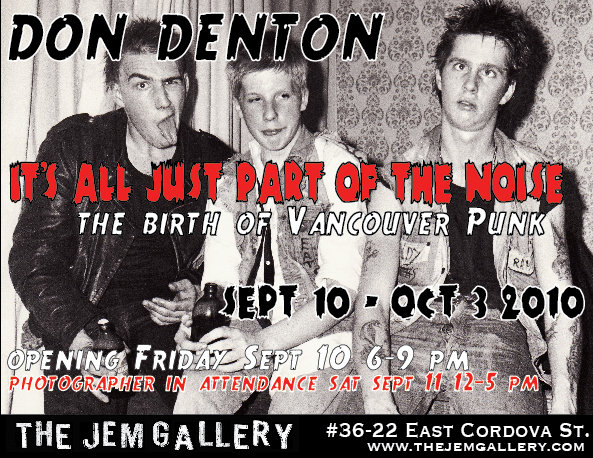 April 21, 2010 | Filed Under Canada, Canadian, Documentary Photography, Featured, Fine Art, Gallery & Workshop, Photography, Vancouver Island, Victoria | Leave a Comment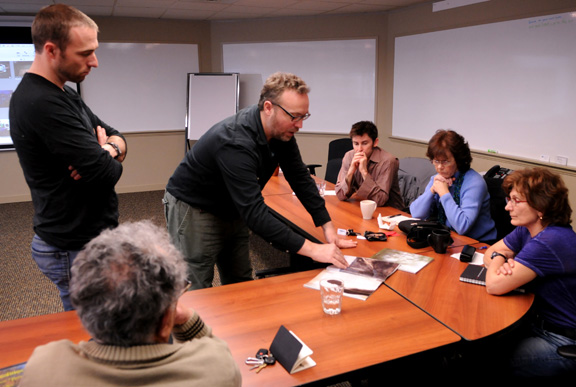 Last weekend I attended a two day workshop presented by Luz Gallery with Toronto photographer Don Weber, a member of the VII agency. We had a diverse group of twelve workshoppers (if that's a word). There was the legally blind Anglican minister, the woman who'd had Ansel Adams drop by her house when she was a child and critique her photos,  a philosophy professor who had just returned from a workshop with Mary Ellen Mark and the motorcycle riding government lawyer. The others were equally interesting. There was even a few of us pro photographers.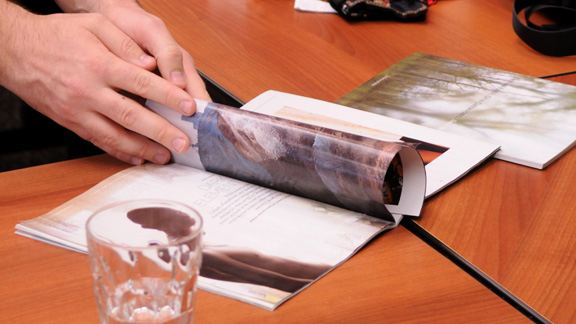 The first day focused on looking at various projects shot by Don as well as work by his fellow VII photographers and others. Don showed his Ukraine images including those from Chernobyl that are featured in his book Bastard Eden as well as images from Russia and other eastern countries. I've attended a fair number of lectures as well as short seminars but never a weekend workshop. Looking at it from the perspective of someone who teaches now and then I was impressed by the way Don was able to keep the day on track while allowing people to ask questions even if they were slightly off topic.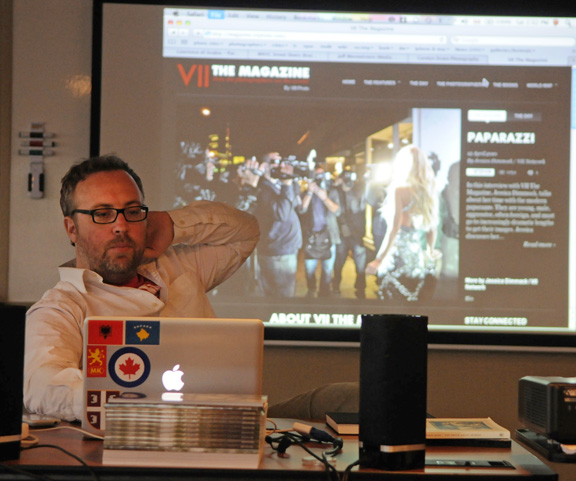 The second day we spent time looking at each other's projects with Don doing an edit of our images. It's always interesting ( and a good practice) to have someone else look over your images and provide feedback. Don was quite good at distilling everyone's pile of images down to a select few.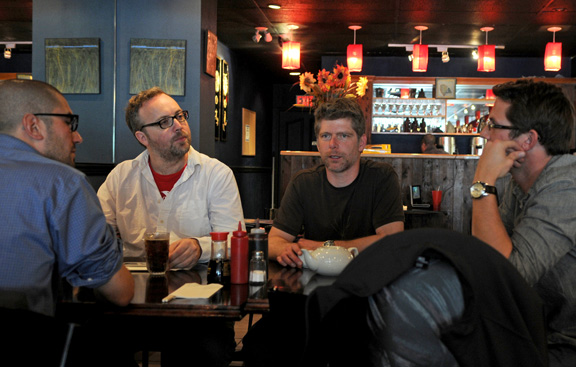 I found the workshop allowed me to look at my own work with fresh eyes and perhaps seek a slightly different direction with a couple of projects. I was also extremely impressed with Don's organization and his focus on his career. He appears to have a very solid understanding of where and how he wants to have his career advance and how to make that happen. That's awfully rare I think,  so it was very useful to see it explained.
This coming Saturday I'll be attending Don's grant writing workshop and I'll be looking forward to that and having the mysterious world of grants simplified.
I have to say that Luz Gallery's Diana and Quinton's hard work at promoting shows and putting on workshops like these have made Victoria a far more interesting place for photographers. A year ago there was simply no chance to spend a weekend with a photographer of the calibre of Don Weber.  Now we have someone coming in every few months, and sometimes weeks,  for a new show or workshop.
April 1, 2010 | Filed Under Exhibition, Gallery & Workshop | Leave a Comment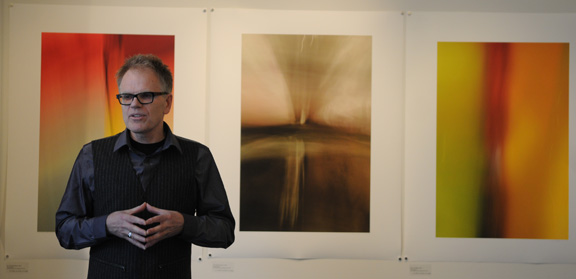 The Luz Gallery had an artist's talk and opening for the work of Saskatchewan photographer Thomas Bartlett tonight. Bartlett works with digital cameras creating his abstract images, images that he likens to colour field paintings.
March 29, 2010 | Filed Under Arts, BC Photography Archive, British Columbia, British Columbia Photographic Archive, Canada, Canadian, Documentary Photography, Gallery & Workshop, Historical, History, Interview, Kamloops, Photo Studios and Work Spaces, Photographers, Photography, Portrait | 10 Comments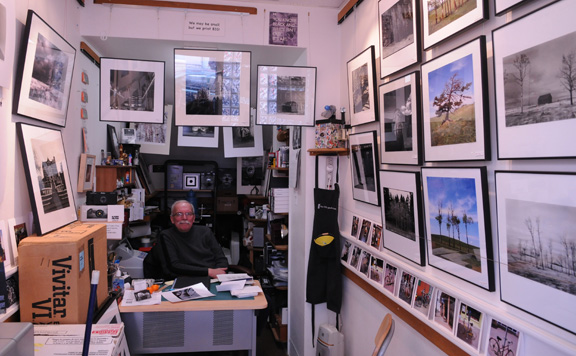 I was in Kamloops this past weekend, the first time I've spent anytime there in at least three years.  One of the last times I was there I'd come across this gallery/store on 3rd Avenue run by photographer Wilf Schmidt and I was curious to see if  he was still there, and he was. Schmidt calls his place The Little Photo Shop and claims it's "The World's Smallest Photography Supply Store'. The former high school photography teacher sells prints of his own work but also stocks black and white film, Holga cameras and has a group of pinhole cameras in the back of the shop as well as other photo odds and ends. It's a very cool space and it's tiny which just adds to the charm. The shop is currently a little more crowded than usual as he is selling off his darkroom equipment and has the boxes stacked there. Hidden behind him is an antique safe, part of the original furnishings in the heritage building his store is located in.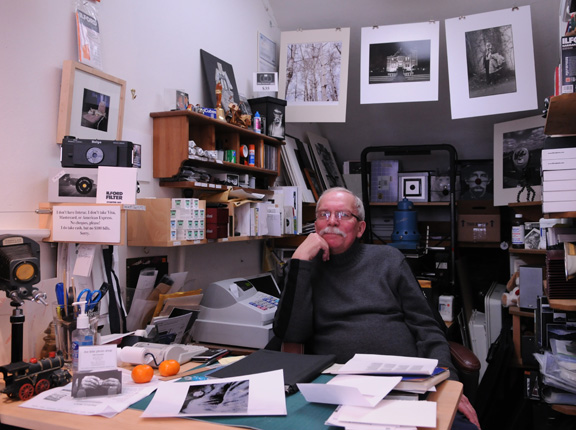 Wilf  in the  'office' section of his shop.
Wilf shows off a tiny camera that actually works. It originally came with rolls of film.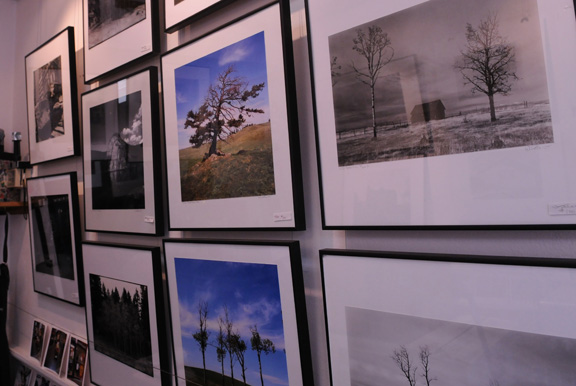 A few of Wilf's photographs