October 20, 2010 | Filed Under Blog, Personal | 1 Comment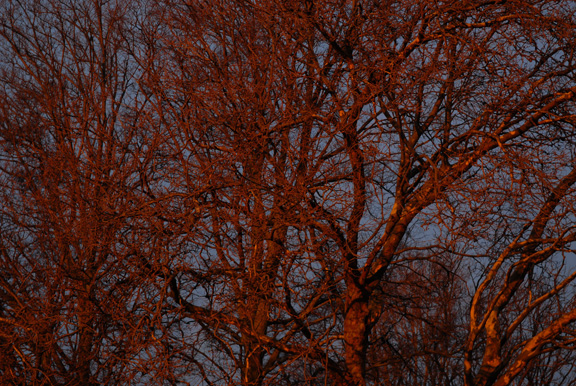 Why am I blogging?
Well,  the common wisdom when I had my website built was that you had to have a blog with your site. Everybody was doing it.  If you wanted to draw attention to yourself and your work then you had to blog. Just having galleries of your photos wasn't good enough. A blog however, if you posted at least twice a week, would have editors flocking to your site.
The reality is , of course, different.  Posting a few photographs on your blog is no guarantee of anything especially if you start losing interest and only post now and then. Which is what had been happening here.
It was important to realize that the blog wasn't was was important, the blog is only a platform for delivery, the content is what is important ( repeat to self Content is King,  Content Is King).
I wasn't sure what to do about my blog so I did a little research, mainly going back to blogs I like and taking a closer look at what it was that I enjoyed. I also checked out bloggers who blog about blogs and blogging, some of the more interesting ones anyhow and a couple of trends did emerge.
One was the advice that it wasn't enough to just post a new photo, or piece of art or an update on what you ate for breakfast, that's not enough to hold your readers interest, at least not very often or for very long. The other was that you should post on topics that you are interested in because you can usually find a group of readers who are interested in the same topics you are. If you write about those topics, in a manner that's entertaining, controversial, timely and/or at the very least well written, you'll pull in the people who have that common interest.
It all sounds obvious and it is, the challenge is in the doing, on a regular schedule and for a long period of time.  The time part is especially important because that's how you start to keep the readers that enjoy the same subjects you do and enjoy whatever it is you're posting about them.
So, what am I going to do?
I'm going to keep blogging but on a far more regular basis (he says with fingers firmly crossed). I'm going to post on topics I find interesting. There'll be lots of stuff on photography and photographers.  I enjoy when I teach photo classes so I'll try and make sure some of the posts are educational, maybe lessons learned from my assignments. I'll write about other subjects I find of interest,  things like the media (all of them), blogging and bloggers, public relations and marketing, travel, hockey, music, coffee, scotch and beer. Not necessarily in that order.
I'll post photos too. Sometimes connected to the article, sometimes just because I like the image. I'll keep posting the odd punk photo too because I know there is a group of people interested in those and because I am too.
Let me know how I'm doing.
February 22, 2010 | Filed Under 2010 Winter Olympics | Leave a Comment
Best overheard conversation of the day.
Visitor: How do I get to the Canadan Mint display?
Olympic Volunteer: Walk two blocks until you come to the end of a lineup and stand there.
As a fan the Canada vs USA match was a disapointment but next game, for sure. We can beat Germany, can't we?
Today I have aerials at Cypress at 6pm. That means catching a 3pm bus to the mountain (55minutes), an hour window to set up and make sure everything is on time, out to the course to get a spot an hour ahead and even then all the best spots will be taken. Wait and hour, shoot for an hour and a half, rush back to file, Hike back to the media bus stop (a long trek at Cypress, especially with all your gear at the end of the day). 55 minutes ride back to the media centre and then still have an hour back to my bed.
I'm envious of the guys at the bigger organizations who have hotels close by.
Knock wood, no serious camera, computer or disc problems, seeing other photographers trying to recover images from damaged discs and dealing with malfunctioning cameras and computers. I've lost a skylight filer and the protection screen from the back of one camera. Screen rubbed off while was sprinting through Whistler village trying to catch the bus back to Vancouver (or have to wait another hour). Made it with the door literally closing behind me. Then spent 15 minutes trying to breathe again. Sprinting with a camera back, computer backpack and long lens while trying not t run over small children not recommended especially for the out of shape, yes me.
February 15, 2010 | Filed Under 2010 Winter Olympics | Leave a Comment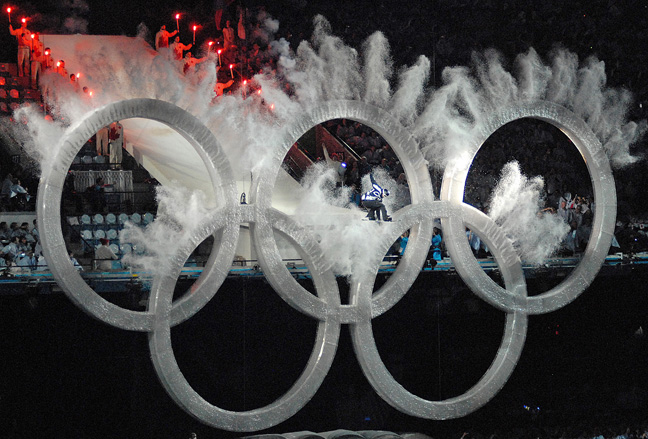 Yeah, it's been a little hectic even though Sunday was a day off.
But I'll back up a little.
Saturday we were supposed to go to Whistler for the Men's Downhill. Got up very early and was at the main press centre by 6AM in plenty of time for the 7AM bus to Whistler. My phone rang and I was informed the event had been postponed.  So, finished up some left over photos and sent them and then went back for a couple of hours sleep. Heading downtown again just after ten and another phone call informs me a protest had gone bad and windows were damaged. Shoot those and then some features and then rush back to file before heading up to Cypress Mountain for Women's Moguls. About a fifty minute ride to Cypress and then a 10 minute slog in the rain to the media centre. We had to be on the course an hour before the event so standing waiting in the rain on a slope, trying to keep your gear dry. Then shoot the qualifier and head back to the media centre to file. Our skiers qualified so back to the course and hour before the final start and then the rain really started to come down. Finally finish feeling fairly damp and rush back to file. Then, head out t catch the media bus back downtown. It's at least a fifteen minute walk to the pickup point. Not bad when it's dry but it was pouring, it was the end of the day and I was carrying all my camera and computer gear. Then the bus was late and no shelter so just hug the gear under the umbrella and wait. Home just before midnight.
Sunday sleep in until 9am and then downtown to have a look around, bring cameras just in case. Nice day at least a much better showcase for Vancouver. Then to folks for dinner and  a visit although not before a stop to beef up my rain and winter gear.
Today up before 4AM and Spencer drove me to SFU to catch 4:52 night bus to downtown. On 6AM bus to Whistler for Downhill event (postponed from Saturday). It's tough shooting different events every day as every venue is different so you have to figure everything out all over again. On course just after 9:30 for 10:30 start. All goes well until our main guy Robbie Dixon crashed high up the hill so no images except for presser later. On a more positive note, it was dry!!!!!!!!!
Now it's almost 8PM and I'm still at the main press centre and have to be up at 5AM to catch all my transit to be up at Cypress tomorrow for snow cross.
A couple favourite pix so far posted. Remember more images being posted at:
http://www.bclocalnews.com/olympics
February 7, 2010 | Filed Under 2010 Winter Olympics, Photography, Photos | Leave a Comment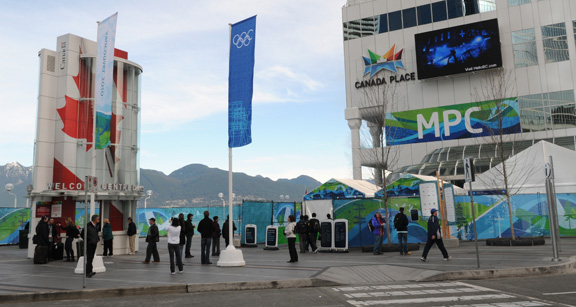 Main press centre in Vancouver.
I picked up the last of my Olympic credentials on Saturday and so am officially official. Lots of Olympic workers and media, with special clothes and accreditation tags around their necks,  and police in the downtown core but hard to see 'Olympic fever' among regular folks. Most of the Olympic signage you're seeing is commercial but there are a few small signs of locals stepping up and adding to the real (as opposed to paid) spirit by decorating windows or hanging Canadian flags. Hopefully we'll see more of that as the events progress.
Royal Bank building on West Georgia Street.
Home made decorations in the windows of a downtown office building.
The Bay Store Olympic decor.
November 7, 2009 | Filed Under From the Newspapers | Leave a Comment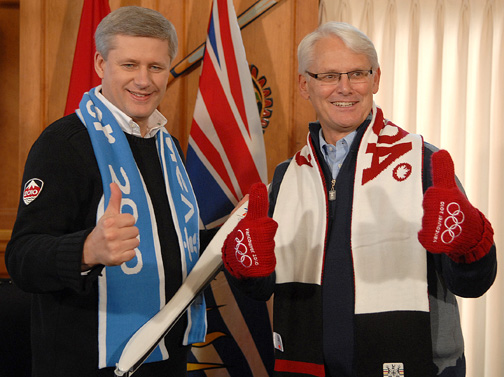 An interesting article in the Globe and Mail regarding the growing control by Prime Minister Stephen Harper's office over the photo coverage of the PM.
Here's the lead on the article:
Minutes after Stephen Harper finished his now-famous rendition of With a Little Help from My Friends , the Prime Minister's Office e-mailed Canadian media an arresting close-up shot of what it described as the gala piano performance.
Only it wasn't.
The picture, which featured Mr. Harper framed by dazzling theatre lights, was actually snapped by a PMO photographer at a private rehearsal hours before the Oct. 3 evening concert.
My photo above was from a brief photo opp in Victoria a few weeks ago where photographers did have access.