August 11, 2012 | Filed Under Photography | Leave a Comment
Back from a few weeks worth of holidays, lots of driving and visiting and not a lot of photography  which made  this posting from Dan Milnor an interesting read. Dan talks about how photographers often feel they need to always be photographing, working away at something. He's recently come to feel that attitude means he's missing out on other things life has to offer. Food for thought. I did shoot a few photos though, such as friends/family above and the Vancouver image below.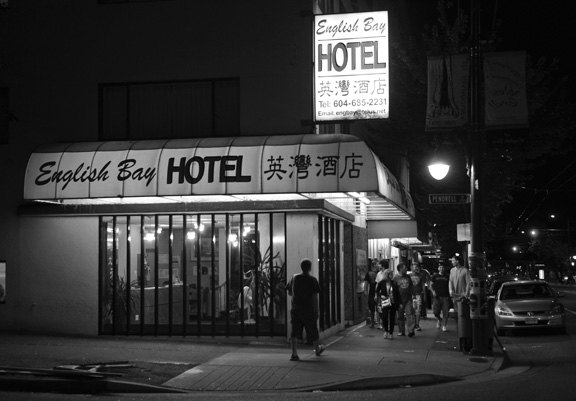 April 10, 2011 | Filed Under Gallery & Workshop, Vancouver Punk | Leave a Comment
Had the opening for my show of images of Vancouver punk rockers at Talk I Cheap Gallery in Victoria last night. A good turnout including the members of the Dishrags which was excellent.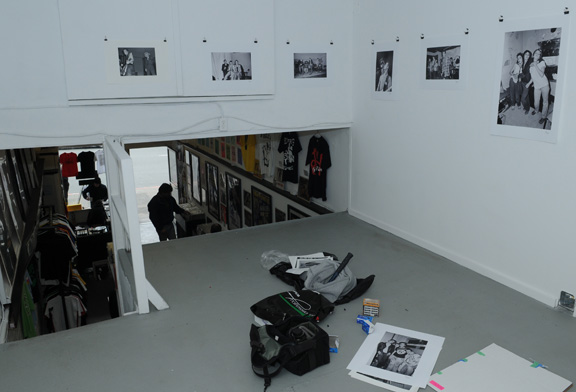 Hanging the show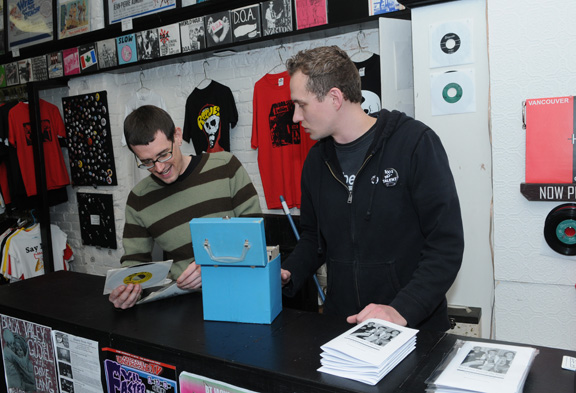 Jason Flower and Tiemen Kuipers sort through Vancouver punk singles.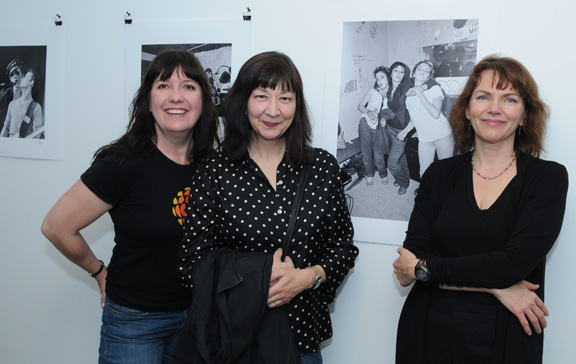 The Dishrags, Scout, Jade and Dale,  with a photo of their younger selves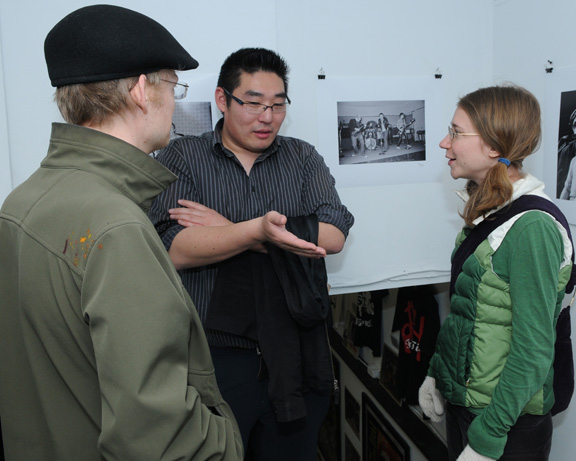 Friends chat during the opening
April 6, 2011 | Filed Under Music, Photography, Vancouver Punk | Leave a Comment
I have a new show of my early Vancouver punk photos opening at the Talk Is Cheap Gallery on Pandora Street in Victoria this coming Saturday. I've been sorting through my negs yet again and had a couple news ones scanned. It's interesting what I keep finding.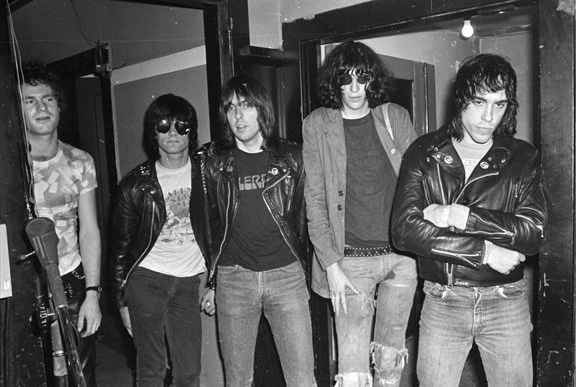 I came across this group shot of the Ramones posing for me before their gig at the Commodore.  I did notice the guy standing at left looking on but just figured he was a roadie or something and I'd just crop him out. However after seeing the scan I'm pretty certain that's  it's Gerry Hannah from the Subhumans.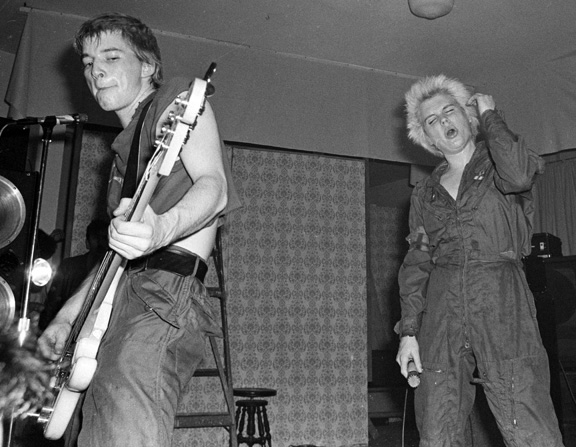 This is The Avengers, with Penelope Houston at right. I photographed them twice when they played in Vancouver.
October 17, 2010 | Filed Under Photography, Vancouver Punk | Leave a Comment
I'm continuing a long slow sort through my boxes of negatives. A good lesson as to why you should keep your work not only organized and catalogued as you create it but make sure you have adequate written information with the photographs. There are so many envelopes of negatives documenting events that I only have a vague remembrance of.
I came across a folder of images of Tim Ray and his band AV who were part of the early Vancouver punk explosion. I've been having difficulties with my neg scanner (the old software doesn't seem to like the new computer) so I can't scan my negatives right now. I did find this print though and scanned it on the flatbed.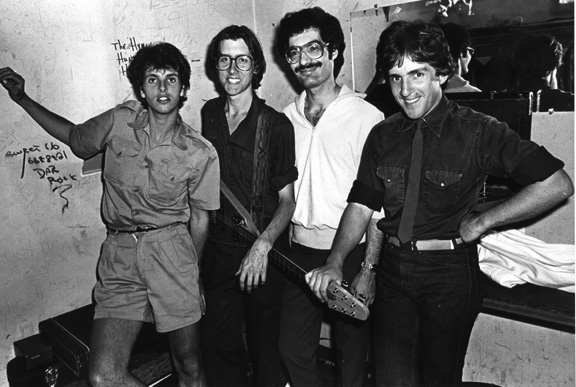 The photograph shows (L-R) Tim Ray, Bill Napier-Hemy, Unknown to me, Colin Griffiths in a dressing room at one of the clubs. Napier-Hemy and Griffiths played in the Pointed Sticks as well.
Tim was an interesting guy with quite a theatrical performance at times. I was just looking at  negatives that show him starting out a show while his upper torso was encased in a large bag that he then punched his way out off. Unfortunately you'll have to wait for the fixing of the scanner before I can show those.
September 13, 2010 | Filed Under Exhibition | 1 Comment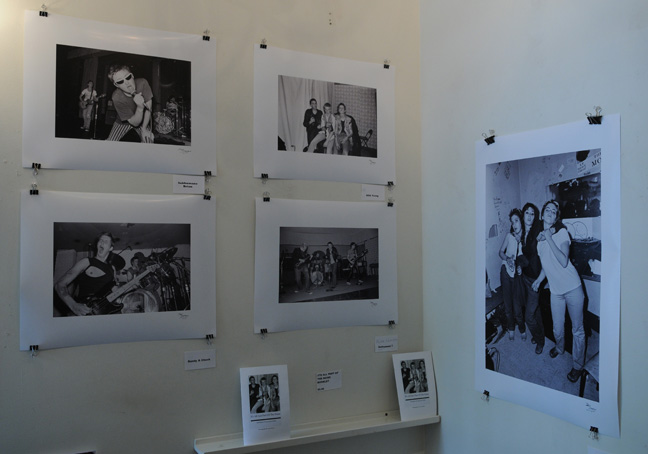 I had a great opening at the JEM Gallery Friday night.  We were scheduled to be open from 6PM until 9PM but it was after 11PM before people stopped dropping by. Saturday was excellent as well and we didn't close up shop until 5:30. Many thanks to gallery owner Carola Goetze for all her heard work.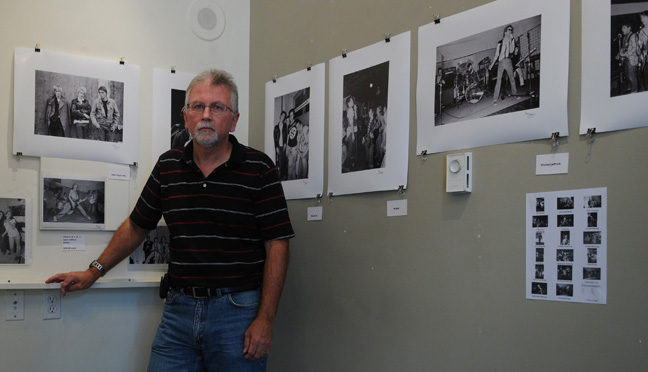 March 15, 2010 | Filed Under Photography, Street photography | Leave a Comment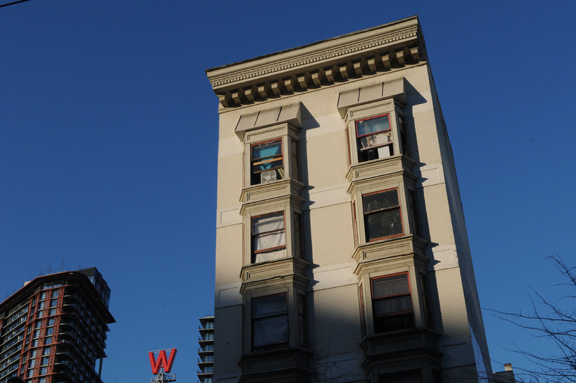 I really need to get back to Vancouver and just spend a few days wandering around capturing images not just snapping pix on a quick stroll back to other work, although that was fun too.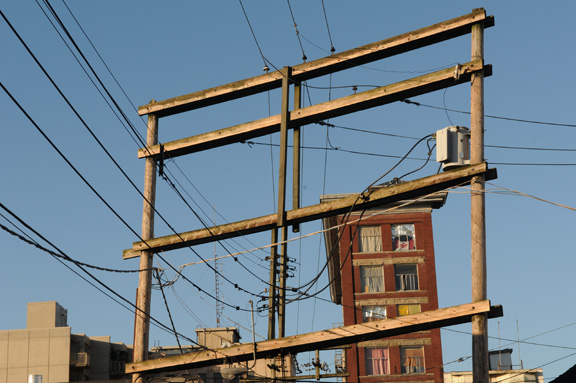 March 4, 2010 | Filed Under Uncategorized | Leave a Comment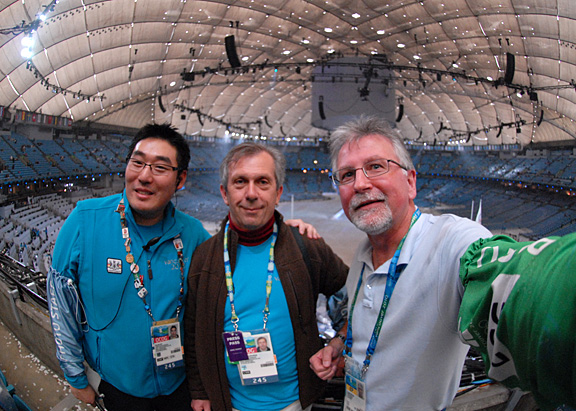 Arnold Lim, A. P. Hovasse and myself before the closing ceremonies at BC Place Stadium
Well, it's all over and it was quite a ride. The early bus rides and wet wet weather are fading memories and I'm left with a vague depression now that it's all over. I'm sure a few others are feeling the same.
The closing ceremonies were, I thought, pretty cool although they dragged out at the end. A lot of people didn't enjoy the Canadian Icon production but I thought it was great.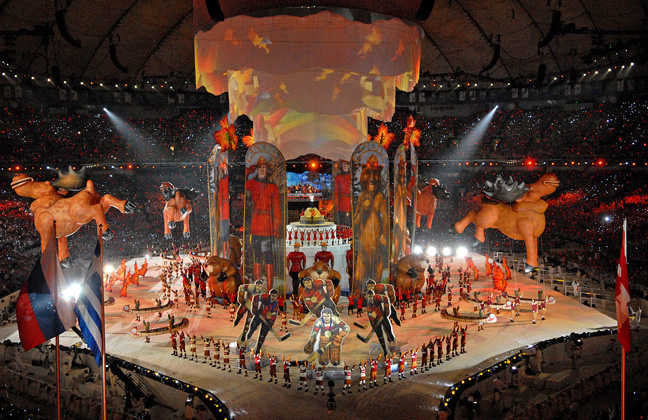 Now it's back to the real world but I'll post a couple of last images. A crash,  jubilation and dejection.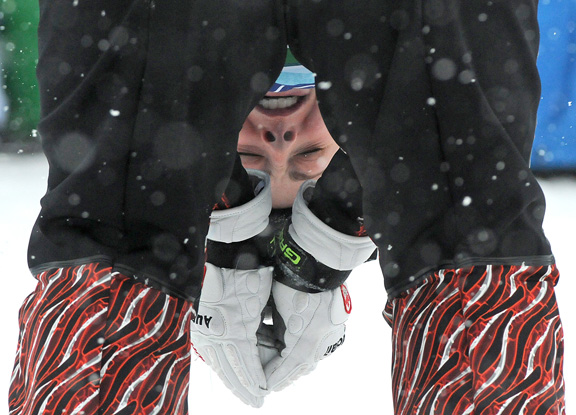 February 20, 2010 | Filed Under 2010 Winter Olympics | Leave a Comment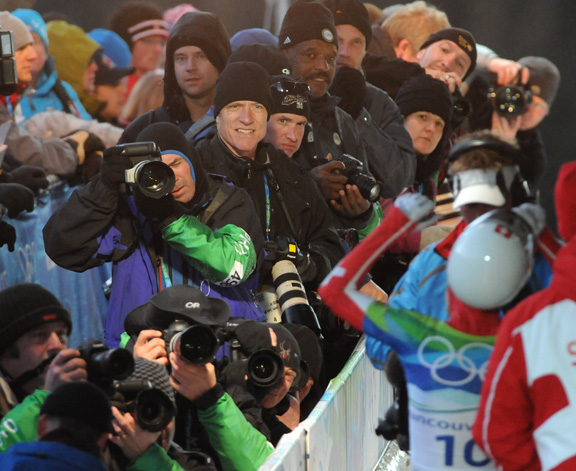 Photographers at the Skeleton track finish line.
It's been busy, riding buses, getting to venues early to hold your place, waiting for the event to start, shooting like crazy, rushing to file, back to the bus. Trying to maintain a somewhat normal eatinng and sleeping schedule and pretty much failing.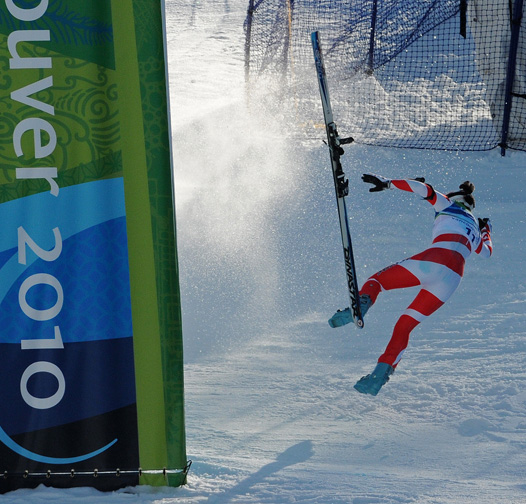 One of the biggest challenges is shooting a different sport almost everyday, sometimes for the first time. Yesterday I shot Skeleton, amazingly fast. I was shooting at 2000 of a sec and got two frames of the athlete I needed zooming by.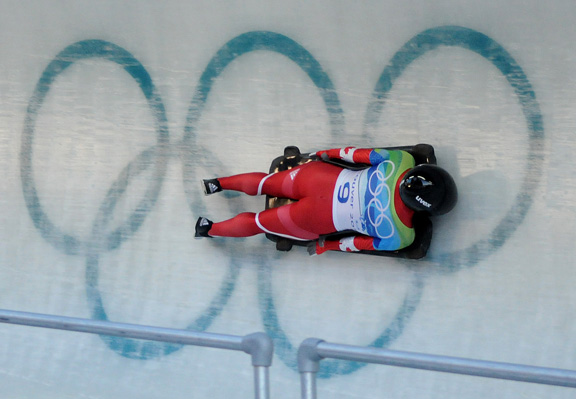 By and large I'm happy with the images I'm getting and it's all an experience.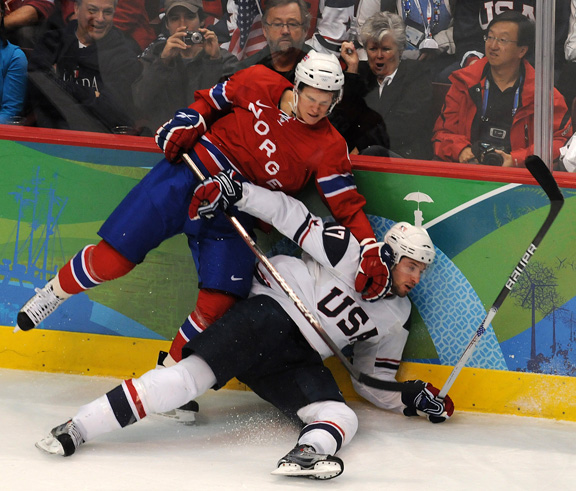 Downtown the public crowds are crazy big and getting bigger everyday. Everyone seems in a great mood, it would be nice if downtown Vancouver was like this all the time.
February 16, 2010 | Filed Under Uncategorized | Leave a Comment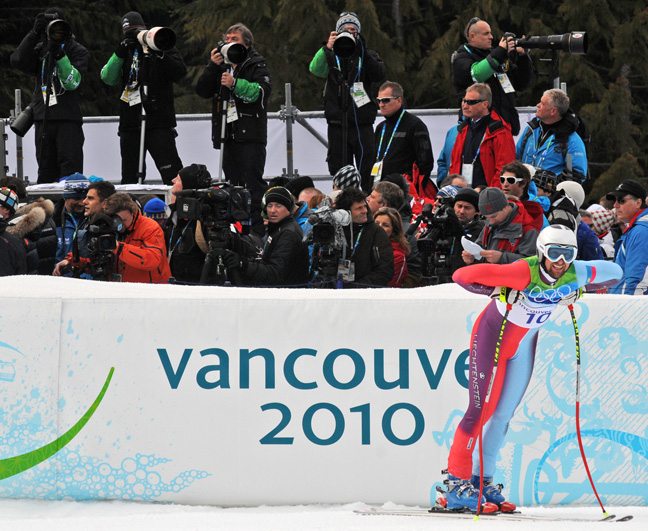 Photographers and skier at Whistler.
I was having trouble last night double checking my schedule which is too bad as I could have gotten in another hour of sleep or so.
We're heading up to Cypress a little later today and we ae going to get wet again today. It is pouring rain out and it's certainly not going to be dryer up on the mountain.
We've divided into two teams (reporter/photographer for these games) and it's funny the way things go. So far the other team has got all the good (or at least dry weather) and the events where Canadians have won medals. Grant and I keep getting the rain and our athlete crashing (well out of photo range) and end up out of medal contention.
A few observations. The Olympics seem to have everyone in a good mood, at least in the core area. There's a noticeable difference on transit from last week. People are smiling and talking to each other far more and it's all Olympics (well, and weather, but then it's always weather here).
Sometimes it's the little details that stand out. Everyone wants to make an good impression on the visitors here for the Olys and then you see something like the bus stop on the West/North Vancouver entrance to the Lions Gate bridge. The media bus was full on a return trip from Whistler and we were slowly merging into traffic so we had a good long look at the bus stop/shelter which was decrepit and had litter scattered all around it and not just a few fresh pieces of paper but old garbage. You think the municipalities would have cleaned up and kept clean all areas along heavily travelled routes. It  just looked bad.
February 12, 2010 | Filed Under 2010 Winter Olympics | Leave a Comment
Day 3 for me is the actual first day of the Oylmpics and the first day the Black Press crew were out and filing all day. You can follow what we are shooting and writing at http://www.bclocalnews.com/olympics/.
Got a later start today, headed out from the main press centre before noon looking for people from the communities our papers represent who were out celebrating the Olys. Found lots of people around the art gallery taking photographs of the countdown clock and of former torch bearers who'd come downtown with their torches  to watch the final day of the run.
We had thought the run ended late in the day but it finished up a the First Nations Pavilion at about 1:30. A phone call alerted me to that and  hustled down there.  The crew around te Pavilion wouldn't let e in saying the event wasn't an Olympic event but a BC Tourism event. Didn't really make sense but I just went out back in the street and shot the final runner coming down Georgia and then just followed him and the police escort into the Pavilion area and got a couple pix of the torch bearer lighting the cauldron with Buffy St. Marie, the singer.
Just as I finished that I got a call saying I had been given a late pass to the opening ceremonies, for some reason a couple of spots had opened up. That meant a hustle back through downtown to the press centre to pick up the pass for the evening ceremonies and then edit ad file the torch pix. Then ran out to catch the bus to the stadium.  All the photographers had to go through a complete search of their bags, removing everything from our pockets and taking off belts etc before we were allowed on the buses. They're taking security seriously but it's relatively fast and staff is friendly about it all.
My bus arrived around  3:30 PM for the 6PM ceremonies and everyone was staking out seats in their assigned areas of the stadium,. It's a long time to sit and stand around your seat waiting for the actual event. Luckily I had the Globe's Fred Lum next to me and the Star's Steve Russell behind so  had people to chat with. The big Russian guy next t me didn't speak any English, well not to me anyhow. As I was the second shooter for the event I just shot the first hour and then bolted back to file the images.
Then a rush to catch the Skytrain before the ceremonies finished and that way avoid the crush.
Now, to file a few more photos and then to bed until 4AM and off to Whistler tomorrow.