January 17, 2013 | Filed Under Gallery & Workshop, Workshop | Leave a Comment
I'll be teaching a documentary course and a couple of one day workshops at the University of Victoria. Sign up here http://www.uvcs.uvic.ca
Courses are:
Documentary Photography: Creating the Personal Project
In this course you will learn how to use the techniques of documentary work to create a personal photo project. Participants will examine the work of other documentary photographers and see how and why certain ways of seeing and photographing can be applied to their work. You will learn how to organize your own projects, budget time, find out how to edit a project and discover different ways to bring that project to a larger audience.
Students will work on a project throughout the duration of the class; this can be an existing project or something new and initiated by the class experience. This work will serve as a catalyst for class discussions and critiques. This is a course about creativity, not equipment. Participants can use whatever equipment they own, digital or film.
Editing Your Photographs—Developing a Critical Eye
Do you have a jumble of images stored away on your hard drive or boxes of prints tucked away in the closet? Learn how to look critically at your photographs and find the treasures hidden among the less successful images. We'll also learn how we can have a higher success rate while shooting by learning to edit as we photograph. Students should bring a selection (20–40) of 4 x 6 machine (cheap) prints to the class from a project, trip or just that box in the closet, as well as a camera and a notebook.
Find the Photo Spark
Have you lost your photographer's creative urge? Do all the images you take seem to look like the last one? Rekindle your photo creativity with a day of exercises designed to make you and your camera best friends again. Bring your camera and a notebook and prepare to exercise your mind and eye and have some fun in the process.
April 11, 2012 | Filed Under Gallery & Workshop | Leave a Comment
I've just finished up the documentary project class I was teaching as part of the University of Victoria's Continuing Education program. The first time for continuing ed and it was a great experience. A small class but enthusiastic and everyone ended up working on a great project of their choice. The best part of teaching for me is watching the students' confidence and skill improve through the duration of the course. We ended up with a real variety of projects and some amazing individual photographs. I've got another proposal in for a fall course at UVic. I'll post the details when I know it's a go. It'll be  a very different photo offering.
July 4, 2011 | Filed Under Personal | 1 Comment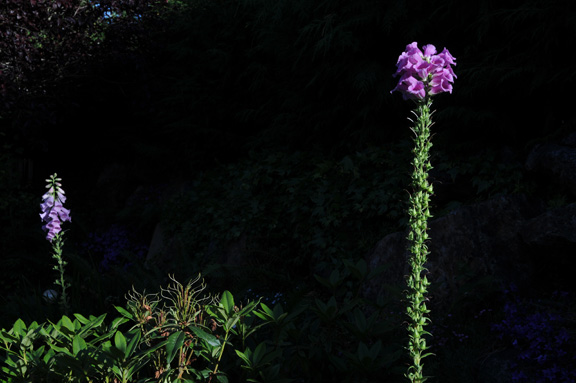 Micah Escamilla had her Facebook status yesterday as Light Hunting which I thought was probably a perfect permanent status for any photographer.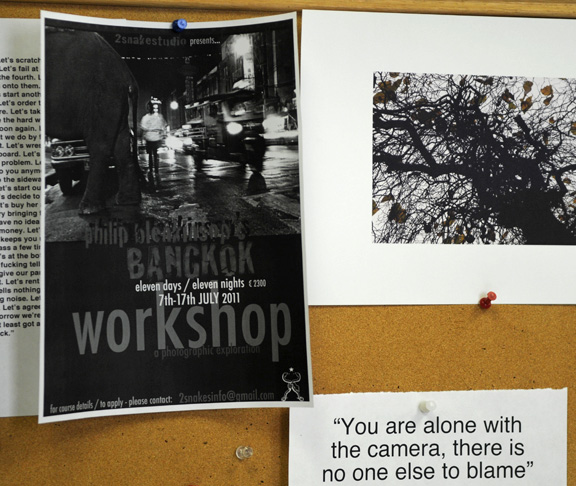 I have this poster for a workshop with Philip Blenkinsop on my bulletin board, not because I'm going but because I wish I was. The image alone will have to serve as inspiration.
If you've got a documentary bent and want some more inspiration then check out the interview over at Smogranch with Norman Mauskopf. It's been up for a couple of day but if, like me until I read this piece, you don't know Mauskopf or his work it's worth checking out.
March 2, 2011 | Filed Under Gallery & Workshop, Photo Coach | 1 Comment
A busy week for talks with a presentation Monday night on documentary photography to the good folks at the Esquimalt Photography Club and a Tuesday Q & A with students in the written Images class at the Western Academy of Photography. Both were a lot of fun for me and hopefully everyone got a little photo info to think about. Tonight after work I checked out the opening of the Club's photo exhibition. The great thing about photo clubs is you get such a great variety of photography subjects and styles, something for everyone.
February 13, 2011 | Filed Under Interview, Photo Book | Leave a Comment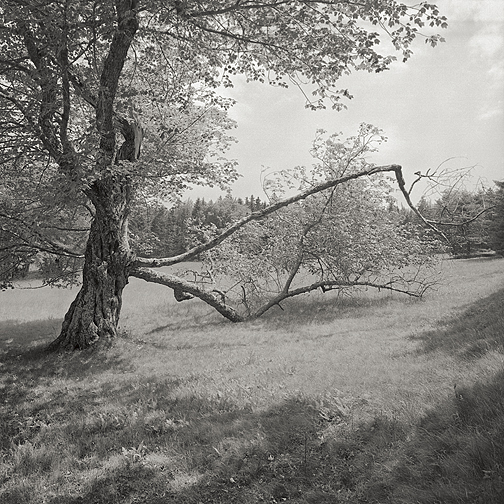 1:  You came to photography as career fairly recently. What made you or how did you come to make that decision to become  a photographer?
I started photographing in college actually, which was 15 years ago.  We had a very small darkroom in the architecture school where I was studying and I was lucky enough to be able to work one-on-one with an architectural photographer, who taught me quite a bit in a short amount of time.
I've been committed to building portfolios of work for about 6 years. It started after seeing a retrospective of Harry Callahan's work at the National Gallery of Art in Washington, DC.  I knew, when I saw his prints, that I wanted to dedicate myself to being able to print and photograph at the high standard that he was.  From there, I started taking intensive workshops and reading whatever I could find to hone my technical abilities.
2: How would you describe your photography?
I would describe it as stories that build slowly, where one image leads to the next and an understanding comes at the end, when some conclusion is made.  I tend to work from the inside out, using photography as a way to communicate what my fears are, what my hopes are, what I long for.
3: You use film, why?
I use film for two reasons.  The first is because it gives me the best quality files to be able to print from. I have not experienced a digital camera that can give me the range of light that film can.  The second is habit.  I have my process down, I'm comfortable with it, it's what works for me.
4.  How do you print, digitally or traditional wet darkroom and why?
I print digitally because I have the most control that way over my prints.  I used to be a darkroom printer and I've also tried platinum, but I like, for example, to be able to control localized contrast and sharpening, both of which are problematic in traditional wet darkroom printing.
5:  You've created two books of your photography. Self published photo books are extremely popular right now but yours are different in that they are very high quality. Most photographers are printing lower quality/priced volumes. Why did you decide to go a higher end project?
I decided to make handmade books filled with original prints because I haven't found a print on demand option that can produce the level of printing that I like to present my work.  Print on demand books are also quite expensive to produce, not that much less than what it costs to produce my handmade books.  I think they are perfect for many photographers, it's just not the kind of presentation I'm interested in for my work.
6: What were some of the challenges you faced in producing your books?
The downside to producing handmade books is the amount of effort, time and upfront costs associated. There are more options to consider, what paper, what binding, what edition size that go into the process.  Hand-printing an edition of 60 books with 39 images in the book is a huge undertaking, and I've learned, as I've gone through it, how to get better at managing my time, but it's still a huge process.
7: You've had numerous gallery exhibitions of your work. How do you see the difference between the 'gallery' of a book and images hung on a wall?
The biggest difference is the ability for the artist to control the viewing experience more.  Usually, with images hung on a wall, people move to look at images that interest them, they can skip images, or move out of the order the artist intends.  With a book, beyond just controlling that viewing experience, you can go beyond just the sense of sight and incorporate touch, sound, text, and other means of telling your story more carefully as well.  In addition, a book is a personal experience, it is something usually done alone, and is portable also.
8. You live in Portland, Oregon which does have a reputation as an artist friendly city. Would you agree? What is the attraction for a photographer?
It's definitely an artist friendly city.  There is a large artist population, not just limited to photographers.  There are large printmaking, book arts, and graphic arts communities as well.  The attraction is to be surrounded by other photographers that are working artists, not just hobbyists, and to also have galleries importing good works to show as well.  The point is keep pushing forward, and part of that is being exposed to other good work.
9: You've photographed in Nova Scotia and are currently doing work on Salt Spring Island. What;s the attraction of Canada?
There wasn't an attraction to Canada per se, although Canadians do seem more open to me freely trespassing on their property!  I went to both places because they looked like beautiful places to go and photograph, not because they were in Canada.  I should say that Canadians have treated me wonderfully, and I'd like to do more work there.
10. You have a site, Photo Radio, where you offer sound only interviews with photographers. In these days of  YouTube, why radio rather than video?
I don't know the first thing about video.  And frankly, it seems pretty intimidating to me.  I'm not sure what you would get from video that you can't get from audio.  I also prefer stripping away the visual at times and just focusing on someone's words and thoughts, I think it puts everyone on a level playing field.
11. You offer workshops in marketing yourself as an artist. What is the attraction for you of teaching a workshop?
The attraction is being able to share what I have learned in the hopes that the information or experiences that I have will be useful to others.  There are so many aspects to being a successful artist, I have always been as open as I can in sharing what knowledge I have with others, I would hope for more of that actually from the entire community.
12. What are your top three tips for anyone wanting to become a fine art photographer?
I only get three?  I can't do less than four!
1- Hone your craft.  If you don't have the foundation to craft good photographs and prints, you're going to be leaping way ahead of yourself and eventually, you'll have to come back, so might as well learn to take good pictures and make beautiful prints from the start.
2- Make connections. The biggest part of gaining an audience for your work is through making connections with anyone associated in fine art photographer, whether that be other artists, or curators, or even writers.  You never know how someone can help you or your career, so talk to lots and lots of people.
3- Develop a thick skin. There is so much rejection involved with trying to get your work out there, that if you're sensitive, it will be a problem.  I have been rejected so many times I've stopped counting, and even though I know it could have very little to do with me or my work, it's still tough to swallow sometimes.
4- Give back. No matter how much or how little success you experience, you should always try to give back to the community, to nurture younger photographer, to educate, and to encourage sharing, acts that benefit us all.
Lauren Henkin's site is HERE.
April 25, 2010 | Filed Under Gallery & Workshop | Leave a Comment
Spent Saturday learning about the ins and outs of the world of grants in another Luz Gallery sponsored workshop with Donald Weber.  It was all interesting and it was a busy and intense day with a great deal of information being offered. The bottom line though, is that like most things in life, there's a lot of work and time involved in the process. Anyone looking for or expecting information that will result in a quick handout of cash would have been very disappointed.
There is the thought as well that if we're all starting to pursue the grant world as an alternative to the disappearing editorial market, won't the grant world become more of a challenge to access? It's not like there are a huge amount of new grants appearing every year but more photgraphers are applying for the existing grants.
It's all food for thought though and each photographer has to try and figure out how to blend all the elements of the photo world to make it work for them.
April 25, 2010 | Filed Under Art, BC Photography Archive, British Columbia, British Columbia Photographic Archive, Canada, Canadian, Careers, Documentary Photography, Don Denton, Donald Weber, Personal Project, Photographers, Photography, Photojournalism | Leave a Comment
One of the downsides of living in a smaller place is that you have a tendency to feel isolated from the rest of the world. This week Don Weber was in town for a couple of workshops and it was a nice reminder of the wider world out there.
Thursday night I met up with him and a couple of other local photographers at a local pub and we had one of those great freewheeling talks over a few drinks that left me buzzing with ideas at the end of the night.
Don and I were joined by Deddeda Stemler, Sean White (the two just back from three months in the Philippines) and Duane Prentice, all local photographers although Sean is also a videographer, filmaker, producer etc.
We chatted about the basic (equipment and cameras) , we talked about travel, we talked about technical things and format but most of all we just talked about ideas.  Everybody had different viewpoints  but it was all agreeable and thought provoking. I don't really know Duane, this was the first time I had had a chance to chat with him and while he was quiet (compared to the rest of us) he had some interesting insights and thoughts about challenging yourself as a photographer.
The next day I took a look at Duane's site and was struck by the connection between his Remnants project, David Pollocks's Sign, Symbol and Nature and my own Saltwater And Rain project. There are, of course,  differences, for instance both David and Duane are using large format and I'm not. All are about Vancouver Island though and are concerned with the impact of landscape. It would be interesting to see a show with all of our work together.
April 21, 2010 | Filed Under Canada, Canadian, Documentary Photography, Featured, Fine Art, Gallery & Workshop, Photography, Vancouver Island, Victoria | Leave a Comment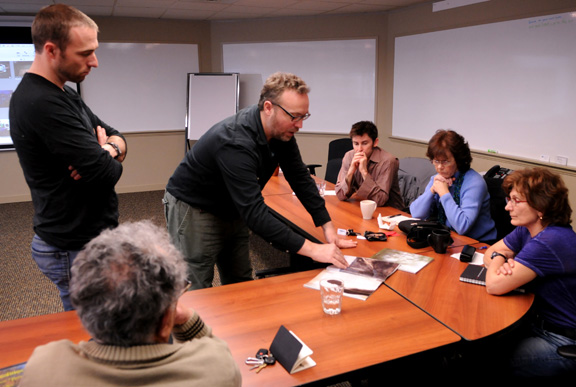 Last weekend I attended a two day workshop presented by Luz Gallery with Toronto photographer Don Weber, a member of the VII agency. We had a diverse group of twelve workshoppers (if that's a word). There was the legally blind Anglican minister, the woman who'd had Ansel Adams drop by her house when she was a child and critique her photos,  a philosophy professor who had just returned from a workshop with Mary Ellen Mark and the motorcycle riding government lawyer. The others were equally interesting. There was even a few of us pro photographers.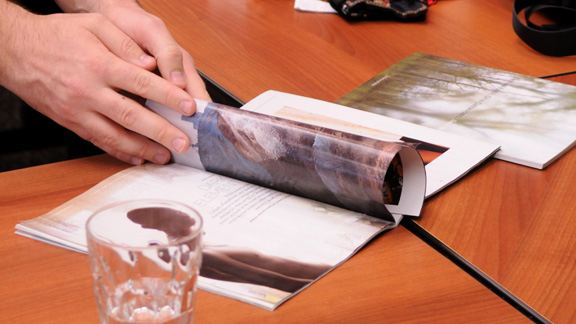 The first day focused on looking at various projects shot by Don as well as work by his fellow VII photographers and others. Don showed his Ukraine images including those from Chernobyl that are featured in his book Bastard Eden as well as images from Russia and other eastern countries. I've attended a fair number of lectures as well as short seminars but never a weekend workshop. Looking at it from the perspective of someone who teaches now and then I was impressed by the way Don was able to keep the day on track while allowing people to ask questions even if they were slightly off topic.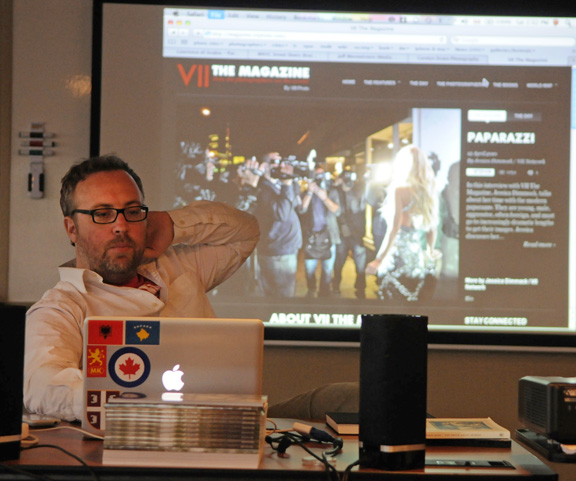 The second day we spent time looking at each other's projects with Don doing an edit of our images. It's always interesting ( and a good practice) to have someone else look over your images and provide feedback. Don was quite good at distilling everyone's pile of images down to a select few.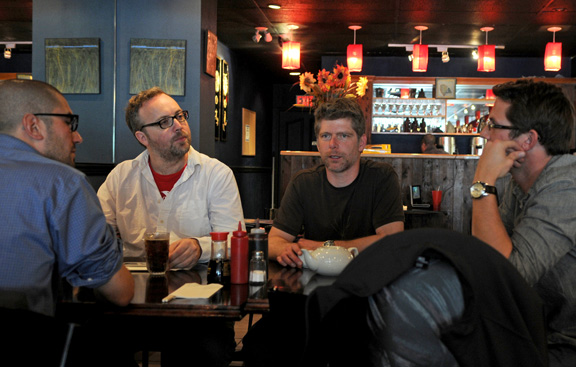 I found the workshop allowed me to look at my own work with fresh eyes and perhaps seek a slightly different direction with a couple of projects. I was also extremely impressed with Don's organization and his focus on his career. He appears to have a very solid understanding of where and how he wants to have his career advance and how to make that happen. That's awfully rare I think,  so it was very useful to see it explained.
This coming Saturday I'll be attending Don's grant writing workshop and I'll be looking forward to that and having the mysterious world of grants simplified.
I have to say that Luz Gallery's Diana and Quinton's hard work at promoting shows and putting on workshops like these have made Victoria a far more interesting place for photographers. A year ago there was simply no chance to spend a weekend with a photographer of the calibre of Don Weber.  Now we have someone coming in every few months, and sometimes weeks,  for a new show or workshop.
June 21, 2009 | Filed Under Photography | Leave a Comment
It's great to see local photographers putting together workshop and gallery spaces for photography. In New Westminster Brian Howell and Evan Seal have opened up Studio 42 and in Victoria Quinton Gordon's Luz Gallery programs will get underway this fall.
I noticed today that the first workshop at Gallery 42 , Brian's session on the photo essay is already sold out, so much for a trip over to take that in next weekend,  but great to see the support for the new space.