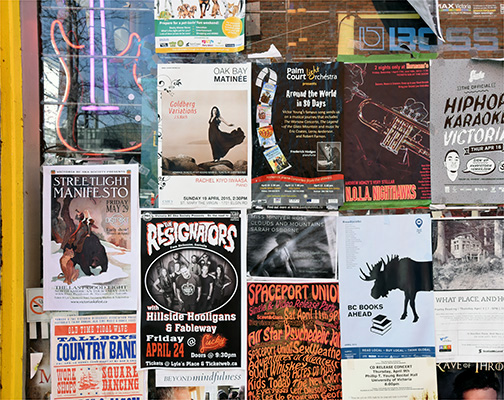 I like seeing texts in photographs, signs, billboards, posters, they all add  information about a scene or time.
Street signs can locate a photograph. Grocery store signs and cafe menus can show us familiar or unusual food and/or how much prices have changed since the image was created.
This photograph of entertainment posters in the window of a guitar shop on Blanshard Street in Victoria was taken this week.
It gives us an overview of upcoming shows. If you're here you can take in punk,country, jazz, psychedelic or hip hop music. You can read books or take in a poetry reading at the Art Gallery of Greater Victoria.
Two weeks from now these events will all be history. Two years from now it's likely some of these performers will be history as well.
The photo however will keep these entertainers and events alive (and hopefully still entertaining) for future viewers.