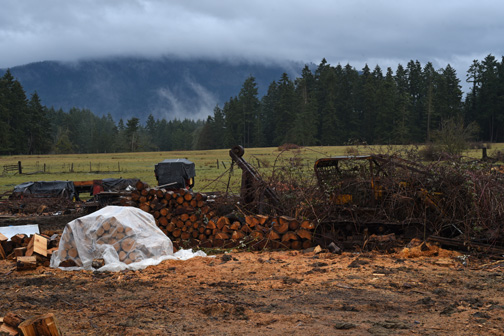 A wet haul up and over the Malahat.  The Malahat Drive, a short section of highway, is dreaded by local drivers despite many recent safety upgrades. I think it's reputation is a bit much for a 20 kilometre section of highway but it certainly has more than it's fair share of accidents. The bigger problem I think is that an accident usually shuts down the road, stranding motorists on the highway with no real alternate routes.
This day and drive there were no issues other than the usual rain which is just a winter fact of life here.
I'd seen this firewood lot, or cutting area, from the highway often but thought I'd take a closer look this time. From the highway you couldn't see the old bulldozer rusting away under a canopy of blackberry brambles.