January 17, 2013 | Filed Under Gallery & Workshop, Workshop | Leave a Comment
I'll be teaching a documentary course and a couple of one day workshops at the University of Victoria. Sign up here http://www.uvcs.uvic.ca
Courses are:
Documentary Photography: Creating the Personal Project
In this course you will learn how to use the techniques of documentary work to create a personal photo project. Participants will examine the work of other documentary photographers and see how and why certain ways of seeing and photographing can be applied to their work. You will learn how to organize your own projects, budget time, find out how to edit a project and discover different ways to bring that project to a larger audience.
Students will work on a project throughout the duration of the class; this can be an existing project or something new and initiated by the class experience. This work will serve as a catalyst for class discussions and critiques. This is a course about creativity, not equipment. Participants can use whatever equipment they own, digital or film.
Editing Your Photographs—Developing a Critical Eye
Do you have a jumble of images stored away on your hard drive or boxes of prints tucked away in the closet? Learn how to look critically at your photographs and find the treasures hidden among the less successful images. We'll also learn how we can have a higher success rate while shooting by learning to edit as we photograph. Students should bring a selection (20–40) of 4 x 6 machine (cheap) prints to the class from a project, trip or just that box in the closet, as well as a camera and a notebook.
Find the Photo Spark
Have you lost your photographer's creative urge? Do all the images you take seem to look like the last one? Rekindle your photo creativity with a day of exercises designed to make you and your camera best friends again. Bring your camera and a notebook and prepare to exercise your mind and eye and have some fun in the process.
September 10, 2012 | Filed Under Gallery & Workshop | Leave a Comment
I'll be teaching a new course starting September 25th at the University of Victoria.
Expose Yourself: Showing Your Photographs to the World
Are you tired of your photographs living only on your desktop? Learn how you can display or have your photos presented online. Find out how you can place your images into a gallery exhibition or create a book or magazine featuring those pictures. The opportunities to place your images where others can enjoy them and purchase them are growing all the time. This course will introduce you to these opportunities and the tools to make it a reality.
April 11, 2012 | Filed Under Gallery & Workshop | Leave a Comment
I've just finished up the documentary project class I was teaching as part of the University of Victoria's Continuing Education program. The first time for continuing ed and it was a great experience. A small class but enthusiastic and everyone ended up working on a great project of their choice. The best part of teaching for me is watching the students' confidence and skill improve through the duration of the course. We ended up with a real variety of projects and some amazing individual photographs. I've got another proposal in for a fall course at UVic. I'll post the details when I know it's a go. It'll be  a very different photo offering.
April 10, 2011 | Filed Under Art, BC Photography Archive, British Columbia, British Columbia Photographic Archive, Documentary Photography, Exhibition, Gallery & Workshop, Photography, Punk Rock, Vancouver Punk | Leave a Comment
Had the opening for my show of images of Vancouver punk rockers at Talk I Cheap Gallery in Victoria last night. A good turnout including the members of the Dishrags which was excellent.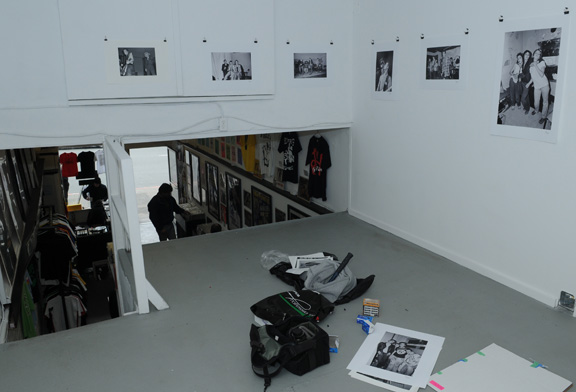 Hanging the show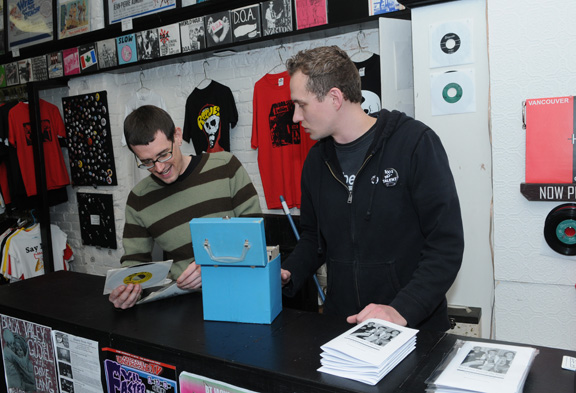 Jason Flower and Tiemen Kuipers sort through Vancouver punk singles.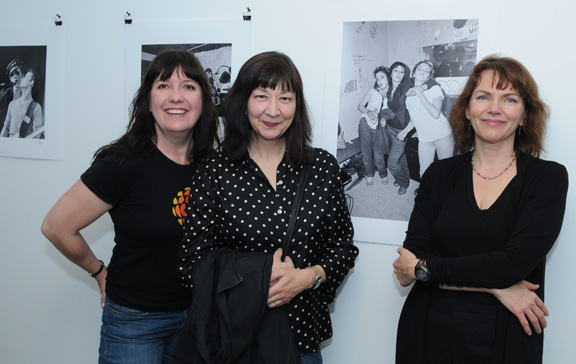 The Dishrags, Scout, Jade and Dale,  with a photo of their younger selves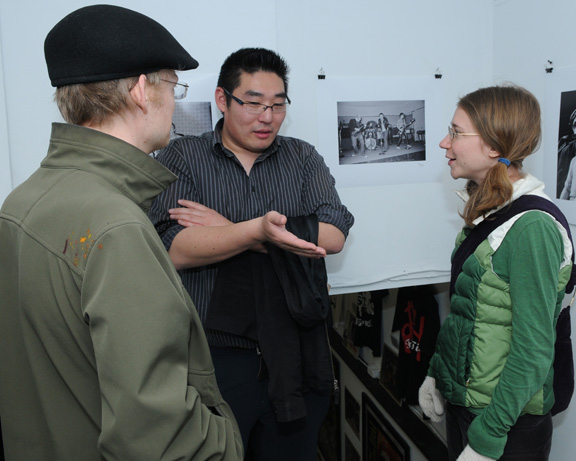 Friends chat during the opening
March 2, 2011 | Filed Under Gallery & Workshop, Photo Coach | 1 Comment
A busy week for talks with a presentation Monday night on documentary photography to the good folks at the Esquimalt Photography Club and a Tuesday Q & A with students in the written Images class at the Western Academy of Photography. Both were a lot of fun for me and hopefully everyone got a little photo info to think about. Tonight after work I checked out the opening of the Club's photo exhibition. The great thing about photo clubs is you get such a great variety of photography subjects and styles, something for everyone.
December 14, 2010 | Filed Under Gallery & Workshop, Ideas | Leave a Comment
I've heard of photographers using crowd sourcing as a source of funding but only third hand. Yesterday I received this email from photographer Mike Andrew McLean and thought I'd pass it along. It's an interesting concept, using Kickstarter,  for an interesting project and with even just a $10 donation you get a print: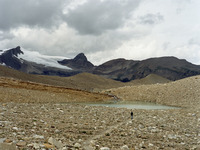 I am pleased to announce that Range, the photo project I've been working
on for the past three years, will be exhibited in its entirety at the
Southern Alberta Art Gallery in July 2011 (a selection will also be
exhibited at the Kamloops Art Gallery this January).
Due to the costs associated with the production of the exhibition, I
researched some alternative funding avenues and discovered Kickstarter.
My project was launched today on the Kickstarter website, so please have a
look!
http://www.kickstarter.com/projects/1058706563/range-mountain-national-park-photographs
If you are willing to make a pledge, you will receive some amazing
incentives  not the least of which will be my eternal gratitude.  Also,
it would be wonderful if you would consider forwarding this link to anyone
else who may be interested.
If you have any questions, or need more info, please let me know.
Thanks for your consideration,
Mike
November 21, 2010 | Filed Under Gallery & Workshop, Photography | Leave a Comment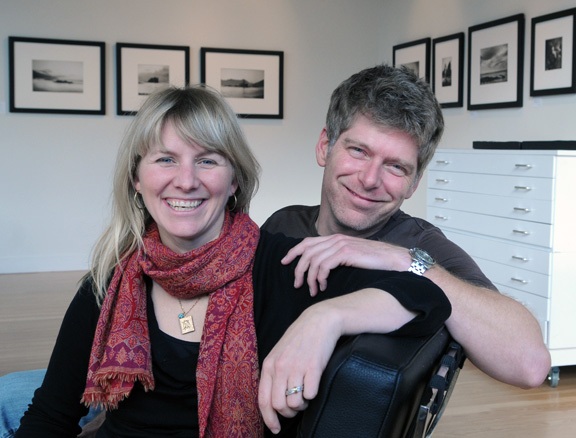 Quinton Gordon and Diana Millar are the owners of the Luz Gallery.
1) Tell us about yourselves.
That's a pretty open question but in short Diana and I have combined my background as a professional photographer, artist and instructor with Diana's experience in event planning and business management. We are both originally from Ontario but we met here in Victoria four and a half years ago, and when our daughter Molly was born almost three years ago, we decided to try to make Victoria our home. That decision meant looking at some creative solutions to achieve our career aspirations.
2) Why start an art gallery that features photography?
For me the choice to focus on photography was easy, and for Diana it represented an exciting new challenge at a time when photography is really coming into it's own within the international fine art market.
3) What was involved in creating the gallery?  How much research did you do before actually making the decision to move ahead with your idea?
Well, in many ways the research began 15 years ago with my first thoughts of creating a gallery and centre of photographic arts  during a five month period of travelling and photographing personal projects. Then in 2005 I was inspired by my experience at the Manuel Álvarez Bravo Centre for Photography in Oaxaca, Mexico and in 2008 we made the decision not to move back to Toronto and that sparked a decision to see if we could create Lúz. We spent a year developing our ideas and looking at the range of photographic galleries and centres of photography around North America, but it was also a case of just forging ahead to realize our combined vision.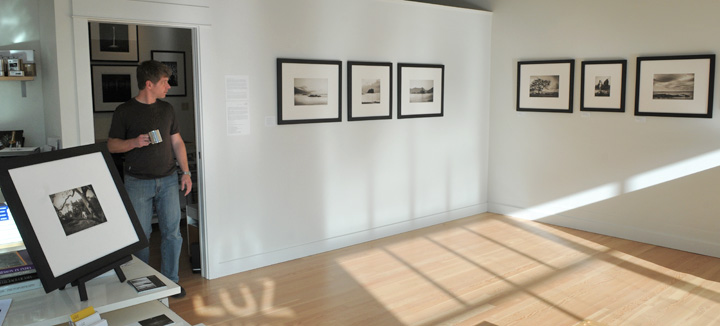 4) You're much more than a gallery. You offer workshops, custom printing, sell photo printers and photo papers.  Why do all that extra work? Wouldn't it be easier to just concentrate on the gallery itself?
Easier yes that's an understatement! We have a lot of balls in the air each day but even if we limited our endeavours to just the gallery it would still be a lot of work. There are two very compelling reasons to be more then just a photography gallery. The first is tied to our vision of building a stronger local and international photographic community, and the second is economic, the business would not be sustainable without several revenue streams, and even with those in place we are working in a community of just eighty thousand. There is no question that this would be easier if we have a larger population base.
Establishing a credible fine photographic gallery in the international market takes a long term vision of at least three to five years, and locally the buying market for photography is only just beginning to mature. In order to support a successful business model we had to balance the interests of both collectors of photography, with practitioners of photography by blending the exhibition and sale of fine photography with courses, seminars and quality retail services such as our digital print studio and the Tricera / Epson store.
5) Why do you think workshops are important?
We believe in the value of people learning and challenging themselves creatively and workshops are a great way to learn from a good instructor as well as from the other participants. This coming together of like minded people helps to reinforce the sense of community and we have seen how people who meet at our workshops continue to share ideas and communicate afterwards.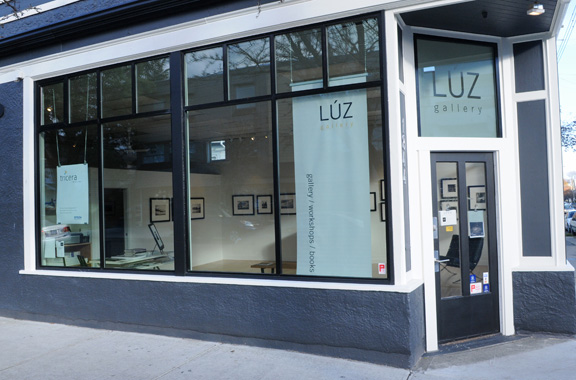 6) What has been the most important thing you've learned about running a gallery since you first opened?
That despite being a new gallery in an out of the way city, we can be part of a larger community and that like most successful businesses here we have to reach out to that larger community.
7) What advice would you give to a photographer wishing to have an exhibit with Luz?
This is a great question because we get people contacting us all the time and we want to encourage this, but it is helpful if they are well prepared.
Their starting point should be to read the submission guidelines published on our website. It is really hard when people just walk in off the street because as you pointed out earlier we are very busy running the various aspects of Lúz and as a general rule it is best if they introduce themselves by sending a submission package that includes their CV, a printed promotional piece, an artists statement and a carefully selected set of samples from the body of work they wish to show. Artists also need to realize that they need to develop a relationship with a gallery and that it takes time and effort to do so. The effort put in by an artist over time is part of the screening process. Rarely do things happen quickly for new artists. It can be different when we are approached by an established artist but even then we are planning well in advance.
We make a significant investment of time, money and energy when we mount an exhibition and it means that artists need to show us that they are serious about what they are doing and that they are making a significant investment in their work. Naturally it is important that we like their work and that we feel we can sell their work to our clients. It's really helpful if they have published a book as well. Book sales are out pacing print sales and this can go some way to helping us recover the investment made in the exhibition.
Our exhibition calendar is scheduled roughly a year at a time and we try to balance juries shows with solo exhibitions of work by both established and emerging artists. We have 2011 basically nailed down now and we are looking to 2012. Now that we are going into our second and third years, the gallery has a growing international reputation and we are attracting established names from the US, Europe and Asia as well as across Canada so the competition for exhibition space is getting more challenging. We do want to support local artists and our juried exhibitions can be a great way for newer artists to start working with us. We are trying to put out at least one call each year for submissions to juried group shows and these shows are very helpful for artists to have on their CV.
8) Can you talk about the idea of the gallery as a community centre for photographers?
Here again you raise an important question. We are working hard to create a place where people can engage with photography through opportunities to see diverse work of a high calibre was well as a place to learn, and even a place to meet and connect with one another. As such it is significant that people understand that we don't receive any government funding and that the cost of creating and delivering on what we offer is high. In order to keep our products and services affordable we set very tight margins on our pricing so if what we have created is valuable to the community then they need to support through purchases or even through donations made at our openings or events.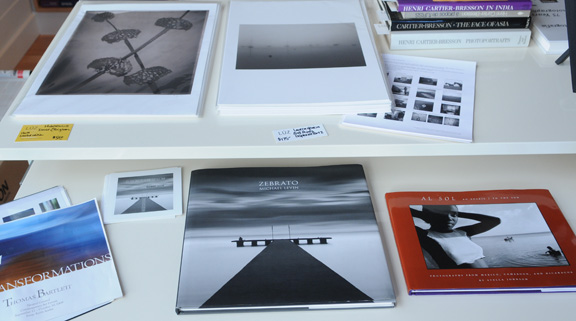 9) The gallery has led to some new opportunities for both of you. What are some of those opportunities?
Part of our motivation in opening Lúz was to be able to live here in Victoria while continuing to engage with the international photographic community. From the outset we have been focused on our belief that there is a place for Victoria in the international photography market and through Lúz we have been able to meet and collaborate with people such as Donald Weber, Stella Johnson or Joni Sternbach along with many others. It is also providing us with more travel opportunities as we add destination workshops in locations that interest us. Diana has been invited to be one of the portfolio reviewers at Photo Lucida in April 2011 and it is a huge honour for her to participate at this level, in effect she has been called up from the "farm team" to hit in the major league.
10) What trends are you noticing in photography being exhibited and offered for exhiibtions?
Well it depends on where you look, but for us the emphasis on contemporary photography challenges the divisions between documentary and fine art. Colour photography is playing a key role for many contemporary artists and for those working in B&W there is a lot of interest in fine traditional printing techniques.
11) What would be the dream exhibition you would each show?
One that sells out on opening night!
12) If price was no object what print would you each buy?
That's tough, our list is pretty long, although (Quinton) I  have always wanted a print of Avedon's or Cartier-Bresson. (Diana) I have an answer for a print I would buy – Harry Callahan, more like the collection – too hard to pick just one. Also the Yangtze project from Nadav Kandar has produced stunning images, that I would love to add to my collection.
The thing is that we work with and appreciate so many wonderful contemporary photographers that it would be an insurmountable challenge to select just one… I guess if money was no object we'd choose to support many artists and collect several works.
13) What do you see for the future of the gallery?
We work on our future every day, and frankly some days that means just figuring out how to keep it going. But aside from that it is a matter of getting to the point where we can consistently deliver the level of exhibitions, courses, and facilities we have in mind. We are adding more destination workshops and expanding our partnerships with other organizations such as Leica and Epson or festivals like Photo Lucida to facilitate growth. In terms of future expansion we would like to see this include more dedicated classroom space and a dedicated studio for teaching and rentals, a digital teaching lab and darkroom space. On the gallery front we are working to develop relationships with collectors so we can be more effective for the artists we represent.
We are also very motivated to increase our publishing ventures both online and in print and I am working toward launching Lúz Journal, a magazine of photography similar in concept to Dispatches or burn magazine founded by David Alan Harvey. We will initially publish online but I am a huge advocate of print and this remains my ultimate goal along with more publishing collaborations with our photographers to produce limited edition books.
We have ideas about introducing memberships or raising more funds through donations of money or equipment – of which we have received some already – but to do all of this we need to expand our human recourses and this is happening slowly with Dave Aharonian and Karen Iwachow coming onboard. Eventually we will work to expand our facilities but with the high price of real estate in Victoria it will take sometime to get there.Rright now we have our sights set on trying to pay next months rent.
You can check out the Luz Gallery's exhibitions and workshops here. You can take a look at Quinton's photography site here. You can listen to a recorded interview with Quinton by Portland photographer Lauren Henkin at her Photo Radio site here.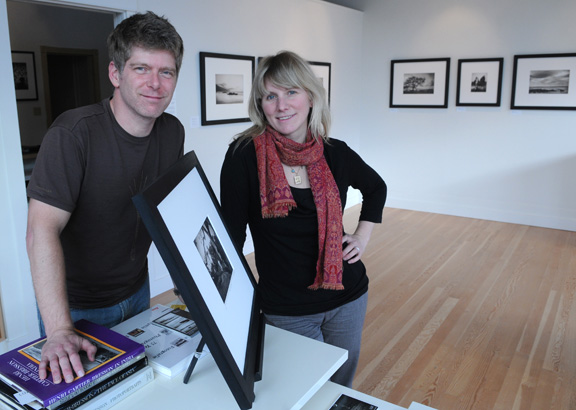 April 25, 2010 | Filed Under Gallery & Workshop | Leave a Comment
Spent Saturday learning about the ins and outs of the world of grants in another Luz Gallery sponsored workshop with Donald Weber.  It was all interesting and it was a busy and intense day with a great deal of information being offered. The bottom line though, is that like most things in life, there's a lot of work and time involved in the process. Anyone looking for or expecting information that will result in a quick handout of cash would have been very disappointed.
There is the thought as well that if we're all starting to pursue the grant world as an alternative to the disappearing editorial market, won't the grant world become more of a challenge to access? It's not like there are a huge amount of new grants appearing every year but more photgraphers are applying for the existing grants.
It's all food for thought though and each photographer has to try and figure out how to blend all the elements of the photo world to make it work for them.
April 21, 2010 | Filed Under Canada, Canadian, Documentary Photography, Featured, Fine Art, Gallery & Workshop, Photography, Vancouver Island, Victoria | Leave a Comment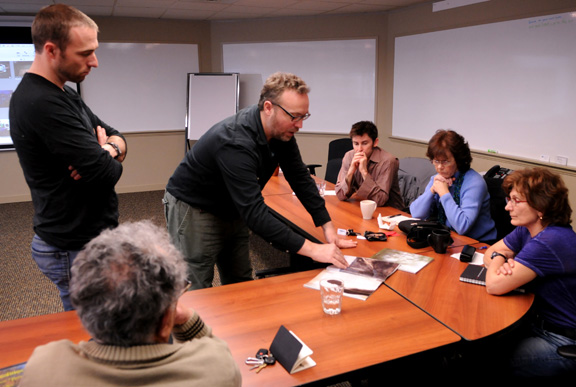 Last weekend I attended a two day workshop presented by Luz Gallery with Toronto photographer Don Weber, a member of the VII agency. We had a diverse group of twelve workshoppers (if that's a word). There was the legally blind Anglican minister, the woman who'd had Ansel Adams drop by her house when she was a child and critique her photos,  a philosophy professor who had just returned from a workshop with Mary Ellen Mark and the motorcycle riding government lawyer. The others were equally interesting. There was even a few of us pro photographers.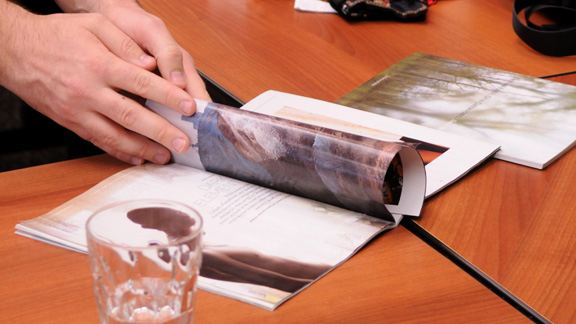 The first day focused on looking at various projects shot by Don as well as work by his fellow VII photographers and others. Don showed his Ukraine images including those from Chernobyl that are featured in his book Bastard Eden as well as images from Russia and other eastern countries. I've attended a fair number of lectures as well as short seminars but never a weekend workshop. Looking at it from the perspective of someone who teaches now and then I was impressed by the way Don was able to keep the day on track while allowing people to ask questions even if they were slightly off topic.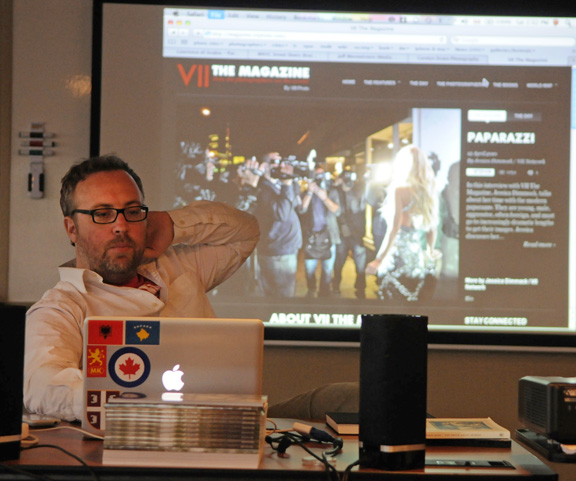 The second day we spent time looking at each other's projects with Don doing an edit of our images. It's always interesting ( and a good practice) to have someone else look over your images and provide feedback. Don was quite good at distilling everyone's pile of images down to a select few.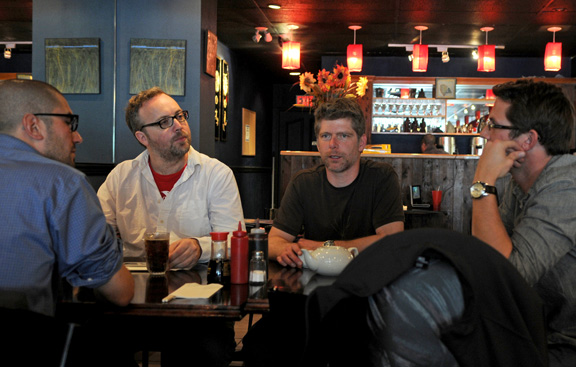 I found the workshop allowed me to look at my own work with fresh eyes and perhaps seek a slightly different direction with a couple of projects. I was also extremely impressed with Don's organization and his focus on his career. He appears to have a very solid understanding of where and how he wants to have his career advance and how to make that happen. That's awfully rare I think,  so it was very useful to see it explained.
This coming Saturday I'll be attending Don's grant writing workshop and I'll be looking forward to that and having the mysterious world of grants simplified.
I have to say that Luz Gallery's Diana and Quinton's hard work at promoting shows and putting on workshops like these have made Victoria a far more interesting place for photographers. A year ago there was simply no chance to spend a weekend with a photographer of the calibre of Don Weber.  Now we have someone coming in every few months, and sometimes weeks,  for a new show or workshop.
April 7, 2010 | Filed Under Gallery & Workshop, Online Learning, Photography | Leave a Comment

I mentioned a few posts back that I'd attended a show opening and artist's talk with Thomas Bartlett at Luz Gallery. All the images posted here are from the show.  Bartlett talked a bit about how he creates his images, he uses a digital camera and long exposures and focuses on common objects often in his house or in motel rooms when he travels. He won't tell what the original objects are as he prefers to let the viewer use their imagination. It all sounds simple. point the camera, set it for a long exposure and let fly or at least move the camera around a lot.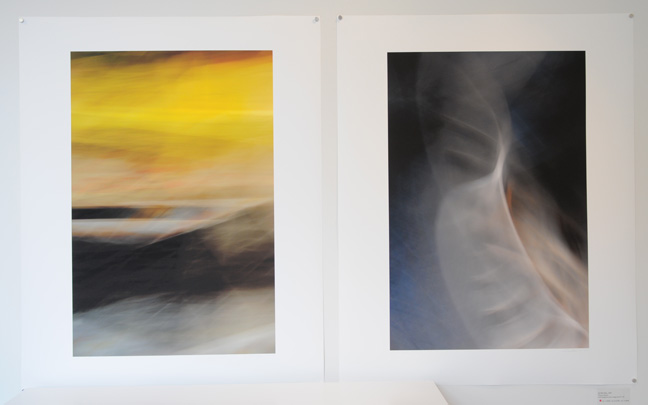 It sounded so simple I thought I'd fool around with the techniques mentioned over the weekend and create some 'Bartletts". The reality is that like most art, technique is more than camera settings. I tried a variety of settings and focused on a number of objects but just ended up with a series of rather ugly smears none of which I'll bore you with. I'll obviously have to keep practicing and experimenting if I want to start creating images as arresting and colourful as those Bartlett creates. It's a good lesson that we should all remember.