April 29, 2015 | Filed Under Arts, BC Photography Archive, British Columbia, British Columbia Photographic Archive, Canada, Canadian, Cascadia, Documentary Photography, Literary Photographer, Pacific Northwest, Personal Project, Photography, Portrait, Vancouver, Victoria, Writer, Writing | 1 Comment
I spent over a decade photographing Canadian writers, a project that resulted in a few exhibitions and two books published by the Banff Centre Press (the second one here). That project petered out after the second book, pushed to the side by the usual  reasons, making a living etc.
Two years ago I thought I might start creating portraits of writers again but while I did make a brief start at the end of 2012 that attempt was short circuited by a couple of events and I just haven't tuned my focus back to portraits.
I did take a look at the images the other day and thought I should post them.
My feeling is that writers, even those that have some success, are still less-known than the average music or tv/film star. Maybe you know the writers below, all from British Columbia, or maybe not but they are all worth checking out.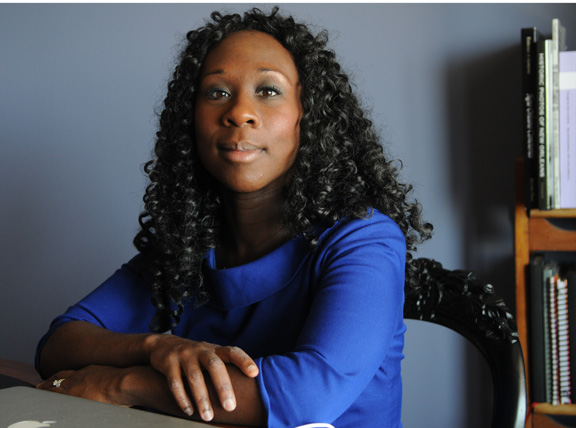 Esi Edugyan has had enjoyed a considerable amount of attention for her book Half blood Blues which won several major awards and was shortlisted for the Man Booker prize. Her site is located here.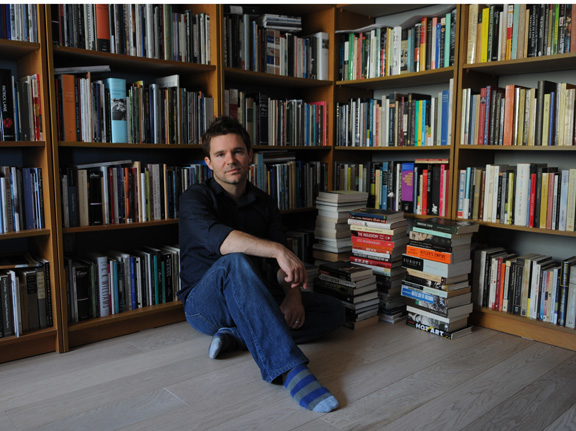 Steven Price originally published as a poet but is now producing novels. His latest By Gaslight is set in London in 1885 and made the news for the substantial contract he signed for the book. Price is married to Edugyan. Some info on him here.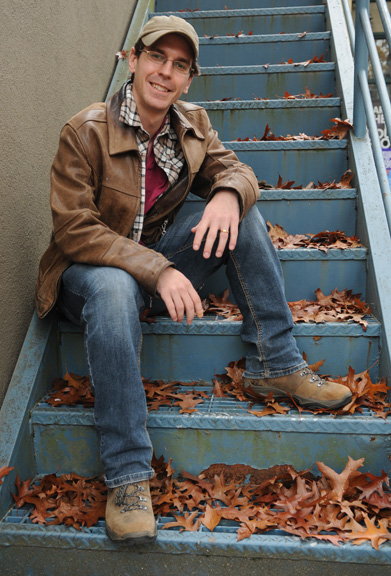 D.W. (Dave) Wilson has recently returned to British Columbia after getting an advanced degree in England. He writes both short stories and novels. His first collection had the great title Once You Break A Knuckle. His site, although under construction right now, is here.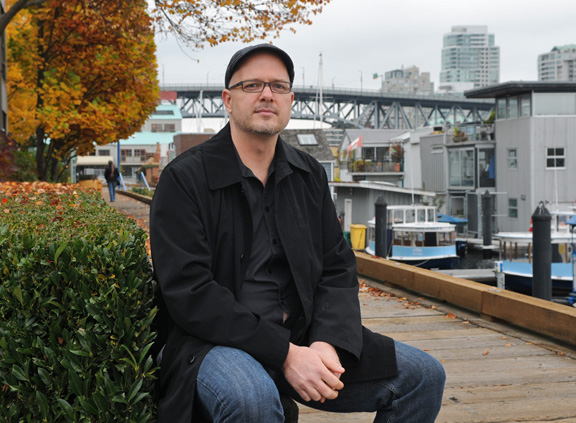 Brad Cran is a Vancouver based poet, non-fiction writer, photographer and , as well, an accountant. I've photographed him before, he is featured in the Banff Centre Books. He was the Poet Laureate for the City of Vancouver His website is here.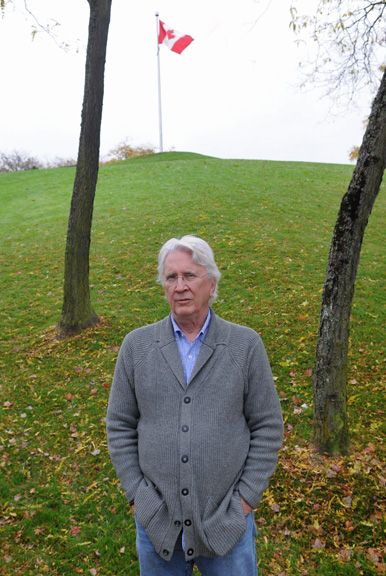 Finally we have  Brian Fawcett, a former Vancouver city planner, has lived in Toronto for quite a while but continues to write often and well about British Columbia. he has had many books published but you can get a sense of his work here at the Dooney's Cafe site. This photograph was taken at the Vancouver Writers festival and was my first chance to meet Brian whose work I've enjoyed for a long time.
January 28, 2013 | Filed Under BC Photography Archive, British Columbia, British Columbia Photographic Archive, Canada, Canadian, Cascadia, Documentary Photography, Entertainment, Fine Art, Music, Pacific Northwest, Personal Project, Portrait, Punk Rock, Urban, Vancouver Island, Vancouver Punk, Victoria | Leave a Comment
DOA front man Joe Keithley was in town playing a gig during the band's farewell tour. Joe has decided to seek the NDP nomination in Coquitlam – Burke Mountain in order to run in the upcoming May provincial election. We decided to take a few portraits in front of the BC Legislature building in the afternoon. Here's a few images from that shoot and one from the show.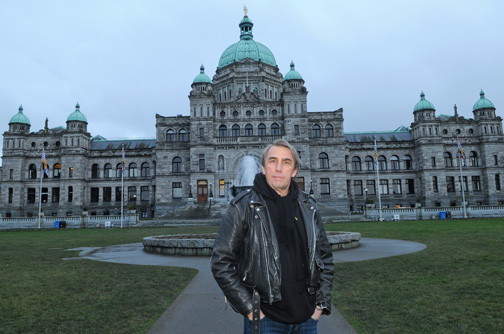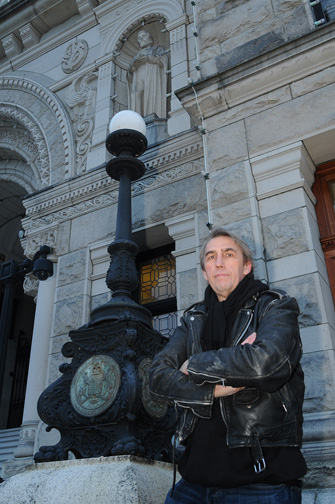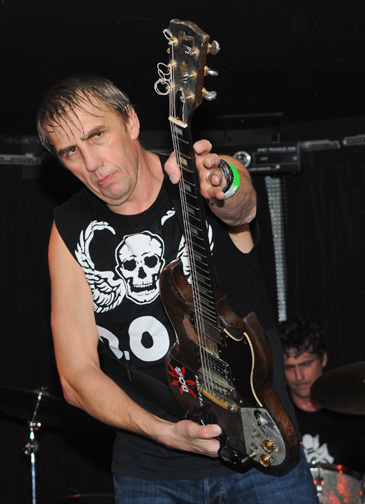 February 12, 2011 | Filed Under Art, Arts, BC Photography Archive, British Columbia, British Columbia Photographic Archive, Canada, Canadian, Documentary Photography, Fine Art, Historical, History, Pacific Northwest, Personal Project, Photography, Portrait, Vancouver Island, Victoria | 5 Comments
Every year I like to start at least one new project. I like to have a number of projects going at the once as I find that due to my full time shooting job my time for personal shooting is limited in both hours and time of day. Having a number of projects means I can usually shoot something in the windows that I have.
So, this year, adding to the mix is a series of environmental portraits of artists. I've done a large project featuring images of writers but hadn't really worked on that much in the past couple of years. I wanted to introduce a new portrait project and figured focusing in on visual artists would be both interesting and challenging and would also have the side benefit of not only meeting new people but I'd get to see a lot of art.
I've started off with artist Rachel Berman who is local again after a couple of years in Toronto. I'd never met her before the session but had admired her work so called her up, explained what I was doing and we set up a time to meet.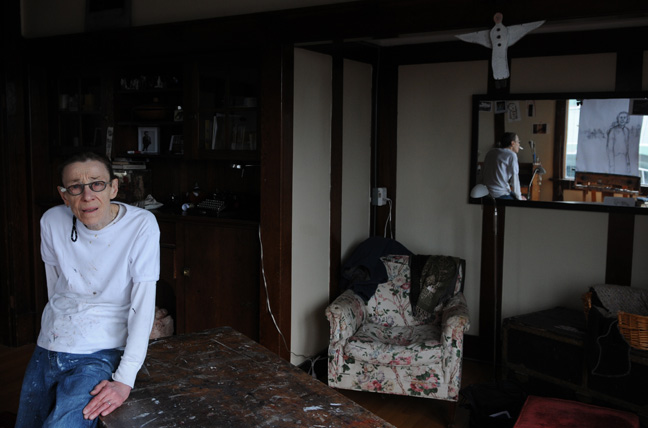 Rachel works out of her apartment studio, a great place in an older building with bay windows that let in a ton of light. She was busy working on two projects, illustrations for a book and a show at her Toronto gallery.
A bonus at this shoot was the presence of Karl Spreitz, a long time local artist, photographer and member of the Limners, a long time Canadian art collective. It was my first time meeting Karl as well and I took the opportunity to enquire about photographing him at some point. Karl, as mentioned, is a stills photographer as well as a documentary filmmaker and he was busy shooting and filming during part of my portrait session.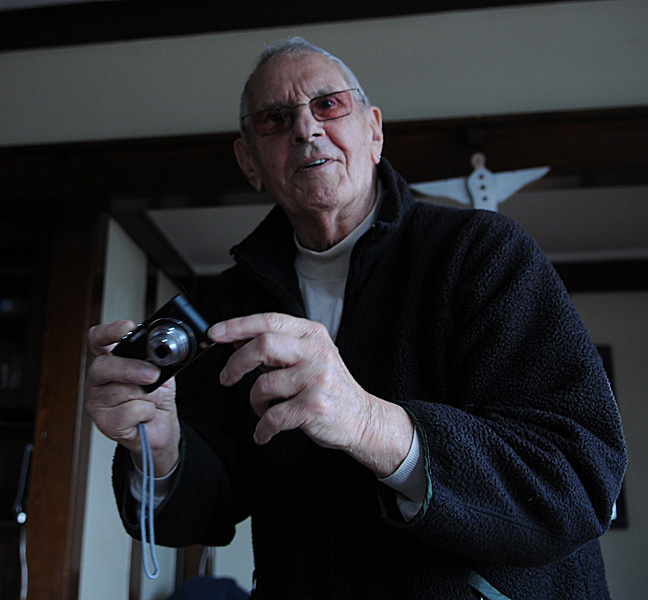 I spent about an hour with Rachel, taking photographs, but also chatting and getting to know each other a bit.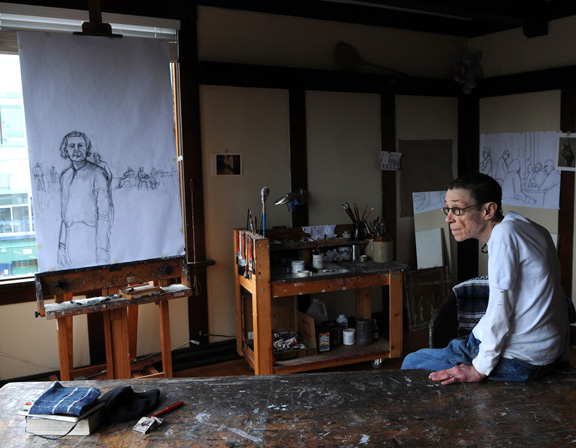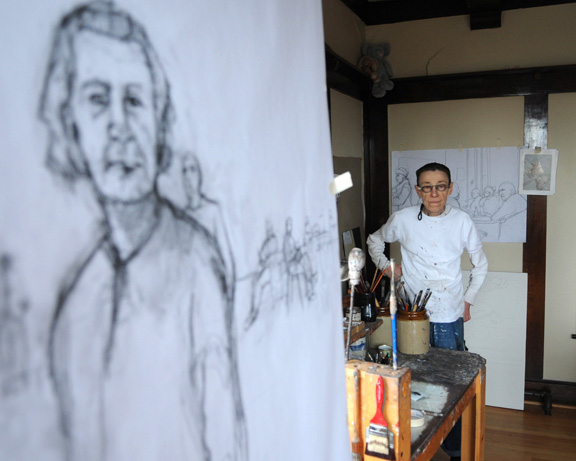 I took Rachel a couple of prints last week and she seemed pleased with the images. It was, from my viewpoint, a successful shoot, I had a few frames I'm happy with. I got to meet two new creative people and I've got another project underway.
Rachel is represented by the Ingram Gallery in Toronto and Granville Fine Art in Vancouver. Toronto artist Sara Sniderhan has painted a portrait of Rachel that you can see HERE.
November 29, 2010 | Filed Under Photography, Portrait, Self portrait | Leave a Comment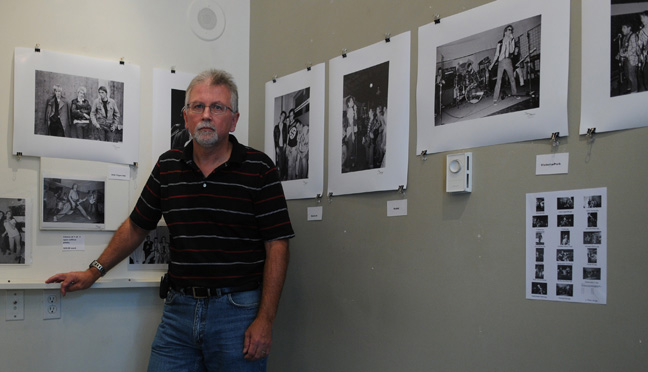 I'm a sucker for self-portraits. I like taking them and I like looking at them so I had to take a peek when I saw the Globe and  Mail was running a Share Your Self Portrait page. I kind of like the smily face finger image. If you really want to want to spend some time looking at self-portraits check out the many pages of images in the Flickr self portrait pool. You can see some pro photographer's self portraits here at Listicles, not to mention other weird stuff. Google will supply you with nearly 6000 self portraits although not all are photography. Gizmodo has some pretty cool examples from the 168 readers who sent in images. Wikipedia will give you all the history and background you need on self portraits. Wikipedia also told me that Bob Dylan made an album called Self Portrait. If you want to get kind of creeped out, look at these photoshopped self portraits at Speckyboy. Last, and as always, certainly not least quickly check out the 638 Magnum photographers' self portraits.
September 13, 2010 | Filed Under Art, BC Photography Archive, British Columbia, British Columbia Photographic Archive, Documentary Photography, Exhibition, Personal Project, Photography, Portrait, Punk Rock, Vancouver, Vancouver Punk | 1 Comment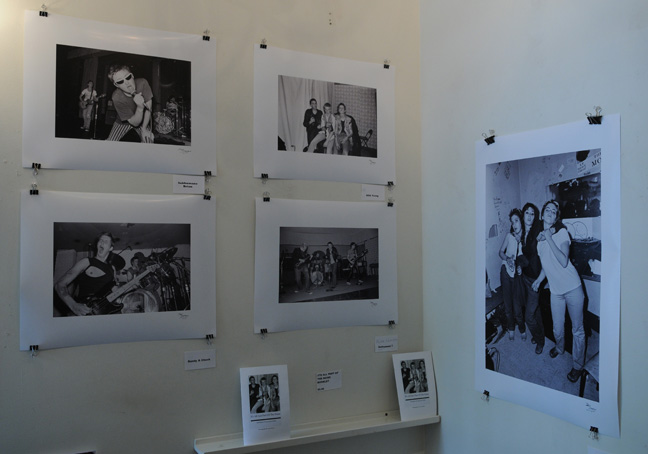 I had a great opening at the JEM Gallery Friday night.  We were scheduled to be open from 6PM until 9PM but it was after 11PM before people stopped dropping by. Saturday was excellent as well and we didn't close up shop until 5:30. Many thanks to gallery owner Carola Goetze for all her heard work.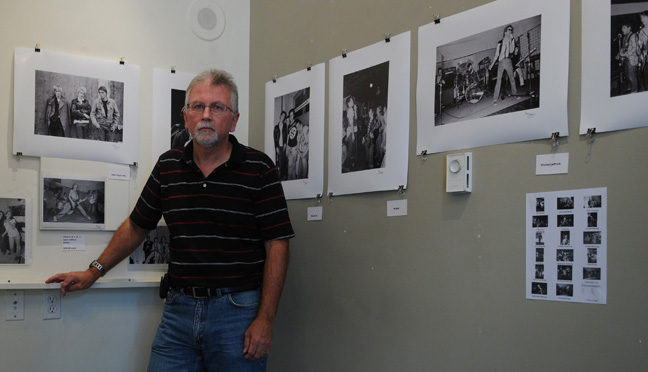 August 22, 2010 | Filed Under Art, Documentary Photography, Don Denton, Exhibition, History, Pacific Northwest, Photographers, Photography, Photos, Portrait | Leave a Comment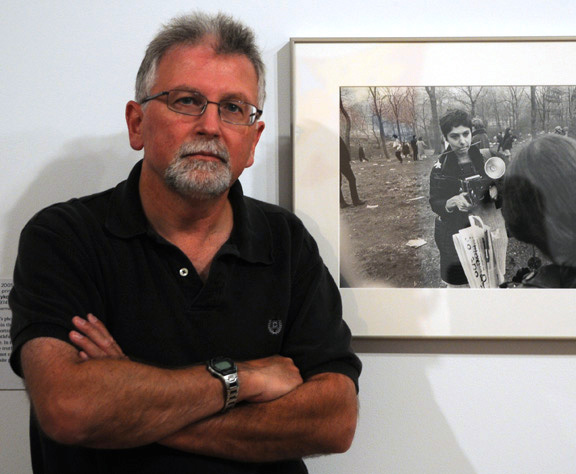 It's always great to see an actual print, even if it is behind glass, that you've only seen as a reproduction before. This Garry Winogrand image of Diane Arbus is currently hanging at the Seattle Art Museum (SAM).  Also on exhibition were a couple of Arbus prints, a collection of Imogen Cunningham prints and an exhibition of Andy Warhol photographs. Thanks to the SAM employee who snapped this for me.
March 29, 2010 | Filed Under Arts, BC Photography Archive, British Columbia, British Columbia Photographic Archive, Canada, Canadian, Documentary Photography, Gallery & Workshop, Historical, History, Interview, Kamloops, Photo Studios and Work Spaces, Photographers, Photography, Portrait | 13 Comments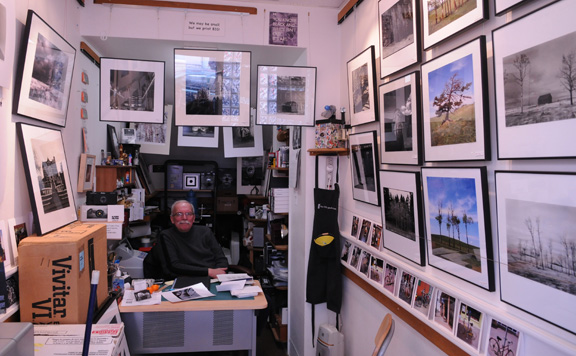 I was in Kamloops this past weekend, the first time I've spent anytime there in at least three years.  One of the last times I was there I'd come across this gallery/store on 3rd Avenue run by photographer Wilf Schmidt and I was curious to see if  he was still there, and he was. Schmidt calls his place The Little Photo Shop and claims it's "The World's Smallest Photography Supply Store'. The former high school photography teacher sells prints of his own work but also stocks black and white film, Holga cameras and has a group of pinhole cameras in the back of the shop as well as other photo odds and ends. It's a very cool space and it's tiny which just adds to the charm. The shop is currently a little more crowded than usual as he is selling off his darkroom equipment and has the boxes stacked there. Hidden behind him is an antique safe, part of the original furnishings in the heritage building his store is located in.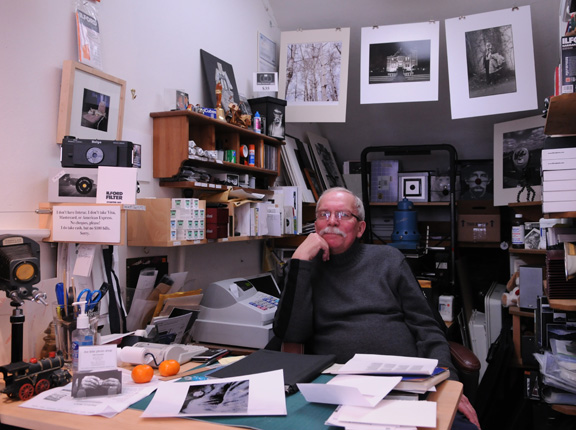 Wilf  in the  'office' section of his shop.
Wilf shows off a tiny camera that actually works. It originally came with rolls of film.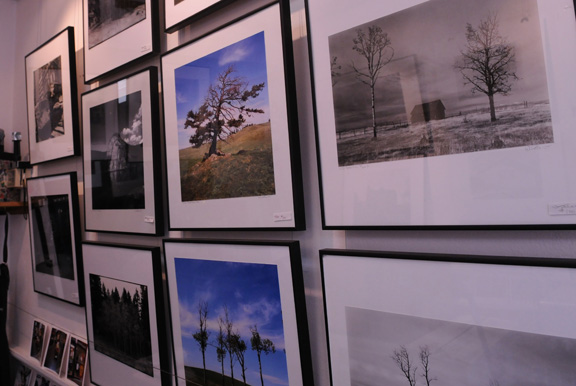 A few of Wilf's photographs
January 20, 2010 | Filed Under Literary Photographer, Music, Portrait, Sports | Leave a Comment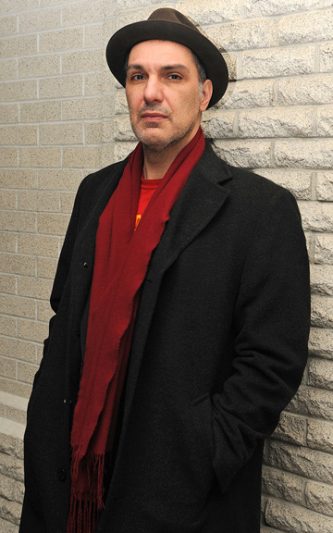 The great Dave Bidini was in Victoria last night giving the annual Orion lecture. He talked about his travel for his books and TV documentaries and afterwards took questions from the audience. He'll be around for a few more days talking to various writing classes at UVIC. I'm sure it's not always so but Dave's life seems so seamless, travel and music and writing and family and hockey all melding together magically. Plus he's a cool stylish guy. Just look at the images from last night.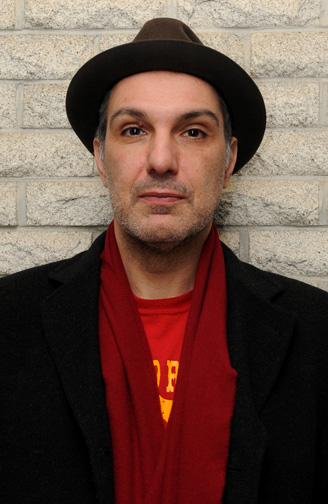 January 14, 2010 | Filed Under Literary Photographer, Obituary, Photography, Portrait | Leave a Comment
Renowned Canadian poet, novelist, artist and librettist,  P. K. Page has died aged 93 at her home in Oak Bay, British Columbia.
Just two days ago I'd stopped by the Cadboro Bay Book Store and asked Amber what was new in the store and she pointed out a new chapbook Cullen by P.K. Page, published by Outlaw Editions. I bought a copy and after heading out realized I was passing by the street P.K. lived on so I turned back and drove up the street thinking that if I saw someone at the window or other signs of activity I'd stop by and ask her to sign the book. The house was quiet and dark though so I drove on.
I remember a few years ago during a photo session the conversation turned to aging and facing the end of one's life and she said (as I remember it) that she was not afraid of dying, what terrified her was not having the chance to finish all the creative ideas she had.
December 8, 2009 | Filed Under Photography, Portrait | Leave a Comment
I really enjoying taking portraits, especially of creative people. It's always interesting to try and incorporate their environment into the image.With tighter papers, every section is squeezed for space so we're not running as many entertainment stories and consequently not as many portraits of artists etc.  Here are a few, fairly recent, images.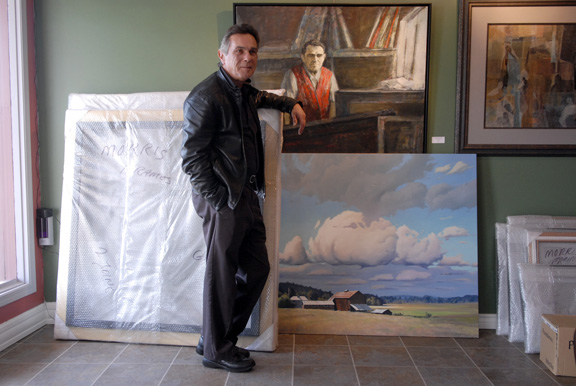 I really liked this image of Keith Hiscock at the Morris Gallery. They were just starting to hang his new show, those are his paintings on the floor, but behind him hung a couple of paintings from the last show, an exhibition from the estate of  Myfanwy Pavelic including a portrait of artist Maxwell Bates in his studio.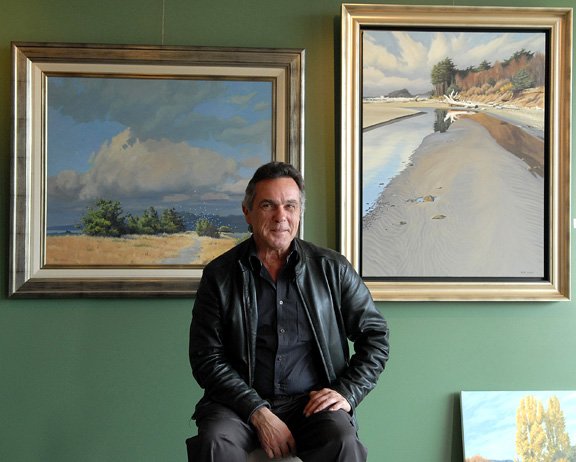 This probably showed off Keith's painting better and I liked his expression but I still like the first image best. A tighter head shot with painting behnd actually ran in the paper.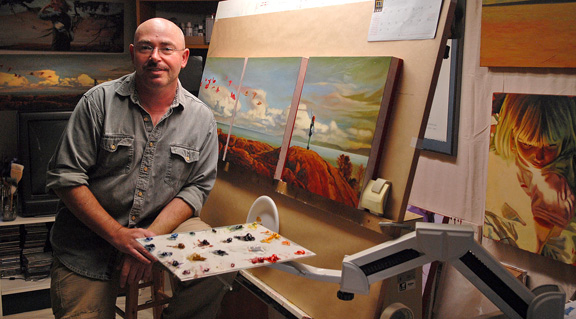 Mark Heine in his home studio, it's encouraging to see you don't need a great big space to create.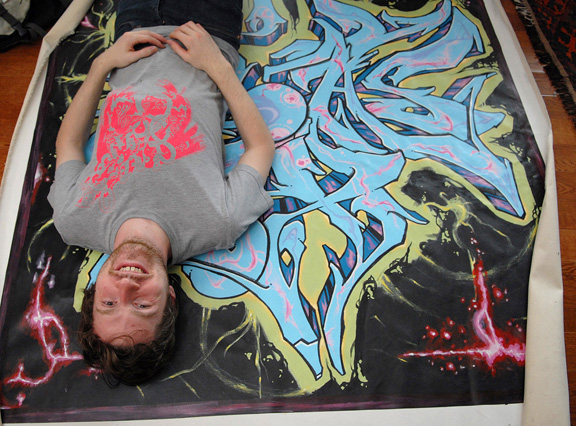 Ben Westergreen paints in his front room, it was tight and kind of dark so I just had him lie down on one of his paintings.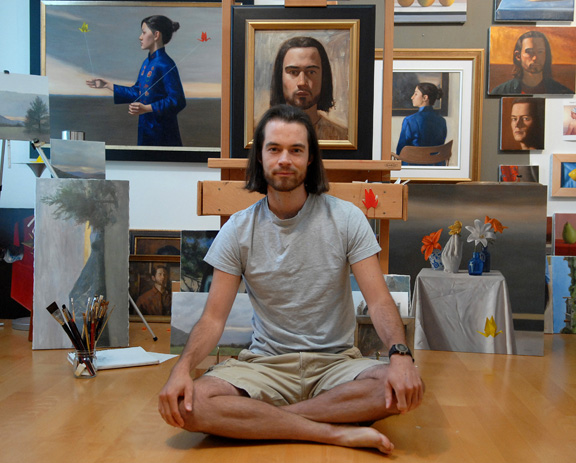 Noah Layne paints portraits, self portraits too. He'd just won an award for one.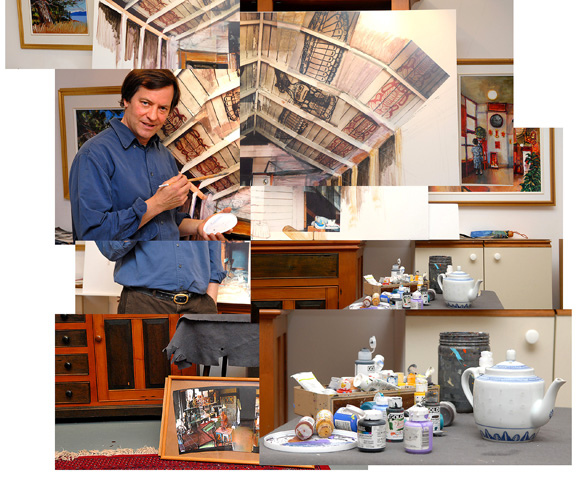 Robert Amos had been creating collages of artists in their studios. This was my attempt to capture him using his own technique. I think he does it better.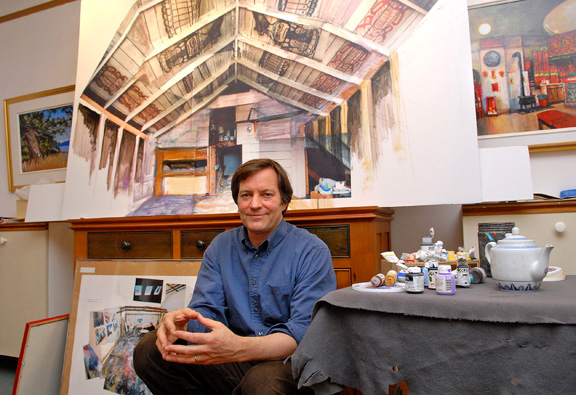 Robert with some of his collages. He also paints, does calligraphy etc etc etc.