February 10, 2013 | Filed Under Daily Work | Leave a Comment
The beautiful thing about the weather here on the southern tip on British Columbia's Vancouver Island is that this photo could have been taken this week as I saw lots of golfers on the links while driving around. The unfortunate thing about the weather here is that this image was actually taken last June.
February 3, 2013 | Filed Under Daily Work | Leave a Comment
The cover for the February 2013 issue of SOAR magazine features construction from greater Victoria's West Shore.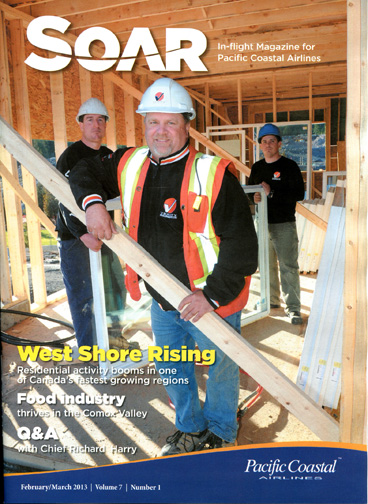 January 28, 2013 | Filed Under Personal Project | Leave a Comment
DOA front man Joe Keithley was in town playing a gig during the band's farewell tour. Joe has decided to seek the NDP nomination in Coquitlam – Burke Mountain in order to run in the upcoming May provincial election. We decided to take a few portraits in front of the BC Legislature building in the afternoon. Here's a few images from that shoot and one from the show.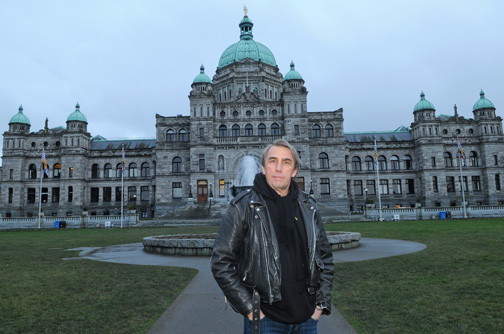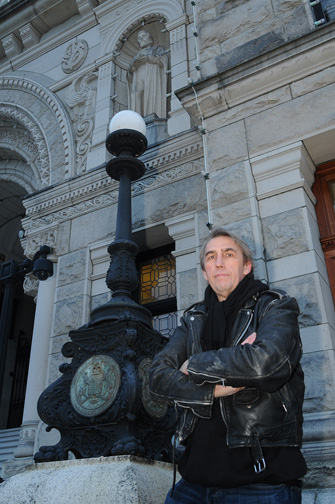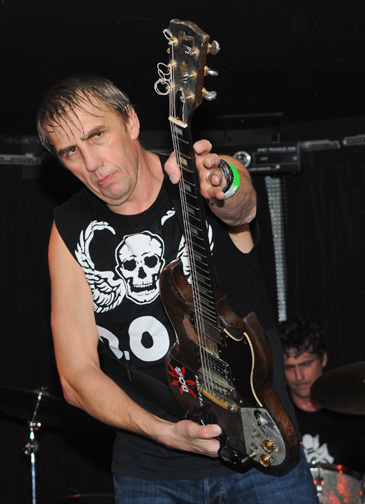 January 23, 2013 | Filed Under Daily Work | Leave a Comment
One image from a series on the BC Ferries for Black Press, walking up the ramp to board the ferry at Tsawwassen.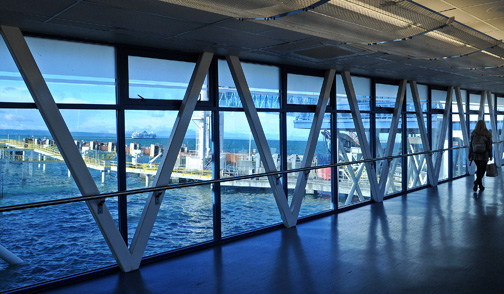 May 29, 2012 | Filed Under Personal Project, Website | Leave a Comment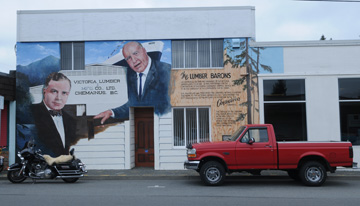 Red Truck and Mural, Chemainus, BC 2012
I'm going to try and concentrate on this blog as my main (lone) source of news about my work.
Other methods of social media are great and certainly useful but I've found that, for me at least, they end up being a distraction from creating work.  The other issue was quality, lack of quality. Trying to feed the social media bear meant I was rushing posts just to get something  new up. Posts I wasn't satisfied with and didn't always reflect what I needed or wanted to say about the photographs and projects.
It's not even that they weren't fun because it was enjoyable to rapidly post work. I just felt that it was all taking me away from my core purpose. To create great images and then create great prints and publications.
I'll see how this works over time.  I do plan on using other digital distribution streams in the future when I want to promote a single project or event but for now this, and now and then Facebook, will suffice.
June 26, 2011 | Filed Under Personal Project | Leave a Comment
Another damp west coast day, crossing the Alex Fraser bridge .
March 2, 2011 | Filed Under Photography, Photojournalism | Leave a Comment

So here's photographic proof we do get winter out here open the western edge of the world. Sure, it did only last three days but it was a hard three days.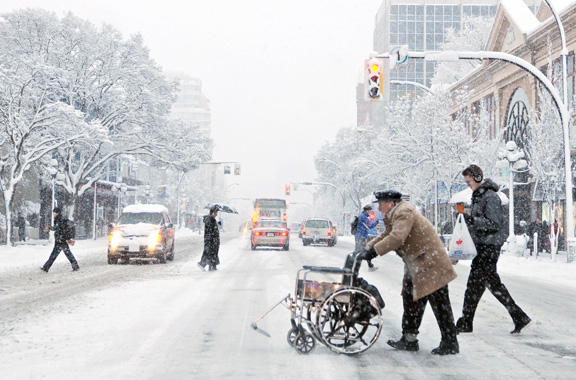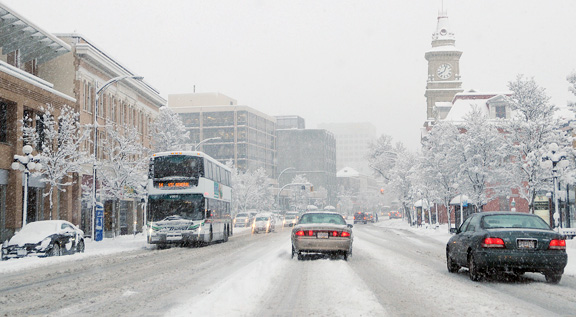 March 29, 2010 | Filed Under Gallery & Workshop, Interview, Photo Studios and Work Spaces | 6 Comments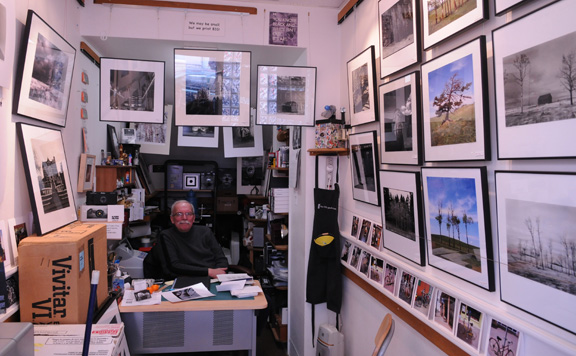 I was in Kamloops this past weekend, the first time I've spent anytime there in at least three years.  One of the last times I was there I'd come across this gallery/store on 3rd Avenue run by photographer Wilf Schmidt and I was curious to see if  he was still there, and he was. Schmidt calls his place The Little Photo Shop and claims it's "The World's Smallest Photography Supply Store'. The former high school photography teacher sells prints of his own work but also stocks black and white film, Holga cameras and has a group of pinhole cameras in the back of the shop as well as other photo odds and ends. It's a very cool space and it's tiny which just adds to the charm. The shop is currently a little more crowded than usual as he is selling off his darkroom equipment and has the boxes stacked there. Hidden behind him is an antique safe, part of the original furnishings in the heritage building his store is located in.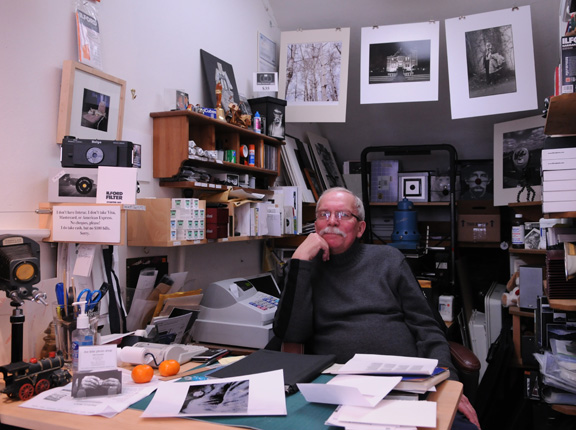 Wilf  in the  'office' section of his shop.
Wilf shows off a tiny camera that actually works. It originally came with rolls of film.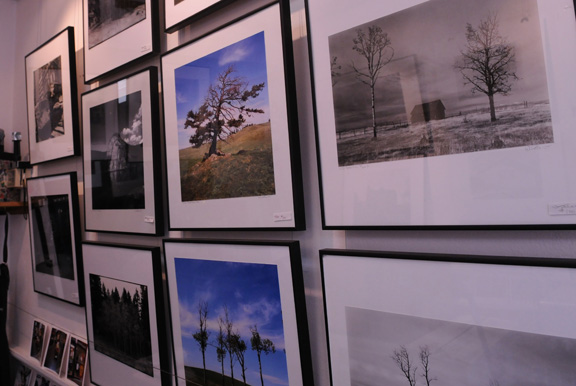 A few of Wilf's photographs
January 20, 2010 | Filed Under Worthy causes | 1 Comment
I don't usually hype groups or causes but two very different organizations came to my attention this week that deserve some attention and donations. The first,  Shelterbox, supplies a large box stuffed with tents, bedding, waterfilter, stove, pots etc, everything that a person or family in a disaster situation needs and needs quickly. It's such a simple but effective idea. Shelterbox groups can be found around the world and are affiliated with Rotary clubs. I found out about the group while doing a story for the paper on them this week as they are shipping boxes to Haiti right now. Have a look at their website, a worthy cause.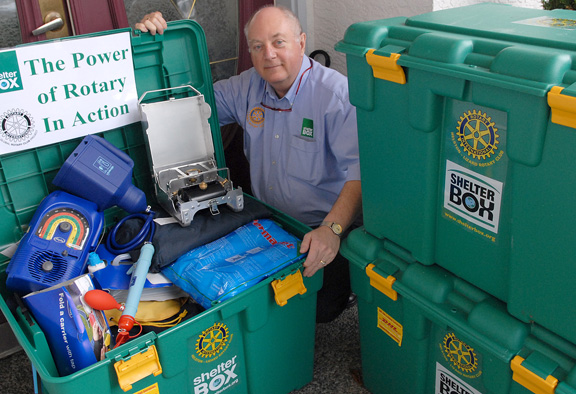 The other group is a brand new, the Ancient Forests Alliance, started by Ken Wu who was long associated with the Western Canada Wilderness Committee, Tara Sawatsky and photographer T J Watt.  The WCWC has decided they are pulling away from focusing on forests and concentrating on the marine environment. This greatly concerned Wu and others so they created this organization. Check them out, story here. Their website here. While you're at it check out TJ Watt's photo site.
January 13, 2010 | Filed Under Landscape, Photography | Leave a Comment