February 21, 2013 | Filed Under Daily Work | Leave a Comment

There's something about a panoramic view, maybe because we don't shoot them often, mainly because they can be a challenge for editors and for layout. The lone drummer was an early arrival for a high school band practice.
February 10, 2013 | Filed Under Daily Work | Leave a Comment
The beautiful thing about the weather here on the southern tip on British Columbia's Vancouver Island is that this photo could have been taken this week as I saw lots of golfers on the links while driving around. The unfortunate thing about the weather here is that this image was actually taken last June.
February 3, 2013 | Filed Under Daily Work | Leave a Comment
The cover for the February 2013 issue of SOAR magazine features construction from greater Victoria's West Shore.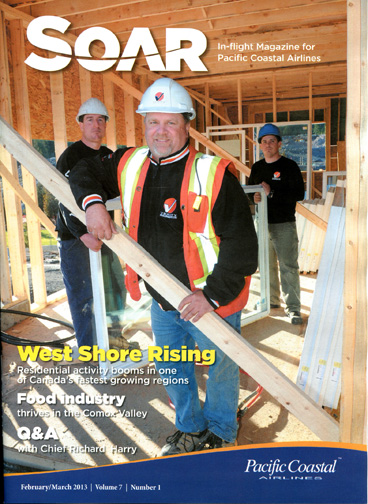 January 28, 2013 | Filed Under Personal Project | Leave a Comment
DOA front man Joe Keithley was in town playing a gig during the band's farewell tour. Joe has decided to seek the NDP nomination in Coquitlam – Burke Mountain in order to run in the upcoming May provincial election. We decided to take a few portraits in front of the BC Legislature building in the afternoon. Here's a few images from that shoot and one from the show.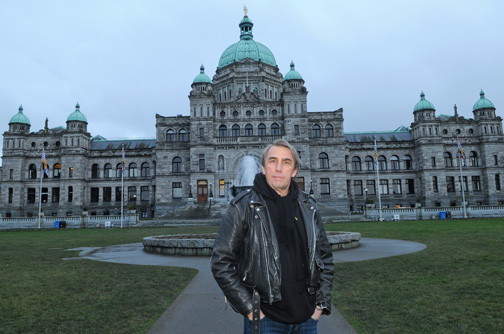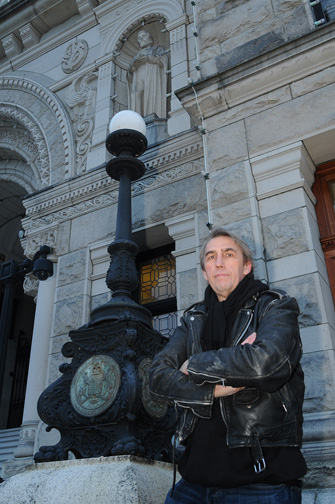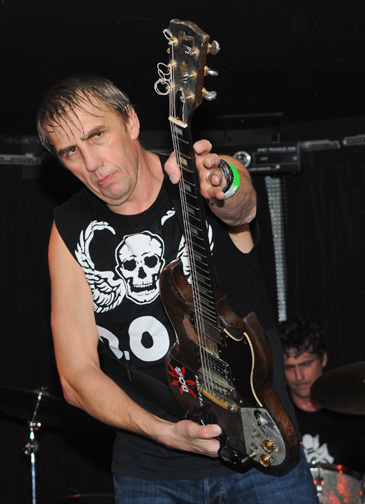 January 23, 2013 | Filed Under Daily Work | Leave a Comment
One image from a series on the BC Ferries for Black Press, walking up the ramp to board the ferry at Tsawwassen.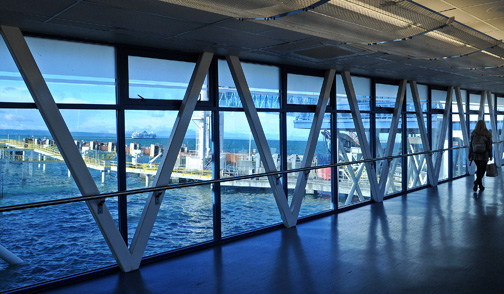 January 17, 2013 | Filed Under Gallery & Workshop, Workshop | Leave a Comment
I'll be teaching a documentary course and a couple of one day workshops at the University of Victoria. Sign up here http://www.uvcs.uvic.ca
Courses are:
Documentary Photography: Creating the Personal Project
In this course you will learn how to use the techniques of documentary work to create a personal photo project. Participants will examine the work of other documentary photographers and see how and why certain ways of seeing and photographing can be applied to their work. You will learn how to organize your own projects, budget time, find out how to edit a project and discover different ways to bring that project to a larger audience.
Students will work on a project throughout the duration of the class; this can be an existing project or something new and initiated by the class experience. This work will serve as a catalyst for class discussions and critiques. This is a course about creativity, not equipment. Participants can use whatever equipment they own, digital or film.
Editing Your Photographs—Developing a Critical Eye
Do you have a jumble of images stored away on your hard drive or boxes of prints tucked away in the closet? Learn how to look critically at your photographs and find the treasures hidden among the less successful images. We'll also learn how we can have a higher success rate while shooting by learning to edit as we photograph. Students should bring a selection (20–40) of 4 x 6 machine (cheap) prints to the class from a project, trip or just that box in the closet, as well as a camera and a notebook.
Find the Photo Spark
Have you lost your photographer's creative urge? Do all the images you take seem to look like the last one? Rekindle your photo creativity with a day of exercises designed to make you and your camera best friends again. Bring your camera and a notebook and prepare to exercise your mind and eye and have some fun in the process.
January 14, 2013 | Filed Under Magazine Work | Leave a Comment
A feature on dogs for the first issue of  Oak Bay's Tweed magazine.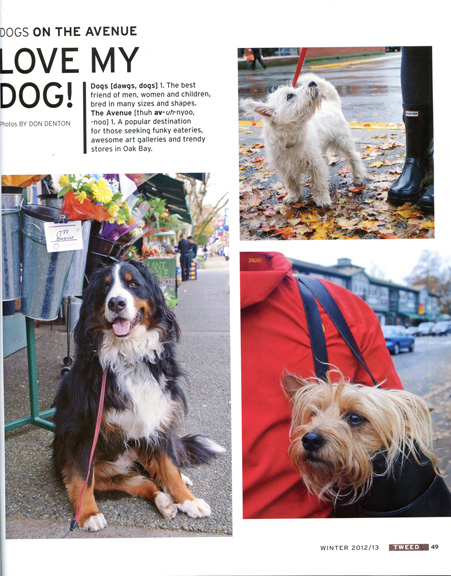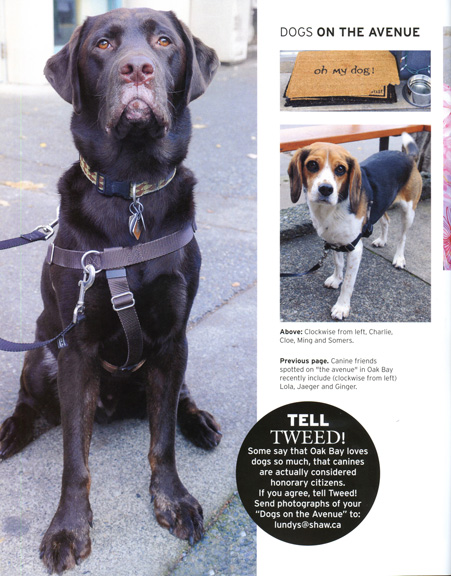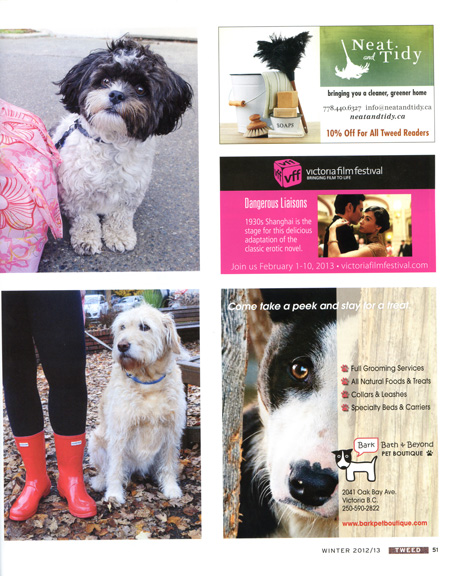 January 13, 2013 | Filed Under Magazine Work | Leave a Comment
A few images from a feature on growing bonsai trees in the new magazine Tweed.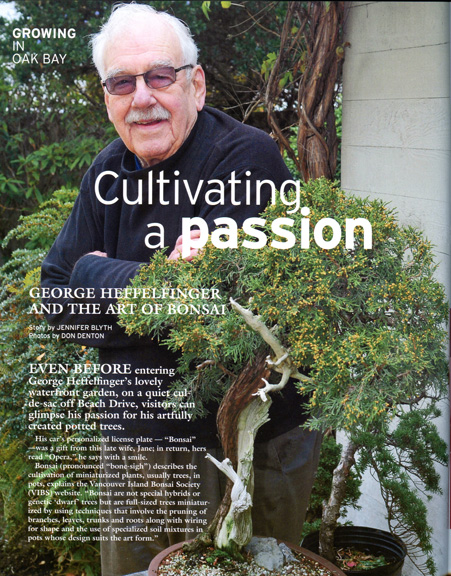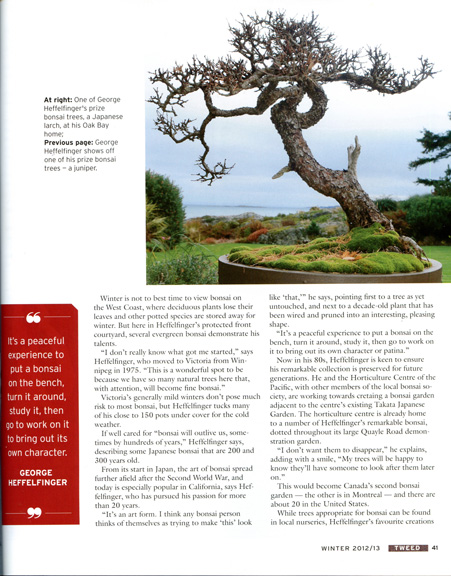 January 12, 2013 | Filed Under Magazine Work | Leave a Comment
Some recent magazine work. SOAR magazine is the Pacific Coastal Airlines in-flight magazine.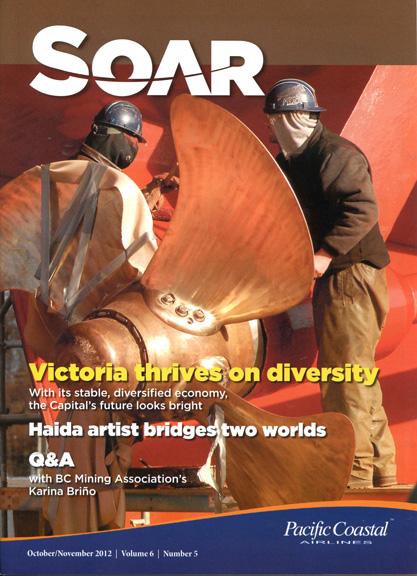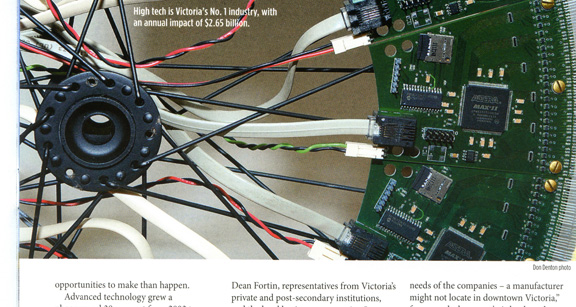 November 10, 2012 | Filed Under Landscape, Personal Project | Leave a Comment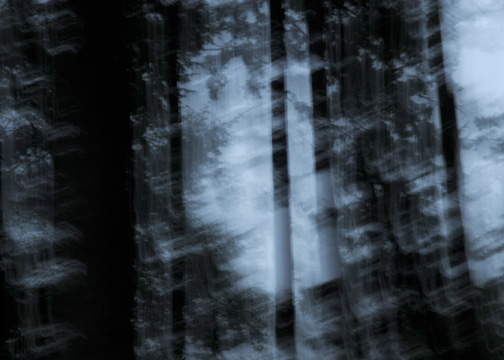 An image from a project  looking at the forest of the Pacific Northwest.