February 21, 2013 | Filed Under Daily Work | Leave a Comment

There's something about a panoramic view, maybe because we don't shoot them often, mainly because they can be a challenge for editors and for layout. The lone drummer was an early arrival for a high school band practice.
February 10, 2013 | Filed Under Daily Work | Leave a Comment
The beautiful thing about the weather here on the southern tip on British Columbia's Vancouver Island is that this photo could have been taken this week as I saw lots of golfers on the links while driving around. The unfortunate thing about the weather here is that this image was actually taken last June.
February 9, 2013 | Filed Under Uncategorized | Leave a Comment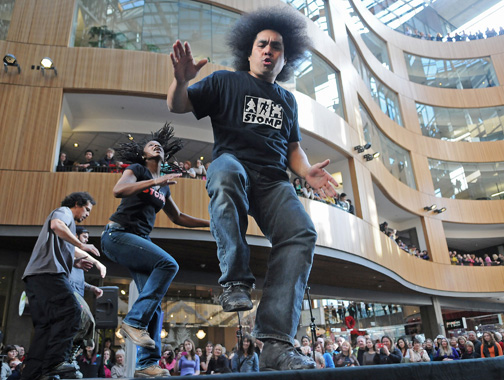 Yesterday a few members of the New York based percussion dance troupe STOMP made an appearance inside the Atrium building in downtown Victoria to promote their upcoming shows here in August. I wanted a view that would show the dancers, the crowd and the unique architectural shape of the buildings interior. I picked a spot near the back of the stage that I thought would work, my only worry being that I wouldn't be able to show the performers' faces. I figured I'd be able to try the position and them move to the front of the stage for a head on view. The only problem with that plan was the crowd which jammed the space leaving me fenced in at the back. Luckily  as the photo above shows, my original plan for an image worked out. The preview shows was certainly energetic although I found that the performance pieces that included drumming on garbage cans and other such items, which they are most famously photographed with was not as impressive as the dance/drumming performances with brooms and sticks.