April 29, 2012 | Filed Under Photojournalism | Leave a Comment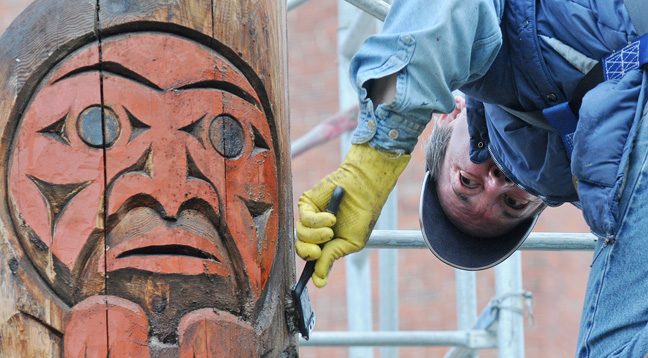 A late post, two weeks ago, I won the feature (colour) category at the annual BCYNA Ma Murray awards. This photograph of an artist cleaning a totem pole originally appeared on the front page of the Victoria News.
May 5, 2011 | Filed Under Obituary, Photography | Leave a Comment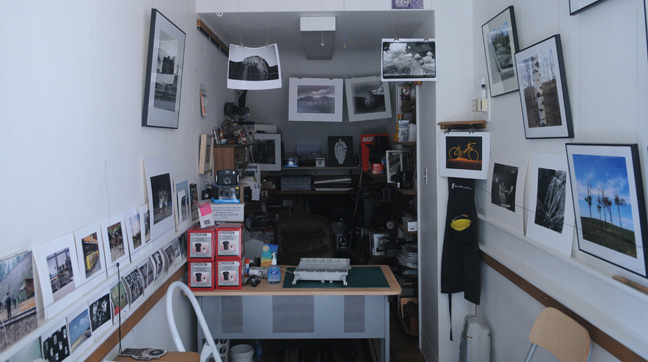 One of the more popular posts I'd done was about retired Kamloops photo teacher and photographer Wilf Schmidt who was operating a tiny photography gallery in the Interior city.
I hadn't been through Kamloops since last summer and that time was a quick stop so didn't get to drop by the gallery. We were finally heading up that way again this past weekend and on Thursday I opened my email to drop Wilf a note to see if he'd be open on the Monday and there was a link to Rachel Anastasia's blog I Heart Rachabees and a posting that Wilf had passed away a few days earlier. I knew Wilf had been battling cancer but we never really expect people to lose that battle I guess.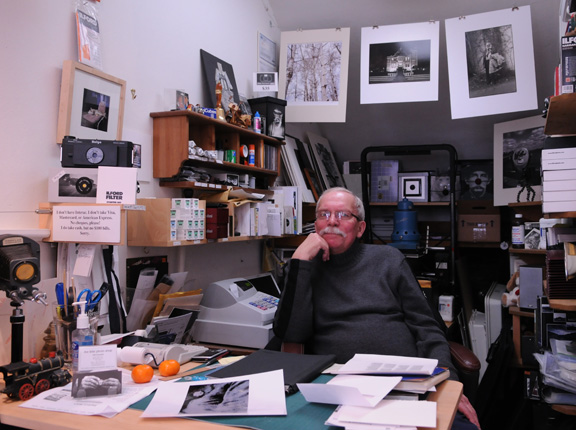 I can't say that I knew Wilf that well but I'd known him for a long time as I started my newspaper photography career in Kamloops thirty plus years ago. It's not that big a place and you get to meet most people with similiar interests.
Sunday I wandered downtown and checked out Wilf's gallery. Closed of course but with a sign announcing a memorial service for him this coming Saturday. I won't make it so this posting will be my small memorial.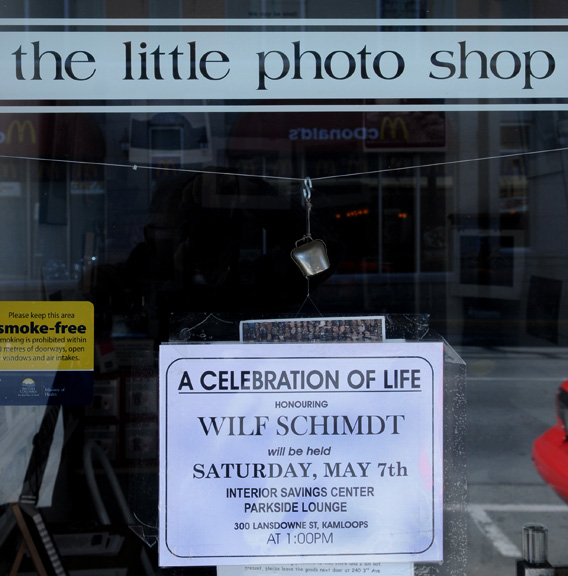 December 5, 2010 | Filed Under Photo Book | Leave a Comment
Looking for another idea for Christmas presents, check out all the self published photobooks from the Self Publish Be Happy shop.
If you're looking for a non-photo related stocking stuffer, how about something as truly Canadian as a toque or tuque, however you like to spell it. These toques though aren't for keeping your head warm, they're for keeping your beer cold. Check  out The Drink Toque here.
One last suggestion, if you can't afford an original print from Magnum's Australian photographer Trent Parke, you can certainly afford a poster created from one of his photographs, available for $10 from Little Brown Mushroom Books.
November 16, 2010 | Filed Under From the Newspapers | Leave a Comment
The Guardian has an excellent article by Sean O"Hagan on the work of Susie Linfield who writes about how photography receives a different kind of critical coverage from other arts, especially contemporary reportage photography.
Spring in Paris? For photographers it might be fall in Paris. The NY Times has a couple of articles on the Paris Photo Fair and an offshoot Mois de la Photo Off.
The Province has an interview with David Campion about his work 'Memory And The Valley' being shown during The Memory Festival.
October 24, 2010 | Filed Under From the Newspapers, Photo Book | 1 Comment
The NY Times Lens blog is  a great resource I check on a regular basis but somehow I missed this piece from September examining the closing of a photo book store in Maine.
Timothy Whelan closed his  store October 2 but the article examines the challenges faced not only by speciaized stores but by all bookstores.
You can the story here.
October 21, 2010 | Filed Under Photo Coach, Photography | Leave a Comment
I hate making mistakes.
I especially hate making mistakes that are so basic I should have stopped making them years ago.
When I teach photography one point that I really try to drive home is that photographers have to pay attention to the foreground and background in their images.  Our eye naturally goes to our subject and we don't notice unfortunate details in front or behind the subject. We then end up with wires sticking out of heads and oher such rookie mistakes.
Last week I photographed Daniel Laskarin, Victoria artist and UVIC professor, for his new show Agnostic Objects (things persist) at the Art Gallery of Greater Victoria. One sculpture, called TurnyGurl, caught my eye and I really wanted to photograph Laskarin with it. The sculpture has a round circle that rotates while at the centre a video screen projects an image of a woman's head turning. It was oddly mesmerizing, simultaneously (if that possible) the video screen pulling you into the centre while the outside circle was grabbing your attention as well. I wanted Laskarin framed by the circle and the girl in the video looking straight ahead. I got that but………………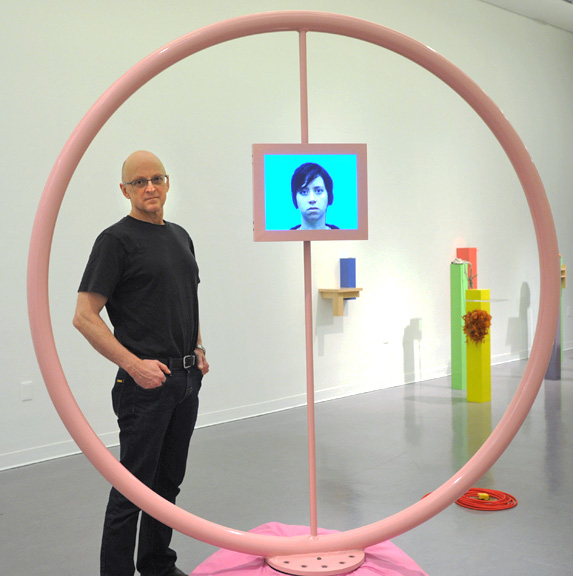 I didn't move the electrical cord on the floor. I saw it when I was first looking over the artwork but when I started shooting I was so focused on Laskarin's face, the pink circle and the video screen that the cord just….evaporated, until I looked at the images in the computer.
Always, always check the foreground and back ground before you press the shutter.
September 9, 2010 | Filed Under Exhibition | Leave a Comment
I've made up a small (16 page) booklet of images from the punk show for the JEM Gallery show that opens tomorrow night. First attempt with Indesign.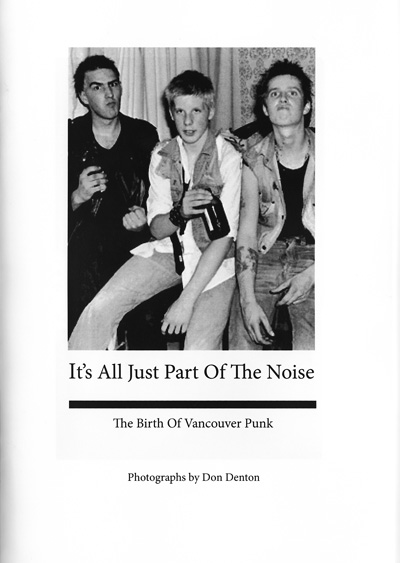 April 21, 2010 | Filed Under Featured, Gallery & Workshop | Leave a Comment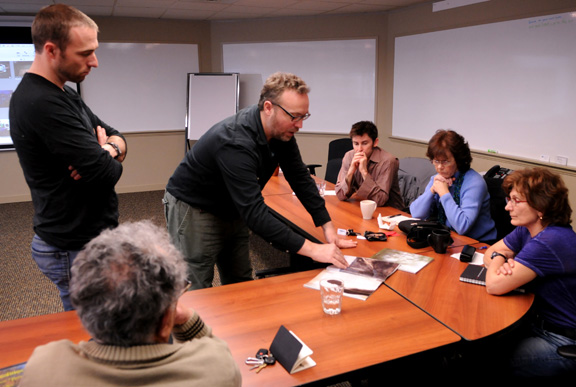 Last weekend I attended a two day workshop presented by Luz Gallery with Toronto photographer Don Weber, a member of the VII agency. We had a diverse group of twelve workshoppers (if that's a word). There was the legally blind Anglican minister, the woman who'd had Ansel Adams drop by her house when she was a child and critique her photos,  a philosophy professor who had just returned from a workshop with Mary Ellen Mark and the motorcycle riding government lawyer. The others were equally interesting. There was even a few of us pro photographers.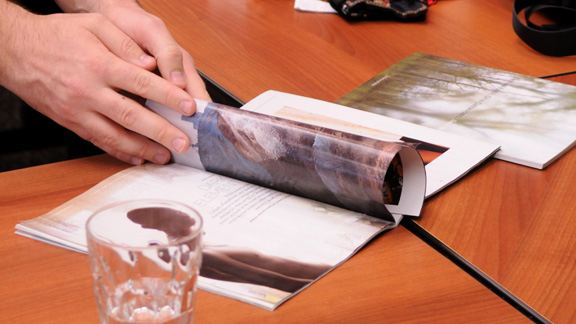 The first day focused on looking at various projects shot by Don as well as work by his fellow VII photographers and others. Don showed his Ukraine images including those from Chernobyl that are featured in his book Bastard Eden as well as images from Russia and other eastern countries. I've attended a fair number of lectures as well as short seminars but never a weekend workshop. Looking at it from the perspective of someone who teaches now and then I was impressed by the way Don was able to keep the day on track while allowing people to ask questions even if they were slightly off topic.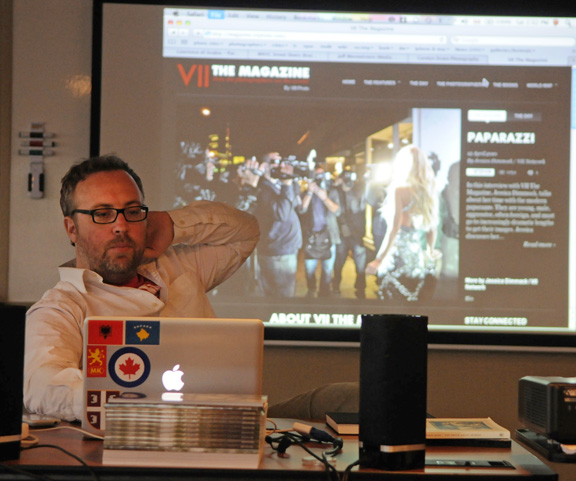 The second day we spent time looking at each other's projects with Don doing an edit of our images. It's always interesting ( and a good practice) to have someone else look over your images and provide feedback. Don was quite good at distilling everyone's pile of images down to a select few.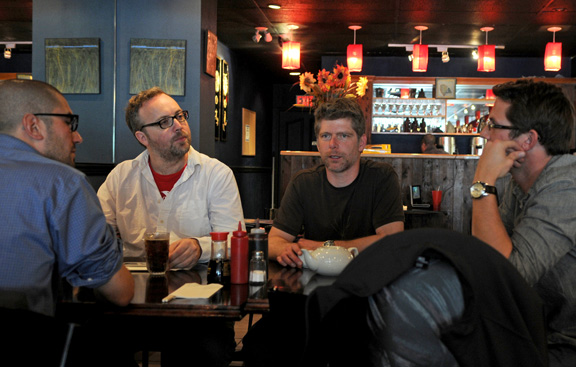 I found the workshop allowed me to look at my own work with fresh eyes and perhaps seek a slightly different direction with a couple of projects. I was also extremely impressed with Don's organization and his focus on his career. He appears to have a very solid understanding of where and how he wants to have his career advance and how to make that happen. That's awfully rare I think,  so it was very useful to see it explained.
This coming Saturday I'll be attending Don's grant writing workshop and I'll be looking forward to that and having the mysterious world of grants simplified.
I have to say that Luz Gallery's Diana and Quinton's hard work at promoting shows and putting on workshops like these have made Victoria a far more interesting place for photographers. A year ago there was simply no chance to spend a weekend with a photographer of the calibre of Don Weber.  Now we have someone coming in every few months, and sometimes weeks,  for a new show or workshop.
April 7, 2010 | Filed Under Gallery & Workshop, Online Learning, Photography | Leave a Comment

I mentioned a few posts back that I'd attended a show opening and artist's talk with Thomas Bartlett at Luz Gallery. All the images posted here are from the show.  Bartlett talked a bit about how he creates his images, he uses a digital camera and long exposures and focuses on common objects often in his house or in motel rooms when he travels. He won't tell what the original objects are as he prefers to let the viewer use their imagination. It all sounds simple. point the camera, set it for a long exposure and let fly or at least move the camera around a lot.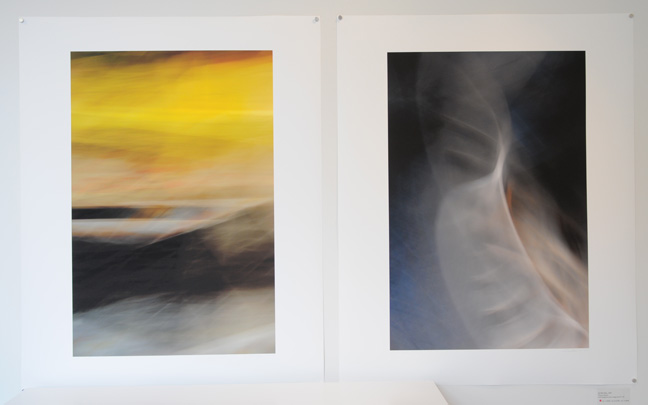 It sounded so simple I thought I'd fool around with the techniques mentioned over the weekend and create some 'Bartletts". The reality is that like most art, technique is more than camera settings. I tried a variety of settings and focused on a number of objects but just ended up with a series of rather ugly smears none of which I'll bore you with. I'll obviously have to keep practicing and experimenting if I want to start creating images as arresting and colourful as those Bartlett creates. It's a good lesson that we should all remember.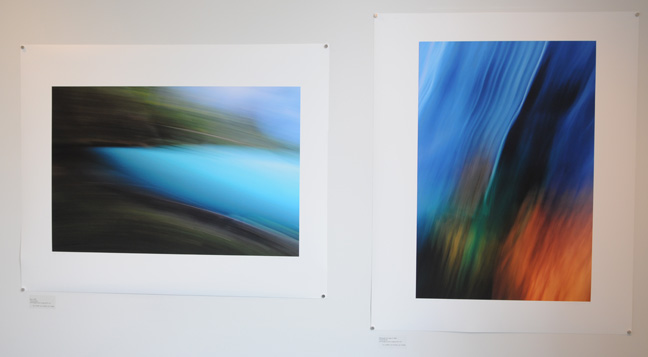 April 4, 2010 | Filed Under Personal Project, Photography | Leave a Comment
For more than a decade now I've been trying to get out on Good Friday and photograph the annual walks with a wooden cross that some churches do. It's a project I call Weight of Faith. It's an event that's great for a photo project, visually the cross is an amazing symbol. It's also a rare example of mainstream Christians  showing off their faith in public. I started the project while living in Calgary and have continued in Victoria.  This year there was a good turnout for the Christ Church Cathedral's Good Friday Passion Procession despite rain showers and really heavy winds.