July 2, 2012 | Filed Under Personal Project, Publishing | 1 Comment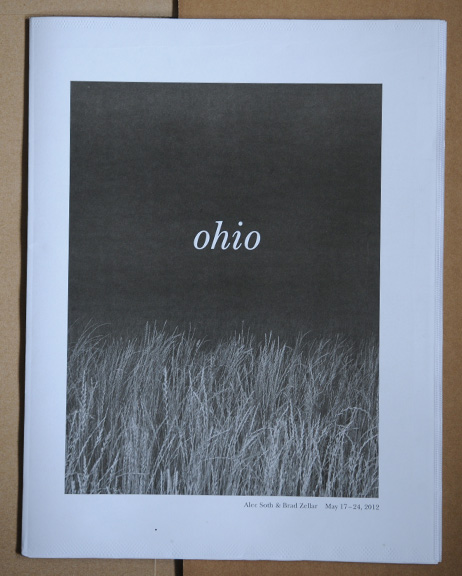 The past couple of years I've been ordering prints and self published books from photographers. Two reasons, the first being that the publications and prints are art and as such they are interesting and sometimes beautiful to look at. The second reason is just to see how others are using a variety of mediums/media to show their work out to a larger world and audience. Last week my copy of Ohio, by Alec Soth and Brad Zellar, arrived in the mail. Published by Soth's Little Brown Mushroom, the tab sized newsprint publication, a record of a weeklong trip by the two men, was packaged simply  but securely in a large stiff cardboard envelope with a card border insert inside. The paper itself was also protected in a plastic envelope.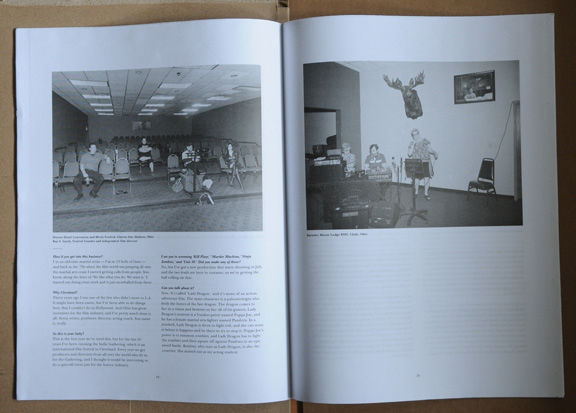 Ohio is a collection of images from the trip as well as personal observations and interview in text form. The layout is loose with big images and lots of white space. The paper is not stapled on the fold so the pages are loose.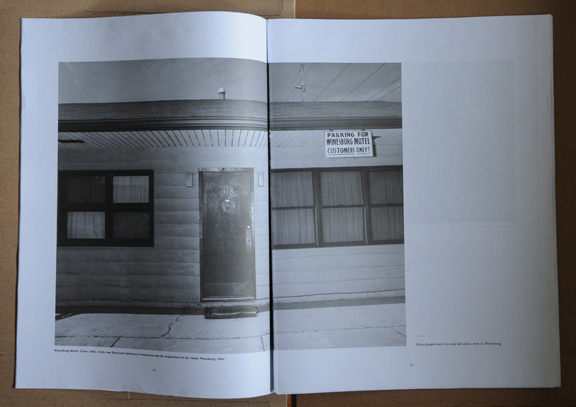 Ohio, published in an edition of 2000, is an interesting example of taking a common and cheap method of printing (the newspaper) and using it to quickly create (only a week after their return from the trip) a permanent record of a project and being able to get that out to the public in a very quick manner.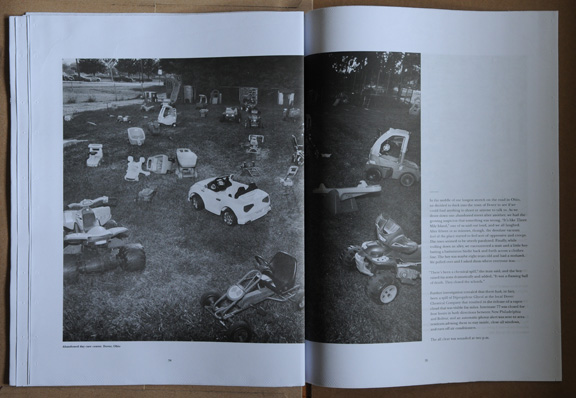 You can order your own copy of Ohio here at Little Brown Mushroom.
June 19, 2012 | Filed Under Workshop | Leave a Comment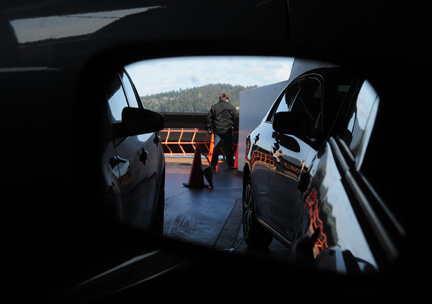 BC Ferries, Swartz Bay, BC 2012
I've spoken to a number of photo groups lately, showing some of my images and talking about the projects.
The audiences have been great, very appreciative and always lots of questions and discussion afterwards.
It's a two way street though. I get lots of feedback on my images which is so helpful and it's often a surprise which photographs resonate with an audience and why.
The other thing I find is that talking about my projects, both during the presentation and during the discussions after allows me to fine tune my own thinking about what I'm photographing and different directions I might take it.
In my main Pacific Northwest related project Salt Water & Rain I've been discussing as a way to find that within the local (landscapes, natural, manmade and cultural) that defines us, as opposed to the generic (chain stores and products) that makes us the same.However due to the presentations I've been thinking about more complex issues within that and trying to figure out how to present those. Issues like why certain cultural influences such as writing seem to be stopped by the United States/Canada border, especially since it is regional writing. Yes, the US and Canada are separate regions but the commonalities of the Pacific Northwest really do transcend the imaginary line that is the border.
So, thanks again to all those groups that have had me as a speaker.
May 29, 2012 | Filed Under Personal Project, Website | Leave a Comment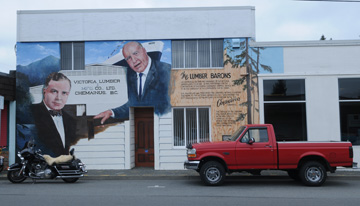 Red Truck and Mural, Chemainus, BC 2012
I'm going to try and concentrate on this blog as my main (lone) source of news about my work.
Other methods of social media are great and certainly useful but I've found that, for me at least, they end up being a distraction from creating work.  The other issue was quality, lack of quality. Trying to feed the social media bear meant I was rushing posts just to get something  new up. Posts I wasn't satisfied with and didn't always reflect what I needed or wanted to say about the photographs and projects.
It's not even that they weren't fun because it was enjoyable to rapidly post work. I just felt that it was all taking me away from my core purpose. To create great images and then create great prints and publications.
I'll see how this works over time.  I do plan on using other digital distribution streams in the future when I want to promote a single project or event but for now this, and now and then Facebook, will suffice.
February 20, 2011 | Filed Under Interview | Leave a Comment
1. Give us a brief bio of T. Reilly Hodgson and tell us what the T stands for.
I was born in 1987 in the suburbs of Toronto. I've gone to school at Emily Carr University in Vancouver for fine arts/ printmaking and OCAD University in Toronto for photography. The T is for Thomas but I don't use that name.
2. How did your fine art schooling affect your work? Would you recommend that route to someone else wanting to become a fine art photographer?
I think art school has taught me to try to slow down and be a bit more patient with my work, which has been a good thing. Otherwise, I'm still on the fence about it. I've gone to and left two of the more esteemed art schools in the country for two different programs and found that neither of them really left me feeling very satisfied. If you're talented and truly passionate about your craft I don't think its essential. You've really got to want to be there considering the amount of money it costs to go and right now I'm getting more done out of University than I was when I was stuck in classes writing papers.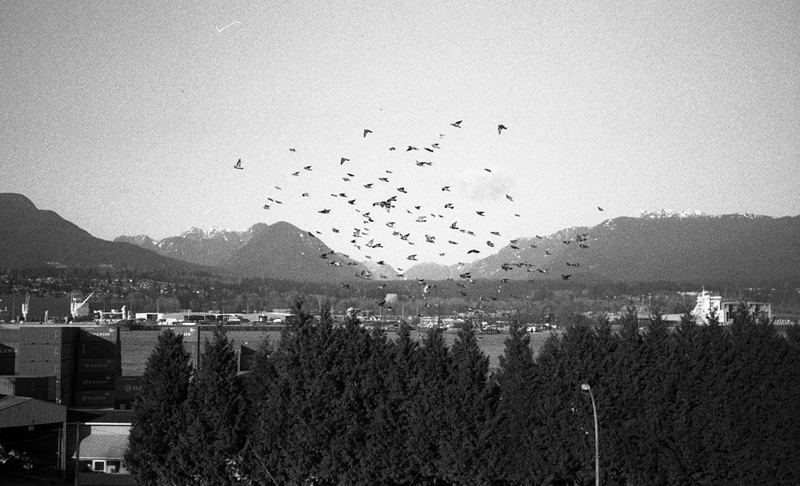 3. Your photographs seem to be about your personal world. How do you classify yourself as a photographer (documentary, art) or do you?
My majority of my photos are candid shots from my every day type of life, its true, though I'm not sure exactly if I could classify myself like that at this point. There's an element of documentary in a large amount of my work but there's a lot more to it than that for me. I do want to make pictures that are artful, that's for sure, but I'm also interested in the way that memory works. I use photos to express something in the same way I might use a drawing or painting to express something, but at the same time, I know that if I end up with kids in 20 years these photos are going to be how they learn about me, the same way I learned about my family pouring through boxes of their old photos. That's a pretty fucked up thing to think about. I can't do that with a drawing. I've got to one-up shots of building the CN railway west across Canada, guarding the King in England, commanding tanks in WWII, and racing horses in the 50s and 60s. Its all the same story.
4. Can you describe what you're trying to do/show when you photograph?
What I am trying to do when I photograph can change when my subjects change, but to be honest, it's a sort of selfish pursuit.
5. You've created a number of zines featuring your work. What appeals to you as a photographer about these small magazines? How do you create them?
Zines are a really nice and inexpensive way for me to share my photographs with other people, friends, magazines, curators, art directors, etc. I like self publishing because of the total freedom I have with my work. Since I shoot film the few dollars I make from them also helps pay for that. How I go about making a zine depends on what the project is, but I try to do as much of the work myself as possible. I do all of the design and layouts myself, either print them at home or a local print shop, and get into a studio wherever I can if there is any extra silkscreen or letterpress work involved.
6. You were recently involved in a group show in Toronto, what was that experience like?  Were you involved in organizing it?
I assume you're talking about the Born Into This exhibition. I had a really great time doing that show! The people from The Cheaper Show and Scion gave me a grant to curate an exhibition with my good friend Dimitri Karakostas. We put together work by some of our favorite photographer and artist pals from Toronto as well as pieces by people with ties to the city who we really admire. It all came together pretty nicely and we opened to a full house, I think everyone was happy about how it turned out except the gallery's landlord. We painted the walls with a pesticide sprayer.
7. On your blog(s) you often feature other zines sent to you. Can you talk about the photo zine community, or at least how you are involved in it?
I got into zines when I was in the 6th grade. I was aware of punk rock and skateboard fanzines through going to local shows, but I was really captured by the stuff I could get through the mail. I was ecstatic about graffiti when I was a kid, and even though the internet was around, at that point everything was all message board based so if you wanted to see anything really cool you'd try to hook up picure and zine trades with people in other cities. Especially living in the suburbs, they were the only way into those subcultures. Youtube didn't exist, Banksy didn't exist, and Nike wasn't paying writers for logos yet. Now days everyone is connected and it seems like everyone is a "photographer" and everyone has a zine. I post zines on my blogs both to help my friends' sell their stuff and also to share some of the things that are printed in limited runs. Thousands of people can look at a zine online even if the 50 physical copies of it have sold out.
8. You also seem to use Flickr a great deal and many of your online links lead to other photographers' Flickr pages. Some photographers seem to dislike Flickr but you embrace it, why?
I think a lot of photographers don't like flickr because they're afraid someone is going to steal their work. The reality is that 98% of what is on Flickr is garbage, some of my work included, and the chances of someone being able to profit off of your tiny 72dpi image is slim. You are not a master, people probably don't even want to look at your pictures, let alone steal them. All that said, Flickr and sites like it are a tool and there is a very large audience there if you know how to use them. I've been published a few times based on the fact that someone saw the pictures on my flickr account and got in touch. The pros outweigh the cons, if you ask me. People take the internet too seriously.
9. What will you be photographing next?
One of my teenage friends got a poisonous snake recently, so probably something with him. I just watched a video about those pastors in the states who handle rattlesnakes because they think that the power of god protects them, that kind of stuff is ridiculous.
10. You seem, at the very least, ambivalent about life in the suburbs. How does that show up in your work?
I think that's a good word for it. On one hand, I'm living at my parents' nice house in a safe neighborhood with a nice dog and we get along and that's all great, but on the other hand I'm stuck in a town that's designed so that nothing interesting ever happens. There's nothing much to do if you're young and don't play sports and so you end up with huge groups of kids who just want to drink and deal drugs and vandalize and steal cars. I grew up hanging out around the train tracks and going to shows with skate punks, so I guess I got the best of both worlds. There's a really fine line between youthful rebellion, suburban excess and kids on the edge of nihilism and I think that's what I am interested in.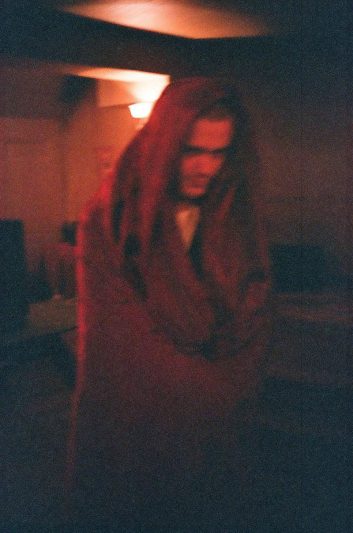 11. Do you think you may move from producing zines to producing larger books?
I'm definitely interested in doing books in the future. It's something I've always thought about, I'm just waiting for the right project to fall into my lap at the same time as the budget to make it happen.
12. Finally the big question, where do you hope your photography will take you?
Out of my parents' house.
You can check out more of  T. Reilly Hodgson's work here.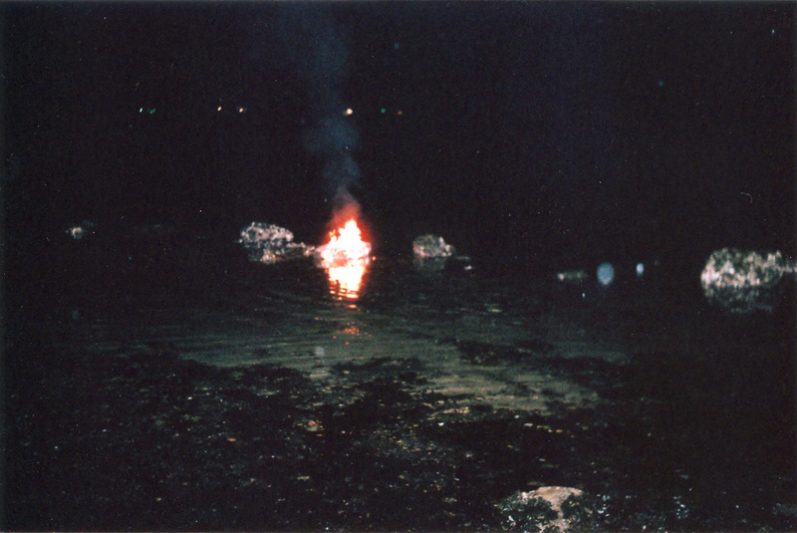 February 13, 2011 | Filed Under Interview, Photo Book | Leave a Comment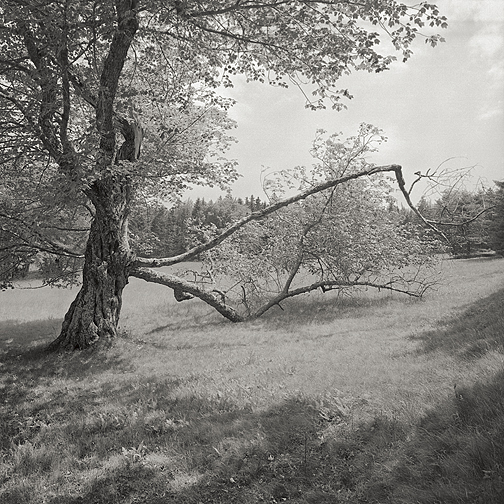 1:  You came to photography as career fairly recently. What made you or how did you come to make that decision to become  a photographer?
I started photographing in college actually, which was 15 years ago.  We had a very small darkroom in the architecture school where I was studying and I was lucky enough to be able to work one-on-one with an architectural photographer, who taught me quite a bit in a short amount of time.
I've been committed to building portfolios of work for about 6 years. It started after seeing a retrospective of Harry Callahan's work at the National Gallery of Art in Washington, DC.  I knew, when I saw his prints, that I wanted to dedicate myself to being able to print and photograph at the high standard that he was.  From there, I started taking intensive workshops and reading whatever I could find to hone my technical abilities.
2: How would you describe your photography?
I would describe it as stories that build slowly, where one image leads to the next and an understanding comes at the end, when some conclusion is made.  I tend to work from the inside out, using photography as a way to communicate what my fears are, what my hopes are, what I long for.
3: You use film, why?
I use film for two reasons.  The first is because it gives me the best quality files to be able to print from. I have not experienced a digital camera that can give me the range of light that film can.  The second is habit.  I have my process down, I'm comfortable with it, it's what works for me.
4.  How do you print, digitally or traditional wet darkroom and why?
I print digitally because I have the most control that way over my prints.  I used to be a darkroom printer and I've also tried platinum, but I like, for example, to be able to control localized contrast and sharpening, both of which are problematic in traditional wet darkroom printing.
5:  You've created two books of your photography. Self published photo books are extremely popular right now but yours are different in that they are very high quality. Most photographers are printing lower quality/priced volumes. Why did you decide to go a higher end project?
I decided to make handmade books filled with original prints because I haven't found a print on demand option that can produce the level of printing that I like to present my work.  Print on demand books are also quite expensive to produce, not that much less than what it costs to produce my handmade books.  I think they are perfect for many photographers, it's just not the kind of presentation I'm interested in for my work.
6: What were some of the challenges you faced in producing your books?
The downside to producing handmade books is the amount of effort, time and upfront costs associated. There are more options to consider, what paper, what binding, what edition size that go into the process.  Hand-printing an edition of 60 books with 39 images in the book is a huge undertaking, and I've learned, as I've gone through it, how to get better at managing my time, but it's still a huge process.
7: You've had numerous gallery exhibitions of your work. How do you see the difference between the 'gallery' of a book and images hung on a wall?
The biggest difference is the ability for the artist to control the viewing experience more.  Usually, with images hung on a wall, people move to look at images that interest them, they can skip images, or move out of the order the artist intends.  With a book, beyond just controlling that viewing experience, you can go beyond just the sense of sight and incorporate touch, sound, text, and other means of telling your story more carefully as well.  In addition, a book is a personal experience, it is something usually done alone, and is portable also.
8. You live in Portland, Oregon which does have a reputation as an artist friendly city. Would you agree? What is the attraction for a photographer?
It's definitely an artist friendly city.  There is a large artist population, not just limited to photographers.  There are large printmaking, book arts, and graphic arts communities as well.  The attraction is to be surrounded by other photographers that are working artists, not just hobbyists, and to also have galleries importing good works to show as well.  The point is keep pushing forward, and part of that is being exposed to other good work.
9: You've photographed in Nova Scotia and are currently doing work on Salt Spring Island. What;s the attraction of Canada?
There wasn't an attraction to Canada per se, although Canadians do seem more open to me freely trespassing on their property!  I went to both places because they looked like beautiful places to go and photograph, not because they were in Canada.  I should say that Canadians have treated me wonderfully, and I'd like to do more work there.
10. You have a site, Photo Radio, where you offer sound only interviews with photographers. In these days of  YouTube, why radio rather than video?
I don't know the first thing about video.  And frankly, it seems pretty intimidating to me.  I'm not sure what you would get from video that you can't get from audio.  I also prefer stripping away the visual at times and just focusing on someone's words and thoughts, I think it puts everyone on a level playing field.
11. You offer workshops in marketing yourself as an artist. What is the attraction for you of teaching a workshop?
The attraction is being able to share what I have learned in the hopes that the information or experiences that I have will be useful to others.  There are so many aspects to being a successful artist, I have always been as open as I can in sharing what knowledge I have with others, I would hope for more of that actually from the entire community.
12. What are your top three tips for anyone wanting to become a fine art photographer?
I only get three?  I can't do less than four!
1- Hone your craft.  If you don't have the foundation to craft good photographs and prints, you're going to be leaping way ahead of yourself and eventually, you'll have to come back, so might as well learn to take good pictures and make beautiful prints from the start.
2- Make connections. The biggest part of gaining an audience for your work is through making connections with anyone associated in fine art photographer, whether that be other artists, or curators, or even writers.  You never know how someone can help you or your career, so talk to lots and lots of people.
3- Develop a thick skin. There is so much rejection involved with trying to get your work out there, that if you're sensitive, it will be a problem.  I have been rejected so many times I've stopped counting, and even though I know it could have very little to do with me or my work, it's still tough to swallow sometimes.
4- Give back. No matter how much or how little success you experience, you should always try to give back to the community, to nurture younger photographer, to educate, and to encourage sharing, acts that benefit us all.
Lauren Henkin's site is HERE.
December 3, 2010 | Filed Under Gallery & Workshop | Leave a Comment
Just in time for Christmas shopping,  photographers Ben Moore and Troy Moth have launched The Mammoth Collection, a online art gallery featuring photography, painting and illustration and mixed media artworks , all at very affordable prices. Those of you who are still trying to think of something special  for the  author of this blog, well, a winter scene by photographer Jakob Wagner called Fresh Snow IV caught my eye (hint, hint)  and the 11 x 14 version is only $50 from an edition of 100.
Most of you will note a similarity to Jen Bekman's 20×200 site which was the pioneer in the lower priced quality online galleries but hey, you can't have too many places to see and buy great art.
I must admit I actually used the 20×200 site today to make a purchase for the first time. I picked up one of the 8 x8 inch Mike and Doug Starn snowflake prints, an edition of 500 that sold out in hours. It was actually quite thrilling to snag one of the images. I tried before on earlier Starn brother releases but wasn't quick enough, the lowest prices editions sell very fast. At the time of  writing this there are still larger prints available at $500, $1000 and $2500.
November 23, 2010 | Filed Under Photo Book, Photography | Leave a Comment
A very positive offshoot of the boom in the interest in photo books is that we're not only seeing more professionally published volumes but we have so many independent publications available.
One of my daily stops on the internet trail is The Independent Photo Book site put together by Jorg Colberg and Hester Keijser which posts about books and zines published by photographers and/or very small presses.
One of the attractions of these books is their low cost. Granted the books may be tiny and some are produced in a very basic fashion but that's part of their charm. It's also easier to take a chance on a photographer's work when you're only handing over a few dollars.
The other day I checked in on Alexandre Lemire/Wolf Peterson's Photo-Documentation from The Field site and I saw he had a new publication out called Motorcycle Grim Robes. I've bought a couple of Lemire's zines before but this is a small (16 page) book or at least has heavier covers. I immediately hopped over to PayPal to purchase the publication.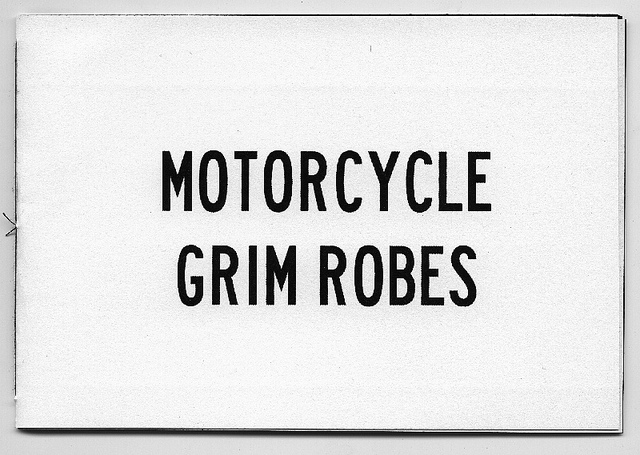 This book intrigued me not only because I like Lemire's work but because the photographs are of motorcycles draped in protective covers.

I've been working on a project myself which I've just been calling Wrapped with is a series of images of vehicles of all sorts wrapped in protective covers. I find that vehicles draped in fabric make interesting and ambiguous images.. Lemire seems to find it makes the vehicles more mysterious and threatening. I  think it's interesting to compare image from series that focus on same subjects.
Here are a couple of photos from my series.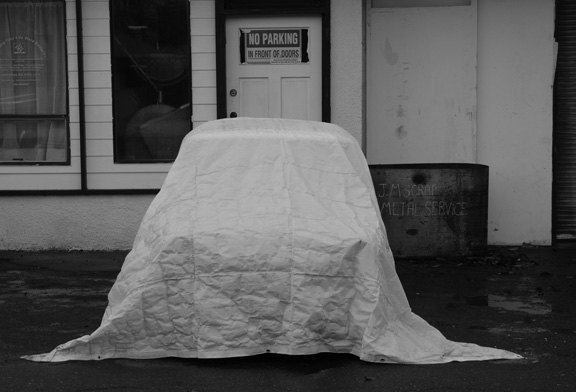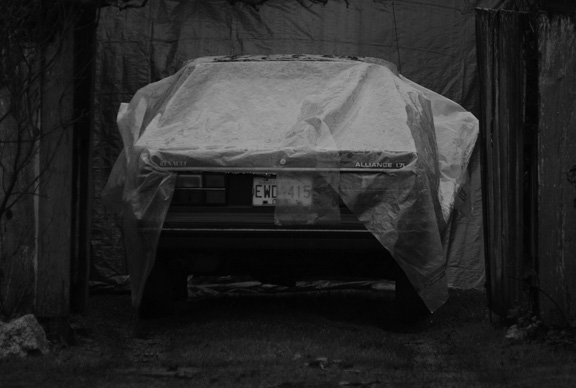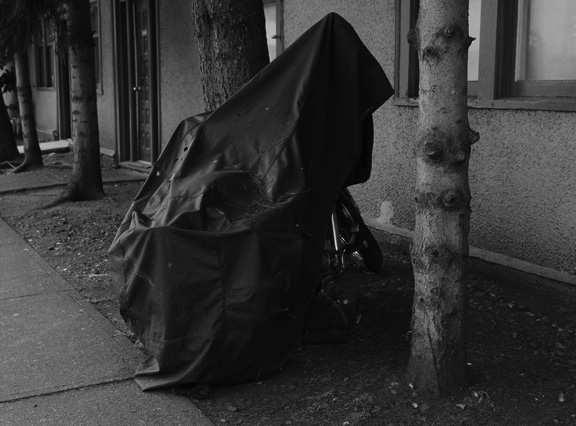 November 15, 2010 | Filed Under Interview | 1 Comment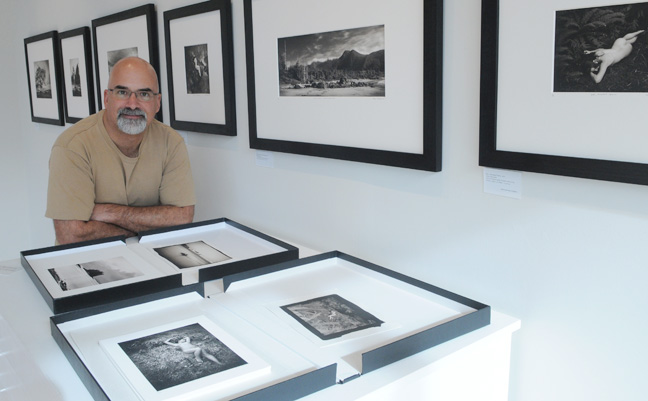 1) Give us a brief biography.
I'm from Toronto originally.  I moved to Victoria in 1991 to do my grad studies in geography at Uvic.  After a brief career as a civil servant (4 years working for the Ministry of Environment) I quit and attended the Western Academy of Photography.  I then moved to Vancouver where I did assisting work and began my own photography business.
2) Is it safe to say that architectural photography is your vocation while your fine art is your inspiration?
Yes, although I am also inspired when I get to photograph interesting architecture.  My commercial work is mostly architectural and I've made a division between that and my Fine-Art work, but I shoot architecture because I'm fascinated by it, not just because its a way to make money.
3) What's the attraction of architectural photography?
I've always been inspired by how we use and occupy space.  I believe we are far more affected by the physical space we occupy on a day to day basis than we realize.   When I get to see interesting architecture then try to interpret it photographically, I'm a very happy camper!   I like the challenge of shooting architecture too.  Some people think its boring, but I'm fascinated with how to make a building look its best.  You need to look at the natural light on the outside as well as how the interior space uses both natural and artificial light.  It presents a number of logistical challenges that I enjoy solving.
4) You present your fine art work as platinum/palladium prints as well as digital prints. What is involved in the platinum/palladium process?
Platinum printing is a very old method of making black & white prints, preceding traditional silver prints.  It involves hand-coating paper with an emulsion containing platinum and/or palladium metals along with ferric oxalate which sensitives it to UV light.  This is a contact printing process so I scan my film then create a new digital negative in the size I wish to print.  This negative is then placed over the dried emulsion on the paper and exposed to UV light.  The print is then developed and rinsed.  Its a labour-intensive method btu I love the tonal range and overall appearance of platinum prints.  They match the vision I've always had for my b&w photographs which I've been unable to achieve in any other way.



5) What do you do to produce your digital prints?
If I make a digital print, I'm usually trying to emulate the look of a platinum print.  I do like digital printing especially because of the variety of beautiful papers we have to print on now.  In general, I print on anEpson 3800 printer using a variety of both matte and glossy papers.  I tend to warm-tone my prints which is the way I like my b&w to look.
6) What came first landscapes or nudes?
I was first drawn to photography so I could shoot the landscape.  I'be been doing that since I was a teenager.  It was only about 10 years ago that I began photographing the nude and it has taken some time to develop a coherent way in which to move forward with this work.
7) Have you always incorporated your nudes into a landscape?
Initially I didn't necessarily shoot nudes in the landscape.  Even now, I still shoot some nudes indoors but this is a small area of my work.  My primary nude work is a series of nudes in the rainforest that I've been working on for several years now.
8) Do you use pro models or amateurs? Why?
I've worked with both, but in general, I tend to work with professional models.  This is largely because My goal is to publish and exhibit these photographs.  Models need to be okay with having their images shown this way, which sometimes amateurs models are not.  I've also been extremely fortunate to work with a number of models that share my vision for the nudes I shoot.  This makes it more of a collaborative process which always results in much better photographs.
9) What is it about the west coast landscape that fascinates you?
When I moved to the Island from Toronto I knew I'd never leave the coast.  The coastal landscape inspires me in numerous ways.  I do lots of sea kayaking and have paddled the entire BC coast from Prince Rupert to Victoria.  The coastal landscape is an amazing place.  Its surprisingly varied and can be both incredibly beautiful and also terrifying at the same time.  From warm summer days to deep winter storms the coast provides me with an amazing canvas to work with.  Its also surprisingly difficult to photograph, which makes for a very interesting challenge.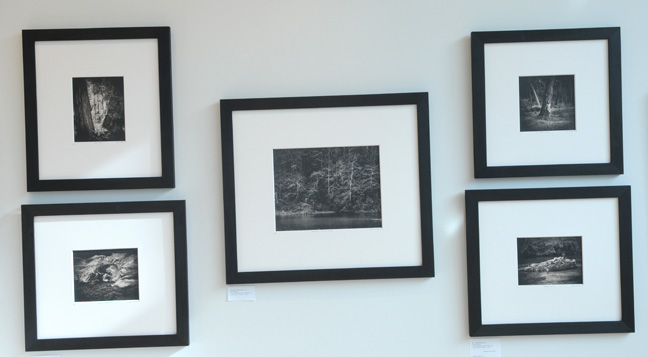 10) You often photograph in remote areas where extreme weather and wildlife are abundant. What is the greatest challenge when you're out photographing your landscapes?
Probably just getting there is the biggest challenge.   My favourite place in the world is the Brooks Peninsula on the northwest coast of the island.  Its accessible only by boat and its a desolate and remote location.  Kayaking to these places means packing all my gear into a small boat and sometimes paddling for days to get to certain places.
11) What photographer's work do you look to for inspiration?
That's a tough one.  I grew up looking at Ansel Adams and Edward Weston's works.  Other people such as Wynn Bullock, Minor White and Sally Mann have provided great inspiration.  I admit, nowadays I don't look at a lot of other photographs for inspiration.  Lately I've been shooting as much as I can to refine my own process and I've been finding that pushing myself to refine my vision and technique has itself been a great source of inspiration.
12) What advice can you give to the aspiring landscape or nude fine art photographer?
Shoot as much as you can.  Be ruthless in editing your work.  Shoot film.
You can find more of Dave's work at www.daveaharonian.com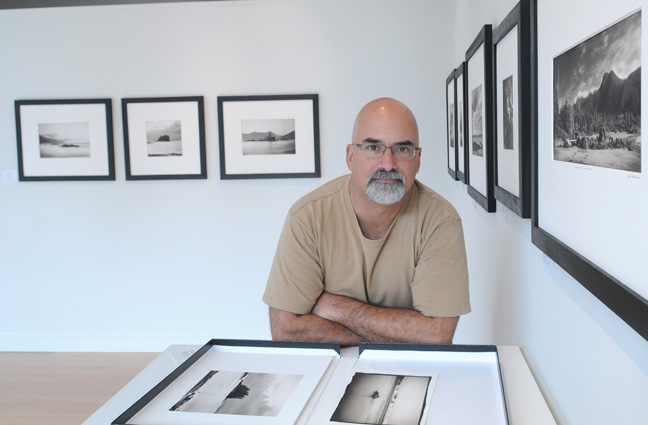 October 21, 2010 | Filed Under Photo Coach, Photography | Leave a Comment
I hate making mistakes.
I especially hate making mistakes that are so basic I should have stopped making them years ago.
When I teach photography one point that I really try to drive home is that photographers have to pay attention to the foreground and background in their images.  Our eye naturally goes to our subject and we don't notice unfortunate details in front or behind the subject. We then end up with wires sticking out of heads and oher such rookie mistakes.
Last week I photographed Daniel Laskarin, Victoria artist and UVIC professor, for his new show Agnostic Objects (things persist) at the Art Gallery of Greater Victoria. One sculpture, called TurnyGurl, caught my eye and I really wanted to photograph Laskarin with it. The sculpture has a round circle that rotates while at the centre a video screen projects an image of a woman's head turning. It was oddly mesmerizing, simultaneously (if that possible) the video screen pulling you into the centre while the outside circle was grabbing your attention as well. I wanted Laskarin framed by the circle and the girl in the video looking straight ahead. I got that but………………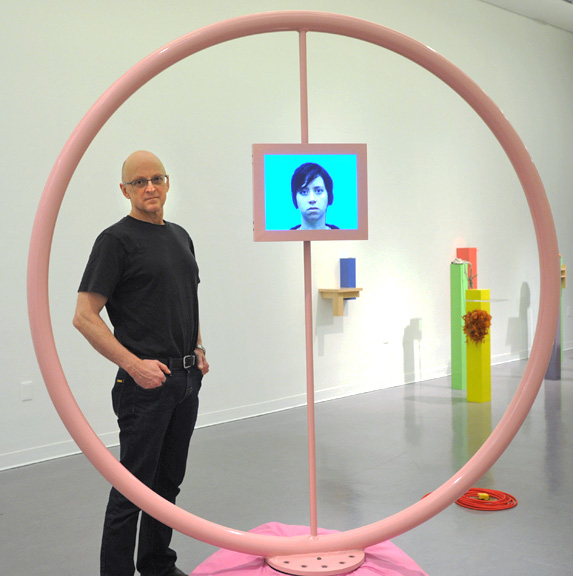 I didn't move the electrical cord on the floor. I saw it when I was first looking over the artwork but when I started shooting I was so focused on Laskarin's face, the pink circle and the video screen that the cord just….evaporated, until I looked at the images in the computer.
Always, always check the foreground and back ground before you press the shutter.
September 13, 2010 | Filed Under Exhibition | 1 Comment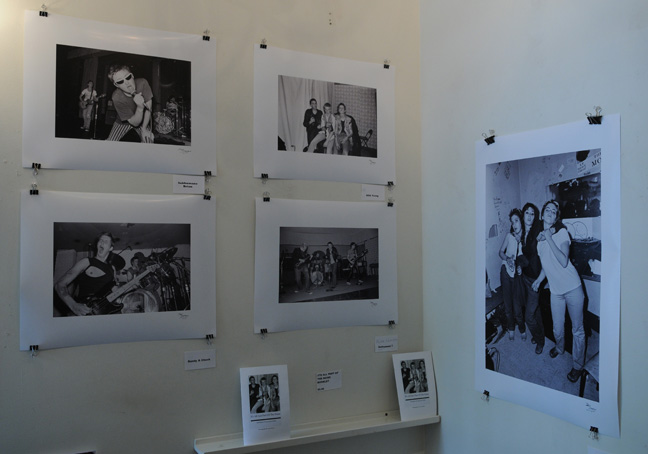 I had a great opening at the JEM Gallery Friday night.  We were scheduled to be open from 6PM until 9PM but it was after 11PM before people stopped dropping by. Saturday was excellent as well and we didn't close up shop until 5:30. Many thanks to gallery owner Carola Goetze for all her heard work.