January 13, 2013 | Filed Under Magazine Work | Leave a Comment
A few images from a feature on growing bonsai trees in the new magazine Tweed.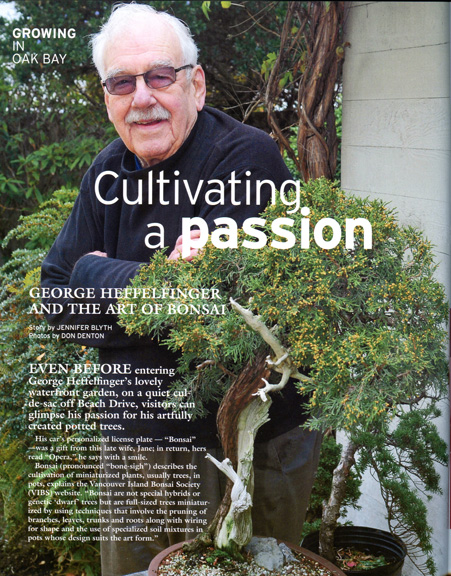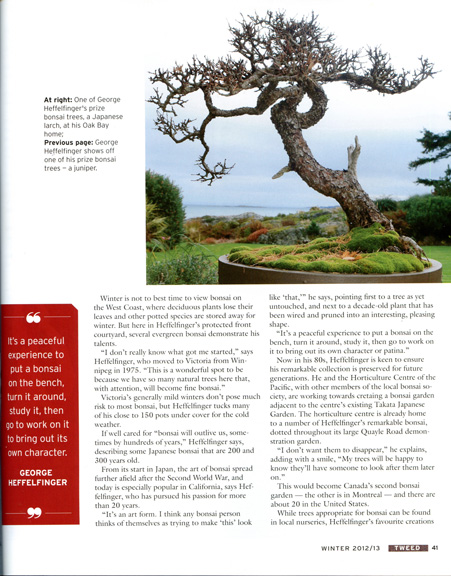 April 1, 2012 | Filed Under Blog | Leave a Comment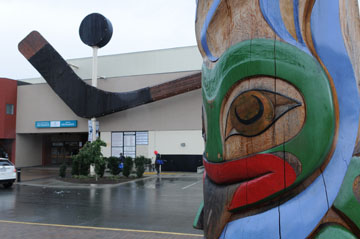 Catching up with this blog, emails, Facebook and my Tumblr blog for my Pacific Northwest photography project Saltwater & Rain. Check out the latest post there at:
http://www.tumblr.com/blog/saltwaterandrain
April 1, 2012 | Filed Under Daily Work | Leave a Comment
It's been a while since I've posted. It always seems to be the last thing I get to. Here's some recent images.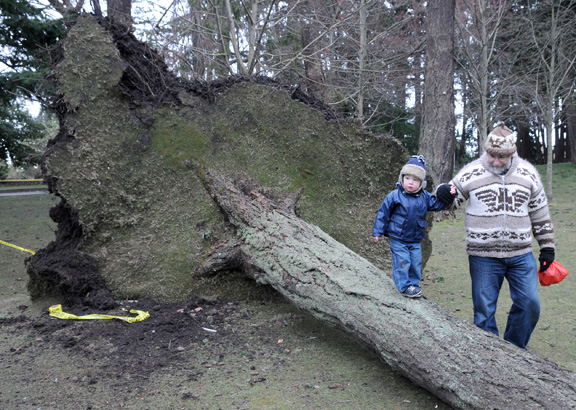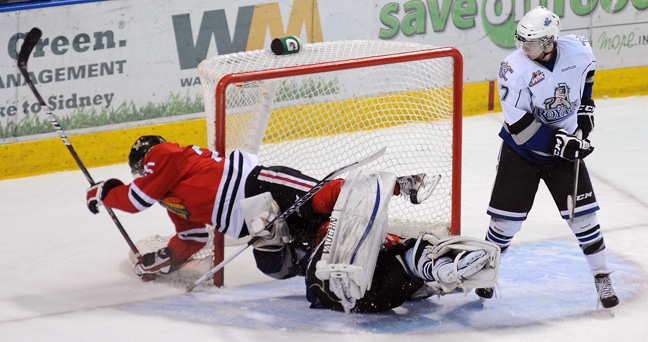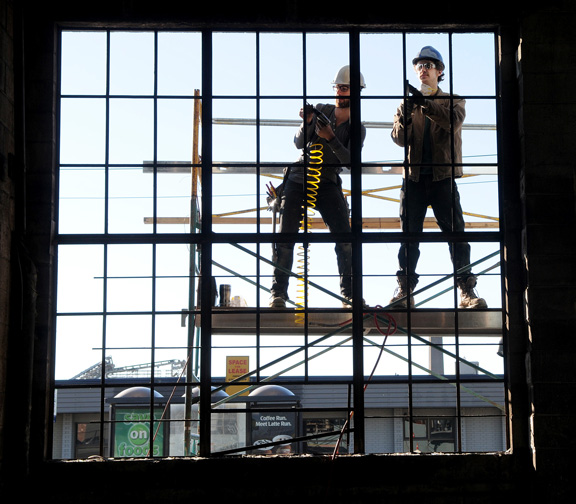 November 15, 2011 | Filed Under Exhibition | Leave a Comment
An eye and mind boggling exhibit by Mike Andrew  McLean at the Open Space gallery in Victoria. Here's the intro from the gallery's web page:
Thirty-Five Thousand Forty
Mike Andrew McLean
November 10 to December 10, 2011
Opening November 10 at 7:30 p.m.
Thirty-Five Thousand Forty is the physical culmination of Mike Andrew McLean's project to shoot ninety-six photographs a day for three hundred and sixty-five consecutive days. McLean's year of photos, now printed as 4"x6" snapshots, will tile the interior of Open Space, forming a sprawling record of the artist's life from June 2010 to June 2011.
McLean writes "photography in the digital era is developing its own language, forging unique processes and technologies. It seems to have reached the democratic potential that George Eastman predicted one hundred years ago, when he took the process out of the studio of the trained craftsman and put it into the hands of the unskilled hobbyist." McLean turns the idea of digital photography inside out, conferring an analogue physicality and monumentality onto a format that proliferates effortlessly, flooding websites, Facebook, memory cards and hard drives in an unimaginably deep cloak of images.
———————
Note the final photo posted here. Dan Milnor snaps a photo of a 2G hard drive mounted on the gallery wall. All the photos in the show are stored on that one drive.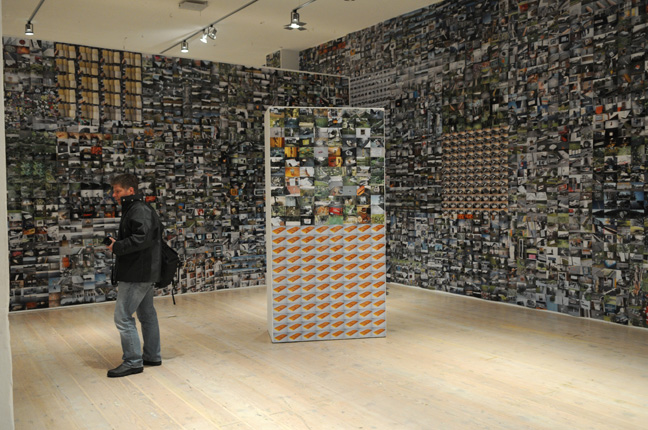 November 14, 2011 | Filed Under Exhibition | 1 Comment
Here's a few images from the opening last week of  the joint photo exhibition for T. J. Watt and myself called Seeing The Forest For The Trees at Dales Gallery in Victoria's Chinatown. The show, See The Forest For The Trees, runs until November 25.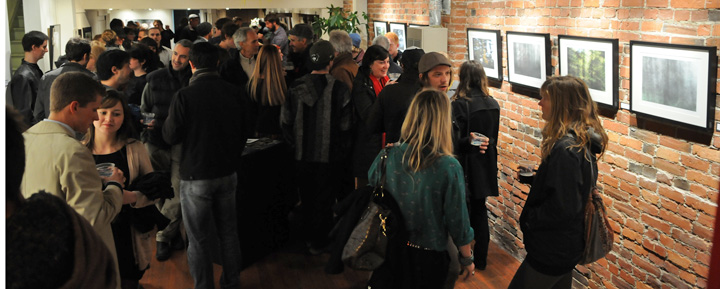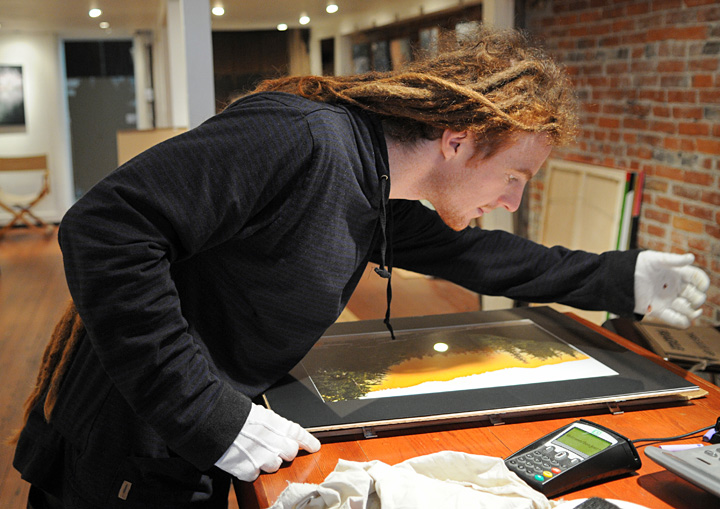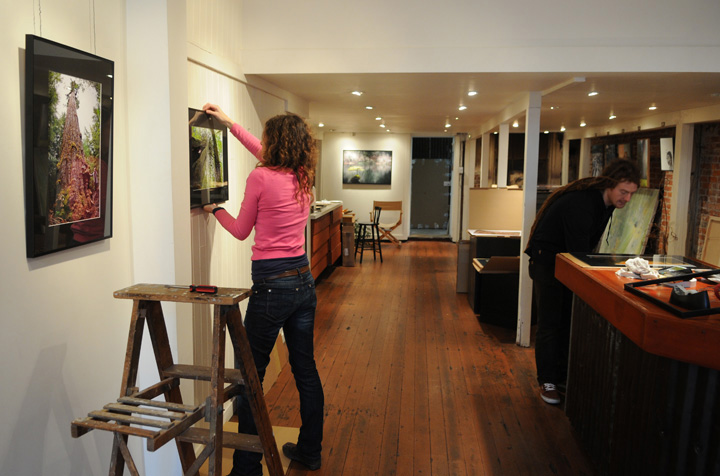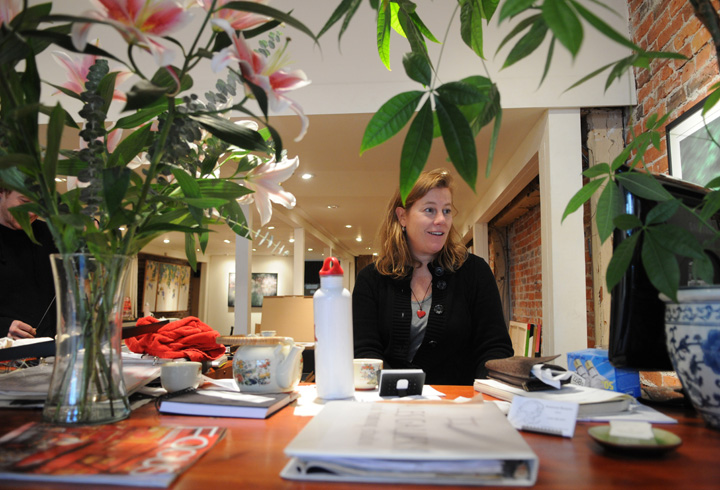 January 1, 2011 | Filed Under Photo Book | Leave a Comment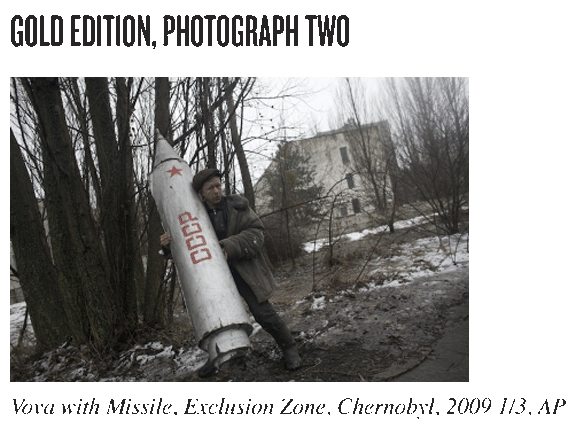 Documentary photographer, and rising art star (check out the 12 page spread in the Fall 2010 edition of Canadian Art magazine) Donald Weber has a new book INTERROGATIONS coming out in the fall of 2011. Published by Schilt Publishing, features more of Weber's images from Eastern Europe.
The following, from the release for the book, explains Weber's work:
'Interrogations is the result of his personal quest to uncover the hidden meaning of the bloody 20th Century. In dialogue with writer Larry Frolick – whose own ancestors had been decimated in the final months of WW II – Weber insistently and provocatively addresses his questions both to the living survivors and to the ghosts of the State's innumerable victims, resurrecting their final hours by taking their point of view, and performing a kind of incantatory meditation over their private encounters with Power.
The policemen, working girls, thugs, dissidents and hustlers who inhabit these pages are all orphans of a secret History; the outlines of our collective fate takes shape in Weber's epic work, expanding our awareness of what it means to be an actor in today's dark opera.
Weber will be selling a number of collector's editions to help support the publication of the book. Buying at Bronze edition at $200 will get you a 8×10 signed print and a signed specially packaged edition of the book. The Gold Edition, at $1000, gets you the choice of one of five 30×40 prints (each an edition of 3 Artist's Proofs) plus the signed packaged book.
You can get more information and order the special editions here.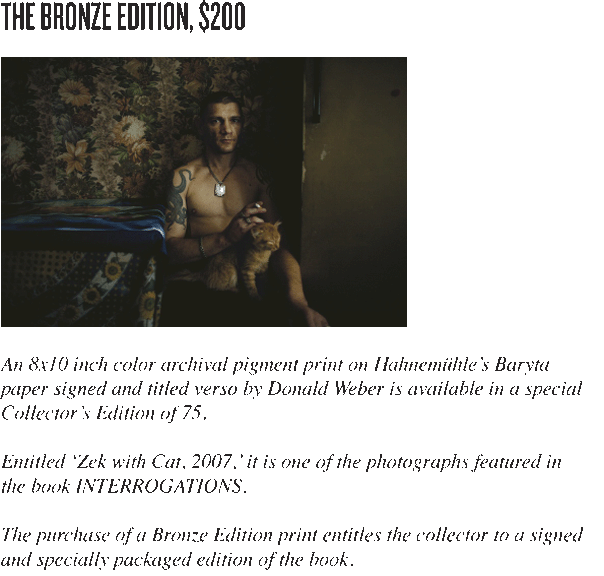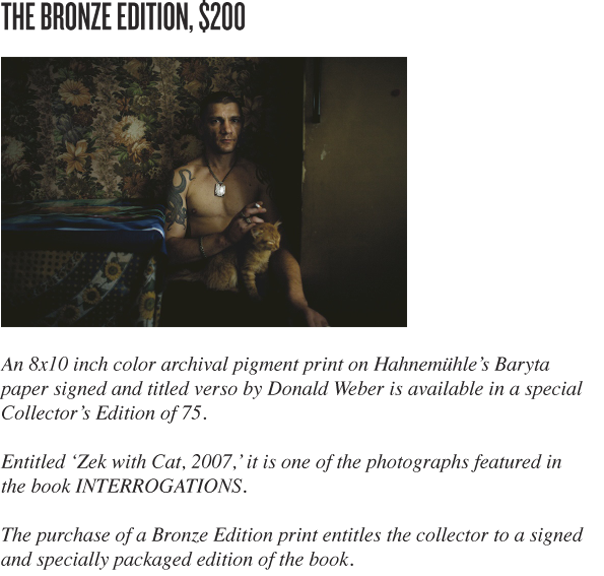 '
December 14, 2010 | Filed Under Gallery & Workshop, Ideas | Leave a Comment
I've heard of photographers using crowd sourcing as a source of funding but only third hand. Yesterday I received this email from photographer Mike Andrew McLean and thought I'd pass it along. It's an interesting concept, using Kickstarter,  for an interesting project and with even just a $10 donation you get a print: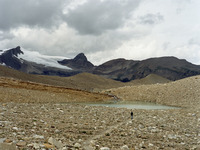 I am pleased to announce that Range, the photo project I've been working
on for the past three years, will be exhibited in its entirety at the
Southern Alberta Art Gallery in July 2011 (a selection will also be
exhibited at the Kamloops Art Gallery this January).
Due to the costs associated with the production of the exhibition, I
researched some alternative funding avenues and discovered Kickstarter.
My project was launched today on the Kickstarter website, so please have a
look!
http://www.kickstarter.com/projects/1058706563/range-mountain-national-park-photographs
If you are willing to make a pledge, you will receive some amazing
incentives  not the least of which will be my eternal gratitude.  Also,
it would be wonderful if you would consider forwarding this link to anyone
else who may be interested.
If you have any questions, or need more info, please let me know.
Thanks for your consideration,
Mike
November 23, 2010 | Filed Under Photo Book, Photography | Leave a Comment
A very positive offshoot of the boom in the interest in photo books is that we're not only seeing more professionally published volumes but we have so many independent publications available.
One of my daily stops on the internet trail is The Independent Photo Book site put together by Jorg Colberg and Hester Keijser which posts about books and zines published by photographers and/or very small presses.
One of the attractions of these books is their low cost. Granted the books may be tiny and some are produced in a very basic fashion but that's part of their charm. It's also easier to take a chance on a photographer's work when you're only handing over a few dollars.
The other day I checked in on Alexandre Lemire/Wolf Peterson's Photo-Documentation from The Field site and I saw he had a new publication out called Motorcycle Grim Robes. I've bought a couple of Lemire's zines before but this is a small (16 page) book or at least has heavier covers. I immediately hopped over to PayPal to purchase the publication.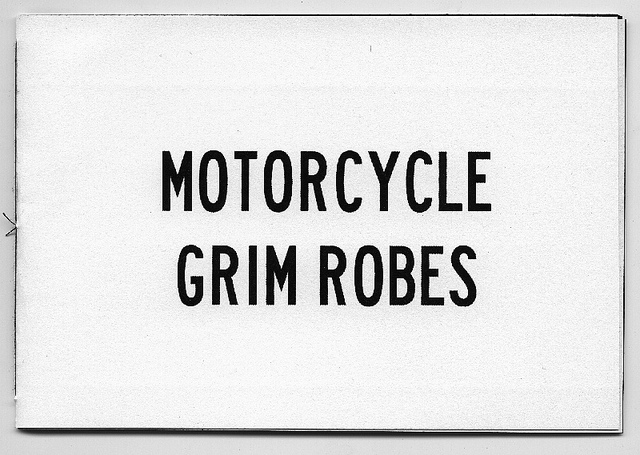 This book intrigued me not only because I like Lemire's work but because the photographs are of motorcycles draped in protective covers.

I've been working on a project myself which I've just been calling Wrapped with is a series of images of vehicles of all sorts wrapped in protective covers. I find that vehicles draped in fabric make interesting and ambiguous images.. Lemire seems to find it makes the vehicles more mysterious and threatening. I  think it's interesting to compare image from series that focus on same subjects.
Here are a couple of photos from my series.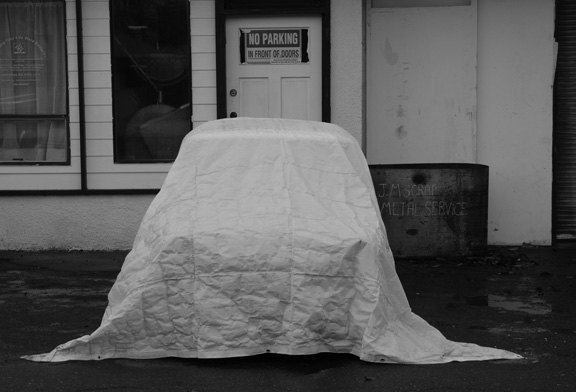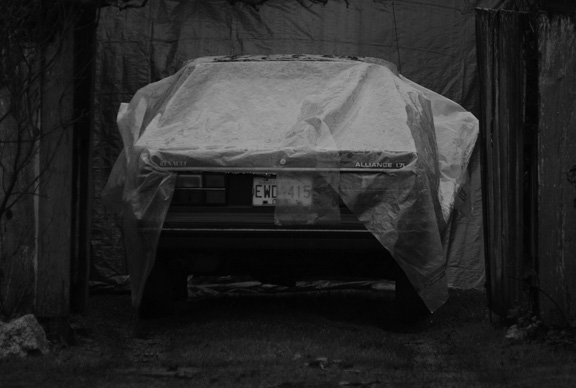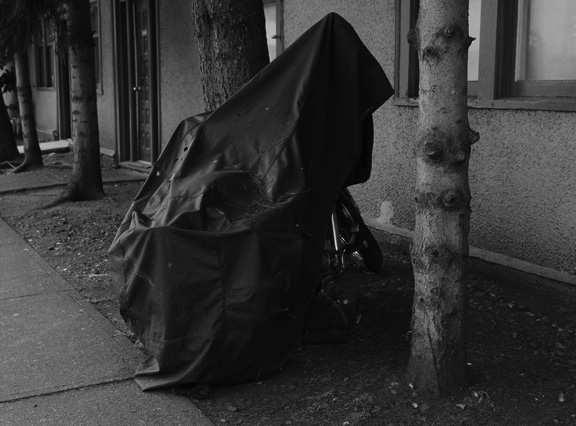 September 13, 2010 | Filed Under Exhibition | 1 Comment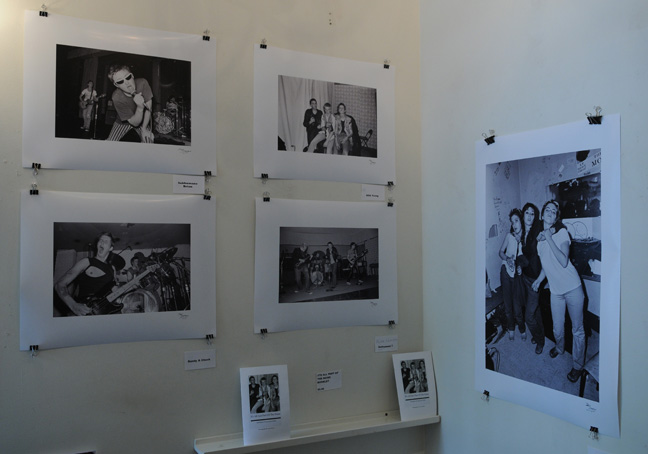 I had a great opening at the JEM Gallery Friday night.  We were scheduled to be open from 6PM until 9PM but it was after 11PM before people stopped dropping by. Saturday was excellent as well and we didn't close up shop until 5:30. Many thanks to gallery owner Carola Goetze for all her heard work.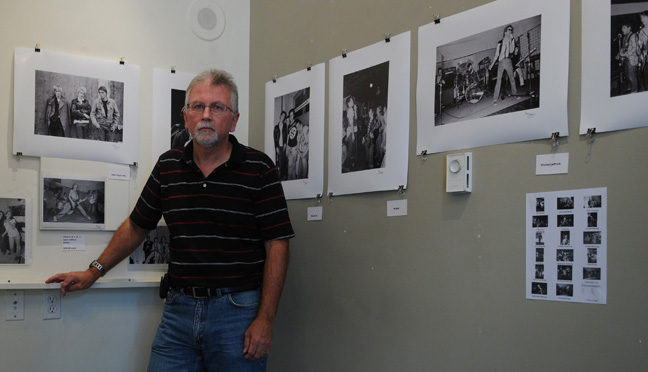 April 1, 2010 | Filed Under Exhibition, Gallery & Workshop | Leave a Comment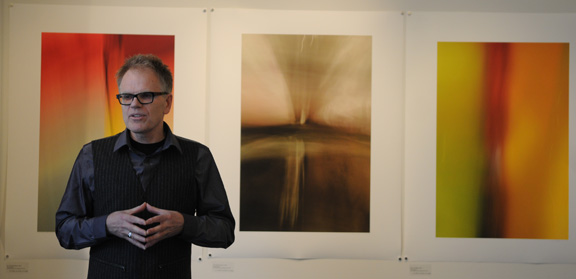 The Luz Gallery had an artist's talk and opening for the work of Saskatchewan photographer Thomas Bartlett tonight. Bartlett works with digital cameras creating his abstract images, images that he likens to colour field paintings.